Dresser Makeover – Before & After (A Dark Stained Dresser Painted Blue)
*This post contains affiliate links.
Remember the new dresser I bought for the guest bedroom? It was the perfect size, and the perfect configuration. (I really loved that 9-drawer configuration.) But the color was…well…it left a lot to be desired for me.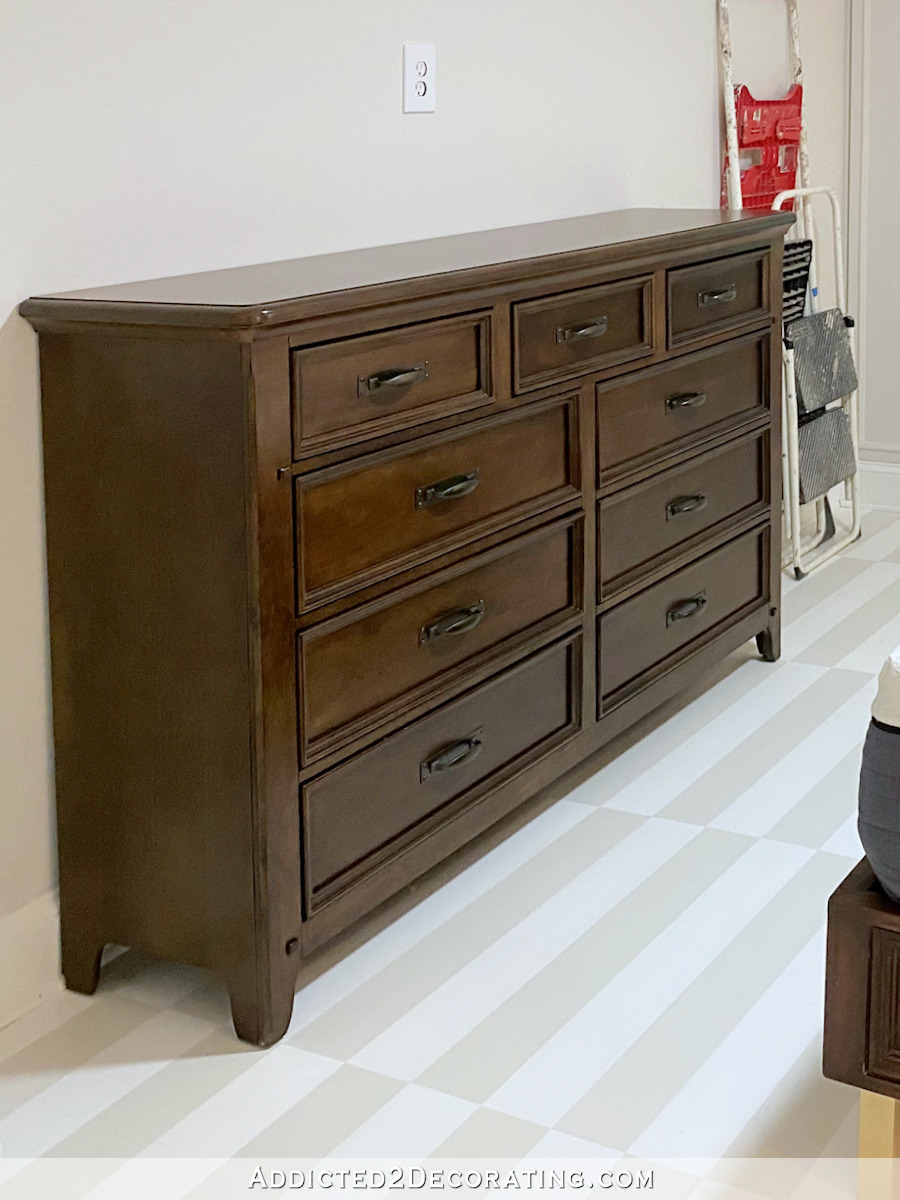 That dark finish was fine, but I'm much more of a painted wood kind of person. And with a stained bed and a stained writing desk in the room already, another large stained piece of furniture was just too much for me.
So I painted it the same blue that I used on the opposite mural wall. Here it is dressed in its new color…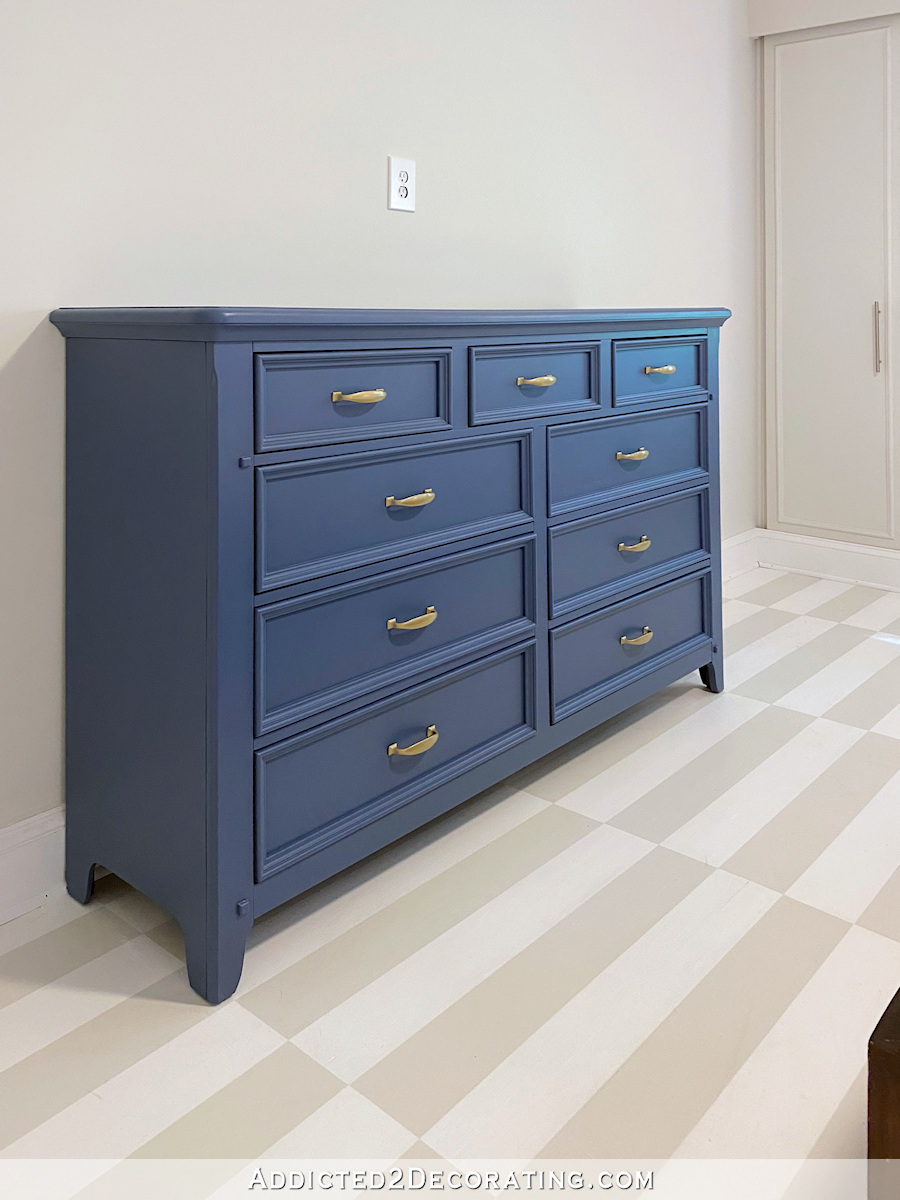 Ahhhh, yes. This is so much more me, right? I just love how it turned out!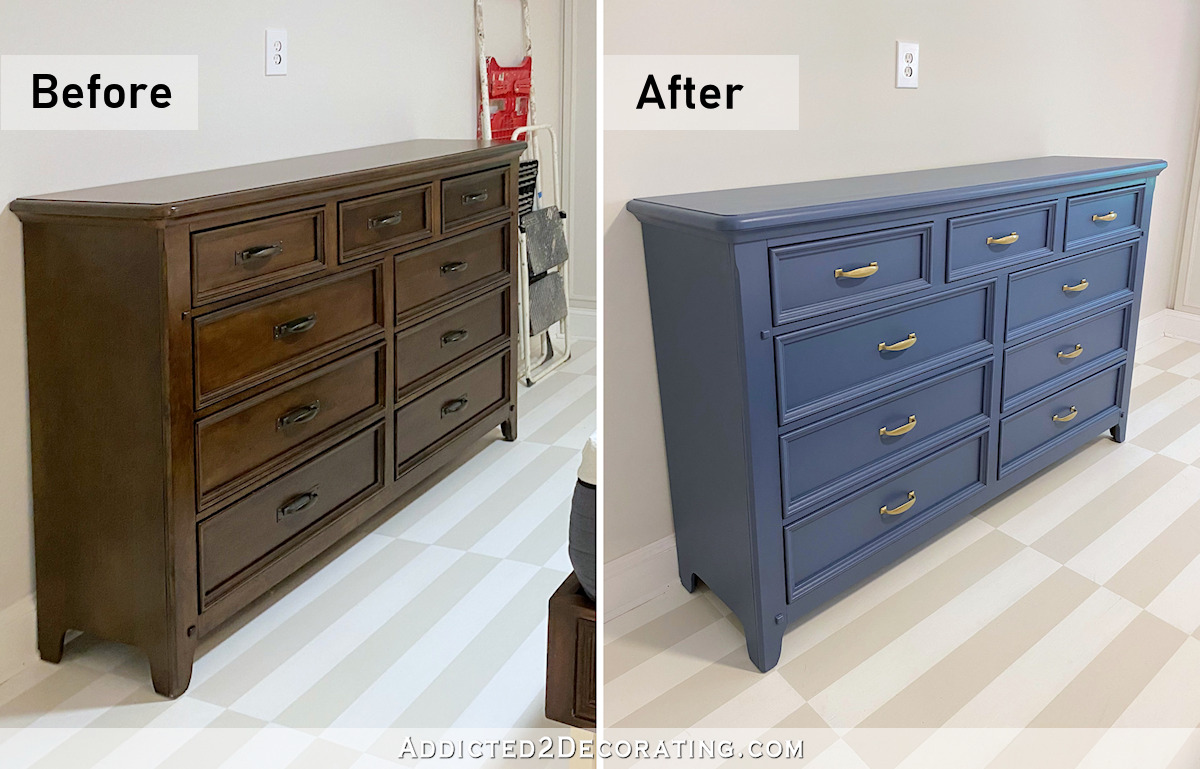 The color I used is a custom color that I had mixed to use as the base color for the mural wall. You can see the formula here…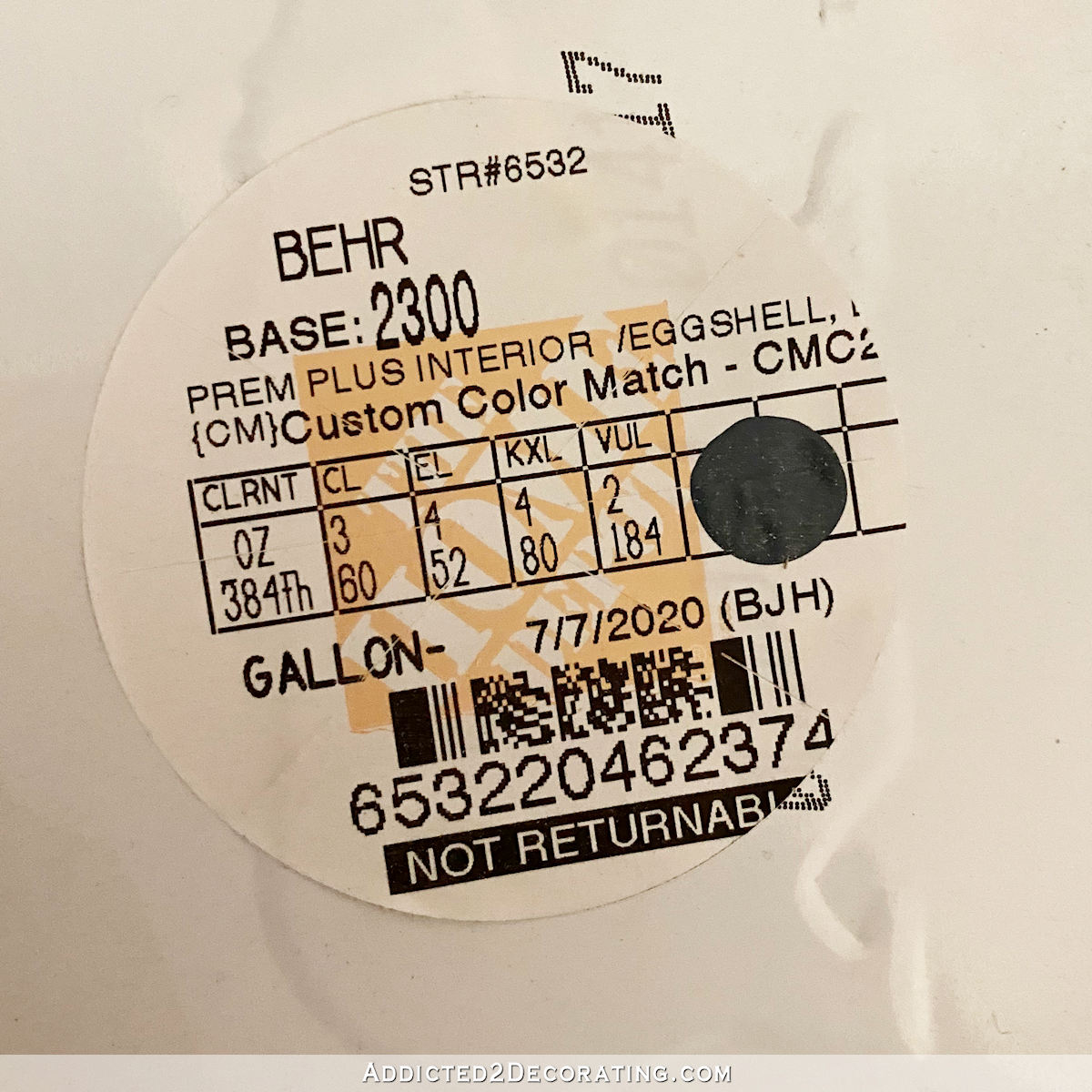 So let me walk you through the steps that I took to paint this dresser.
How to paint a stained wood dresser:
1. Sand the original finish.
This dresser was new with a very shiny factory finish on it. So I started by sanding the whole thing by hand with 220-grit sandpaper. This helps to dull the finish and give the primer better adhesion.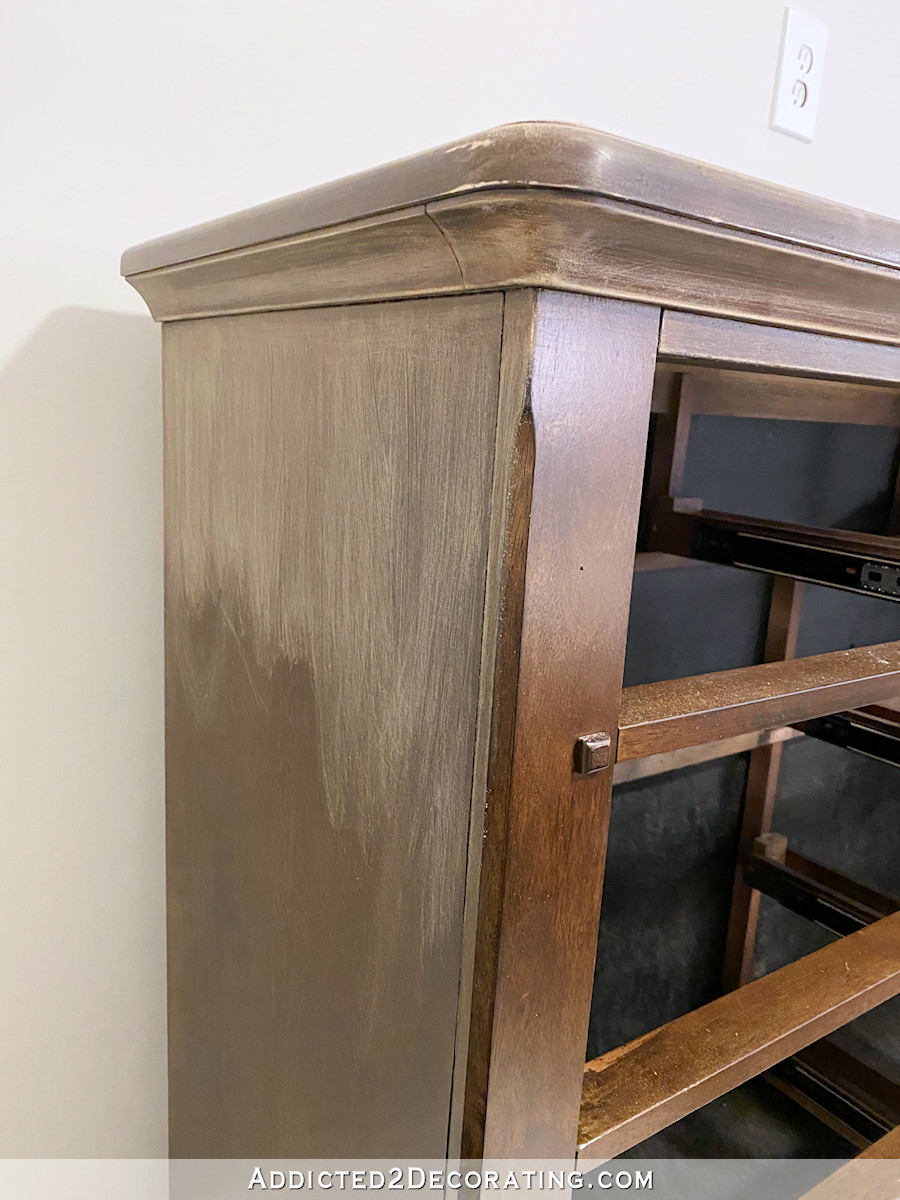 I'll often do this step using my 5-inch rotary sander on the large, flat areas (like the top and sides), but because a sander creates so much dust in the air, it's better to take the piece outside if you need to use a sander. I didn't want to drag this beast outside, so I did everything by hand, which generally only sends the dust falling to the floor rather than flying through the air.
And depending on the finish, I'll sometimes use 150-grit sandpaper for this step. But just keep in mind that the lower the grit, the deeper and more obvious the scratches left by the paper will be. So if 220-grit will do the job, then stick with 220-grit. If you find that 220-grit isn't really doing much of anything (some of those factory finishes are incredibly thick and hard to sand), then go to 150-grit.
2. Wood fill and caulk any cracks, holes, imperfections.
During the sanding process, I also take the time to wood fill and caulk any cracks, dings, holes, or other imperfections that are in the piece. Because this was a brand new dresser, it really didn't need much wood filling, and it didn't need any caulking at all. But it did have these fake wormholes randomly spaced over the entire dresser and on every drawer front, so I filled those with wood filler, and sanded that down smooth.
If there are any areas that need to be caulked, just remember that the caulking needs to be done after the wood filling and sanding (since caulk can't be/shouldn't be sanded), but before the priming.
3. Prime and sand
Next I primed the whole piece using my favorite Zinsser oil-based Cover Stain Primer.
In the past, I have applied this primer with a brush, with a roller (the 6-inch roller for smooth surfaces), and with a sprayer. I always find that I get the best end result when I use a brand new can of primer (never opened and used before) and brush it on. This is especially true if I'm priming unfinished wood that has deep grain, like oak. A sprayer won't get primer down into the grain adequately, and a roller is only a little bit better. But a brush pushes the primer into all of the wood grain, nooks, and crannies.
That's not to say that I never roll or spray the primer, but if I have time (because it is more time-consuming), my preference is to brush it on using a Purdy 2-inch Cub XL angled brush. Keep in mind that you can use the highest quality paints and primers available, but if you use a low quality brush, you'll still have disappointing results. So a quality brush is a key to a great finish.
After letting the primer dry thoroughly, I sanded it by hand using 220-grit sandpaper.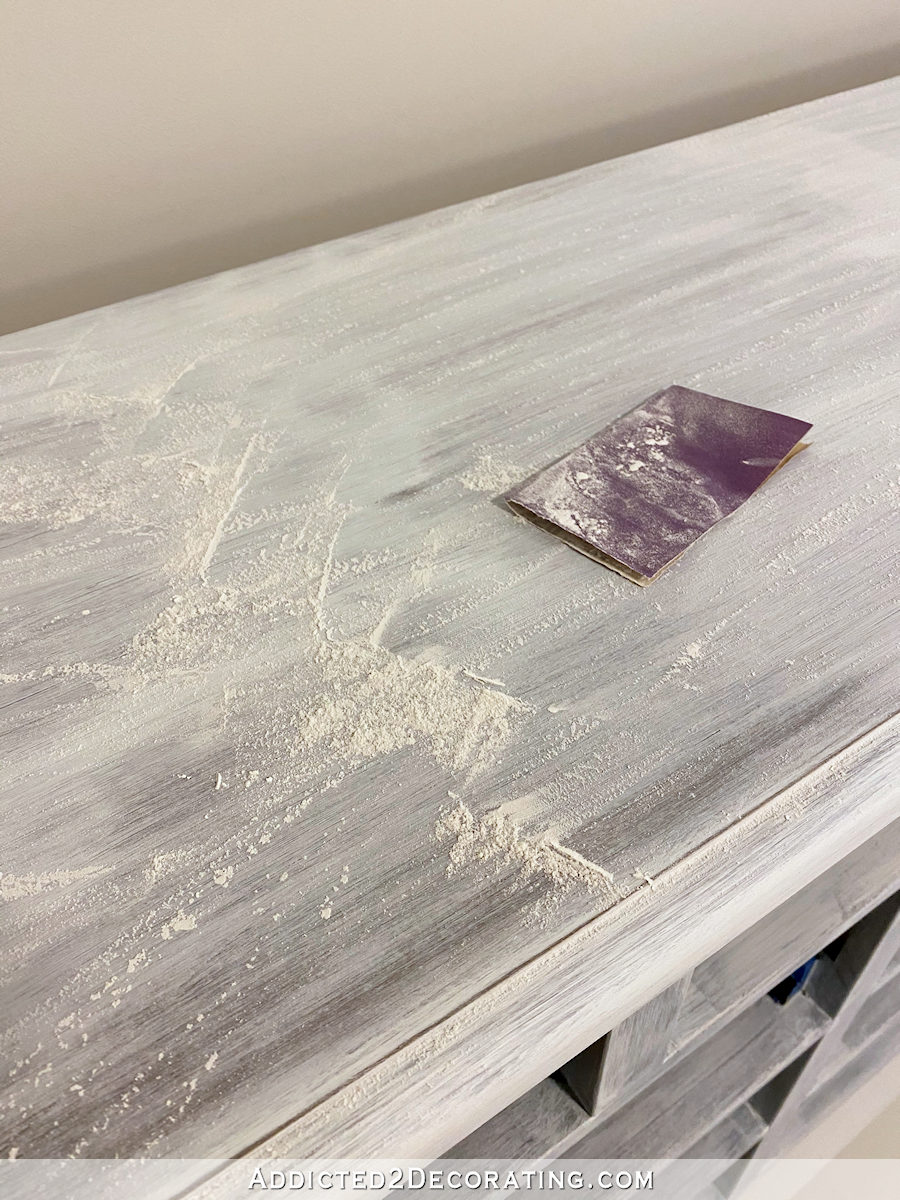 This is very important. When the primer is adequately dry, it will appear as fine chalk dust when you sand it, as you can see in the picture above. If you try to sand the primer and it pills up or makes little pancakes clogging up your sandpaper, then it's not dry enough. But if you sand it and see the fine chalk dust-looking dust left behind, that's when you know you can sand the piece and get the absolute best and smoothest finish.
Also keep in mind that it's not important for the color of the primer to be consistent all over the piece. As you can see on this drawer, when I sanded it smooth, some places sanded away more the expose more of the color underneath, but other areas remained more opaque. I've never had an issue with this at all. The paint covers all of it beautifully.
4. Paint the dresser.
To paint this dresser, I used Behr Premium Plus in an eggshell finish.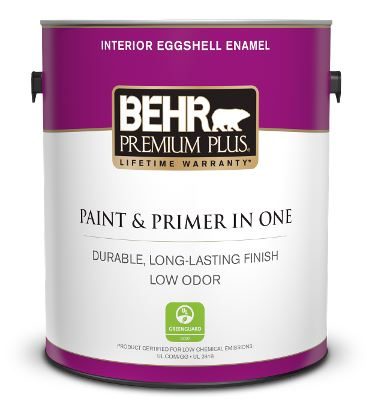 You can use any sheen of paint you want, but keep in mind that the higher the sheen, the more any imperfections in the piece will show up. That's why I tend to stick with an eggshell finish, though at times I will go to a satin sheen. But I never go with a higher sheen than satin.
I bought a brand new quart of paint, and then added two ounces of Floetrol paint conditioner to it. And then I applied two coats of paint using a different Purdy 2-inch XL Cub brush. (It's never a good idea to use the same brush for both oil-based and water-based finishes.) The paint conditioner allows the paint to flow off of the brush so beautifully, and it also extends the drying time of the paint, which results in fewer visible brush strokes in the final finish.
I generally like to leave painted surfaces horizontal as they dry if possible so that gravity can also help to flatten out those brush strokes. But in this situation, I didn't have much space to work in so I very carefully placed the wet drawers back into the dresser as I got each one painted.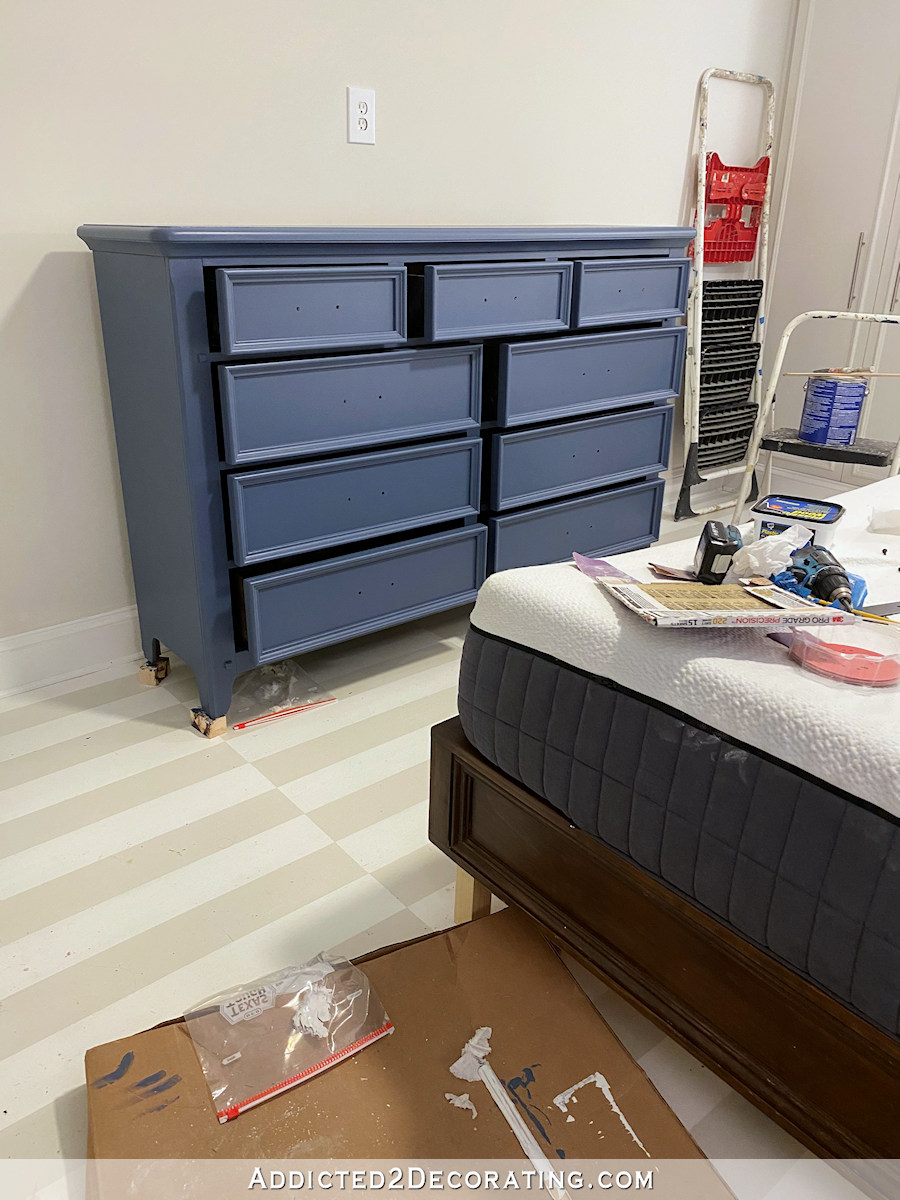 I gave the whole thing two coats of paint. I never find that I need more than that, although on rare occasions I might find that specific areas may need some touchups even after the second coat. But again, that's rare.
5. Paint the hardware (optional)
I used the original drawer pulls, but I left off the original back plates. I thought those made the pulls look way too bulky.
I gave the handles two coats of Rustoleum Pure Gold spray paint, and gave them a couple of hours to dry before reinstalling them.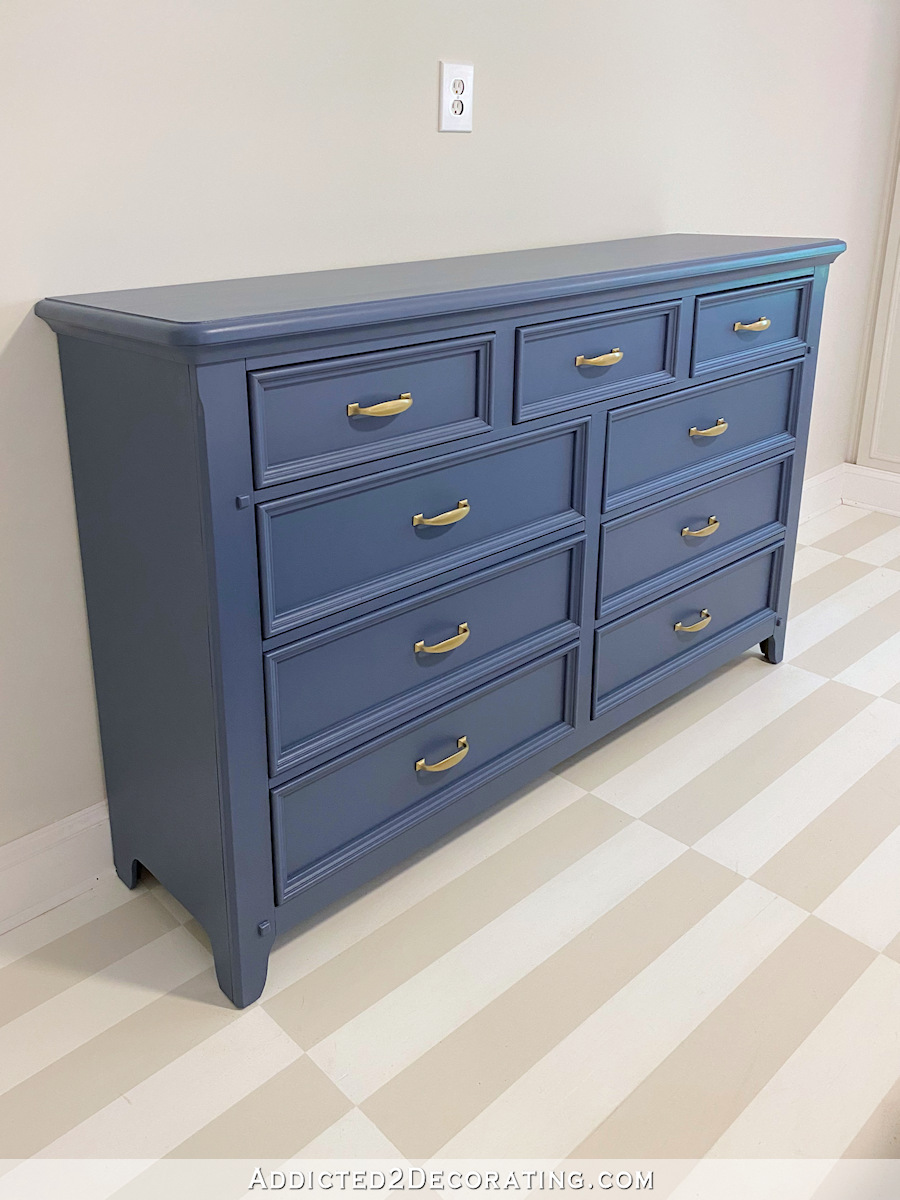 6. Clear coat the top (optional)
I finished off the dresser by giving the top two coats of my favorite clear coat — General Finishes High Performance Topcoat in a flat finish. I applied this with a 6-inch roller for smooth surfaces, sanding the top very lightly with 220-grit sandpaper between coats.
When painting the drawers, I only painted the fronts and the edges of the drawer fronts. I left the rest of the drawer box in its original state.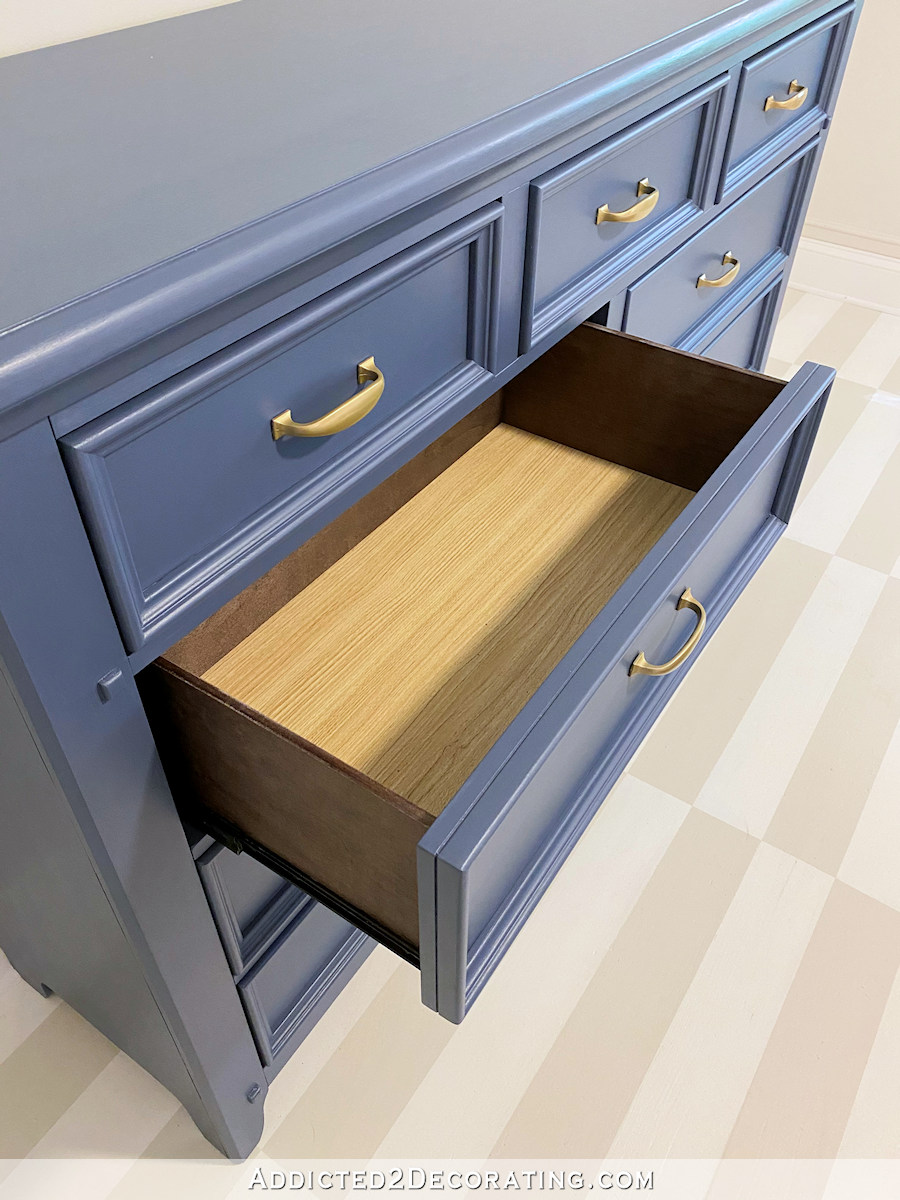 I love this so much more with a painted blue finish than I did with the dark stained finish!
And you can get a little peek at one of the ways I plan to use the golden yellow velvet. 🙂 That's just fabric draped over a curtain rod for now. I will actually turn that fabric into lined, pinch-pleated draperies just as soon as I can, but for now, I just love opening the door to this bedroom and seeing that beautiful velvet framing the window. That fabric will make other appearances in the room as well.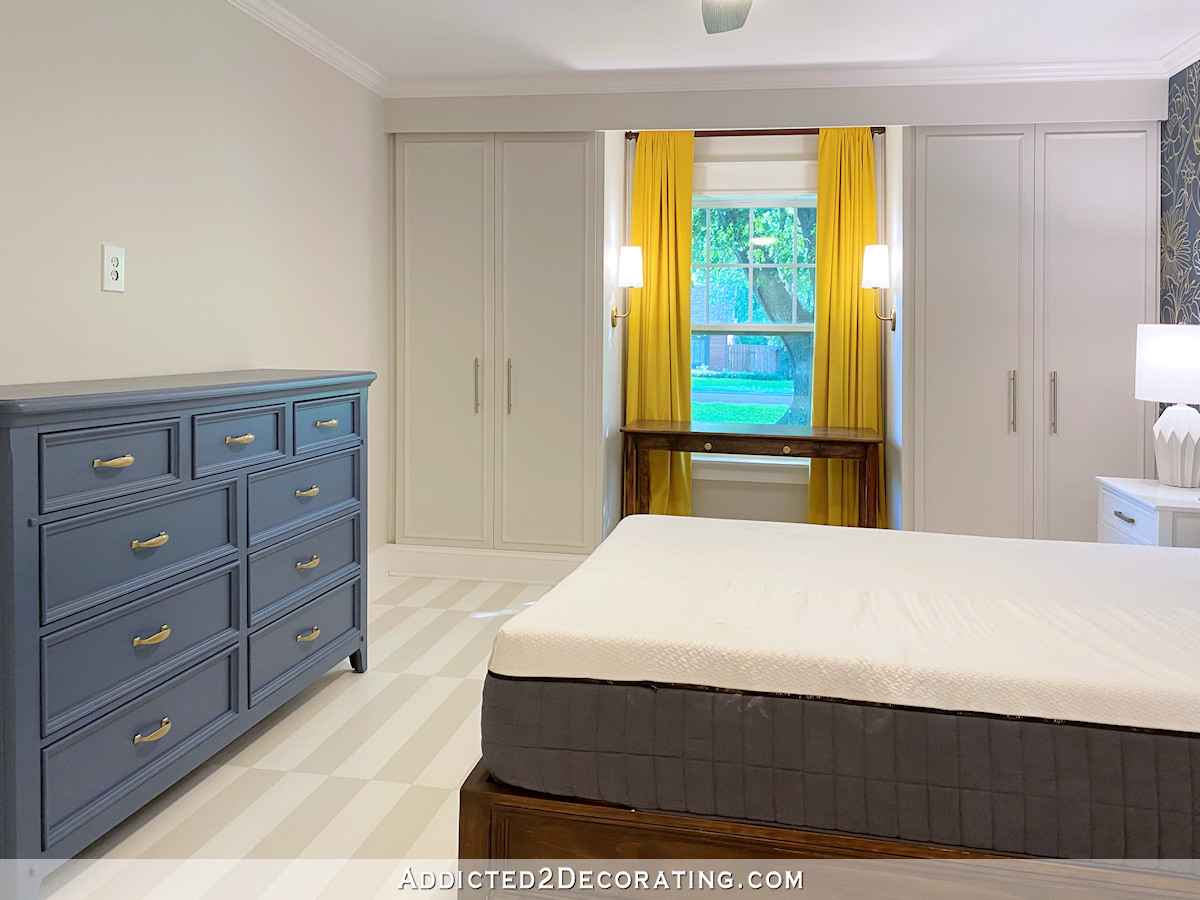 I have some bedding on order, and the plan right now is to modify it a bit with the yellow velvet as an accent. I also went ahead and ordered the stool/ottoman from Target that I really like. I don't think it'll be quite high enough to use at the writing desk, but I can either find a way to raise the height (there has to be a way!) or I can just cut the legs of the desk down a couple of inches. Either way, I will make it work!
So it's getting there! Just a few more projects to go before this room is done.
Addicted 2 Decorating is where I share my DIY and decorating journey as I remodel and decorate the 1948 fixer upper that my husband, Matt, and I bought in 2013. Matt has M.S. and is unable to do physical work, so I do the majority of the work on the house by myself. You can learn more about me here.