My pantry progress continues, but yesterday could be described as "slow and steady." I thought things would go much faster since most of the items remaining on my list were painting, and I really enjoy painting. But I got a late start, started off slowly, and then couldn't seem to pick up the pace at all for the rest of the day. But even with that, I did manage to get two more items crossed off of the list — installing and caulking the trim around the door, and painting the second coat on the tall cabinet on the right. Here's a short video showing yesterday's progress…
(Having trouble? Click here to watch on YouTube.)
The first thing I did yesterday was finish installing the trim around the door. Before I started all of the painting, I wanted to get all of the jobs done that would require any sanding, and I'm pretty sure this was the last one. So I got the rest of the trim installed, wood filled, sanded and caulked.
That door trim is now ready for paint.
And then I got the tall cabinet on the right finished. It needed another coat of paint (the crown moulding actually needed two more), so I got that painted, doors installed, and door pulls added.
So that's only two line items on my punch list, but I'm okay with that. As long as I continue moving forward and making progress, I'll be pleased. With these two items crossed off, this is where things stand as of this morning…
Finish painting the edges of the ceiling Done!
Add stile on top right cabinet Done!
Add stile on cabinet above freezer Done!
Add electrical outlet for microwave Done!
Wire freezer outlet to breaker box
Paint second coat on right side cabinet Done!
Paint second coat on freezer cabinet
Paint walls and shelves on back and side walls
Paint window trim
Install under-cabinet lighting
Paint four cabinet doors
Finish building new drawer fronts Done!
Prime and paint drawer fronts
Build four more pull-out shelves Done!
Clear coat all pull-out shelves and drawers
Install and caulk door trim Done!
Paint door trim
Paint the wall around the door
Re-install ceiling light
Load in stuff and start using the pantry!
Twelve more things left, and eight involve a paint brush. This should be easy!
---
---
Update:
My pantry is finished! Want to see the entire project from start to finish? You can find every single post about the pantry build right here…
Or you can skip to the end and see how it turned out. Here's a peek of the finished pantry…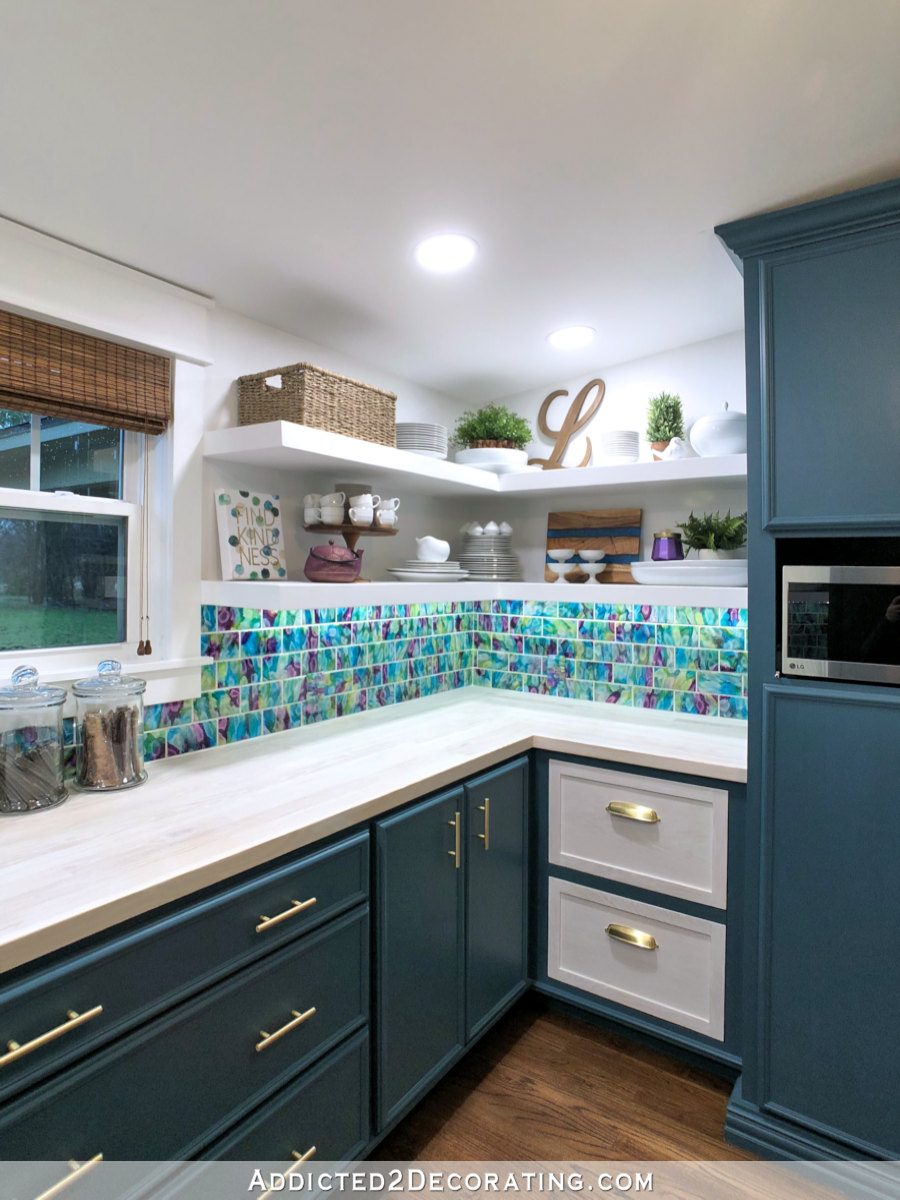 You can see more pictures on the before and after post right here…
---
---