Last Updated on July 17, 2016 by Kristi Linauer
I'm calling my entryway finished for now. This is kind of a strange before and after, since my house doesn't really have a defined entryway. What I have is a front door that leads to a big room that I've decided to call an entryway on one side, and a dining room on the other. And while the one wall that I call the entryway is pretty much finished (with the exception of some accessorizing, which I'll do when I finish the rest of the room), the entire other side of the room still has quite a way to go.
This is going to be kind of a mini before and after. I'll do a much more thorough before and after, including more of the process of getting from the before to the after, when I finish the rest of the room. And unfortunately, I didn't really get good before pictures of this wall, so the befores really aren't from the same angle. You can still get the general idea, though.
Anyway, here's how the entryway looked when we bought the house — off white walls, worn green carpet, and polystyrene ceiling tiles…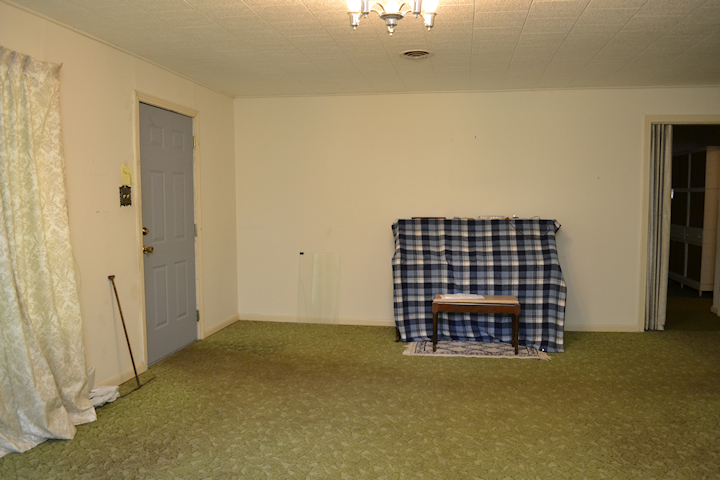 And here's what it looks like today…
I wish I had a better picture of this before view, but this is what this area looked like standing in what is now the music room, and looking back toward the front door, with the entryway wall on the right, and the dining room on the left.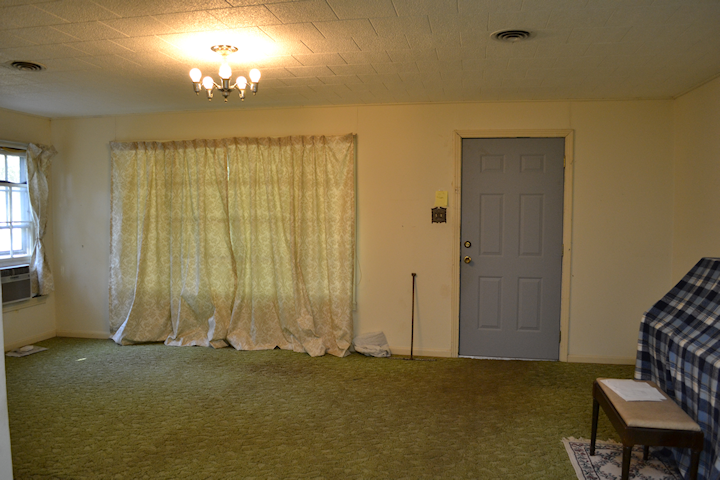 And today, standing in the music room and looking back towards the front door and entryway wall, this is what it looks like…
It looks like a different house, right?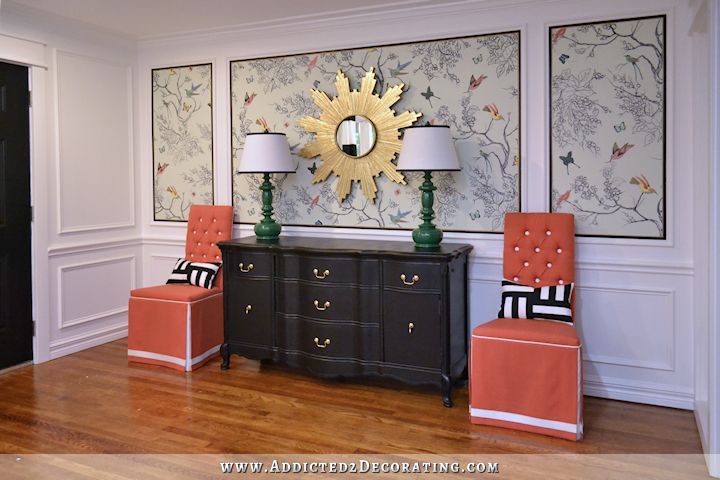 And you'll notice that I made some changes. Again. The green walls are gone. I didn't like how they looked with the chairs. And those walls changed color so drastically throughout the day that sometimes I'd love the color (in the morning light), and other times I'd hate it (in the evenings). So it had to go. I tried a few other wall color samples, but it seemed like any color at all just looked drab and dull, so I went back to white — Behr Polar Bear. I do love the contrast of the chairs and the black buffet with the bright white walls.
And when I changed the wall color, the mural looked really washed out, so I added a thin black border around those panels. It's actually what I had planned to do from the beginning. I like the boldness of a black border. The thin gold border is still there, but it just doesn't show up in these small pictures. It's noticeable in person, though.
So that's it for now. It's not quite a finished room, but at least it's a finished area. And it's not really even completely finished, because I still need to do some accessorizing. I'll be honest…accessorizing a room with little trinkets and tchotchkes is my least favorite part of the whole decorating process. I know it adds quite a bit to the finished look of a room, but right now I'm just enjoying having the big projects done in this area.
And for easy reference, here are the DIY projects that went into the entryway, including some old ones that didn't make the final cut. 🙂
Addicted 2 Decorating is where I share my DIY and decorating journey as I remodel and decorate the 1948 fixer upper that my husband, Matt, and I bought in 2013. Matt has M.S. and is unable to do physical work, so I do the majority of the work on the house by myself. You can learn more about me here.
I hope you'll join me on my DIY and decorating journey! If you want to follow my projects and progress, you can subscribe below and have each new post delivered to your email inbox. That way you'll never miss a thing!