Last Updated on July 17, 2016 by Kristi Linauer
This past weekend, I got my second chair reupholstered for the entryway, made some new pillows for those chairs, and did some painting. I think all that's left is to paint my front door, and then the entryway will be finished. I'm pretty sure I can get that finished today, if life doesn't get in the way. 🙂
As I'm working, I'm always asking myself, "What's next?" Obviously,  still need to finish the dining room.
I've got four Roman shades, eight dining chairs, and some accessorizing to go. At least. I'm sure there are more projects that I'm not remembering right now.
Then I'll turn my attention to the music room and finish decorating in there.
And after that, I want to work on the hallway. The hallway is small, but it still needs drywall in some areas, and then taping and mudding on the ceiling and walls. So I'll be starting with the very basics in there, and then building a built-in hall tree. Right now, it pretty much still looks like this, multi-colored doors and all…
Once that's done, that would finish up all of the main areas.
Those projects will keep me busy for a while. I'd love to think I can get it all done by the end of the year, so we'll see if I can actually make that happen.
But where I go from there, I have no idea. One thing I really struggle with on this house is knowing what temporary fixes to put time and money into, and where to just hold off until we can really do things right. And in the last few weeks, spending time and money on temporary fixes just seems really unappealing to me.
For example, as much as I'd love to have a beautiful bedroom, the idea of putting any time and money into any projects that we can't take with us to our new bedroom (when the remodel is done) just seems so wasteful to me. Earlier this year, I had talked about removing a window, adding a door, building bedside closets, etc. None of that appeals to me right now. And putting any kind of money into the master bathroom, no matter how much I hate that room, just seems pointless.
And just a couple of months ago, I was testing out paint colors for the exterior of the house.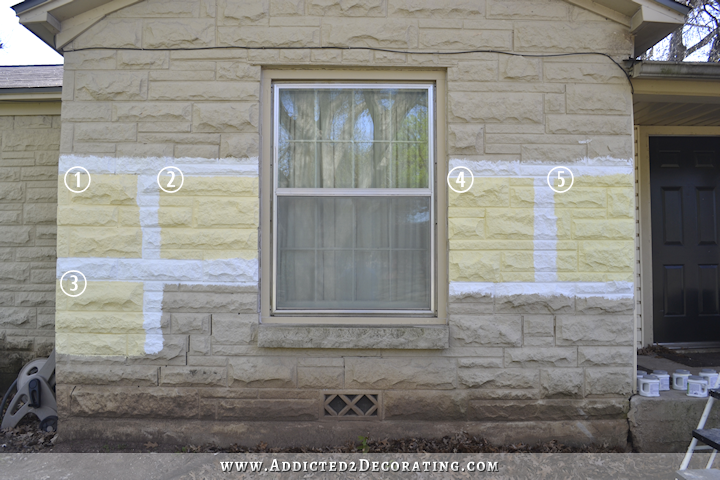 But every time I walk in the front door, and walk past all of the vinyl siding on the porch, the more I cringe at the idea of wasting time, money, and good paint on ugly vinyl siding. I'd almost rather live with the ugly until we can get straight to the long-term goal, which will be a more traditional (in other words, not Craftsman) version of this…
Anyway, I could go on, but you get the point. I'm just ready to have things finished and finalized. I'm not interested in temporary and cheap fixes that I'll just turn around and tear out when I'm ready to implement a long-term plan.
I really don't know what has brought about my change of heart. I've always loved DIY just for the sake of DIY, and as long as I was creating something, I didn't really care if it was just temporary. But now, I feel my attitude shifting a bit. Or a lot. Maybe it's just beccause I just turned 43 a few days ago, and I don't want to spend all of my 40's in a construction zone. Or maybe over the last six weeks, as I've taken a step back from the blog and from projects, I've just kind of lost some of that fire and excitement that I had before. I really don't know.
Whatever the reason, I'm just ready to speed this process along. I need to find a way to make a quick $60,000. Or perhaps it's just time to get a loan and get the work done. I'm ready to have a nice bedroom with French doors to the back yard so that I don't have to worry about how in the world I'd get Matt outside to safety in the event of a fire. I'm ready to have a nice, large master bathroom with a wheelchair accessible shower that Matt can actually use. I'm ready to have a much larger front porch so that Matt can go out the front door without me worrying that he's just going to roll right off the edge, and a really nice wheelchair ramp on the side that isn't so steep that it takes all my strength to get him up the ramp.
I'm ready to have a home, and I'm ready to start enjoying life and family in my home.
I think I'll start interviewing contractors, getting bids, and we'll just see where it leads.
Addicted 2 Decorating is where I share my DIY and decorating journey as I remodel and decorate the 1948 fixer upper that my husband, Matt, and I bought in 2013. Matt has M.S. and is unable to do physical work, so I do the majority of the work on the house by myself. You can learn more about me here.
I hope you'll join me on my DIY and decorating journey! If you want to follow my projects and progress, you can subscribe below and have each new post delivered to your email inbox. That way you'll never miss a thing!