Last Updated on February 26, 2013 by Kristi Linauer
Good morning, and happy Monday to you! I hope you had a wonderful weekend!
I finally got my HVAC closet door finished, and here's how it turned out…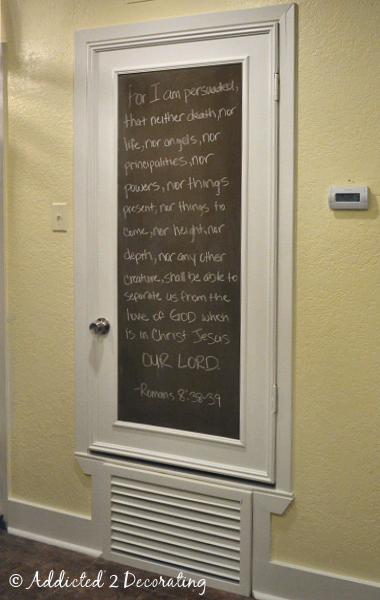 Yep, it's a big 'ole chalkboard!  And you know what?  I love it!
I had such a hard time deciding what to do with this door.  If you'll remember, when I finished my custom air return vent cover last week, my door still looked like this…

Plain, ugly, and just unlevel enough to drive me batty.  I considered replacing it with a standard six panel door, which is what I plan on putting on all of the other doors in the condo (and I already have on the bedroom).  But the problem is that the height of this door would have to be cut since it doesn't go all the way to the floor, and the cut line would go right through the lower panels.  I just couldn't bring myself to do that.  It would have looked unfinished in my mind.
And obviously the idea to paint everything out in the wall color to make it disappear didn't work.  Let's face it…there's no hiding the fact that there's a big 'ole door with a big 'ole vent underneath it.
So, I thought if I can't make it disappear, I may as well make it a feature!  There's no middle ground for this door.  🙂
I started by using my miter saw to cut pieces of 1.5-inch decorative trim to go around the edge of the door.  Fortunately with some careful placement of the moulding, I was able to disguise the fact that the door hangs slightly unlevel.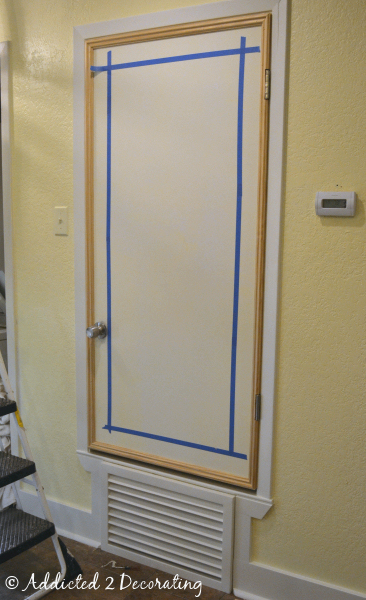 I put it as close to the edge as possible.  (Getting it around the hinges wasn't the easiest thing in the world, but I managed.)

The trim that I used was the perfect size to go around the door knob.

After attaching the outer trim, I measured in three inches to mark where I wanted the chalkboard section to be.  I had to be sure that this section (and the trim that I would be adding later) was inset enough to clear the door knob.

Since the utility closet with the argyle walls is only feet away from this closet door, I didn't want to introduce a new color into this area.  So I made my own chalkboard paint using the same brown wall color from the utility closet.  I used 1 cup of flat latex paint mixed with 2 tablespoons of dry unsanded grout.  I applied it with a foam roller, and that amount of chalkboard paint turned out to be perfect for a chalkboard this size.  After one coat, it was looking kind of rough…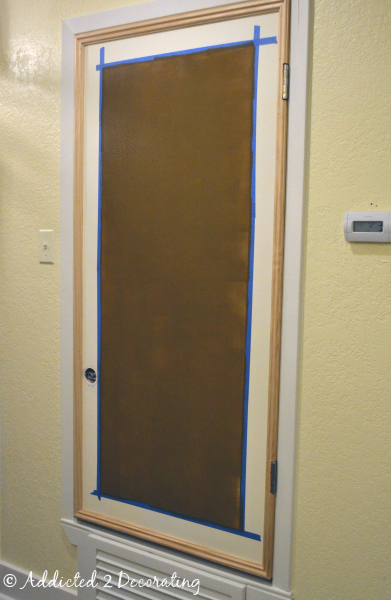 But after three coats, it was looking really nice.

When the chalkboard paint was dry, I removed the tape and added smaller trim around the chalkboard.  The door was already looking so much better!

I was anxious to try out this homemade chalkboard paint, so I went ahead and "primed" it by rubbing the side of a piece of chalk over the entire surface of the chalkboard area…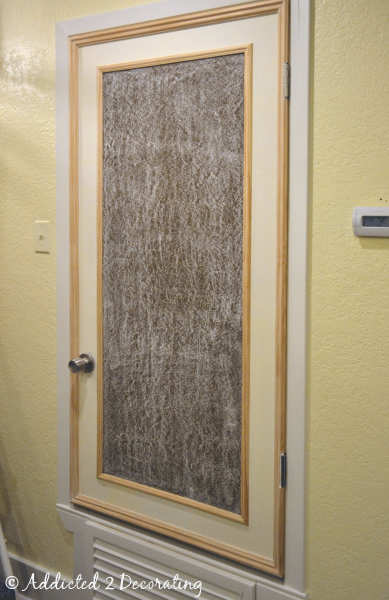 …then I rubbed it off with a rag.  It definitely lightened the color some, but it gave it more of an authentic chalkboard look.

Of course, I had to go ahead and test it out.  I scribbled one of my favorite verses on it.  My handwriting left a lot to be desired, but the actual chalkboard paint worked wonderfully!

Next I taped off the chalkboard area, and gave the entire door a coat of primer.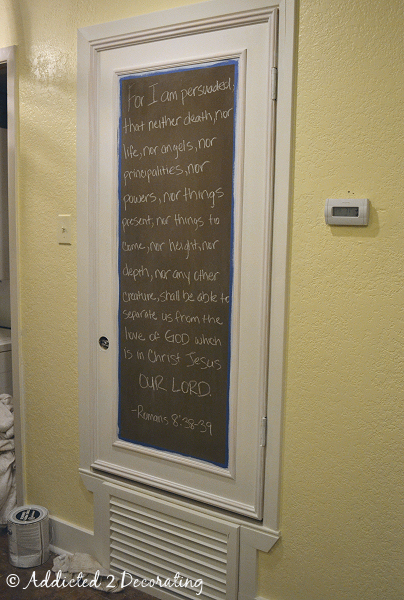 Followed by a coat of my semi-gloss trim paint.  I'm just thrilled with how it turned out!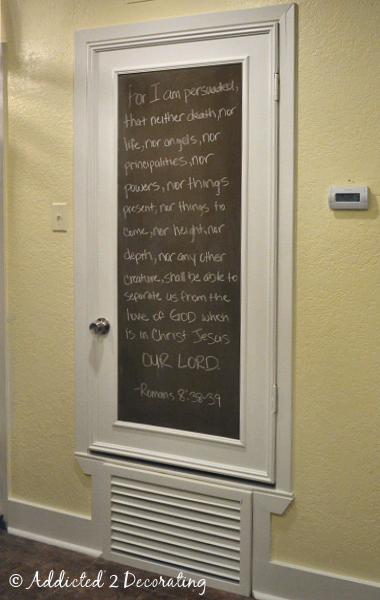 Now let's take a look at the before and after, shall we?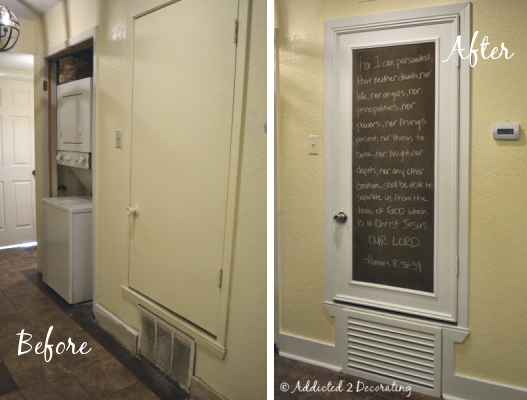 I'm always amazed at the difference that a little paint and trim can make.  (And yardsticks, of course!)  🙂
Now I'm going to move on to the next closet over…the washer/dryer closet.  (And yes, those are towels piled by the washer.  Hey…I'm just keepin' it real here!)

Anyway, I removed the doors from the closet because they were just plain ugly.  Plus, the washer inches forward every time I use it, so the doors would never close completely.  So I've got to find a solution for my creeping washer, and then I've got to cover the closet in some way that looks nice but doesn't involve more doors.  I've got an idea, and hopefully it won't be too difficult or time-consuming.  Stay tuned for that.
Did you miss the details of my new air return vent that I made out of wood Home Depot yard sticks?  You can see that tutorial here.
#bobvila
Addicted 2 Decorating is where I share my DIY and decorating journey as I remodel and decorate the 1948 fixer upper that my husband, Matt, and I bought in 2013. Matt has M.S. and is unable to do physical work, so I do the majority of the work on the house by myself. You can learn more about me here.
I hope you'll join me on my DIY and decorating journey! If you want to follow my projects and progress, you can subscribe below and have each new post delivered to your email inbox. That way you'll never miss a thing!