For some reason, the glass and metal side tables just weren't cutting it for me in my living room, so I now have shiny new gold Greek key side tables.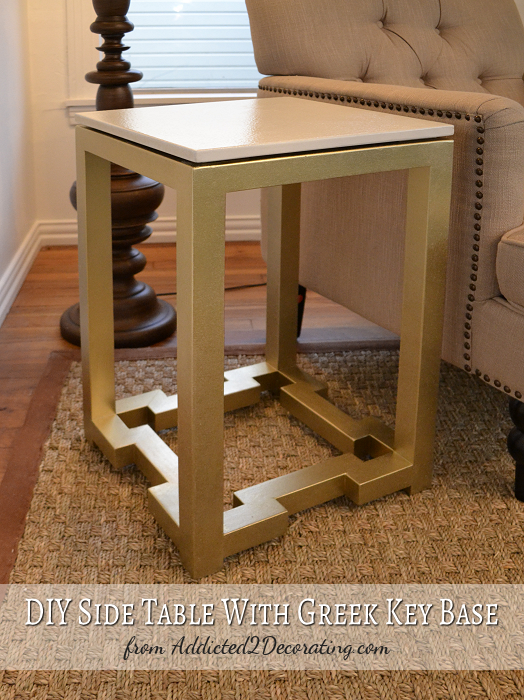 The other end tables were fine, and I'll probably end up using them in the family room once we remodel the sunroom and make it a family room. But for the living room, they were just lacking. They were to big, while actually not having enough visual weight to them.  They just looked too light and airy.  Plus, the room was starting to be a bit too traditional and predictable for my taste, so I wanted to create something with a more modern look to contrast all of the traditional stuff in the room.
When I found this Greek key side table from Shades of Light, I knew immediately that's what I wanted for the room, but their $549 price tag was far from what I wanted. So of course, I made my own!
I used 2″ x 2″ lumber for the entire base of the table.  I didn't purchase the cheap furring strips that are around $1.80 for an eight-foot piece, since those are generally badly bent and warped.  Instead, I went with the ones that cost almost five times that (about $8.50 each) so that I could have a much better chance at finding ones that were perfectly straight (or as close to perfect as lumber can get).  In all, I used three pieces of 2″ x 2″ x 8′ lumber for one table.  If you make two tables, five pieces will be enough.
(FYI, I built two tables, and took pictures of the process on both.  I combined pictures from each table below, which is why you see some assembled parts in one picture, and then those parts unassembled in the very next picture.  Sorry if that's confusing!!)
My tables are 14 inches square, and just under 24 inches tall.  To make the basic structure of the table, I started out with four pieces of 2″ x 2″ lumber cut to 23 inches long, and four more pieces cut to 11 inches long.  (I thought I would need those clamps, but I didn't end up using them.)
I assembled the basic table form using wood glue and a brad nailer with 2-inch 18-gauge finishing nails.  I also built the table upside down on a flat surface (scrap MDF in this case) so that the top would end up being as flat and level as possible.
I started by attaching one leg to one cross support, shooting the nails through in the direction as shown below.
Then one by one, I added another cross support, then another leg, another cross support, etc.
With the basic table assembled, it looked like this…
Then I needed to add the bottom support pieces that form the Greek key.  Each piece was made of five individually cut pieces (three different types of pieces).
I absolutely hate measuring, marking, cutting, measuring, marking, cutting.  So here are some pointers on making these pieces easier to cut.
For the little pieces, start by cutting a 45-degree angle on the end of the board.  Then set up a guide on your miter saw using a scrap piece of lumber and a clamp.  That way, you can just slide and cut, slide and cut, slide and cut.  And each piece will be exactly the same size.
Continue sliding and cutting until you have all eight pieces needed for the table.
For the end pieces, you'll need to measure, mark and cut the first piece.  Then use it as a template for marking the next piece as shown below.  Just use a pencil to mark the angle.
And then cut on the pencil line.
Then use the first piece as a template again.  This time it'll be facing the other direction, and you'll be marking the 90-degree angle.
Set your saw angle to 90 degrees, and cut along the mark.
You'll have to keep switching between a 45-degree cut and a 90-degree cut with each new cut until you have all eight pieces needed for the table.  And always, always use the same (first) piece for the template each time.  Don't ever use different pieces as templates for each cut.
For the middle piece, again you'll have to measure, mark and cut the first piece.
Then flip the board over, and use the first piece as a template to mark the next one.
And then cut along the pencil mark.
And after each cut, you'll flip the board over, use the template to mark the next one, and cut along the line.  Flipping the board over after each cut allows you to cut all of the pieces while keeping the same angle setting on your saw for each cut.  Repeat until you have all four pieces needed for the table.
I assembled each support piece using wood glue and 1.25-inch finishing nails in my nail gun.  I assembled the two ends first, and then attached the center piece last.
With all four support pieces assembled, I was ready to attach them to the table.  To do this, I stood the table upright.
And then I cut two small pieces of 1″ x 2″ scrap lumber to use as spacers.  I placed one spacer on each side right at the bottom of the legs.
And then I placed the support piece on top of the spacers and nailed the piece into place using 2-inch finishing nails.
I repeated that same process on the other three sections, and when all four pieces were in place, my Greek key design was complete.
The assembly of the table really was incredibly easy.  After cutting all of the pieces, each table took me about 30 minutes to assemble from start to finish.
Then came the very time-consuming part — the wood filling, sanding, and caulking.  I used wood filler first to fill in all of the nail holes, as well as the cracks where wood pieces met on the same plane.  After the wood filler dried thoroughly, I sanded it all smooth.  Then I used caulk to fill in any cracks where wood pieces formed a 90-degree angle.
After giving the table two coats of spray primer (Rust-Oleum spray primer) and sanding it as smoothly as possible with 220-grit sandpaper, I tried to paint the table using my new favorite gold paint.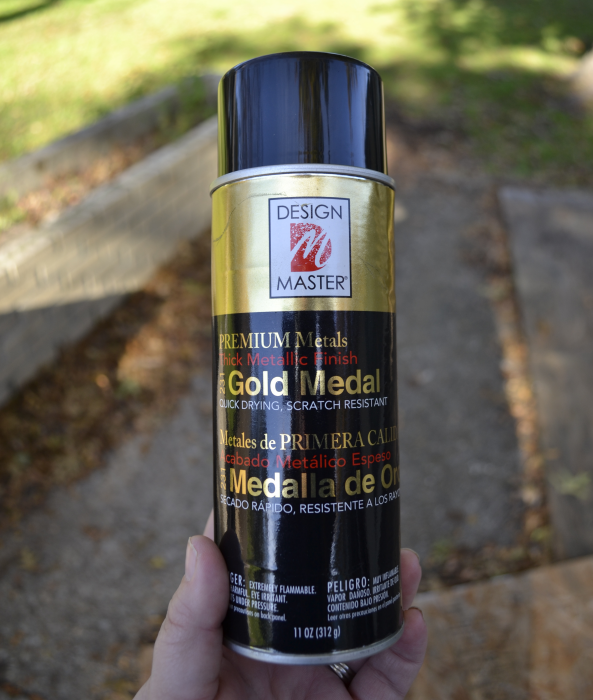 Sadly, all of the nail holes repelled the paint.  I have no idea why that happened since they were all covered with primer, just like the wood, which took the paint beautifully.
But I couldn't have all of those hideous discolored areas where all of the nails were, so I painted the table with Rust-Oleum spray paint first.  I used some sort of copper color, although I don't think the color really mattered.
After that dried, I covered it with the gold, and it worked just fine.
I didn't want just solid gold spray painted tables, so after the gold dried, I brushed on some Golden Pearl metallic paint (Martha Stewart from Home Depot in a small 10-ounce container), and then used a rag to kind of dab and blot the paint in a way that is very reminiscent of sponge painting a wall.  When it dried, it gave the table not only a softer look, but also a more textured, varied look like you would get with gold leaf.  You can see the difference below.
As far as the table top goes, I simply cut a piece of 1/2-inch MDF to the size of the table using my circular saw, and then sanded it (concentrating on the edges to give them a gentle curve rather than sharp edges), primed it, and painted it using Rust-Oleum Hammered finish spray paint in white.  It gave it a beautiful subtle texture.
I also decided to add spacers between the base and the table top.  I just cut four little pieces of a paint stir stick and glued them to the top of the table base, and then glued the table top onto the stir stick pieces.  I tried placing the table top directly onto the base like the inspiration piece, but I just didn't like the way that looked. I love that little space between the base and the top.
But of course, the star of this show is the Greek key base.
I think it adds the perfect modern touch to this room.  I still want to add new fabric to the lamp shades, and add pillows to the chairs, using graphic and colorful fabrics for both to bring in more color and pattern.  Right now, all of the varying shades of white and beige are a bit dull to me.
And of course, the best part of this project is the price.  My table is a $509 savings over the other one.  Mine doesn't have that awesome real gold leaf finish, or a fancy granite top like the expensive one, but those are things I can live without.
If you make two tables, the price per table is actually less than $40 since you only have to purchase two additional pieces of 2″ x 2″ lumber, and one can of each spray paint is sufficient for both tables.  The supplies for two tables cost around $60.
Not too bad for two custom side tables, right?  🙂
Addicted 2 Decorating is where I share my DIY and decorating journey as I remodel and decorate the 1948 fixer upper that my husband, Matt, and I bought in 2013. Matt has M.S. and is unable to do physical work, so I do the majority of the work on the house by myself. You can learn more about me here.
I hope you'll join me on my DIY and decorating journey! If you want to follow my projects and progress, you can subscribe below and have each new post delivered to your email inbox. That way you'll never miss a thing!