Exterior Shutters – Decisions, Sticker Shock and Why You Should Make Your Own
Folks, if you showed up here today hoping to read all of my long, winding, rambling thoughts on exterior shutters, then today is your lucky day! 😀
In true Kristi fashion, I've been obsessing over my exterior shutter style decision. I read all of your comment on the post the other day about shutter style, and I agreed with all of them. So you see my dilemma. 😀
I'd read one comment saying that board and batten was too country for my house, and I'd think, "Oh yes, that's exactly right."
I'd read the next comment saying that board and batten is the perfect cottage touch so that the exterior elements don't seem too traditional and stuffy, and I'd say to myself, "Yep, I totally agree."
The next comment would say that a standard board and batten is too plain and uninteresting, but the one with the two widths of boards (like the mock up I did) adds interest, and I'd say, "Oh definitely. If I do board and batten, I'll for sure do the two widths of boards."
And then someone would mention that the varying widths may look to busy, and I'd think, "Well, that's true. A uniform width would be better."
And next I'd read that the standard board and batten might be too casual, but if I add a frame around it it'll take it up a notch, and I'd think, "Well, that's definitely the perfect style for my house."
Next would be a comment saying that some sort of panel design would complement the traditional elements of my house, and I'd think, "Well, clearly that's what my house needs."
And then I'd read a comment stating that a panel design would be too predictable and stuffy and I need to mix things up a bit, and I'd say to myself, "Well, that's obviously true."
Now imagine doing that 100+ times and you have me reading your comments. You're all correct, and I agree with all of you.
And that's absolutely zero help. 😀
So after looking at approximately 1,534 pictures of shutters on Pinterest and Houzz, I was finally won over by this one.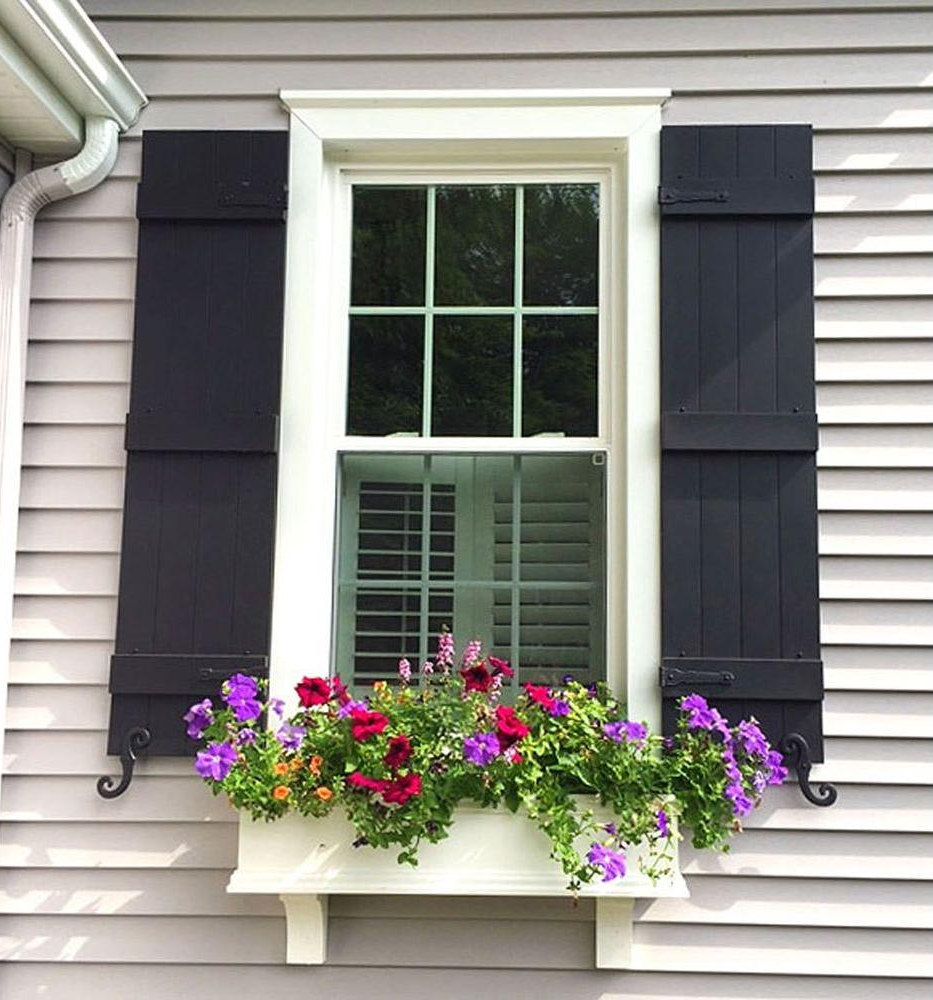 via Home Depot
I love everything about that picture, including the hinges and shutter dogs. The hardware just takes it up a notch, so that's the direction in which I'll be heading as soon as the weather clears up (possibly tomorrow). And the deciding factor that sent me towards board and batten instead of a panel design is the fact that I decided to do a panel design on the window boxes. Just imagine my bathtub skirt on a much smaller scale.
And I wanted to mix it up a bit. A panel design on the shutters and the window boxes would be too much in my mind. But mixing it up with a board and batten design on the shutters and the panel design on the window boxes seems just right to me.
Anyway, after seeing that picture and deciding to go that route, I searched and searched online for all of the items I'd need to create that look. I had already decided that I was going to make the actual shutters out of PVC boards, which I buy locally at Lowe's. But I wanted the shutter dogs and hinges (neither of which I could find locally because real, actual, working shutters aren't really a thing here in central Texas), and I also decided to add some ring pulls. I think I found pretty good deals on all of those (and I opted not to buy the plastic "faux shutter hardware" that you can find on Amazon, and I went for the metal stuff instead). Then I found some PVC corbels for my window boxes and purchased those as well. I'll share all of the sources when I actually start working on those projects.
So with all of the extras purchased, and with my window measurements in hand, I decided to head up to Lowe's to look at their PVC boards and determine just how much of each size I'd need and see exactly how much this shutter project was going to cost.
I stood there in the PVC board aisle calculating and drawing and planning and figuring, and finally determined that board and batten shutters for all five windows would cost somewhere around $550. I have no idea why, but that price kind of shocked me. That's about $55 per shutter, and that doesn't even include the cost of the hinges, shutter dogs, and pulls that I had purchased. At that very moment, that price seemed high to me, and I thought, "Is it even worth it to DIY? Maybe I should get some prices on ready made shutters."
So I headed over to the shutters to see what they had in stock. Well, first of all, every single in-stock shutter was louvered, and that's the one style I absolutely did not want. And they were all the molded plastic that are hollow on the back side. They're about $50 per pair (more or less depending on the size), but those are literally the last thing I wanted to put on my windows. There's nothing wrong with those shutters, and they look pretty when they're installed, but that's what we had on our first house in Oregon, and I really want something different and more substantial this go 'round. And again, I just don't want louvered shutters again.
But can we talk about the biggest problem I have with these shutters? They're all the same width. It doesn't matter if you' need shutters that are 36 inches tall or 60 inches tall, every single shutter in stock at Lowe's (and probably Home Depot, too) is 13.875 inches wide. That means if you stick with the in-stock stuff, whether you're putting them on a window that's 20 inches wide or 60 inches wide, your one choice is to use shutters that are 13.875 inches wide.
And this is my biggest issue with decorative shutters. It's the same issue I have with decorative drapery panels. My own personal rule of thumb is that even if something is just for decorative purposes only (whether it's shutters or draperies or something else), it needs to at least appear to be functional. Because what's the point in spending money on something that's very obviously fake or unusable?
When you put a single, skinny, ready-made drapery panel on each side of a 120-inch-wide window, it just looks wrong to the eye. And so does putting a pair of 14-inch shutters on a 60-inch-wide window (or any window over 28 inches wide, for that matter). The fullness of the drapery panels needs to be proportional to the width of the window, just like the width of shutters needs to be proportional to the width of the window.
And then I see situations with triple windows (like my front porch windows) that have one skinny little shutter on each side — something like this…
I mean, shutters on those front porch windows literally make no sense. What good would two 14-inch-wide shutters do for three 32-inch-wide windows? And if they don't appear functional, then in my humble opinion, they shouldn't be there.
I went back and looked at the very first mock ups I did of the exterior of my house years ago, and realized that's pretty much what I did in that mock up, except that I had different windows at the time. But it's still the same issue.
That just looks silly to me. So I won't be putting shutters on the front porch window (or any other window where there's not enough room for appropriately-sized shutters).
Anyway, all of that to say that it bothers me seeing a house with windows of varying widths across the front, but with shutters of all the same width on each window. But with Home Depot and Lowe's carrying only one width in stock (and even most of their reasonably-priced shutters offered online being 14 inches wide), most people probably don't give it a second thought, especially in areas of the country (like here in Waco) where functional shutters are rarely (if ever) seen on houses.
So before I left, I asked an employee to give me some pricing on custom shutters. I explained that I wanted PVC (the closest they had was composite, which he said is similar to the Trex deck boards), and I wanted them to be 20 inches wide. The widest the composite board and batten shutters come in is 18 inches, but I had him give me a price anyway.
For my two tall windows on the left side of the porch, the price for a pair of 18-inch-wide by 63-inch-high board and batten composite shutters in a paintable finish is $496.42. That's for one window. And I'd still have to paint them since they don't come in the color I want.
He said, "You can save some money if you go with wood." Great idea. Plus, the wood comes in a 20-inch-wide size. So what's the big cost savings for going from a paintable composite to an unfinished, untreated pine? About $30. The pair of unfinished pine board and batten shutters came to $466.24 for one window. I could have them finished for me (stain only, no paint) for around $200 more, which would bring the total for each window to around $667.
Ummm…what? That's more for one window than I'll spend making my own properly-sized PVC board shutters for all five windows. I checked Home Depot's prices online for comparable properly-sized shutters and was finding prices anywhere from around $600 to $1200, depending on the material. That just seems a bit crazy to me. So if I make them myself, I'll get what I want, in the size that I need, at a fraction of the price. Now my $550 cost for DIY shutters isn't looking so bad. Not bad at all, in fact.
And that, kids, is why we DIY.
Addicted 2 Decorating is where I share my DIY and decorating journey as I remodel and decorate the 1948 fixer upper that my husband, Matt, and I bought in 2013. Matt has M.S. and is unable to do physical work, so I do the majority of the work on the house by myself. You can learn more about me here.