Every once in a while, I'll have thoughts run through my head like, "We've been in this house four-and-a-half years. I can't believe I don't have more done!"
When I have those thoughts run through my head, it's always nice to take a moment and look back at old pictures. And I'm not necessarily talking about just the "before" pictures of the house, although those are encouraging, too. But just looking at the "before" pictures compared to the "now" pictures doesn't really tell the whole story, does it? If you've been through an extensive remodel, and especially if you're doing it yourself, you know exactly what I mean.
Sure, the "before" pictures can look bad, with old, outdated cabinets and finishes, cracked drywall, and old hardwood floors that need to be refinished. But even as bad as a room starts out, sometimes it has to get worse…way worse…before it can start getting better. And looking at those process pictures can be so encouraging when you start to feel down about how long a remodel is taking.
For example, yes, the before of my kitchen was bad. The cabinets were old (and not in a good way), and some of the cabinets were beyond repair.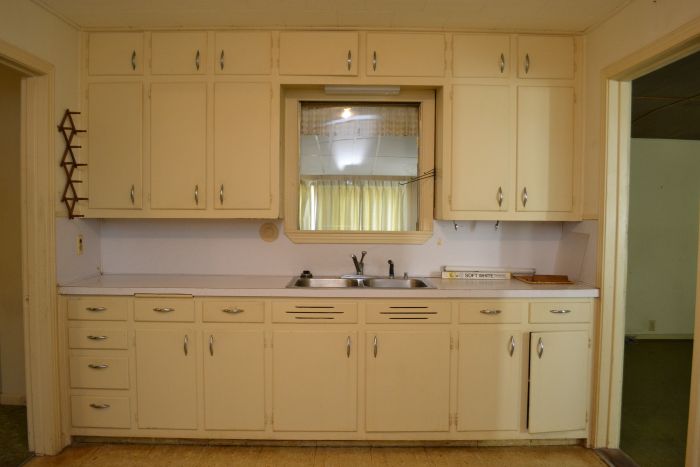 The floor was covered in asbestos tiles, and the ceiling was covered in polystyrene tiles that were hiding thin and cracked drywall. And it was a closed in box with a wall between the kitchen and what's now the breakfast room. There was also a solid wall between the kitchen and the living room.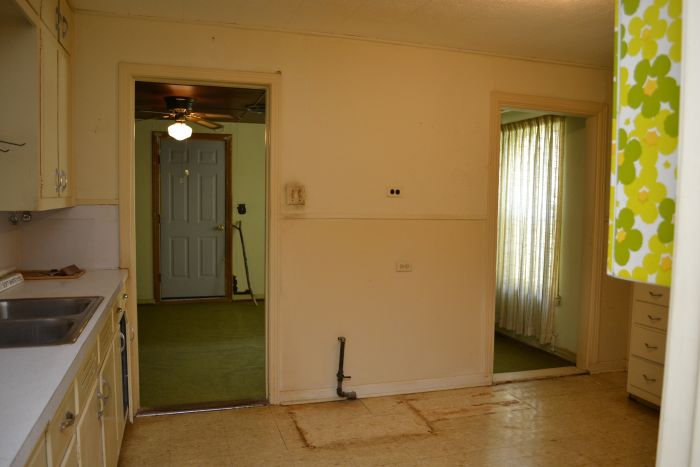 Anytime you start out with a room that looks like that, the "after" is going to be encouraging. But remembering the process of getting from the before to the after, and remembering just how much worse it had to get before it could start getting better, can be even more encouraging.
Shortly after moving in and realizing just how unusable the kitchen was in its original configuration, my father-in-law helped me remove some upper cabinets and move the lower cabinets around into a somewhat workable configuration. That ivy and brick wallpaper wall is where the opening from the kitchen to the living room is now.
And then my brother helped me remove the wall between the kitchen and the breakfast room and install a load-bearing header.
And at some point, I moved all of the original lower cabinets into what's now the breakfast room to make more room to work in the kitchen (and because I couldn't move those huge banks of cabinets into the garage by myself), so even with the wall between the two rooms gone, things started feeling really cramped and closed in for a while.
Then the ceiling came down…
And with the attic exposed, my brother-in-law said that was the perfect time to remove the huge furnace ductwork from the attic.
Those things, and a thousand others, are parts of the story that you don't get from just seeing "before" and "after" pictures. But those pictures of the process can be so encouraging to look back on, and can make you realize, "Oh yeah…that's why this has taken this long, and that was only one room! I had to do similar things to every single room before I could even think about getting to the decorating process!"
Looking at the before…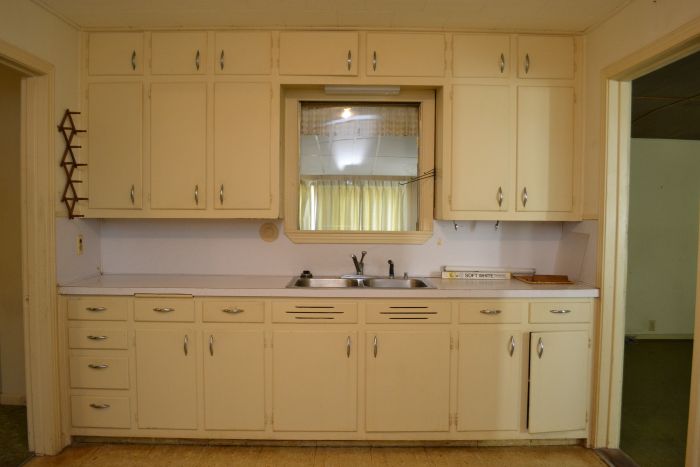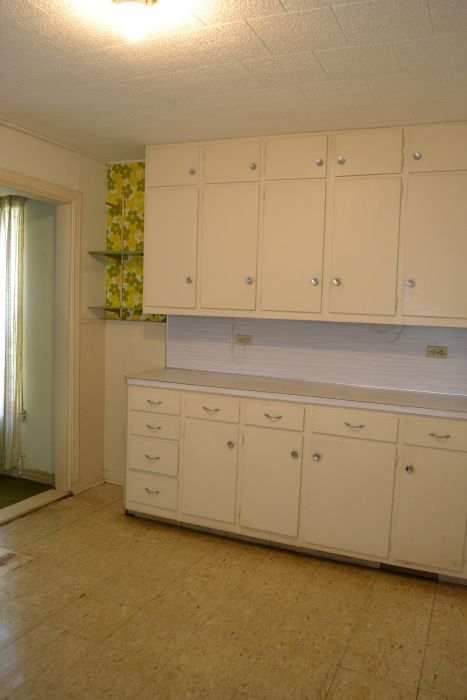 …and the after…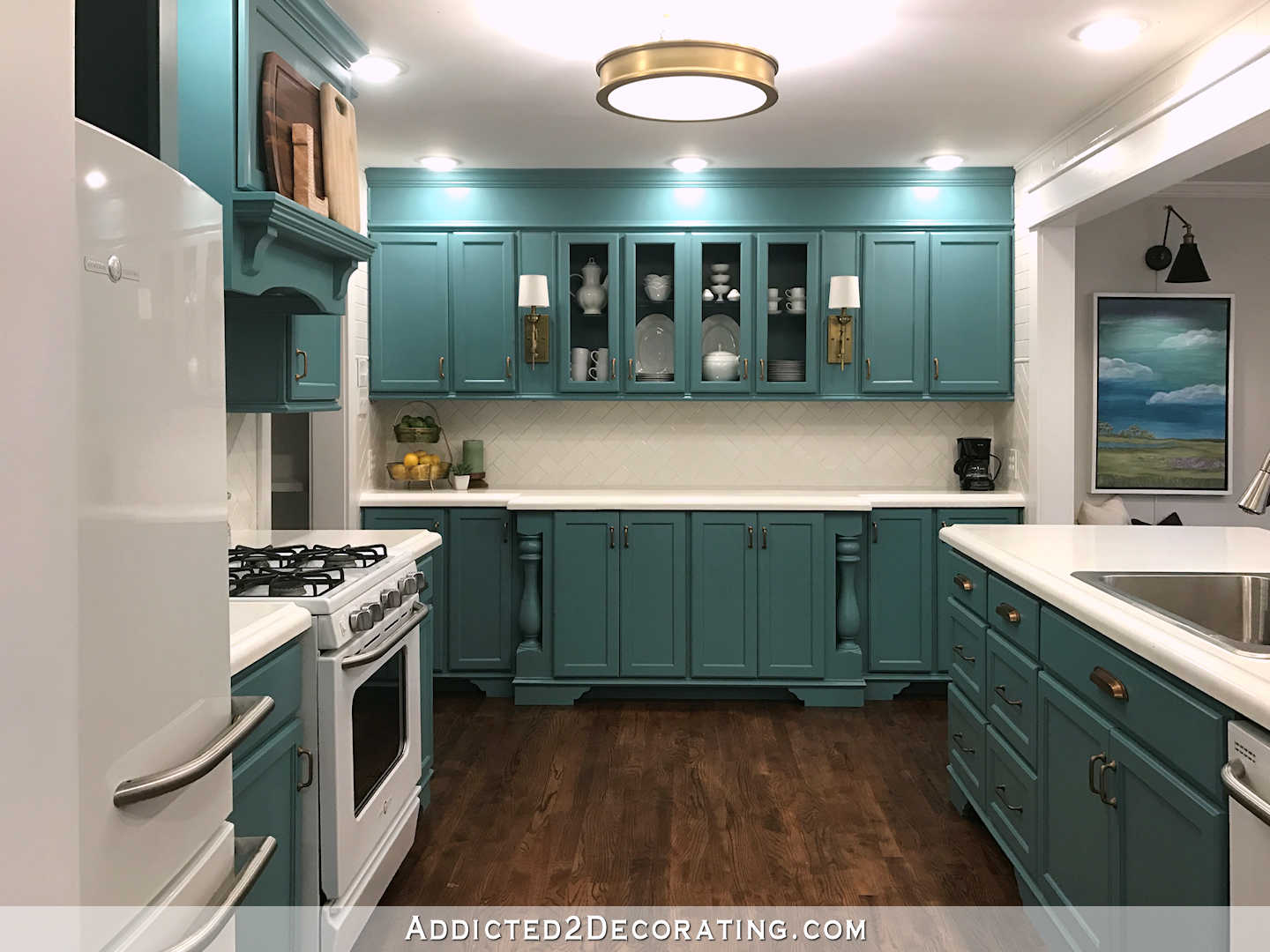 …only tells a fraction of the story.
There hasn't been a single room in my house so far that hasn't gotten worse before it has gotten better. That's just the nature of remodeling a house. And I think most people are aware of that, especially when it comes to rooms like kitchens and bathrooms where a complete tear out is necessary before it can be rebuilt.
My hallway bathroom is pretty small, and yet the amount of work and time necessary to get it from "before" to "after" was comparable to what my kitchen required because both were complete tear outs before I could start making them look better.
The original bathroom was dated, but at least it was usable.
But it had to get much worse and go through at least a couple of months of being totally unusable before it could start getting better. Just the process of removing all of that floor and wall tile felt never ending.
The mess was overwhelming at times, and the clean up was exhausting.
Looking back at the process makes me even more proud of the work I did, and makes me appreciate the "after" even that much more.
Looking back at the "before" and the "process" pictures is very satisfying when it comes to rooms that I've finished, but lately it has been even more helpful when it comes to rooms that aren't finished. I'm a little disappointed that we've been here four-and-a-half years and I've never had a completely finished living room. I can blame part of that on my horrible 2016 and my very bad decision to try to turn that room into a dining room. I lost a year of progress during 2016.
But besides that, there really has been a ton of work done in the living room, even though it has yet to be finished. And I need to remind myself of that from time to time. The room started off looking pretty outdated…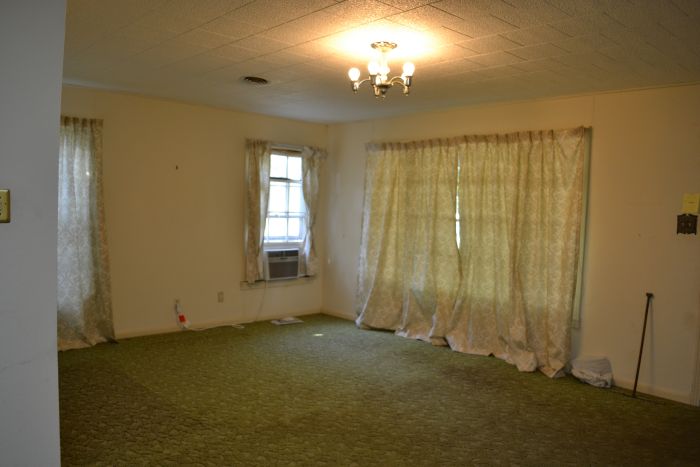 But it got worse…
And then it got even worse…
So while it still may not be finished, looking back at the process is encouraging. And I can be quite pleased with the progress, even as I look at a not-quite-finished room with lengths of fabric with raw edges draped haphazardly over curtain rods and fabric quickly wrapped around pillow forms…
It may not be finished, but by gosh, it has come a long way.
So the moral of the story is this. If you're remodeling your house, take pictures. Lots and lots of pictures. Before you rip anything out, get pictures from every imaginable angle and every detail you can think of. I always feel like I'm taking tons of pictures, but I always wish I had more. And there are always certain angles I seem to overlook (like the angled "before" view of the front of my house from the garage/studio side), so really make sure you have all of the angles and every view documented.
But remember that it's not just important to get "before" pictures. Take tons of pictures of the process also. In those process pictures is where the true story — the whole story — is told. And when you're two or more years into a house remodel, feeling discouraged and wondering why the heck it's taking so long to finish, those process pictures are the ones that will give you a tremendous amount of encouragement.
You can take a moment, put your hammers and saws away for a bit, and just sit down and look back through those pictures to see just how far you've come. Sometimes that's just the thing I need to brush away the discouragement and frustration, and regain my enthusiasm and momentum. It has definitely been just the thing I've needed from time to time this year as we're heading towards the five-year anniversary of purchasing this house.
And by the way, if you'd like to see how the whole house looks now, you can click here to see the video house tour that I posted a few days ago.
Addicted 2 Decorating is where I share my DIY and decorating journey as I remodel and decorate the 1948 fixer upper that my husband, Matt, and I bought in 2013. Matt has M.S. and is unable to do physical work, so I do the majority of the work on the house by myself. You can learn more about me here.
I hope you'll join me on my DIY and decorating journey! If you want to follow my projects and progress, you can subscribe below and have each new post delivered to your email inbox. That way you'll never miss a thing!