Well, February was a slow month around the house. Being sick for a week and then having to say goodbye to our sweet Boo really took it out of me, so after starting off the year with such an amazing and productive January, February was a real let down.
But I still managed to get a few things done. The biggest accomplishment was finishing the hallway.
You can click here to see more before and after pics if you missed it. It's felt so nice having one more area of the house finished.
My brother and I also got a lot accomplished on the front porch. Even though we didn't actually finish anything (so nothing can really be crossed off of my master list), I'm still including this in my list of accomplishments for the month since it was a pretty big project. We got all of the risers in place so that I can now install the porch boards on the front porch.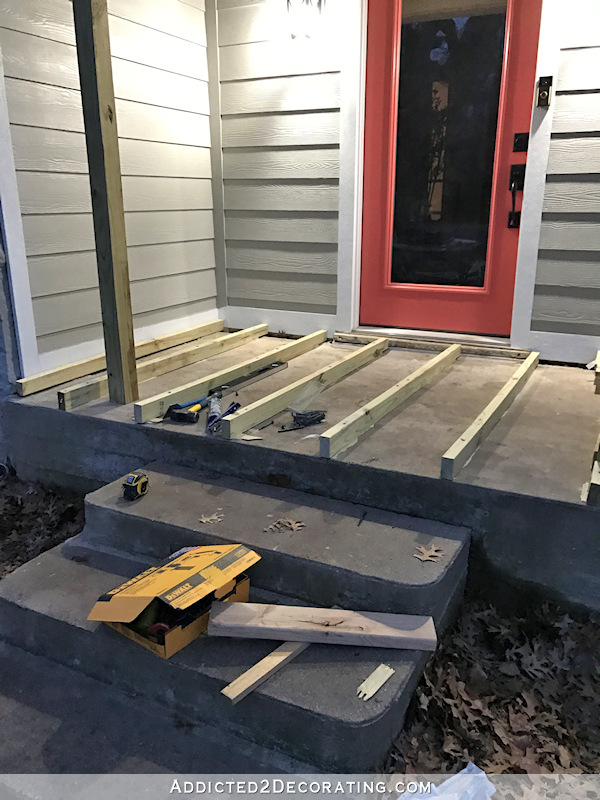 That was quite the project, but after a few missteps, we finally figured out the right way to do things. You can read more about that here and here.
I ended up taking the pressure treated pine porch boards back and exchanging them for untreated cedar. That way I won't have to wait months to stain the porch floor, and the wood is prettier to begin with. It did end up costing about 2.5 times the amount of the pressure treated pine, but I think it will be worth it.
Unfortunately, the weather here has been so rainy that I haven't made any more headway on the porch after we installed those risers. But today, I'm actually seeing sunshine, and the temperature is supposed to be in the low 70s, so today just might be the perfect day for working on the porch.
And that's pretty much it. Wow. Talk about a slow month!
But that's okay. I don't have time to dwell on it, because I've got a brand new month ahead of me to get stuff done. 🙂
First up, I need to finish the artwork I did for above the fireplace. The artwork itself is finished…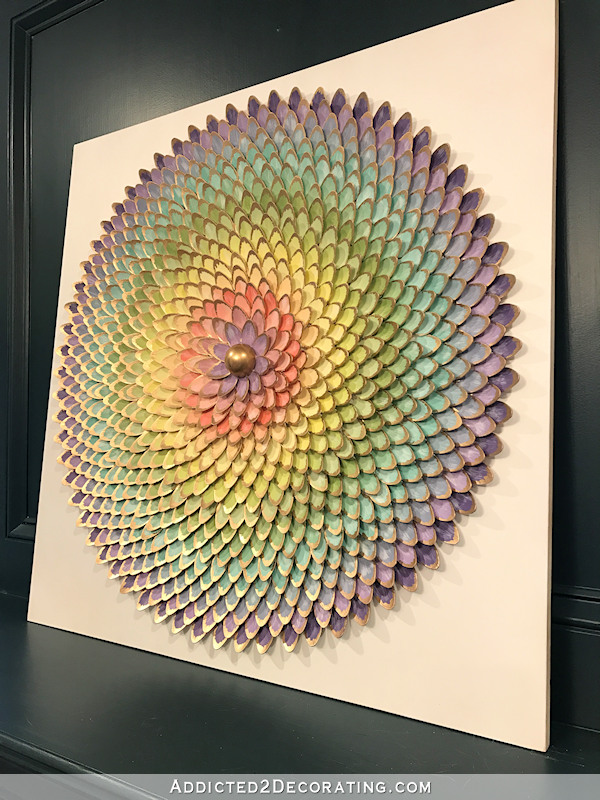 …and you can click here to see more details if you missed it. But I still need to figure out how I want to frame it so that I can get it finished and hung in place.
And this month, I really want to get my living room draperies finished. I've had cut lengths of fabric just draped over the curtain rods for weeks now…
…so it's time to get those finished. Y'all know I'm not really one for plain, solid drapery panels, so naturally I'm going to add a little trim to the edges. Well, I'm actually going to be adding trim to the top, the bottom, and the leading edge of each panel. I have a plan and a vision. 🙂 That'll slow down the process some, but I anticipate the end results being very well worth the extra effort.
As long as the weather will cooperate, I also plan to finish the porch floor, as well as the columns. As I mentioned above, the pine has been returned…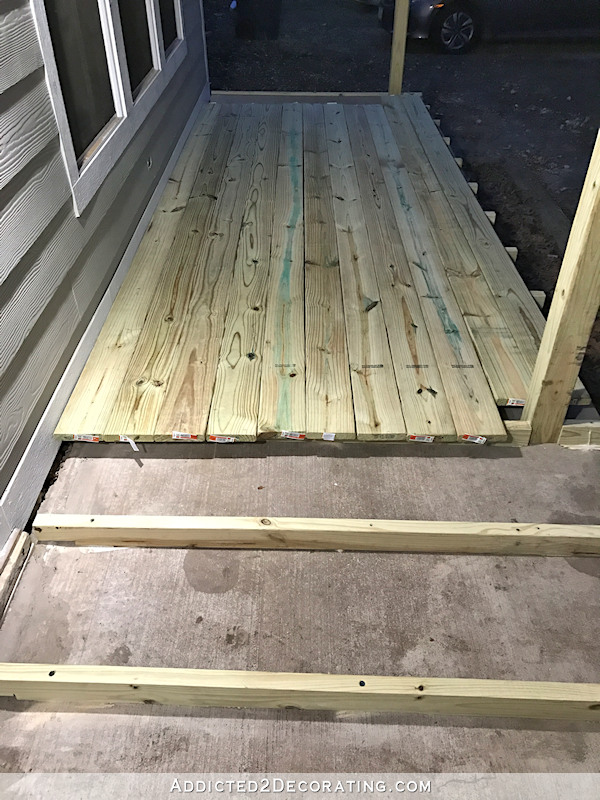 …and I opted for cedar instead. And the columns will be wrapped in wood and trim to give them a more traditional look. I'd love to say that I'll also finish the new steps and the hand rail, but that might be a bit too ambitious. We'll see.
And finally, by the end of the month, I'm hoping that all of this framing in the studio will be completely covered…
I'm still trying to find an electrician to do the wiring for me, and I already have my insulation and drywall guys lined up to get the job done as soon as the electrical is finished. I'd love to be able to start on flooring and trim by April.
So those are the big picture goals for the month. Hopefully I can squeeze in some smaller fun projects along the way.
Addicted 2 Decorating is where I share my DIY and decorating journey as I remodel and decorate the 1948 fixer upper that my husband, Matt, and I bought in 2013. Matt has M.S. and is unable to do physical work, so I do the majority of the work on the house by myself. You can learn more about me here.
I hope you'll join me on my DIY and decorating journey! If you want to follow my projects and progress, you can subscribe below and have each new post delivered to your email inbox. That way you'll never miss a thing!