Last Updated on February 14, 2019 by Kristi Linauer
I've been planning and dreaming about my pantry for almost a year now, and I've come up with somewhere around 20 design plans. And yet I've never been satisfied with any of the plans I've come up with. So last night, I tried to pinpoint the problem, and realized that I was trying way too hard and making it way more complicated than it needs to be.
A pantry, for the most part, just needs lots of shelving, and possibly a few drawers. I don't need to make it more complicated than that.
I've also been way overthinking the whole freezer thing. I had it set in stone in every previous design I've attempted that I need an upright freezer on the left wall of the pantry. But that totally gets in the way of upper storage on the left wall, corner storage in the front left corner, and storage on the left wall just inside the pantry door. That's a lot of storage potential ruined or affected by one upright freezer.
Then a few weeks ago, my brother gave me a small chest freezer. It's 24″ deep, 36″ wide, and 34″ tall, and I'm pretty sure it's all the extra freezer storage I'll need. And once again, I initially tried to design around it on the left wall. And again, it just wasn't working.
It finally dawned on me that the perfect place for a 36-inch-wide chest freezer is on the back wall of the pantry centered under the window. That way there's nothing that will get in the way of the freezer opening all the way, and the freezer won't have any effect on placement of upper shelves or corner storage.
Once I made that decision, the rest just fell into place. The lower storage in the pantry will look like this…
The cabinets on the right and left just inside the pantry doors will be closed floor-to-ceiling cabinets. The rest will be lower cabinets with countertops, and upper open storage shelves with adjustable shelves. I'm still considering the drawers. I know drawers are handy, but those areas could easily end up being more open shelving.
And as you can see, I decided to go with the simplest option for the corners and do blind corner storage with no fancy pull-outs or super susans or corner drawers or anything like that. I'll just use those blind corners to store items that I want to keep but rarely use.
A chest freezer front-and-center in my pantry behind the French doors and under the window isn't exactly what I had in mind when I started designing this pantry. I had always envisioned some pretty drawers with a beautiful stained wood countertop under that window. But as contrary as it is to my nature, I'm trying to put practicality first here.
But that doesn't mean it has to be ugly. I've been looking at various refrigerator makeovers, and I'm thinking that my little chest freezer could benefit from a makeover to turn it from a plain white rectangle into something really unique like this wallpapered refrigerator.
via Farmhouse For Four on Instagram
Giving a chest freezer a wallpaper makeover may seem silly to a lot of people, but this little freezer will be the main focal point through the French doors and under the window. So yeah, I'm gonna make it pretty. 🙂
I'm excited now about getting started on the pantry. It doesn't feel overwhelming to me anymore. As long as I was forcing the freezer on the left wall, and placing the most emphasis on making the pantry pretty, it just wasn't working for me. So the thought of actually building the pantry stressed me out. Once I finally let go of that whole "perfect view through the French doors" idea, it all fell into place.
---
---
Update:
My pantry is finished! Want to see the entire project from start to finish? You can find every single post about the pantry build right here…
Or you can skip to the end and see how it turned out. Here's a peek of the finished pantry…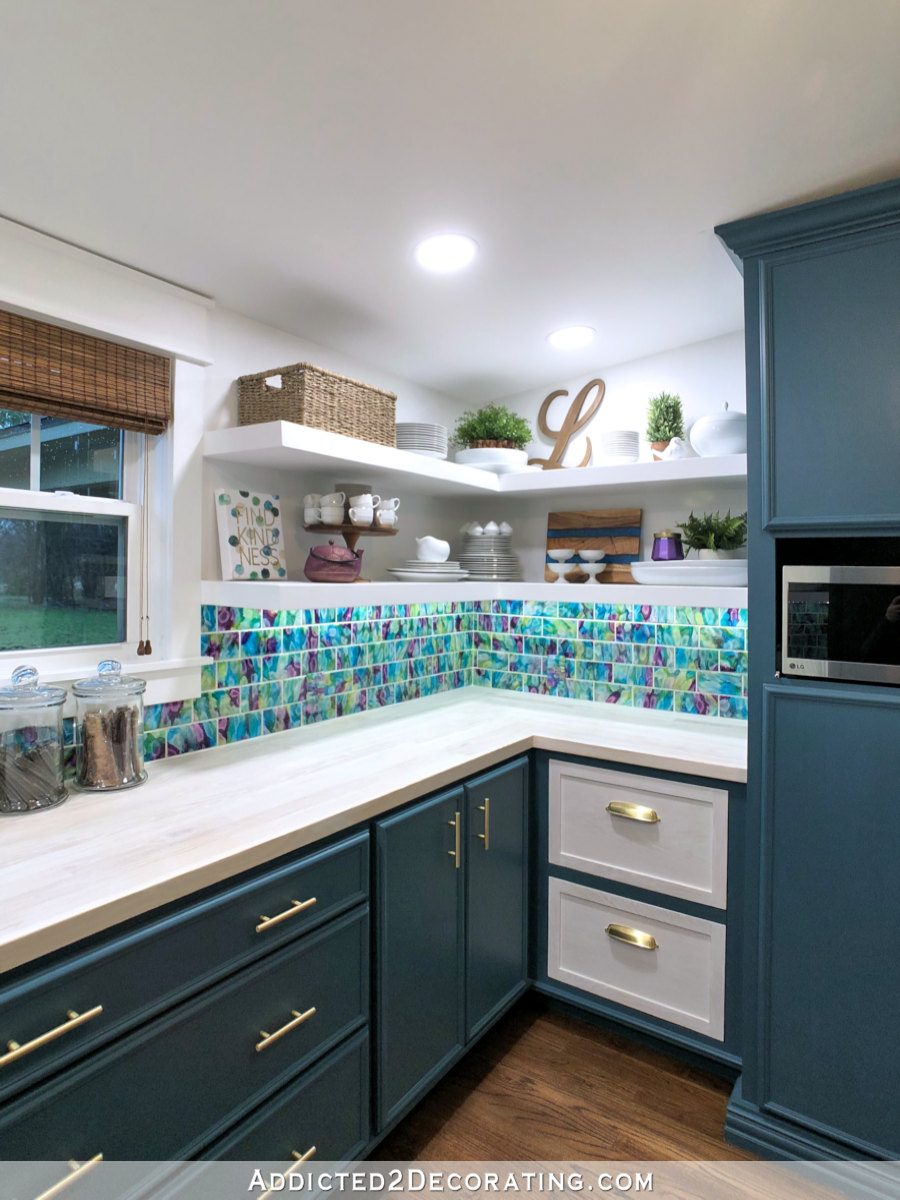 You can see more pictures on the before and after post right here…
Addicted 2 Decorating is where I share my DIY and decorating journey as I remodel and decorate the 1948 fixer upper that my husband, Matt, and I bought in 2013. Matt has M.S. and is unable to do physical work, so I do the majority of the work on the house by myself. You can learn more about me here.
I hope you'll join me on my DIY and decorating journey! If you want to follow my projects and progress, you can subscribe below and have each new post delivered to your email inbox. That way you'll never miss a thing!