One Room Challenge, Week Six: So Close, And Yet So Far Away
Well, I gave it my best, but as I predicted last week, I didn't finish the pantry during the time allotted in the One Room Challenge. It sure wasn't for lack of trying, though. I don't think I've taken a day off since the challenge started five weeks ago, and I've been working at least until midnight each night for the last two weeks. Three nights ago, I was up until 4:00am, slept for three hours, and then got to work again at 7:00am and worked until around midnight. I finished grouting the backsplash around midnight last night, and then spent another hour clearing tools, supplies and junk out of the pantry.
And I'll admit that I was disappointed. To work so hard for five straight weeks and not finish was a huge disappointment. And last night, I was disappointed in myself.
But when I went into the pantry this morning to take pictures of my progress, I realized that I have absolutely nothing to be disappointed about, and I certainly have no reason to be disappointed in myself. I may not have finished the room, but this challenge was just exactly what I needed to get myself out of the planning rut I was in.
My pantry sat empty (or rather, gradually filling up with random junk piled on the floor) for a year-and-a-half as I hemmed and hawed over the pantry design. I was paralyzed by fear and indecision, so for the most part, my pantry sat there useless to me. So five weeks ago, at the beginning of this challenge, I cleared out the piles of junk and got to work.
And in the last five weeks, and with my own two hands, I have:
built cabinets from scratch (including nine drawers and ten cabinet doors),
hand tinted 240 subway tiles with resin and alcohol inks to make a one-of-a-kind backsplash,
installed a backsplash, and
spent countless hours wood filling, sanding, caulking and painting. Countless hours.
My doors and drawer fronts are finished, and safely tucked away in the corner of my studio where they will remain until all of the other projects are done. I spent way too much time and effort getting as close to a flawless finish on those as possible to chance them getting dinged and scratched while I drag tools and ladders in and out of this room while working on the remaining projects.
The frames and trim on the cabinets have been painted and given their last sanding, so they're ready for their final coat of paint.
I finished the backsplash last night, so I'm now ready to build the open shelves that will go above the backsplash.
The ceiling paint needs touchups around the perimeter, and the walls still need to be painted.
I also need to figure out how I want to configure the storage in the two cabinets on either side of the center drawers on the back wall.
So no, it's not finished, but I've made an amazing amount of progress in the last five weeks, and I'm very proud of what I've accomplished with my own two hands. And I'll just keep plugging away until it's completely finished. I've come too far to get sidetracked now!
---
---
EDIT: Since the One Room Challenge didn't officially end until Sunday night, I decided to work two more days and see just how far I could get. It's still not finished, but I got all of my open shelves built!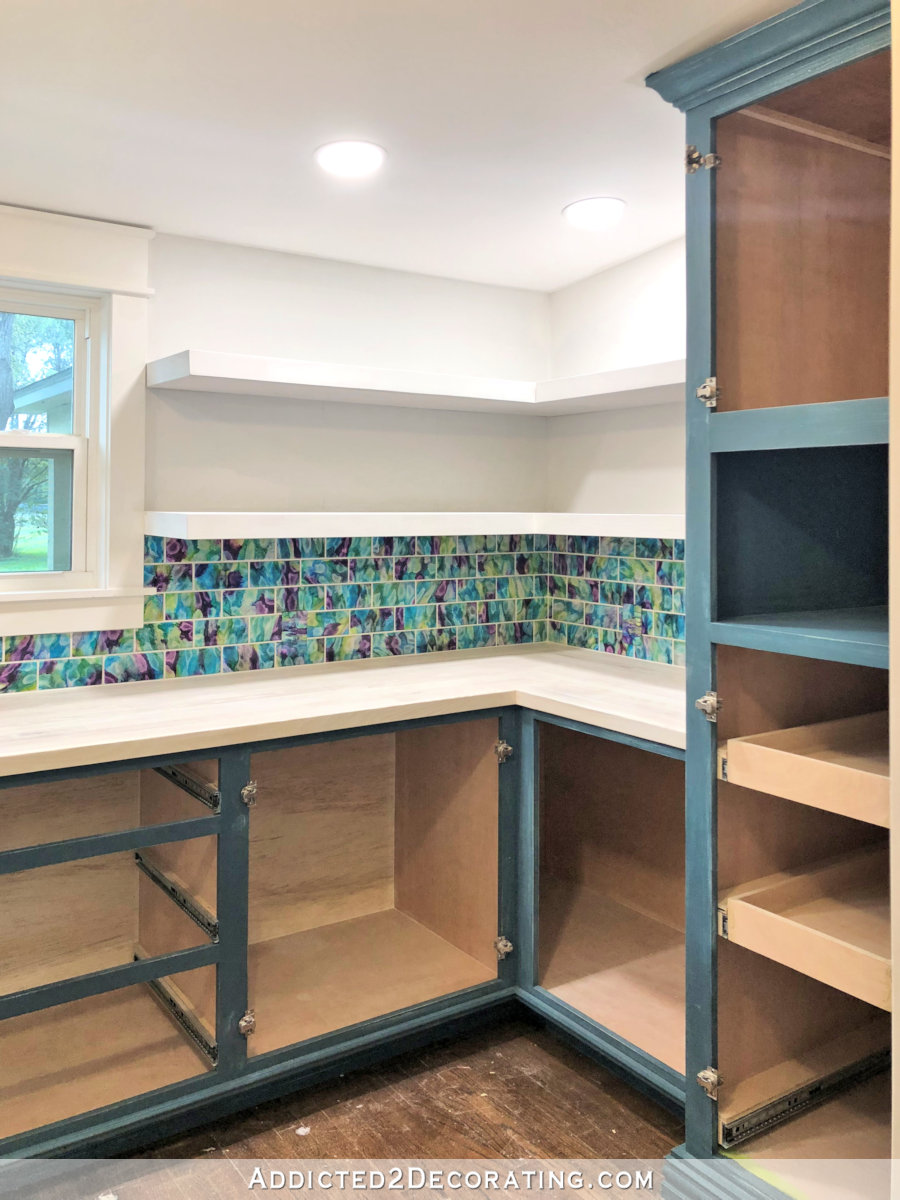 I'll just keep going until it's finished. I think I'll need about another week to get this room completely finished.
Be sure to check out all of the other participants in the One Room Challenge!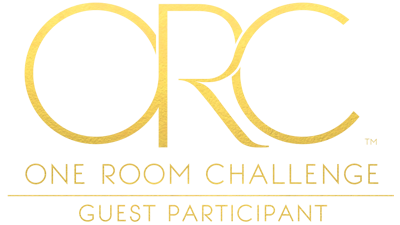 ---
---
UPDATE:
My pantry is finished! Want to see the entire project from start to finish? You can find every single post about the pantry build right here…
Or you can skip to the end and see how it turned out. Here's a peek of the finished pantry…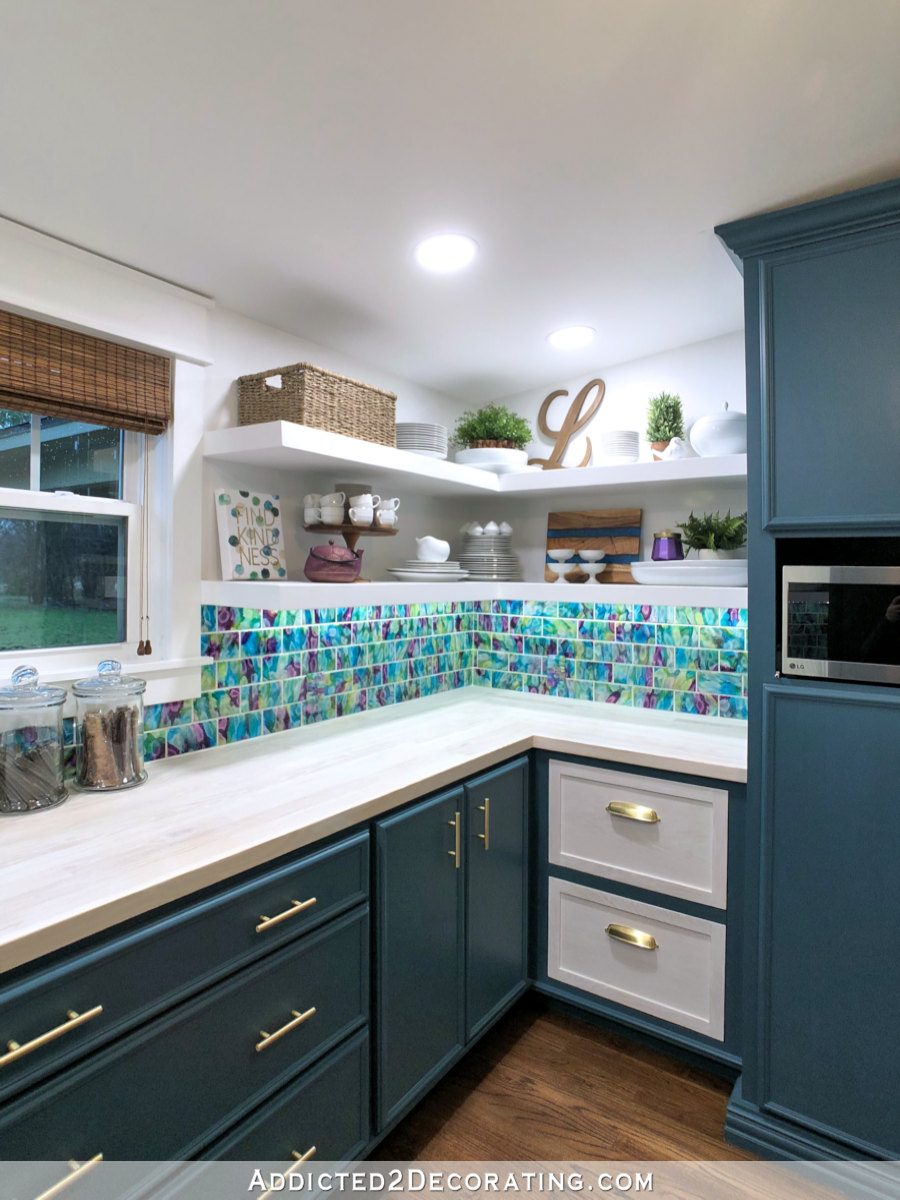 You can see more pictures on the before and after post right here…
Addicted 2 Decorating is where I share my DIY and decorating journey as I remodel and decorate the 1948 fixer upper that my husband, Matt, and I bought in 2013. Matt has M.S. and is unable to do physical work, so I do the majority of the work on the house by myself. You can learn more about me here.