Last Updated on October 25, 2019 by Kristi Linauer
I don't know if y'all are getting tired of my daily updates yet, but I can tell you that this whole accountability thing is just exactly what I needed. Knowing that at the end of every day, I'm going to have to give y'all an update on what I've actually accomplished (or failed to accomplish) keeps me focused throughout the day. When I feel tempted to let myself get sidetracked on some random project, I remind myself that it's going to be pretty embarrassing when I have nothing to show for my time the next morning. This accountability has kept me on track! So yesterday, I got two more items crossed off the list, and I got about halfway done with two more items, which should be easy to finish today.
(Having trouble? Click here to watch on YouTube.)
Yesterday, I focused on painting. Just painting. And I made quite a bit of headway. I got the tall freezer cabinet finished (second coat of paint done, doors installed, and door pulls on). I got the window trim painted (which took four coats of paint!). And then I got the first coat of paint on the walls and shelves. So that last one isn't finished, but it won't take much time at all to finish it up today. I also got the backs of the four lower cabinet door painted.
It looks like I might have some touchups to do on those cabinet doors, though. For some reason, the finish on those two doors above the freezer looks kind of streaky and blotchy. That's not acceptable to me, so I'll have to fix that today.
And I know that at least one person will want to tell me that the freezer door opens the wrong way. I promise, this decision was thoroughly thought out and the freezer was intentionally placed where it is to open just as it does. 🙂 (You can see more about that here.)
The strangest thing is that the walls, shelves and window trim are all painted the same color. They're not just the same color, but they're all painted with the same paint right out of the same can. And yet, the walls and shelves look so much brighter than the window trim.
Maybe it'll look different (or all the same, rather) in the daylight. But I do love how bright and clean the walls and shelves look now.
So here's what my list looks like as of this morning:
Finish painting the edges of the ceiling Done!
Add stile on top right cabinet Done!
Add stile on cabinet above freezer Done!
Add electrical outlet for microwave Done!
Wire freezer outlet to breaker box
Paint second coat on right side cabinet Done!
Paint second coat on freezer cabinet Done!
Paint walls and shelves on back and side walls

Halfway done!

Paint window trim

Done!

Install under-cabinet lighting
Paint four cabinet doors

Halfway done!

Finish building new drawer fronts Done!
Prime and paint drawer fronts
Build four more pull-out shelves Done!
Clear coat all pull-out shelves and drawers
Install and caulk door trim Done!
Paint door trim
Paint the wall around the door
Re-install ceiling light
Load in stuff and start using the pantry!
I'm not sure how many more of these daily accountability updates I'll do. The whole purpose was to get me focused and help me finish up the pantry. I'm definitely motivated now, so these daily posts have served their purpose. But at some point, I'm going to want to hold back and save the rest for the big before and after post when it's finally completely finished. Plus, between the time that I actually finish up my list, and when I show the finished pantry, I'm going to have at least one full day (maybe two) of cleaning, putting away tools, getting my breakfast room put back together, etc., that I'll have to do before I have the big final pantry post.
All that to say that I may have one more daily update/accountability post tomorrow, but then it may be radio silence for a couple of days while I get my breakfast room put back together, and get everything cleaned up and put away. But I'm going to try to do my absolute best to have the final before and after pantry post before Christmas, even if that means posting it this weekend. I won't make promises, but I'll do my best. 🙂
---
---
Update:
My pantry is finished! Want to see the entire project from start to finish? You can find every single post about the pantry build right here…
Or you can skip to the end and see how it turned out. Here's a peek of the finished pantry…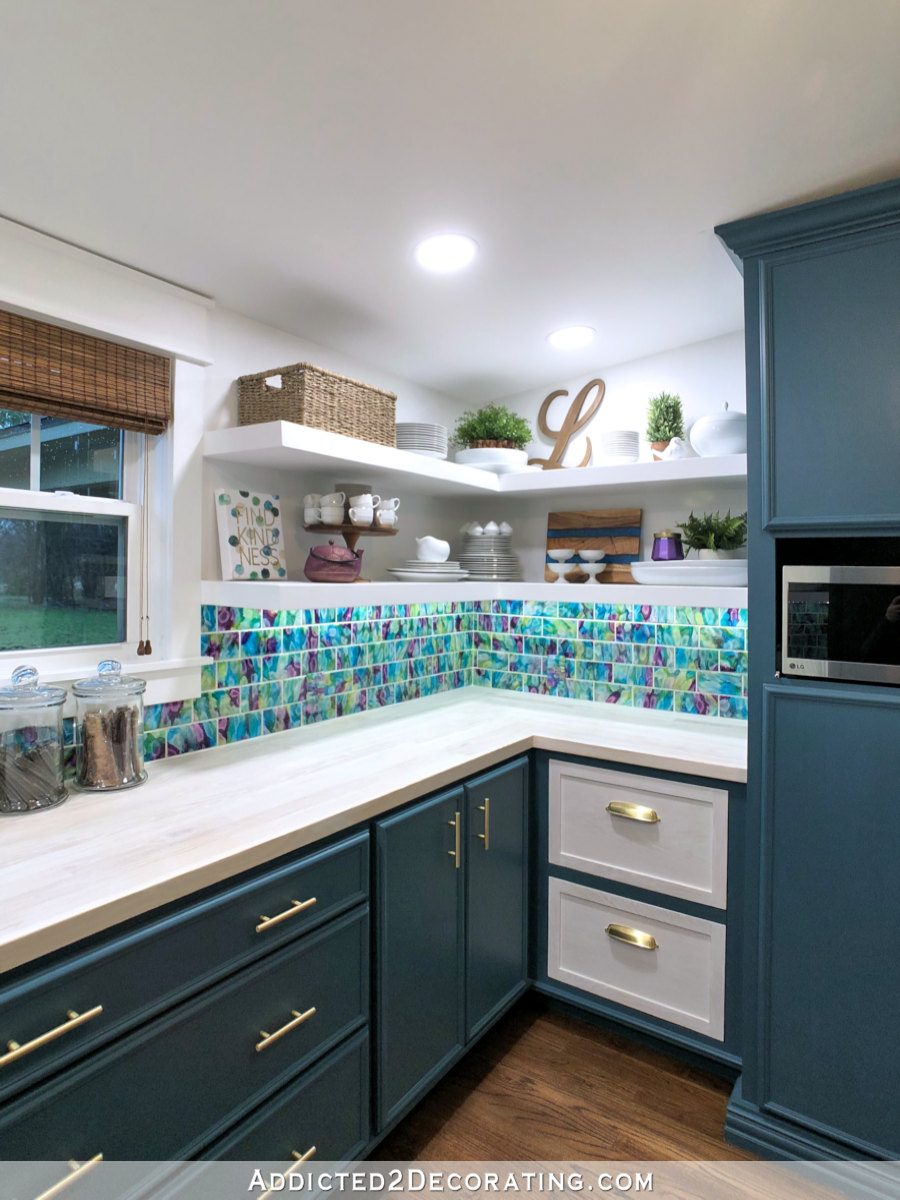 You can see more pictures on the before and after post right here…
Addicted 2 Decorating is where I share my DIY and decorating journey as I remodel and decorate the 1948 fixer upper that my husband, Matt, and I bought in 2013. Matt has M.S. and is unable to do physical work, so I do the majority of the work on the house by myself. You can learn more about me here.
I hope you'll join me on my DIY and decorating journey! If you want to follow my projects and progress, you can subscribe below and have each new post delivered to your email inbox. That way you'll never miss a thing!