Pantry Cabinet Paint Color – Purple Or Teal?
If you've been following my blog for any amount of time, you knew this moment of indecisiveness was coming. I can be going along just fine for weeks while working on a room, and then…BAM! I hit that wall of indecisiveness. And that time in this pantry project came last night.
I've said from the beginning of this project that I wanted a purple pantry, but now I'm just not so sure. So I painted two plywood scraps with some paint that I had on hand. I have no idea what the purple is from, but it came out of a little sample pot of Behr paint called New Orleans. I don't remember ever using that color, but it's very close to the sample purple color that I painted on the actual cabinets. That purple is a custom mix that I used on the entryway wall before painting it the current color.
And speaking of the current color, that's the teal on the right. I currently have that color on the entryway wall, the fireplace in the living room, and the music room doors.
This is the picture I took last night. I tried to wait for the paint to dry, but I exhausted and ready to get to bed, so they both still have wet streaks.
But the rest of these I are pictures that I took this morning.
I honestly can't tell if I'm leaning towards the teal because it really, seriously, truly looks better than the purple, or if I'm leaning that direction because I will always choose teal over any other color when given the option.
Teal is my color. It has been for years now, so I don't see that changing any time soon. Purple is new for me…or new again. Years ago, it was one of my favorite colors. Then in our very first house in Oregon (about 15 years ago), I used it in our bonus room above the garage (i.e., our upstairs living room where we spent most of our time at home). The purple I chose wasn't great, but we lived with it for two or three years. It made me dislike and avoid purple for years. It has only been in the last couple of years that I've even considered using purple again, and now I love it. But I'll never love it as much as teal. Ever.
The breakfast room, which is right by the pantry, has quite a bit of purple in it — the upholstered benches that flank the pantry doors, as well as the buffet.
But so far, I just haven't been able to make myself fully commit to purple in the pantry.
So help me. Please! I need input from rational people who aren't obsessed with teal (or purple, for that matter), but will objectively tell me which color would look better in the pantry.
Does the teal truly look better? Is purple the better option? Have I just not found the right shade of purple yet?
I don't want to paint the pantry teal just because I'm obsessed with teal (although continuity and flow throughout the house isn't a bad thing). And I don't want to paint the pantry purple just to force myself out of my comfort zone and then regret it later. I really don't want to be repainting my pantry in six months.
If all goes as planned today, I should be ready to start painting tomorrow, so I need to make a final decision by tonight.
Tell me your thoughts.
---
---
Update:
My pantry is finished! Want to see the entire project from start to finish? You can find every single post about the pantry build right here…
Or you can skip to the end and see how it turned out. Here's a peek of the finished pantry…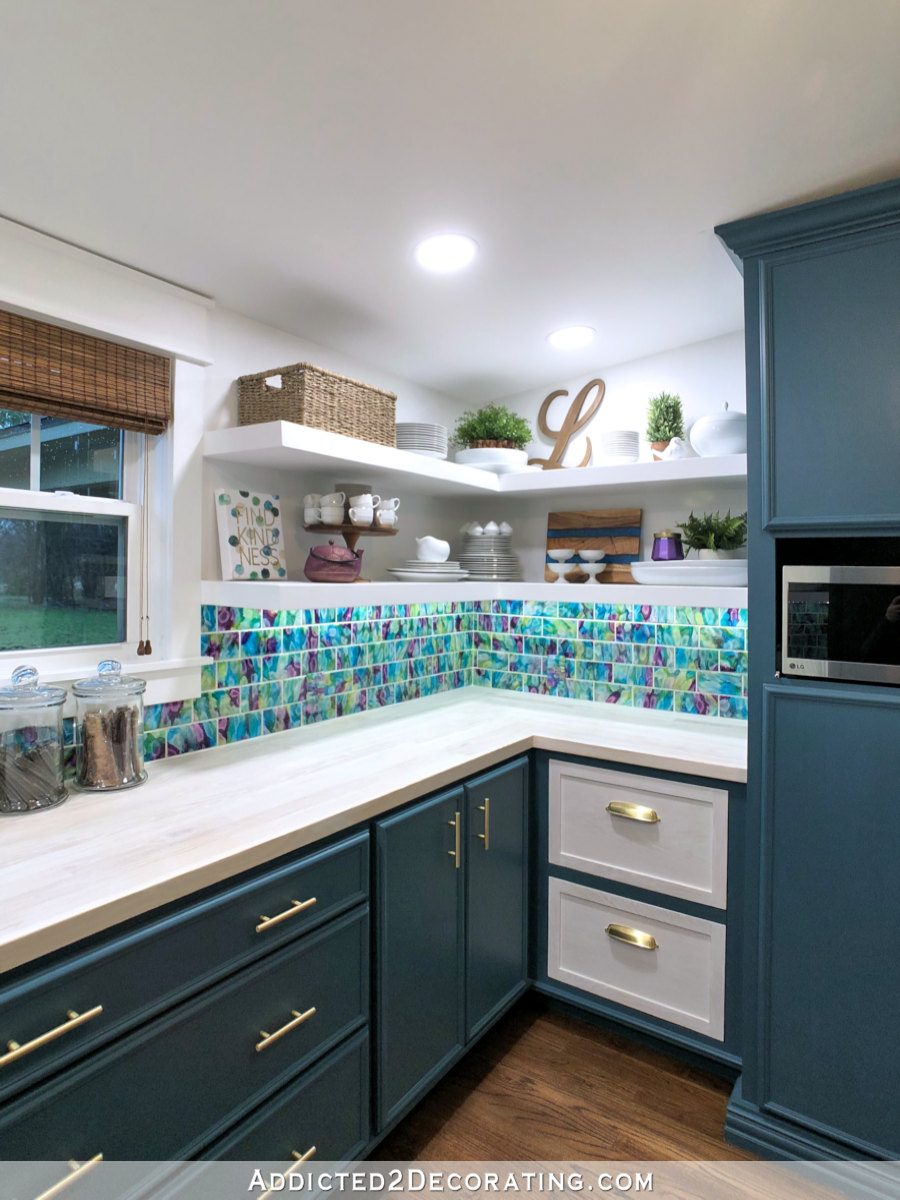 You can see more pictures on the before and after post right here…
Addicted 2 Decorating is where I share my DIY and decorating journey as I remodel and decorate the 1948 fixer upper that my husband, Matt, and I bought in 2013. Matt has M.S. and is unable to do physical work, so I do the majority of the work on the house by myself. You can learn more about me here.