Last Updated on May 6, 2017 by Kristi Linauer
I'm still working on putting my kitchen and breakfast room back together and getting it cleaned up. Yesterday I got the ceiling painted, got all new LED lights with trim kits installed, did some work on the trim, and got about half of the things put back into the cabinets. My brother even came over and helped me with a super tedious job — painting the grout on my tiled backsplash and walls. 😀 During my initial kitchen remodel, when the concrete countertops didn't turn out as light and bright as I had hoped, I tried to use white grout and it looked awful next to the countertops. I ended up using a taupe color to match the countertops. But now I want bright white, which can be accomplished with a bottle of Grout Renew, an old toothbrush, and a few hours of elbow grease.
Anyway, do you remember my whole grasscloth saga? When we first moved into this house, I wanted to use grasscloth in the entire living room and entryway. Then over time, my plans changed (as they generally do). When I did my whole decorating reset last fall, I found a gorgeous grasscloth that I planned to use in the breakfast room.
That was when I planned to paint my kitchen cabinets dark blue and light gray. The grasscloth was beautiful — light blue with a slight shimmer to it.
I ordered it last fall (around September, I believe) and waited. My estimated shipping date came and went, so I called and found out that it was on backorder until mid-December. So I waited some more. Then that estimated shipping date came and went with no grasscloth in sight, so I called again. It was backordered again, and this time with an estimated shipping date of mid-February. But she said that that date was tentative, and it could be even later. Maybe even June. Or later.
So I cancelled my order, which was a good thing, because soon after that I also had a change of heart about the dark blue kitchen and decided teal would be a better choice for me. So it all worked out, I suppose.
I looked for more grasscloth, checked out book after book from the wallpaper store and brought them home, but I eventually gave up. Compared to that beautiful slightly shimmery light blue, every other grasscloth just looked so blah and boring. Or just downright weird. There are a lot of really strange grasscloths out there.
But a few weeks ago, I came across one that really intrigued me. The color name is Tantalizing Teal, so how could I resist? I originally saw it in this photo…
Well, I got the sample in the mail, and it's actually more beautiful than the original blue grasscloth I had chosen. This one doesn't have the shimmer to it, but the color is way prettier, in my humble opinion.
Now that I've found a perfect grasscloth, I want to find a place to use it. My breakfast room is off limits. I'm way too close to finishing that room, so there's no way I'm switching gears in there at this point. Plus, teal walls next to a room of teal cabinets would be teal overload even for me.
So right now, I'm considering two options. The first would be to use it in the music room above the wainscoting. There's really not a whole lot of wall space in that room. There's just this stretch of wall on the kitchen side…
…and this stretch of wall space on the opposite side.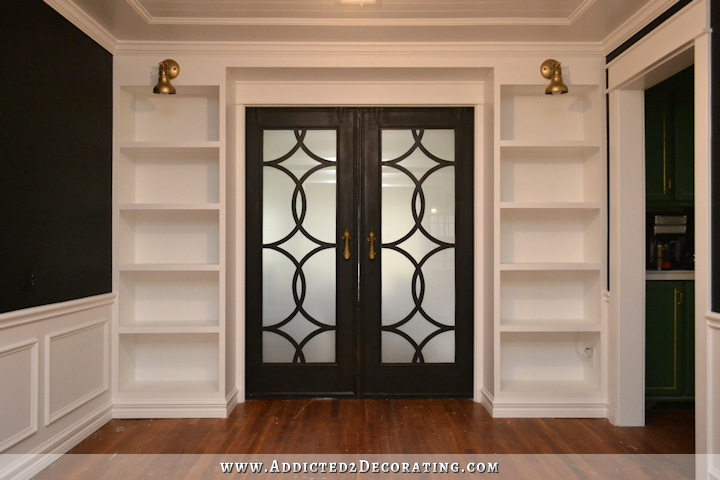 Both of those areas are about seven feet wide, I think. And of course, I no longer have the yellow piano in there. The piano that will go in there will have a stained wood finish.
There are two things holding me back from using it in the music room. The first thing is the color. Again, I just kind of feel like having teal walls next to a room filled with teal cabinets might be teal overload. I almost think there needs to be more distance between them. And also, the grasscloth is on the bluer side, where my cabinets are on the greener side. That may not even matter, but the teal overload is my biggest concern.
The second place I'd consider using it is on the entryway wall. My front living room and entryway are all one big room with no separation, and even though I undid all of my work from last year (yes, I know some of you are still upset with me for removing the trim and painting over the mural 😀 )…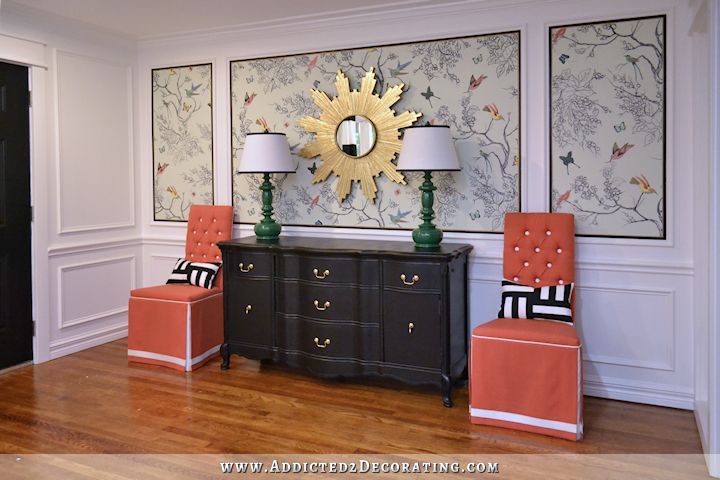 …I would still really like find a way to distinguish the "entryway" from the rest of the room. I can envision one wide and tall panel of Tantalizing Teal grasscloth to serve as a backdrop for artwork and whatever else I do on that entryway wall.
Of course, there are other options. I could use it in my hallway, but that seems like a waste of grasscloth to put it in a hallway. I could wait and use it in our bedroom after the addition, but that would cost a fortune. The grasscloth is $30 per yard, and is only sold in 8-yard increments. That alone is the reason the entryway wall is looking like the best option to me. I could do one really big accent panel with eight yards, which will cost $240. That seems like a reasonable amount of money to pay for gorgeous grasscloth that I've wanted to use for forever now.
If I do anything else with it, including the music room, that price will at least double, if not triple or even quadruple (or more) for a bedroom. I'm still not quite sure how big our bedroom will be after the addition, but wallpapering an entire bedroom with $30-per-yard grasscloth that's only sold in 8-yard increments would be incredibly expensive.
But I am willing to pay the extra money for the music room if that's the best place for it since that room is front-and-center when someone walks through my front door.
So now that I've finally found the perfect grasscloth, I can't let this one get away. It will be making an appearance somewhere in my house, and I'm almost certain it'll either be the music room or the entryway. Even though I'm not working on those rooms until later this year (I'm thinking I'll do my pantry next, which will probably take at least a month), I'd still like to go ahead and order it. Otherwise, it might be discontinued or backordered by the time I get around to actually needing it.