Bathroom Doors – Frustration and Solution (Turn Bi-Fold Doors Into French Doors)
My Whole Bathroom Project Depends On The Bathroom Doors!
How in the world did bathroom doors become my top priority today?! Well, I'll tell you…
This bathroom is such a good example of how one project is dependent upon another. Immediately after I finished the floor, I wanted so badly to jump right in and start adding the wainscoting to the walls. It would be relatively quick, easy, and would give me some immediate gratification. But I can't do that just yet, because I first need to install the vanity and the countertop and see exactly how high those will be after installation. Since I'm adding a decorative tile trim on the wainscoting that will also act as the backsplash for the vanity, I need the precise height, and I can't get that without the vanity and countertop being constructed and installed. But I can't install those until I know exactly how much room the wainscoting trim will stick out on the door wall since the left side of the vanity will be sitting right up against it, so that has to be installed first. But I can't install that until I trim out the door, so really I need to install door trim before doing anything else.
But UGH…that door. I've been dragging my feet on trimming out that door.
Ever since I installed the new door in the bathroom, I've been dissatisfied with it. It's a 32-inch door (which is the narrowest I can use for Matt), and if you'll remember, I moved it over about ten inches from its original position so that I could have room for a wider vanity that goes all the way to the side wall (i.e., the door wall).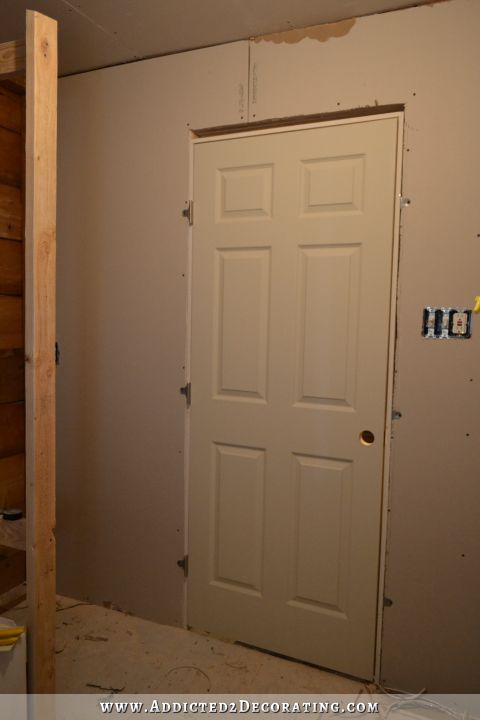 I thought that I would be satisfied with a standard door because that's what was there before. When the door is open, it covers the linen storage area behind it, just as it did before, and that configuration never bothered me with the old bathroom. But with the door moved over enough to accommodate a vanity, the door no longer opens up a full 90 degrees. At most, it opens maybe 85 degrees. Maybe 80 degrees. It just really bothers me, and it makes the room feel smaller.
Plus, the previous linen closet was strictly utilitarian.  There was nothing pretty about it, so it didn't bother me at all that it was covered up when the door was open.  But I plan on making the new linen storage area actually part of the design of the room.  In other words, I'm hoping it'll turn out not only providing useful storage, but also being pretty.  So I don't really want it covered by the door.
But as much as it's been bothering me, I just couldn't think of another solution.  If it's installed like it is now, it covers the linen storage area.  Obviously, I can't install it so that it swings into the bathroom the other way or it'll cover the vanity.  If I install it so that it swings out into the hallway, and it opens to the right (while standing in the hallway looking towards the bathroom), there's not enough space for it to open all the way against the wall, and that would drive me crazy.  This isn't exactly drawn to scale, so you'll just have to take my word for it.  🙂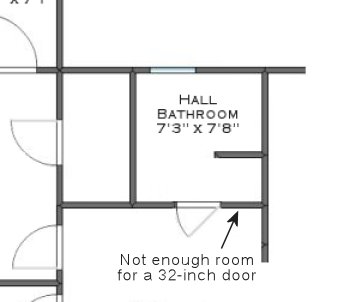 If it opens to the left, the door will cover part of the area that will eventually be a hallway (currently the master bedroom closet).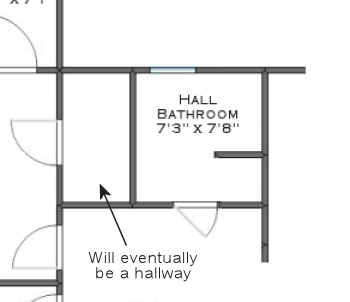 And obviously, if there's no room on the outside of either of these walls for the door, then there's no room inside the walls for pocket doors, at least not if I want the pocket doors to open all the way. And yes. Yes, I do want the door to open all the way.
So I've been thinking that I was just stuck with it the way it is.  Then yesterday, it dawned on me that I could buy a 32-inch bi-fold door, remove the hinges connecting the two halves of the door, and install them like skinny French doors opening into the hallway!  That way the linen storage area won't be covered, and each small door will have plenty of clearance in the hallway so that they can open flat against the wall, and not cover over anything they shouldn't.
(Obviously, I'm using the term "French door" loosely here, since by definition, French doors have glass in them, and I've already ruled that out.  My bathroom doors will be solid, and I'm simply referring to the configuration of two doors used together in one doorway.)
Then I did what I always do when I have an idea, but I'm not quite sure if it will look right. I headed to Houzz to see what I could find. This one is my favorite.
Traditional Bedroom by Dallas Home Builders Rosewood Custom Builders
Now they probably didn't use actual bi-fold doors turned into skinny French doors like I plan to do, but I think the final result will be very similar. Here are a few more examples of skinny French doors.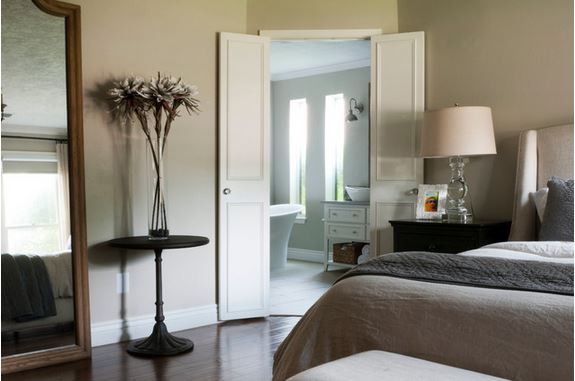 Transitional Bedroom by Dallas Media & Bloggers Angela Flournoy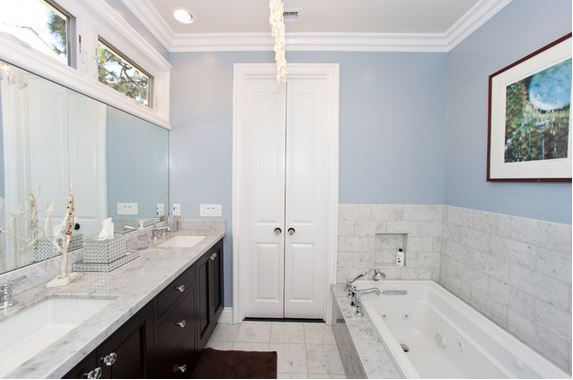 Contemporary Bathroom by North Hollywood General Contractors Globus Builder
Now there is one obvious difference between my bathroom and the ones in the pics above. Those are all master bathrooms connected to a master bedroom, and mine will be a guest bathroom off of a hallway. But I think it'll still work, and I think it's the best option. It'll definitely be a little unconventional, but it's just one of those quirky things that comes with the territory when you're trying to take a 1948 house and make it work for today. But I really do think it'll look great when it's finished!
After seeing those pictures, and seeing how good those bathroom doors look, I decided to do some searching to see if others had taken bifold doors and turned them into French style doors.  And yes, of course, there are several.  Danielle at 2 Little Superheroes turned her bi-fold pantry door into French style doors.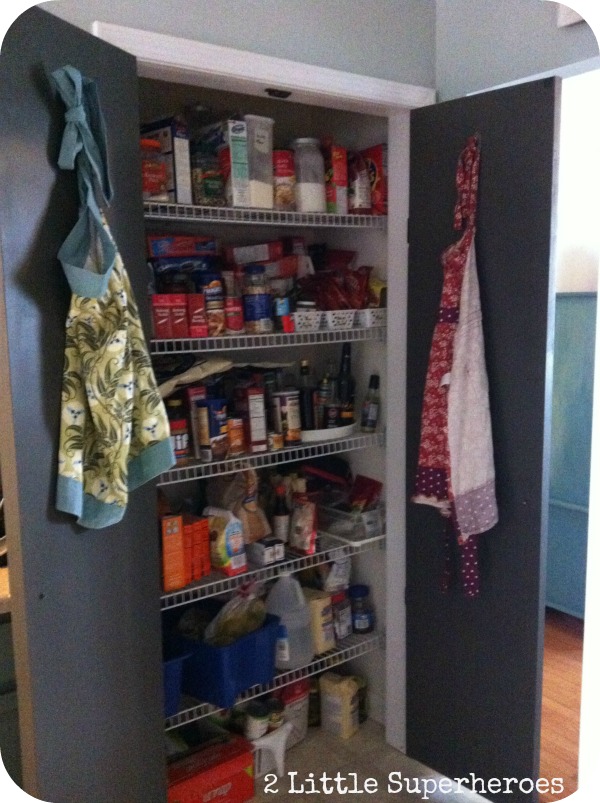 And Tricia at Simplicity In The South turned her laundry room bi-fold doors into French style doors.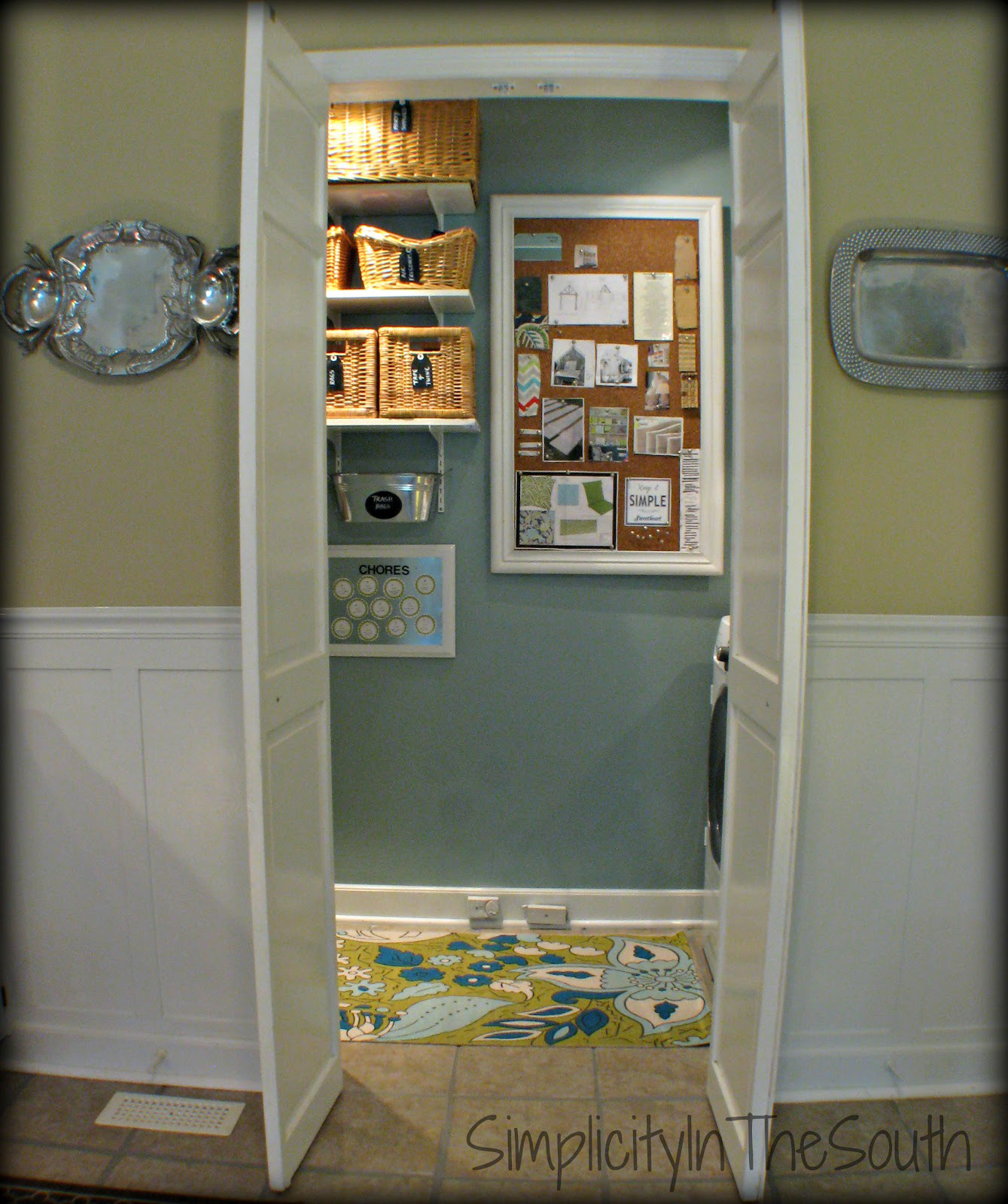 I came across several more examples, but those were my favorites.  So I'm gonna go for it!  Of course, since they'll be opening out into the hallway, that means that I need to actually finish the wall (i.e., remove old drywall, remove shiplap, and install new drywall) at least on that one hallway wall before I can install the new bathroom doors.  I got to work on it yesterday, and got all of the drywall removed, as well as a good portion of the shiplap.  Hopefully I can get new drywall up today, and get started on those bathroom doors.  I'm actually very excited about this plan!  It's definitely unconventional for a guest bathroom, but I think it'll look great!
Addicted 2 Decorating is where I share my DIY and decorating journey as I remodel and decorate the 1948 fixer upper that my husband, Matt, and I bought in 2013. Matt has M.S. and is unable to do physical work, so I do the majority of the work on the house by myself. You can learn more about me here.