You Want To Charge Me HOW MUCH To Trim My Trees?!?!
I'm starting to realize just how easy we've had it by owning and living in a condo for the last seven years and not having to worry about any of the exterior maintenance on the property.
The trees at our house have been neglected for years…and years…and years. We've got some really great trees, but they definitely need some attention. Every time I go over to the house, I see more dead branches that have fallen in the yard, and I'm so afraid that one day I'll go over to find a massive limb on (or through) the roof of the house.
I've been putting off calling a tree service because, of course, I can always think of things that I'd rather spend my money on (like paint and fabric and furniture), but when I arrived at the house the other day to see this massive limb down in the back yard, just a few feet from the house, I knew it was time to stop procrastinating.
That limb was probably 10 feet long, and definitely weighted enough that if it had landed on a person, it would have seriously injured them…or worse. And if it had landed on the roof, there would have been some serious damage.
So I finally made the call.
I didn't want to hire just any "Joe with a chainsaw" who would come and start whacking away at my trees. I wanted to hire someone who actually knew what they were doing. After all, these trees are very old, very established, very big, and worth a lot of money.
So I called a tree service that's owned by a certified arborist. He came out and looked at my trees, gave me some good information, made lots of notes, and then handed me a quote for trimming the six trees closest to the house — two oak trees and four pecan trees. The price?
$10,705.00!!!!!!
I'm surprised I didn't pass out right there from the shock. I was expecting maybe $3,000 at the most. But more than ten freaking thousand dollars??!!
He priced them all out individually. The pecan trees were downright bargains. The most expensive of the four pecan trees, which came in at $1200-ish, was this one on the side towards the back of the house with the dead limbs looming over the roof.
The other pecan trees were in the $600 to $800 range. Total bargains compared to the two oak trees!
And of course, he said that the two oak trees were the biggest issues and needed to be dealt with immediately. The one in the back of the house, with its dead limbs mixed in with it's way-too-heavy limbs that arch towards the ground (with some of the arching right over the roof) and look like they'll snap at any moment, came in at about $3700.
The most expensive one was the oak tree in the front, which I had assumed was the least of my worries. But according to him, this massive thing is just waiting for the right opportunity to murder my house.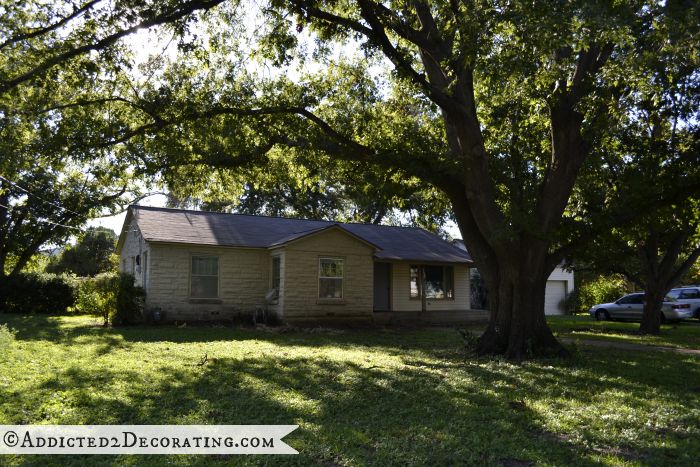 He said that this tree has obviously been split in the past (presumably from something like a lightening strike).
Obviously the tree has healed itself over many years, but he said that the scarring that covered the split isn't as strong as the tree was originally. So that, combined with the massively long limbs that are carrying way too much weight on the ends is a recipe for disaster. He said if the tree were to split again, half of it would fall on my house and basically crush the entire thing.
His solution? Not only does this tree need to be trimmed quite a bit, with the extra long limbs taken back a few feet, the extra weight removed from the ends, and the dead limbs removed, but this bad boy need to be cabled.
And the cost for taming this deadly ninja tree that's just waiting to destroy my house under cover of darkness?
$4,500.00 For one tree. ONE.FREAKING.TREE.
Needless to say, by the time the arborist had delivered his news and left, I was not too happy. Everywhere I looked, all I could see where these deadly trees with their wicked branches looming over my house just ready to pounce and destroy my house the moment I turned my back.
Thank goodness my brother came over a little bit later and talked me down from the ledge, and made me realize that these trees, while they do need to be trimmed, have been there for well over 60 years, through rain, snow, sleet, drought, and presumably even a lightening strike, and they're still standing. They're not trying to kill my house.
So I'm feeling calmer about it now. But seriously, $10,705 to trim six trees??!!! I just can't. Could you?
Addicted 2 Decorating is where I share my DIY and decorating journey as I remodel and decorate the 1948 fixer upper that my husband, Matt, and I bought in 2013. Matt has M.S. and is unable to do physical work, so I do the majority of the work on the house by myself. You can learn more about me here.