The Winning Built-In Cabinet/Bookshelf Design
First of all, thank you so much for all of your input yesterday (and this morning) on my built-in cabinets and bookshelf wall in my living room!!  Seriously, y'all are awesome!!  I read every single comment, and mulled over your suggestions, and they were very helpful!
Poor Version 2 only got two votes.  🙂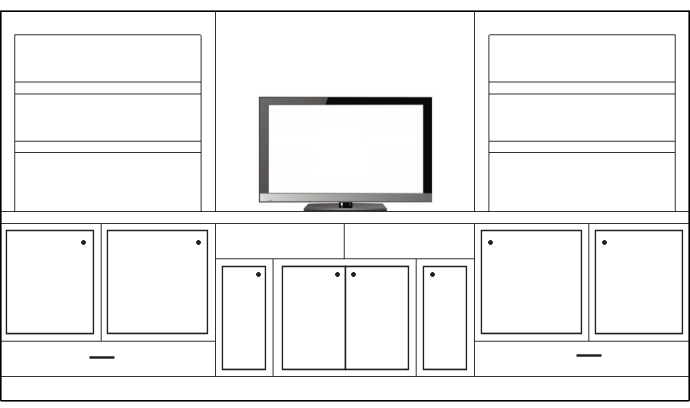 I had to laugh at one commenter who said that the cabinets in that one looked like faces.  Haha!!  I didn't see it before, but after she mentioned it, now that's all I see!!  😀
Anyway, most of you agreed that that arrangement was way too busy for such a small space.
So it was really just a race between Version 1 with the clean, simple design, and Version 3, with the added drawers and cubbies.  As I read through all of the comments, I could have sworn that Version 3 would be the clear winner…
But when I tallied up the votes this morning, Version 1 actually won out!
The vote was 68 votes for Version 1, to 47 votes for Version 3.
In reality, if we were planning on staying here, I almost certainly would have gone with Version 3.  The addition of the drawers for storage of DVD's, remotes, and other small items, and the cubbies for cable box/DVD player/game consoles would definitely be my choice.  And I'll probably have an opportunity to build something like that once we get into our house.
But since we're working towards getting this place ready to sell, I definitely like the idea of going with the simpler design.  A simpler design means faster and cheaper…and I like that.  🙂
So since I now have a clear vision of where I'm headed with this project, I suppose it's time to step way from the computer and set up my miter saw.  I've never made bookshelves from scratch before, so this will be a learning experience.  Can't wait to share what I learn with you!
Addicted 2 Decorating is where I share my DIY and decorating journey as I remodel and decorate the 1948 fixer upper that my husband, Matt, and I bought in 2013. Matt has M.S. and is unable to do physical work, so I do the majority of the work on the house by myself. You can learn more about me here.