I needed some artwork to go on the TV wall in the bedroom, so naturally, I made my own. I kept it super simple, and this is something almost anyone can do.
This is the wall that needed the artwork…
I didn't want to take a lot of time or spend a lot of money on this, so I pretty much used what I had on hand, with the exception of one sample size of yellow paint. I already had four of my favorite white frames from Target on hand (you can find those frames here), so I decided to do four pieces of artwork so that I could hang two on each side of the TV.
I didn't even bother to do this artwork on separate sheets of art paper. The backs of the frames are very thick and smooth cardboard, so I just painted right on them! 😀 I started by brushing on a couple of coats of water-based primer…
And then I brushed on two coats of my background color. I used the same paint that I used as the background on the feature wall. I brushed each coat in opposite directions, letting the first dry completely before adding the second coat, so that it would create this crosshatch pattern with the brush strokes.
When the second coat was completely dry, I used 220-grit sandpaper to sand until I got this linen texture look on the background.
And then I used Fineline Applicator bottles to apply designs in contrasting colors. These bottles come in two sizes, and you can find them here and here. I used the 18-gauge bottles for this project. I bought a sample size of yellow Behr paint similar to my drapery fabric color, and then used white (Behr Polar Bear), and gold acrylic craft paint, letting each color dry completely before moving on to the next color.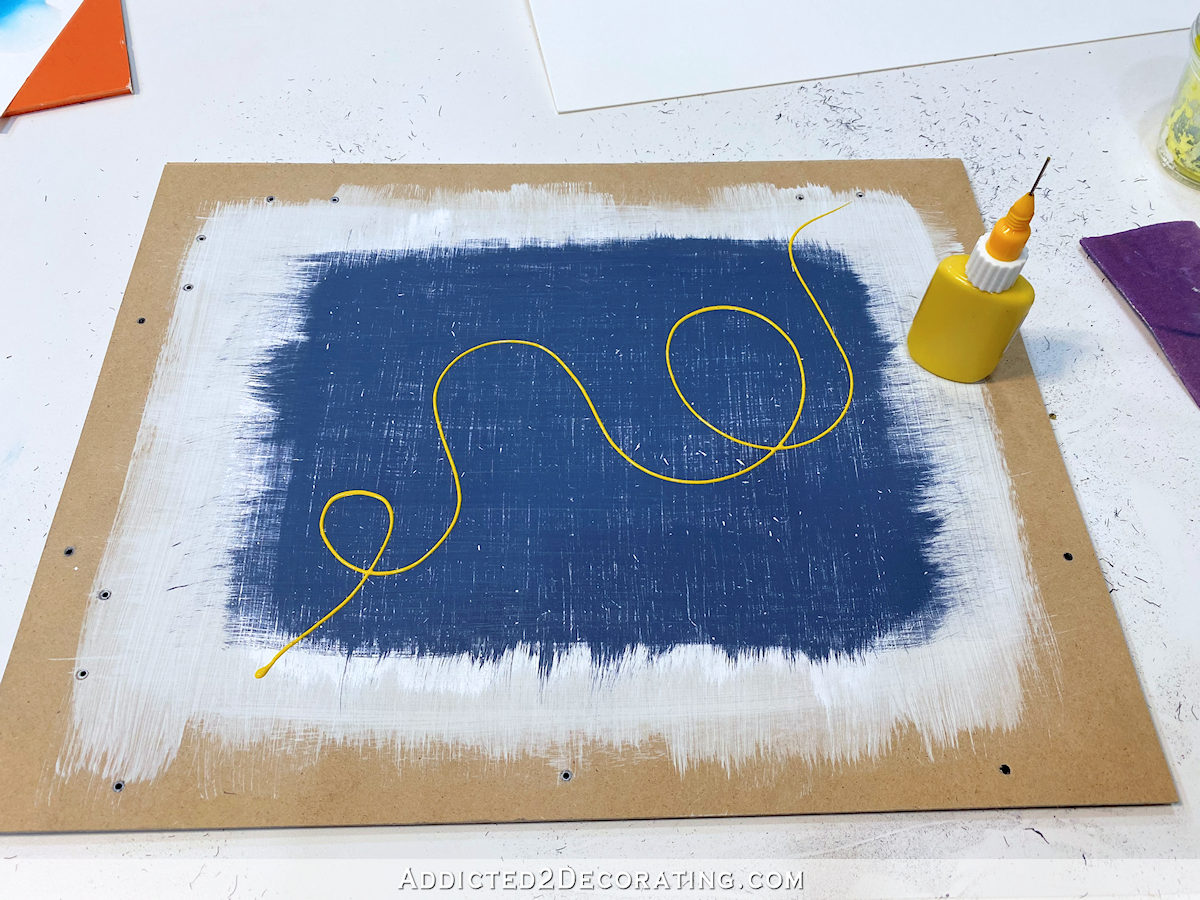 I did four random designs, and here's how they turned out…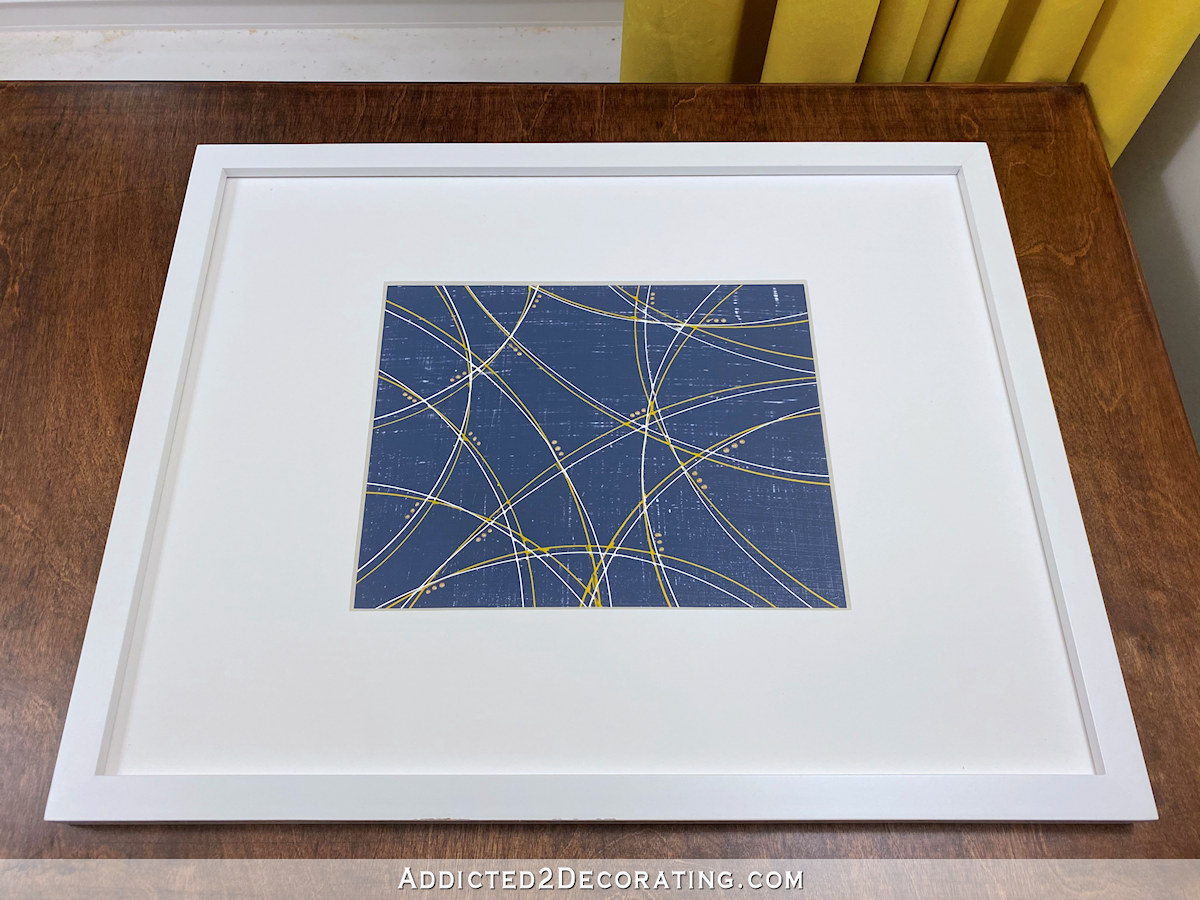 They were fun, easy, and fast to make (if you don't count the waiting time for paint to dry).
I still need to finish the TV frame, and then I'll get these hung. Hopefully that will be enough for this wall.
I'm actually considering painting the TV frame in the golden yellow color instead of white. What do you think? Will it add a much needed punch of contrast color to that wall? Or would that be too much?
I also have a mirror project I'll be working on this weekend, thanks to the suggestions of many of you. I had contemplated purchasing this mirror from Overstock, but I just couldn't make myself click that Submit Order button. I mean, it's a nice mirror, but $250 for a mirror (including shipping) just seemed like a lot when I have so many other projects I want to save money for.
So I ended up having a mirror cut to my specifications at a local glass and mirror company, and I'll made my own frame for it. I had it cut to 60″ x 32″, and it's a 1/4-inch mirror. It ended up costing $110, and I think the frame will cost next to nothing because I'm pretty sure I have everything on hand already — plywood for the backing, 1″ x 2″ lumber for the frame (which I'll cut down much thinner on my table saw), and then either gold spray paint or gold leaf. I have all of those things leftover from previous projects, so I saved about $140.
It's looking like I probably won't meet my goal of having the room done by the end of this weekend, but at least I'm making progress! The finish line is definitely in sight.
Addicted 2 Decorating is where I share my DIY and decorating journey as I remodel and decorate the 1948 fixer upper that my husband, Matt, and I bought in 2013. Matt has M.S. and is unable to do physical work, so I do the majority of the work on the house by myself. You can learn more about me here.
I hope you'll join me on my DIY and decorating journey! If you want to follow my projects and progress, you can subscribe below and have each new post delivered to your email inbox. That way you'll never miss a thing!