Would You Ever AirBNB A Room In Your Home?
Would you ever list an unused bedroom in your home on AirBNB or similar site? This is something I've been contemplating as I'm trying to get the guest bedroom finished.
I absolutely love how this room is turning out, and that's even without the bedding and decorative touches. I think when it's finished, it might be one of my favorite rooms I've ever done.
And while this will be our actual main bedroom for the foreseeable future, there will come a time when we'll have our new master bedroom and bathroom, and this will be an actual guest bedroom that sits unused most of the year. I don't like the idea of such a nice bedroom (if I may say so myself 😀 ) sitting unused. So the idea crossed my mind that I could list it on AirBNB. I thought it might be a safe choice because, as I understand it, guests are rated as well on sites like AirBNB.
I actually think the layout of our house would be very conducive to hosting guests. While the guest bedroom isn't a suite with its own private bathroom, it may as well be. The hallway bathroom is just right there, and after the new master bathroom and bedroom are built, that area with the hallway, guest bedroom, and hallway bathroom will be pretty private.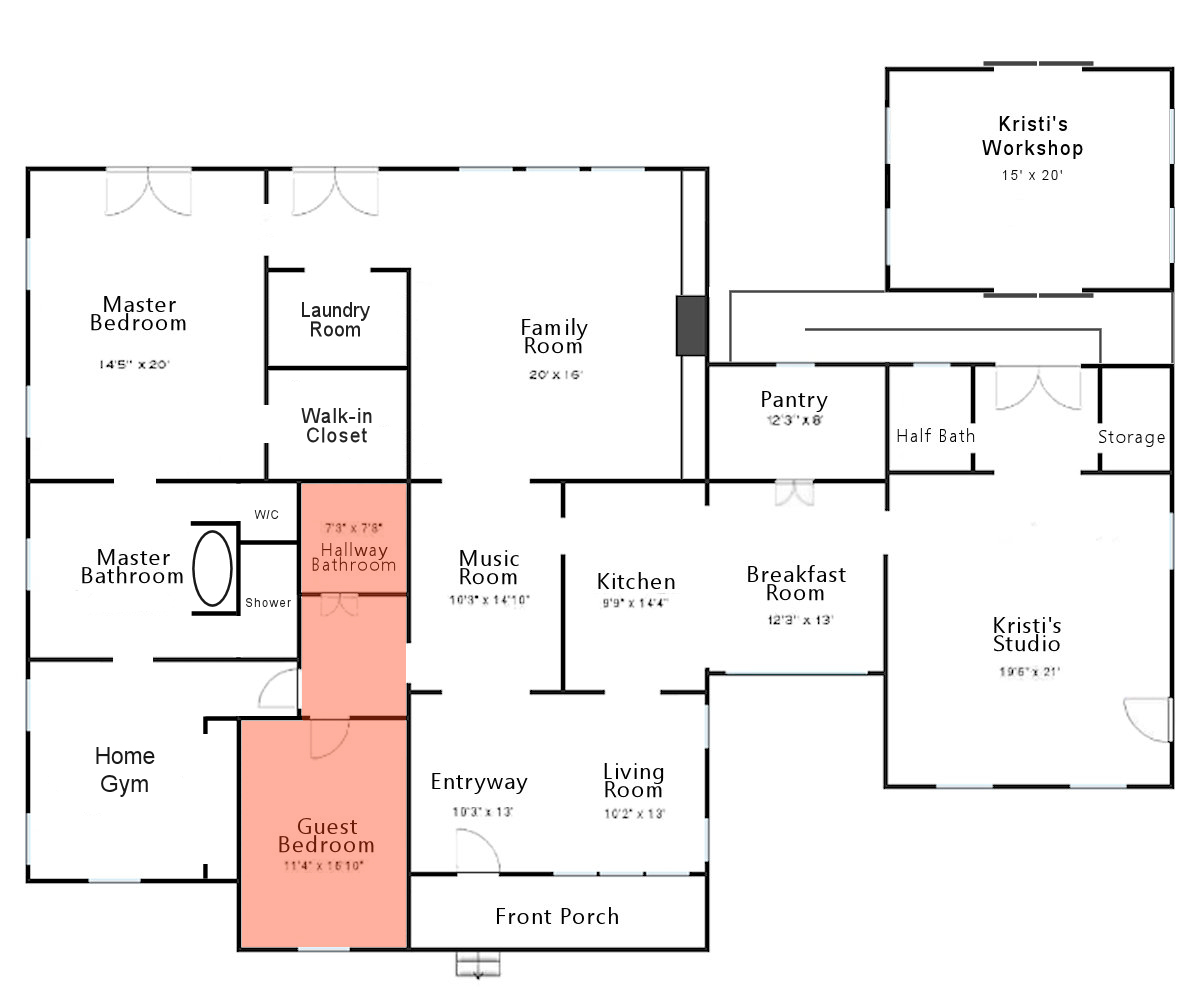 The only other room accessible via that hallway will be the home gym, but once we have the addition built, that will be accessible via the master bathroom. So the doorway from the home gym into the hallway would only need to be used in an emergency. Otherwise, we could just keep that door closed. And if I can find a way to hang some pretty draperies on the cased opening between the music room and the hallway, that area could be a totally private guest suite.
Anyway, it's something I'm thinking about. I think it would be fun to host guests in our home and put these areas in our home to good use once we've moved into our master suite. But I tend to romanticize things like that in my mind. In my dreams, I fancy myself a terrific host who's always prepared for anything our guests may need, but in reality, hospitality has never been a strength of mine. So it would be something I'd have to learn and grow into, and it might end up being a total disaster. 😀
Matt and I do have some time to think about it, though, because this will be our bedroom for now. And Matt and I are in the same boat with millions of other people who have had to put plans on hold because of the craziness of 2020. I'm sure many of you can relate.
So all of that to say that this is something I've been thinking and dreaming about, but we still have a good while before anything like that would become a reality.
But I'd love to know if any of you have ever done anything like that. Have you listed a room in your home on a site like AirBNB? Have you thought about it? Or have you ever book a room in someone else's home through a site like AirBNB? If so, tell us about your experiences!
Addicted 2 Decorating is where I share my DIY and decorating journey as I remodel and decorate the 1948 fixer upper that my husband, Matt, and I bought in 2013. Matt has M.S. and is unable to do physical work, so I do the majority of the work on the house by myself. You can learn more about me here.