Last Updated on December 24, 2015 by Kristi Linauer
With the exception of two minor items, the hallway bathroom demolition is finally finished.  I was beginning to think I'd never get to this point!  But I did it.  All of the rubble has been cleaned up and hauled away, and I'm left with nothing but a shell.  So this should be the last post about this bathroom that is filled with ugliness, but I wanted to be sure to show you what I'm starting with as I begin to rebuild in here.
But first, let me just tell you that good neighbors are worth their weight in gold!  When Matt and I finally decided that we weren't going to do any major remodeling to this bathroom, I had to decide whether to keep the old cast iron bathtub or replace it.  I went back and forth on that decision, and finally decided to replace the tub.  But then I was left with the task of getting that old tub out of there.  There was no way I could do that on my own, as that old cast iron tub weighed several hundred pounds.  I also didn't know how to get the drain off of the tub.  I'm pretty sure it had rusted on there, and no matter how much I tried to turn and twist, it wouldn't budge.
So I headed over to my neighbor's house.  He wasn't home, but he had a friend over who was working on a project out in the driveway.  He asked if there was anything he could help me with,so I explained the issue.  He assured me that he would be able to get the drain off for me (he's a retired plumber), and that they could get the tub out for me as soon as my neighbor got home.  So I headed to Home Depot to purchase a new tub, and by the time I got home, that old tub was out of there.  Matt said it took three men to lift that tub and carry it out of the house.  This is what was left…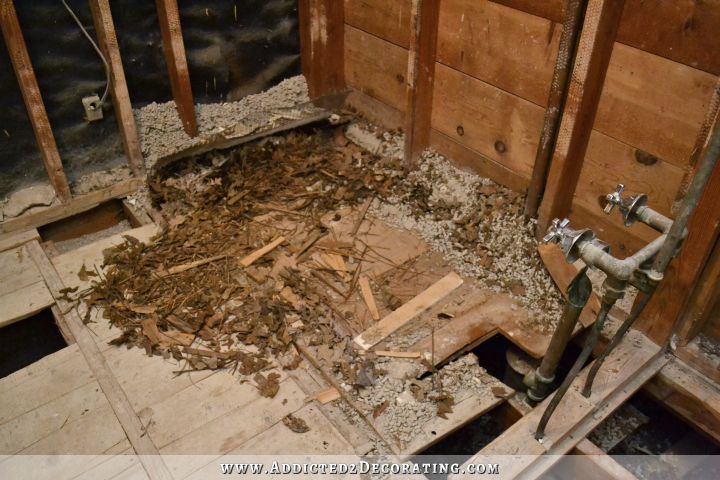 Remind you of anything?  Remember that nest I found under my kitchen cabinets?  Yeah.  Same thing here.  Some critter had obviously made itself at home under my tub, and brought in all kinds of leaves and straw to make its nest.
So with a bit more cleaning and demolition, it looked like this…
You'll notice above that I still have the old galvanized pipes on the tub.  When the plumber was here to fix the sewer pipe for the toilet, I was still of the mindset that this was going to be a temporary bathroom makeover, and that I'd be doing a full remodel in two or three years.  So I told him not to worry about the tub pipes right now.  They're definitely corroded inside, like old galvanized pipes get, but I was certain they'd last at least three more years.  But now that this is the final remodel, I've scheduled him to come back to replace those old pipes.
I also still need to get this old window out of here.  For a temporary makeover, I was planning to keep the window because it does let in lots of natural light during the day.  But for a final remodel, it needs to go.  It was originally an exterior window, but now it looks out into the sunroom, and that area behind the bathroom will eventually be a hallway.  I haven't taken it out yet because that would give my cat free access to this room…and the crawl space under the house.  So I'm holding off until I'm ready to put up that sheet of drywall.
And finally, I still need to get the sheetrock off of the ceiling.  I was holding off on that until the squirrel guy was finished (i.e., squirrels out of our attic and entries patched up).  He finished up last Friday, so I can get that done today.
So here are a few "before" and "progress" pictures…
The toilet area before…
And now…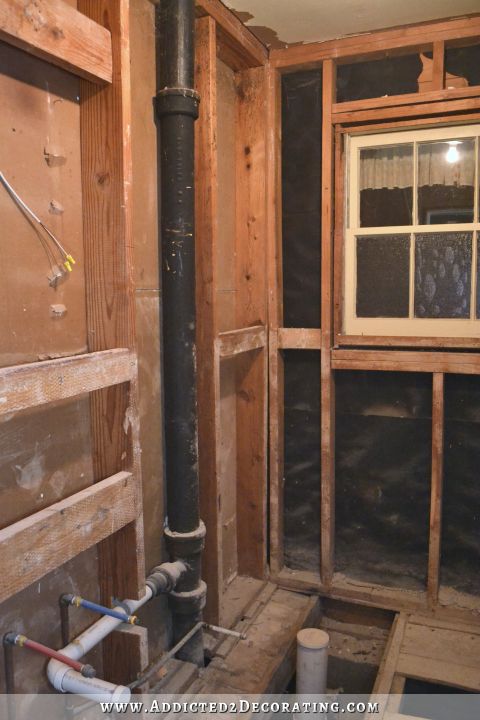 The vanity area before…
And now…
The entry wall before…
And now…
The linen closet area before…
And now…
And the bathtub area before…
And now…
So the good news is that I've made a ton of progress.  Every bit of the old tile and mortar is gone (39 bags total!!).  The drywall is gone (except for the ceiling).  Everything is cleaned up, and I'm ready to start rebuilding in here.
The bad news is that I would have been a lot further along except that I ran into a pretty significant problem.  I cut the first piece of plywood subfloor, carried it into the bathroom by myself, wrestled it into place around plumbing pipes, while trying to keep my balance on floor joists without falling into the crawl space, and finally got it into place.  It was too long on one edge, so I had to wrestle it out, recut, and try again.  I did this a total of about four times before it finally fit flat on the floor joists.  But something still wasn't right.  It just felt funny.  By this time, I was so incredibly frustrated that I was about ready to throw in the towel.  After much yelling and temper tantrum-throwing, I realized that the problem wasn't me or the plywood.  The problem was that the floor in this bathroom is seriously unlevel.  The window wall is 1.5 inches higher than the door wall, and that's in a span of space that's not quite eight feet wide!  And inch and a half!!
So I called the company that leveled our house last year, and they're trying to fit us into the schedule ASAP to fix the problem.  Thankfully it's still under warranty, so this shouldn't cost us anything.  Unfortunately, that meant that my work on the bathroom came to a complete stop on Friday.  I was hoping to get the subfloor down, the tub installed, and at least some of the concrete board and drywall installed this weekend.  Instead, I did absolutely nothing on this bathroom all weekend.  Talk about frustrating!
So once again, I'm in waiting mode.  *Sigh*  That seems to be a theme around here lately.
Addicted 2 Decorating is where I share my DIY and decorating journey as I remodel and decorate the 1948 fixer upper that my husband, Matt, and I bought in 2013. Matt has M.S. and is unable to do physical work, so I do the majority of the work on the house by myself. You can learn more about me here.
I hope you'll join me on my DIY and decorating journey! If you want to follow my projects and progress, you can subscribe below and have each new post delivered to your email inbox. That way you'll never miss a thing!