*This post contains affiliate links.
I know a lot of people are wary of making big purchases online, especially with items like furniture, but I've always been pretty comfortable with it. I rely heavily on customer reviews, and I've never been terribly disappointed at any of my purchases. In fact, I've been very pleased with most of them. So here's a look at some of my furniture and lighting purchases with my honest reviews of each item.
Living Room Purple Chairs
Overall rating: 8 out of 10
Style rating: 10 out of 10
Quality rating: 8 out of 10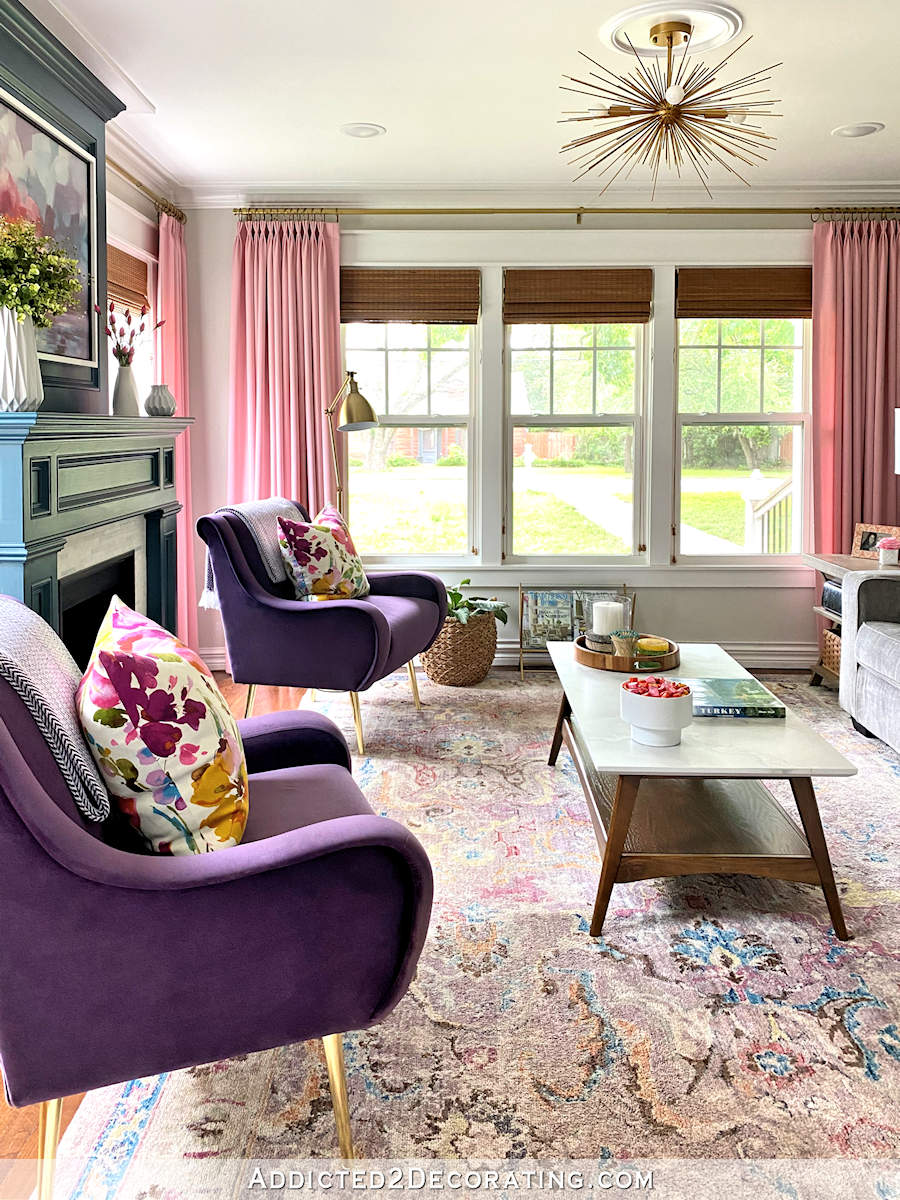 These are the Sandy Wilson Home Corina Accent Chairs.
These chairs are upholstered with velvet, and they come in several colors, including a soft rose, garnet rose (the color of my music room settee), teal and green. They're very durable, and as long as you have the right tool (this is a must for every pet owner who deals with fur on furniture), pet hair comes off very easily. They've held up very well with my cat. She tried clawing on one of the chairs as soon as I got them, but lost interest very quickly since they're upholstered with velvet, which is a very durable fabric that cats generally have a hard time clawing. (It's not indestructible, by any means, but velvet is one of the best fabrics for cat owners.)
These chairs are soft and comfortable enough to sit and converse with people for a while. But you can see just from the design (especially the lack of arms) that these aren't chairs that you'd want to curl up in with a good book and a cup of hot chocolate. These aren't family room chairs, or media room chairs. These are formal living room chairs. It may even be a great chair to have in a bedroom, but again, that's only as long as you're not wanting a place to sit and stay for hours on end.
Living Room Coffee Table
Overall rating: 9 out of 10
Style rating: 10 out of 10
Quality rating: 8 out of 10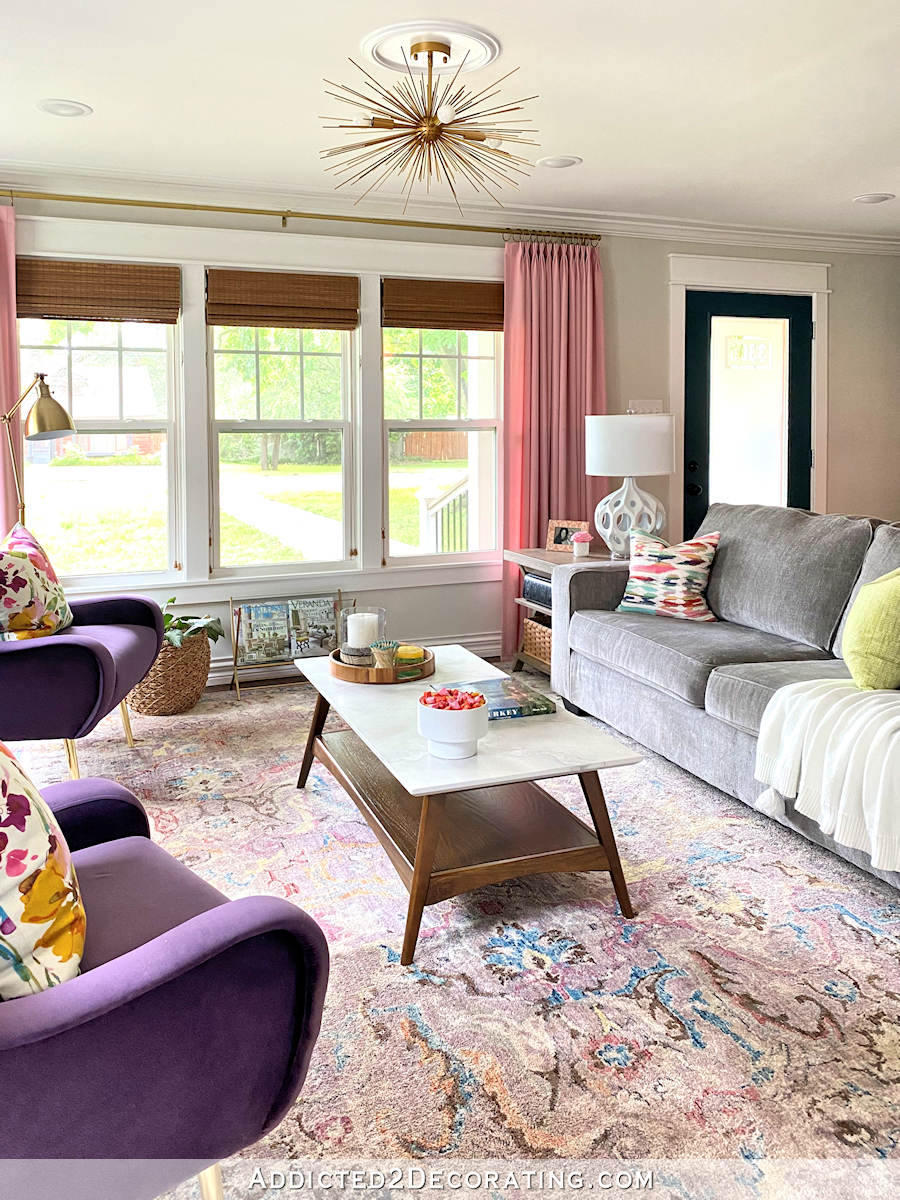 This is the Madison Park Parker Coffee Table in off white/pecan.
I absolutely love this coffee table. I was nervous to order it, and I was fully prepared to be disappointed with it, but once I opened the box and put it together, there was no disappointment at all. It is a heavy, quality piece at a fantastic price.
One caveat is that the color of the table top was originally pretty yellowed. But that didn't come as a surprise to me since so many of the customer reviews mentioned this. In fact, I'd say that this was the main complaint in the customer reviews. So I was prepared to not like the color of the top, and I was also prepared to put my DIY skills to use in turning the yellowed top into something that I really like. So I sanded it down and painted a faux marble finish on the top. (You can see that coffee table before and after here.) With a couple of hours of work over two days (one day to sand and repaint, another day to do the faux marble finish), I had a quality coffee table that I absolutely love, and that looks very similar to ones that cost double or triple the price.
If I were not a DIYer, and did not have the ability to sand down the top and redo, I would have to give the table a lower rating just for the color of the original top. It looked as if it had been painted a bright white, and then clear coated with an oil-based finish that yellowed over time.
Music Room Settee
Overall rating: 8 out of 10
Style rating: 10 out of 10
Quality rating: 9 out of 10
This is the Sandy Wilson Home Eryk Settee in Garnet Rose.
This is my favorite piece of furniture in my entire house, but that's based solely on the color and style, and how it looks in my music room. It is an opinion based solely on form over function. 😀
It's another velvet piece, and even though it's Felicity's favorite place to snooze during the day, she won't claw on it. She does leave plenty of fur behind, but it's a quick and easy clean up with the magic fur removal tool I mentioned above.. (Seriously, if you have pets and deal with pet hair on furniture, you need this tool.)
When purchasing a piece of furniture that looks like this, it's pretty obvious that you're not going to be lounging around on it for hours, curling up on it to read a book. or lying down on it to take a nap. So rating it based on those things is pretty silly. It's a settee, and it does what settees do — it offers a place to sit for short periods of time. I sit here throughout the day, taking a five minute break here and there to scroll Instagram or check email. It would be great in an entryway (if you have a larger entryway) to be used instead of a bench.
It's high on style and color, but you just can't expect a settee to act as a sofa. Expect it to be exactly what it is — a place to sit for short periods of time, or to sit and put shoes on, etc. — and it delivers. It also comes in other colors, like a dark green and a light blue.
Sitting Room Recliners
Overall rating: 9 out of 10
Style rating: 9 out of 10
Quality rating: 8 out of 10
These are the Emina Manual Recliners in light gray polyester.
I absolutely love these recliners. They're manual, so you have to push on the arms while pushing against the back in order to recline, and it has three positions. I love to sit here with my feet up while working on my laptop and watching a show. These were a great purchase for us!
I have to give this caveat — when you purchase a recliner for $340, common sense will tell you that you're not getting a top-of-the-line piece of furniture. So you have to set your expectations accordingly. With that said, these recliners have far exceeded my expectations.
The seats are firm while not being hard or uncomfortable. They're just the right amount of cushion for me. The fabric is really nice and durable, and it has a "brushed" kind of texture (remember brushed cotton fabric?) to it that makes it feel very soft. I'm not sure how to explain that better, but I really like the fabric. I've been amazed at how well these work for both of us considering that I'm only 5′ tall, and Matt is 6'1″ tall. And yet, we can both sit in these recliners very comfortably, and the back is tall enough for Matt to rest his head against the back, although sometimes he likes to use a little round neck pillow for added support since he sits so much taller in the chair than I do.
Matt sits in his recliner most days. I sit in mine just about every single day at some point. I love to end my days here after working on the house. I've been so pleased with these. Again, you're not going to pay $340 for a recliner and get the quality of a $2000 piece of furniture. That's common sense. But I've been very pleased with the quality of the chair for that price. And so far, they've held up perfectly
---
Those are really the only furniture items that I've purchased online that are in regular use in our home. I'm very anxious to see how my latest purchase — the new James Sofa from Interior Define for our living room — measures up.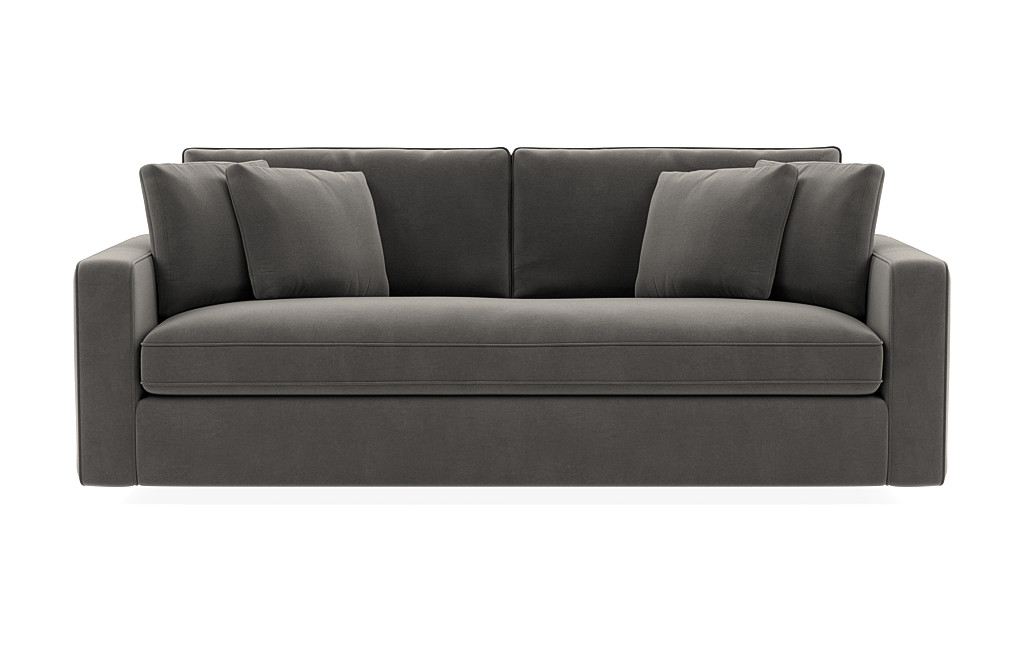 It'll be the most expensive piece of furniture in our home to date, and I bought it without visiting a showroom and testing it out. It really doesn't matter, though. At five-feet tall, I've never really sat on a sofa that feels comfortable to me. They're always too deep, so I have to use pillows behind me. And they're always too tall, so my feet don't touch the floor. A sofa that "fits" me would look miniature in a room and feel miniature to most people. So I buy regular sofas and then adapt and find a comfortable way to sit on them, always with lots of throw pillows that I can lean against, and generally with my feet up on the seat of the sofa so that my legs aren't dangling like a child. It's just a thing that we short people learn to deal with. 😀
Anyway, I think those are the only furniture pieces I can think of that I've bought online. Of course, I've bought plenty of lighting online, and I can review those as well in the future. I've also bought tons of other things — gadgets, household items, etc. But I can't think of any other furniture that is currently in use in our home. If I think of anything else (or if you remind me of something I've left out), I'll add it and give you my honest review.
Addicted 2 Decorating is where I share my DIY and decorating journey as I remodel and decorate the 1948 fixer upper that my husband, Matt, and I bought in 2013. Matt has M.S. and is unable to do physical work, so I do the majority of the work on the house by myself. You can learn more about me here.
I hope you'll join me on my DIY and decorating journey! If you want to follow my projects and progress, you can subscribe below and have each new post delivered to your email inbox. That way you'll never miss a thing!