Hallway Floor Install — Almost Finished! (Plus, An Obvious Lesson Learned)
I'm so close to finishing the hardwood flooring installation in the hallway! And the only reason I didn't finish yesterday is because the last three boards needed to be cut on my table saw, which I have set up outside, and it was too late to use the saw. I try not to use my saws outside after 9:00pm, and I wasn't ready for those boards until about 10:30pm. So I'll finish up those last three today.
When I started working yesterday, I had already installed most of the hallway, so I just had about 2.5 feet of the hallway left, plus the entrance into the home gym…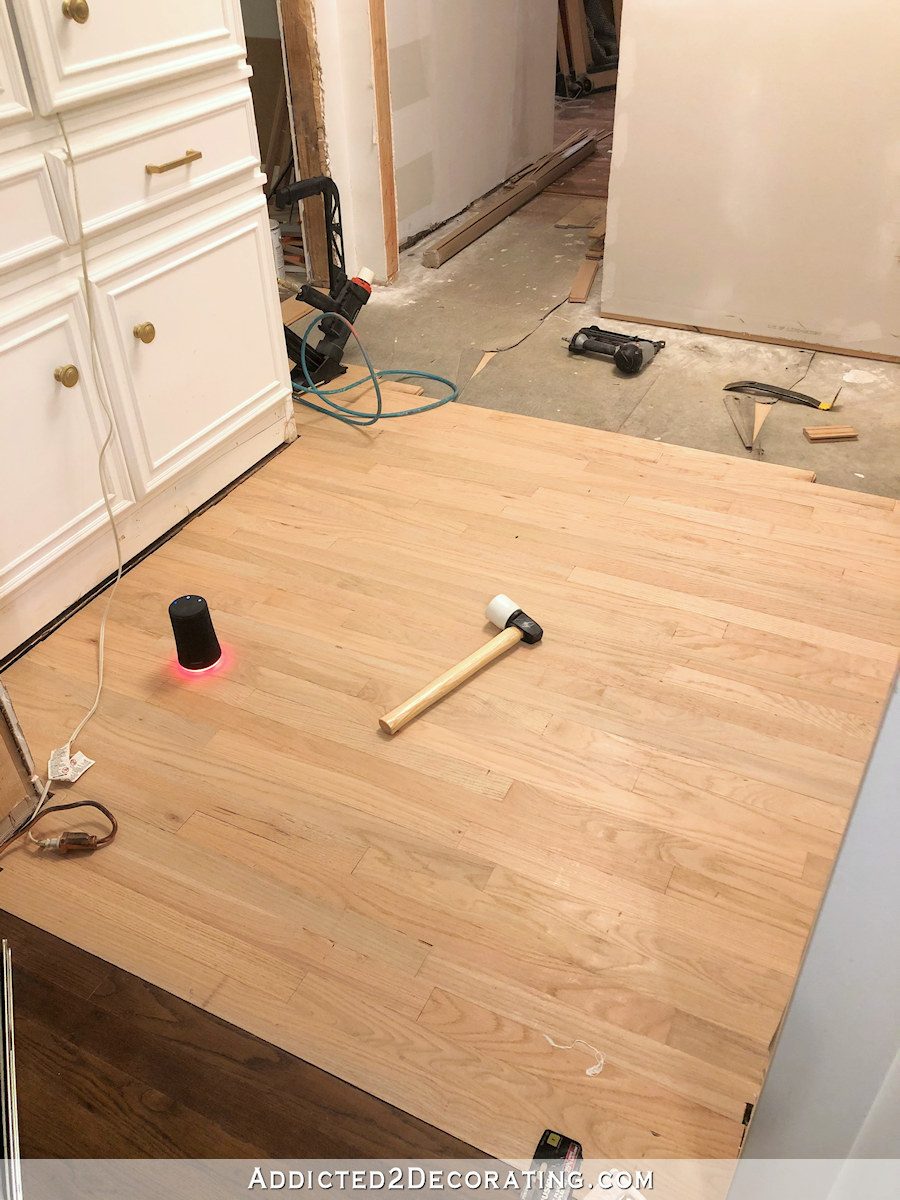 So I would say I was about 2/3 of the way done when I started yesterday. And yet, that last 1/3 of the flooring took me longer than the first 2/3. It's always easier and faster to install in open areas, and I had already finished the main open areas on day one.
On day two, I had to start on this area close to the wall. I was only able to to about two more rows using the mallet and flooring nailer. After those two rows, I did the rest with a regular nail gun and a pry bar.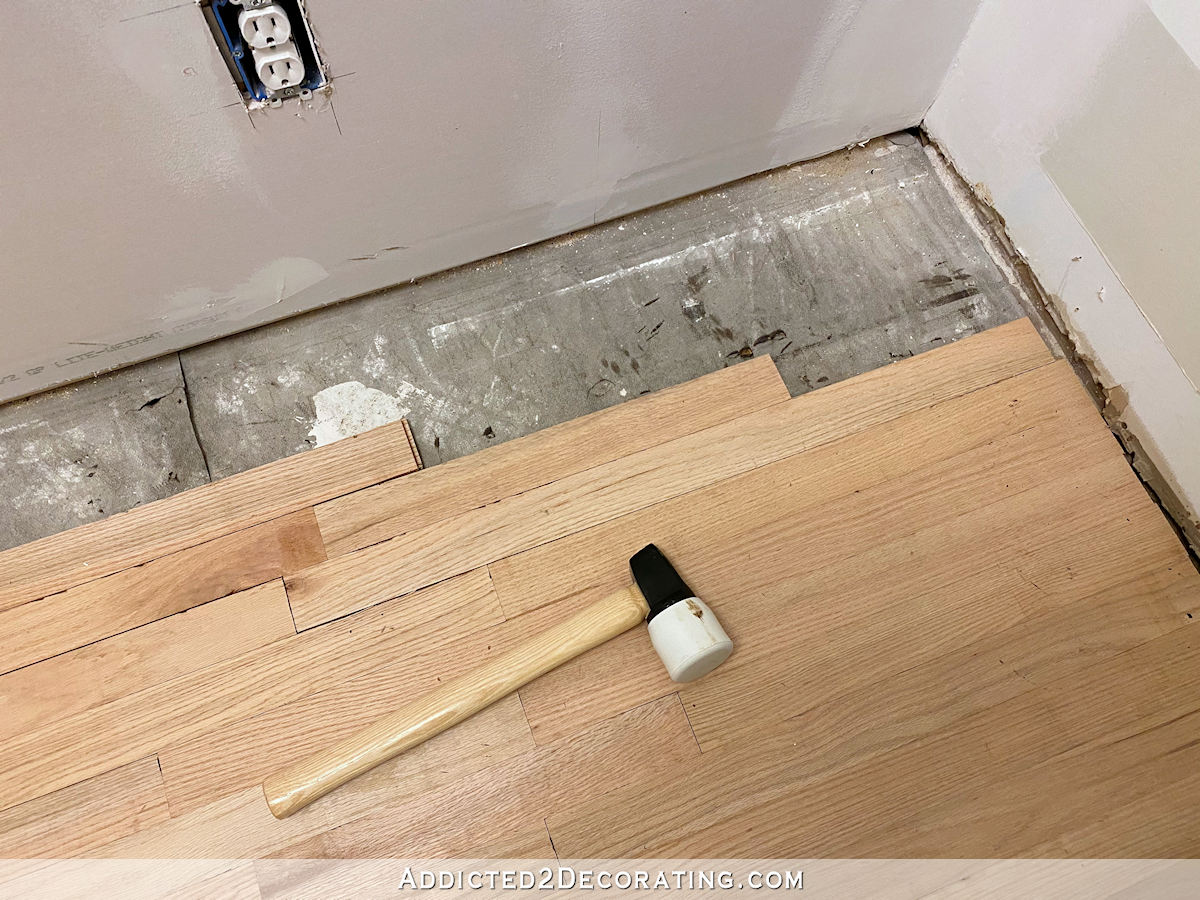 I got to about that point that you see above, and was getting so discouraged and frustrated because no matter what I did, or how much I pried with the pry bar, I couldn't get those gaps closed between the boards. I happened to mention it on my Instagram stories, and lots of people started messaging me telling me that there's a specific tool made just for this purpose.
WHAT?! How many hardwood floors have I installed now? I've installed the kitchen, breakfast room, pantry, studio, back entry, storage closet, and studio bathroom. And I've had this issue with every single floor I've installed when I get to the area next to the wall. And yet, I never knew there was a special tool for this.
This is such an obvious lesson, and one that I should know after about three decades of DIYing, and yet it never dawned on me to look for a tool for this specific purpose. So after getting message after message, I ordered this pull bar tool on Amazon.
One end hooks behind the floor board on the wall side, and you use a hammer on the other end that sticks up to pull the board into place.
How in the world did I not know this thing existed? I guess that just goes to show that DIYing is always a learning process!
It's too late to use it on the hallway flooring. I'm just going to have to fill these gaps before I stain the floor. I had originally planned use a full-trowel wood filler on the entire floor, but I think this time, I might try the sawdust and wood glue filler. I have quite a pile of sawdust from cutting the flooring, and I think the sawdust and wood glue mixture will keep the boards from shifting (since it's actual wood glue) a lot more than full-trowel wood filler. I'm confident that I it will look good when it's finished, but I sure wish I had known about that pull bar sooner! 😀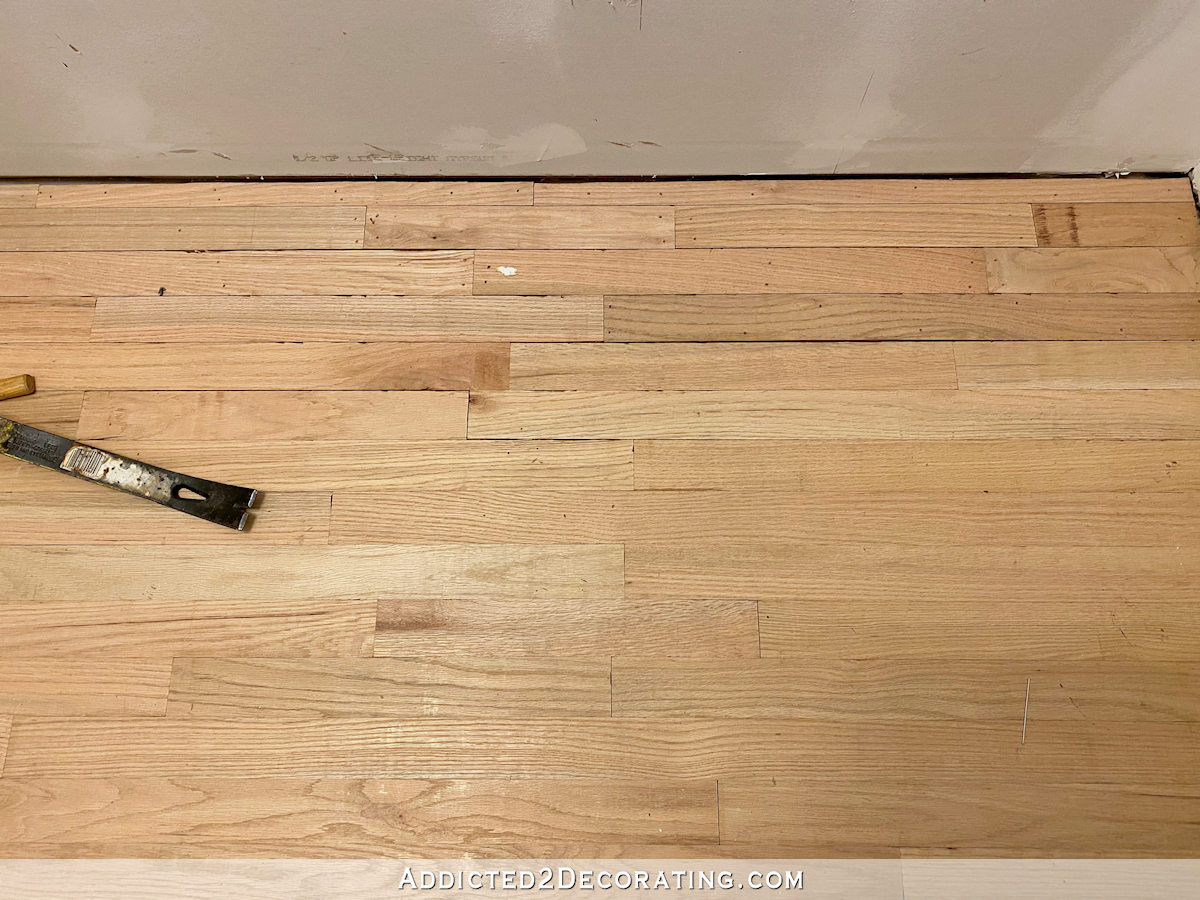 The area in the entry to the home gym was a bit challenging as well.
Since the doorways to the other two rooms (guest bedroom and hallway bathroom) sit perpendicular to the hallway flooring boards, I could easily add transition strips in those doorways. But since the home gym doorway is parallel to the hallway flooring boards, there really wasn't a way to do a transition. So I decided to install the hallway flooring up to this point…
And then I started the home gym flooring going the other way…
I did it this way because I knew that there was no way the boards would fit perfectly together. Without a doubt, the very last board would need to be ripped on the table saw to fit. So I wanted the ripped board to be right at the entrance of the room rather than further into the room.
I really don't think a ripped board is going to be noticeable once the floor is stained and sealed since the hallway flooring and the flooring in the entry to the home gym is all going the same direction. There won't be any obvious wood grain differences, so it'll all just blend together. At least, I think it will. 😀
I do think the transitions in the bathroom and guest bedroom will show, but those turned out great. There are no obvious gaps, and no ripped boards.
So I have just three more boards to go and the hallway/room entry flooring will be finished. Then I have to install the missing flooring in the closet area of the home gym…
Hopefully that will go much quicker with the pull bar. The only tricky part on that closet floor is that I need to work around the new scuttle hole that goes to the crawl space under the house.
So hopefully sometime next week, I'll be ready to rent the big sander so that I can get all of this flooring in the guest bedroom, home gym, and hallway sanded, stained, and polyurethaned. I'm so ready to get back to the guest bedroom and get it finished!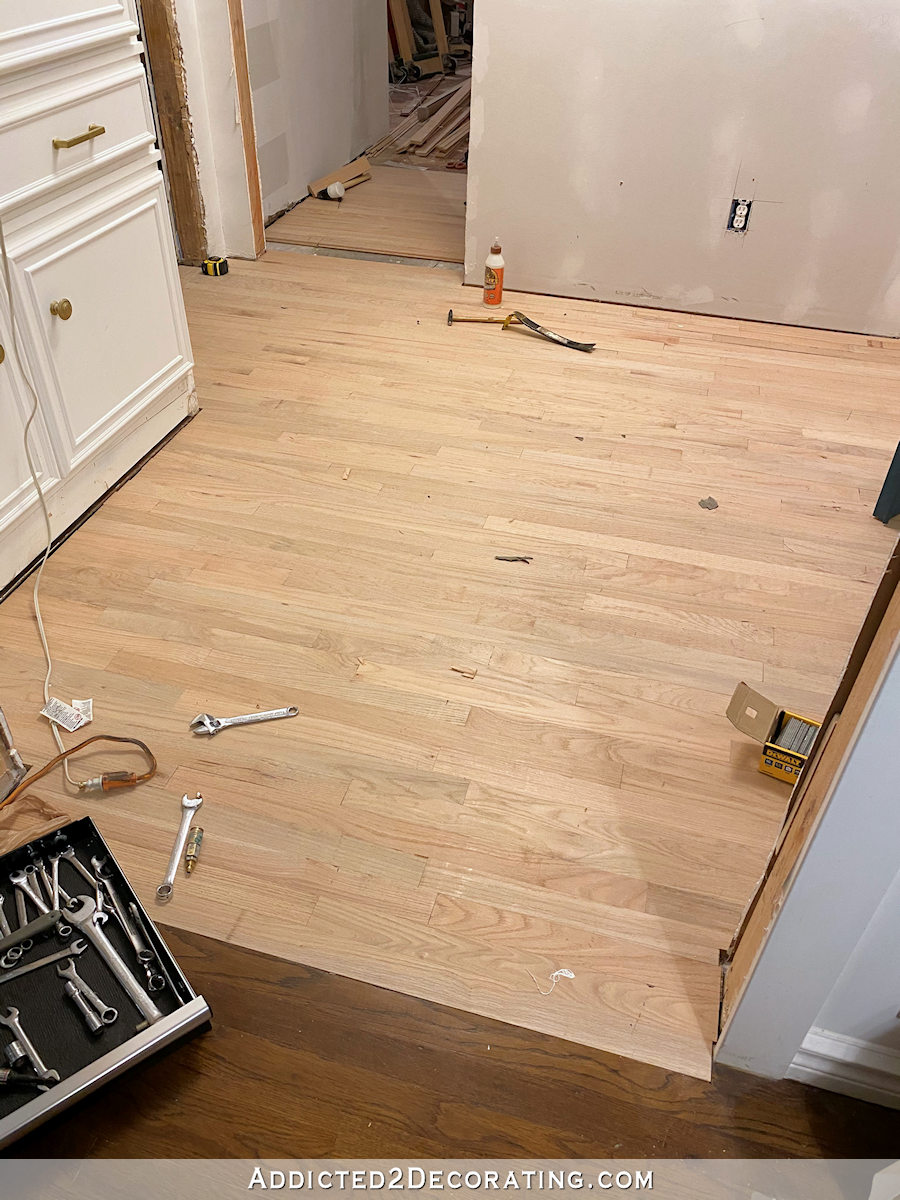 But seriously, y'all. I'm speaking to you as well as to myself. If there's a problem you consistently have with a project, chances are high that there's a tool made specifically for that problem. I should have known that, and yet, it didn't occur to me to look. I could have saved myself so much frustration over the years with as much hardwood flooring as I've installed in this house!!
Addicted 2 Decorating is where I share my DIY and decorating journey as I remodel and decorate the 1948 fixer upper that my husband, Matt, and I bought in 2013. Matt has M.S. and is unable to do physical work, so I do the majority of the work on the house by myself. You can learn more about me here.