Last Updated on January 14, 2019 by Kristi Linauer
This morning, for the first time in weeks, I woke up feeling excited about working on house projects. I really have no idea what's been going on in my head lately. I thought it was just the organization thing, and while that did play a huge role, it wasn't all of it. I've just had no motivation at all to work on my house.
But today, I feel like I've turned a corner…finally. I'm actually feeling excited and motivated! I decided to work on my hallway before tackling the pantry. I've been planning for quite some time now to build cabinets in the hallway, and I thought that would be a good project to tackle before I jump into finishing the pantry. It's been almost two months since I've done any building, and that was when I last worked on the portico (which still isn't finished).
But I think the last time I actually built anything cabinet-like was back in December 2015 when I finished building the pocket door bookcases in the music room (which you can read about here).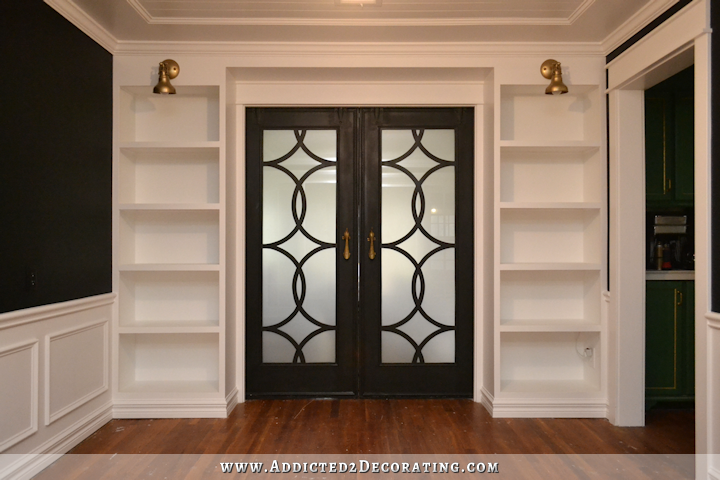 So instead of diving into the deep end with the big pantry cabinet project, I thought I'd wade in the shallow end a bit first with a much smaller and easier cabinet building project in the hallway.
The design I've chosen for my hallway cabinets is very similar to this one…
I'm doing cabinet doors on the bottom, a drawer above, and cabinet doors on the top. I don't plan on putting glass or mirror in the upper doors, though. Mine will be all painted. And I'll also be using partial overlay doors and drawer front since that's what I have in the kitchen and hallway bathroom. But this time, instead of ordering custom doors like I have in the past, I'm actually going to try to build my own.
These cabinets will go right here where the old hallway closet used to be.
So while I'm in hallway mode, I plan to tackle a few other projects in there as well, like finally installing new doors on the bedrooms. I've been looking at this mess for far too long now.
That's leftover craziness from when I tried to strip the door and stain it (an epic failure) and then tested some crazy colors (really? red?) on the other door.
So I'm anxious to finally have matching, solid color doors on these rooms, with new trim to match the rest of the house.
I've also decided to abandon the idea of doing dark stained vertical wood slat walls in the hallway, and not because I don't like the idea (I actually think it would be awesome), but because I didn't really consider how much finished work would have to be undone and redone in order for that to happen.
By adding slats of wood with 1/4″ thickness to my walls, that completely throws off the two doorways that are already trimmed out in the hallway — the bathroom doorway and the opening from the music room to the doorway. I'd have to remove the bathroom doors, remove the casing and header on the hallway side, and either remove the door jambs and replace them with jambs that are 1/4″ wider, or somehow add 1/4″ width to the existing jambs. Then I'd have to reinstall the casings and header, and reinstall the doors.
And all of that just so that I can do wood slats on my walls isn't worth it to me. Plus, I'd run into the same problem with the finished door jambs on the cased opening between the music room and the hallway. I'm looking to move forward, not go backwards and redo a bunch of projects that were finished long ago.
I could always try to cut the slats so that they fit perfectly around the existing door casings and header, but I don't like that idea. First, it would decrease the appearance of the casing thickness by 1/4″, which I don't like. But it would also be very difficult to cut the slats so that they fit perfectly around the casing. That might not be a big deal of I were planning on painting the slats, since I could just caulk any small gaps between the slats and the door casing. But since I was planning on staining the slats, I think it would look like a mess.
So I need a different plan for the walls. I don't want to just paint them a solid neutral color. I'd like to do something a little more interesting than that since the hallway is more like a small room (rectangle in shape) rather than a standard long, narrow hallway.
Then I'll just need some crown moulding, a new ceiling light, and a bit of artwork. Seems easy, right? 🙂
That's the plan for this week. I don't have any grand delusions that I can actually get all of that finished in one week. But if I can get the cabinets completely built, that'll be more progress than I've made in the last two months, so I'll feel good about that. And the good news is that all of my plywood is already cut and ready to go, so this morning I can jump right into building. I hope to have some good progress to share with you tomorrow!
Addicted 2 Decorating is where I share my DIY and decorating journey as I remodel and decorate the 1948 fixer upper that my husband, Matt, and I bought in 2013. Matt has M.S. and is unable to do physical work, so I do the majority of the work on the house by myself. You can learn more about me here.
I hope you'll join me on my DIY and decorating journey! If you want to follow my projects and progress, you can subscribe below and have each new post delivered to your email inbox. That way you'll never miss a thing!