C.O.P. Week 5 – Kitchen Edition (DIY Kitchen Utensil Drawer Dividers)
This week, I decided to focus on two organization projects that I've wanted to do for quite some time — getting my two messiest kitchen drawers under control with a bit of purging followed with some DIY utensil drawer dividers.
I wish I had taken a picture of my silverware drawer before I emptied it out, but just imagine all of your silverware dumped into a drawer with no organization and no dividers. That was my drawer.
I used to have one of those plastic silverware dividers that you get at basically any store that sells housewares. But what I don't like about those is that they never fill up the entire drawer. So over time, I start filling in the open areas around that plastic divider tray with random junk.
So instead of just buying a new plastic silverware divider tray for my drawer, I decided to divide the drawer up myself using the small 1/4-inch-thick project boards that you can find at home improvement stores, Michael's, Hobby Lobby, etc. The ones I purchased were 1/4-inch by 3 inches by 4 feet.
Here's what my silverware drawer looked like before I added the dividers…
And here's the new, improved, organized, and divided drawer…
So much better! And what a big payoff for such a simple project!
Before I made any dividers, I placed my silverware and steak knives separated in the drawer to get an idea of where I'd like the dividers.
Once I had a plan, I started making the drawer divider/organizer. Before I could start adding the dividers, I needed to do something with the bottom of the drawer first.
My cabinets are the stock unfinished oak cabinets from Home Depot, and one thing about these unfinished stock cabinets is that they have some cheap materials. The drawer fronts and doors are oak, but the bottoms of the drawers are super thin hardboard (which I think is like a thin material along the lines of particle board or MDF) with that plastic-lined veneer on top. So over time, the thin drawer bottoms have bowed down a bit in the middle of the drawers.
So before I added my dividers, I cut a piece of 1/4-inch plywood to fit the bottom of the drawer. I didn't take a picture of this bottom piece on the silverware drawer, but you can see the piece I added on the bottom of the cooking utensil drawer here…
I didn't glue that piece down or anything. I just placed it in the bottom, and that's it. This gave me a new flat drawer bottom to work with, but it also gave me something to glue my dividers to. I didn't necessarily want these dividers to be permanent. I didn't want to glue anything directly to the drawers so that these are easily removable if I ever decide to change the configuration in the future.
After adding the plywood bottom, I cut and added pieces to go around the inside perimeter of the drawer box.
I glued those four perimeter pieces to each other and to the bottom piece of plywood, but again, I didn't glue anything to the actual drawer.
Then I began to add the separator pieces only using wood glue. Of course, the order in which you add these will completely depend upon how you want the drawer arranged. But here's how I added mine.
I started with the large back section.
And as I measured for each divider piece, I added just a smidge (maybe 1/32-inch) to each measurement because I wanted the pieces to fit in the drawer very snug so that the tension would hold the pieces in place until the glue dried. I just used regular wood glue to glue the divider pieces to the perimeter pieces and to the bottom plywood piece.
Next I added the large side section. Again, I measured and then cut just a touch over that measurement so that it would fit kind of tight — not too tight or it would push that first piece out of place. But since the first piece was snug, this second piece could fit kind of snug as well, and the tension would hold everything in place.
Then I did the bottom spoon section in the same way…
And then finished off with the other two pieces creating three equal sections for the big forks, small forks, and big spoons.
And here's the finished and filled drawer divider, with no extra space to fill up over time with random junk…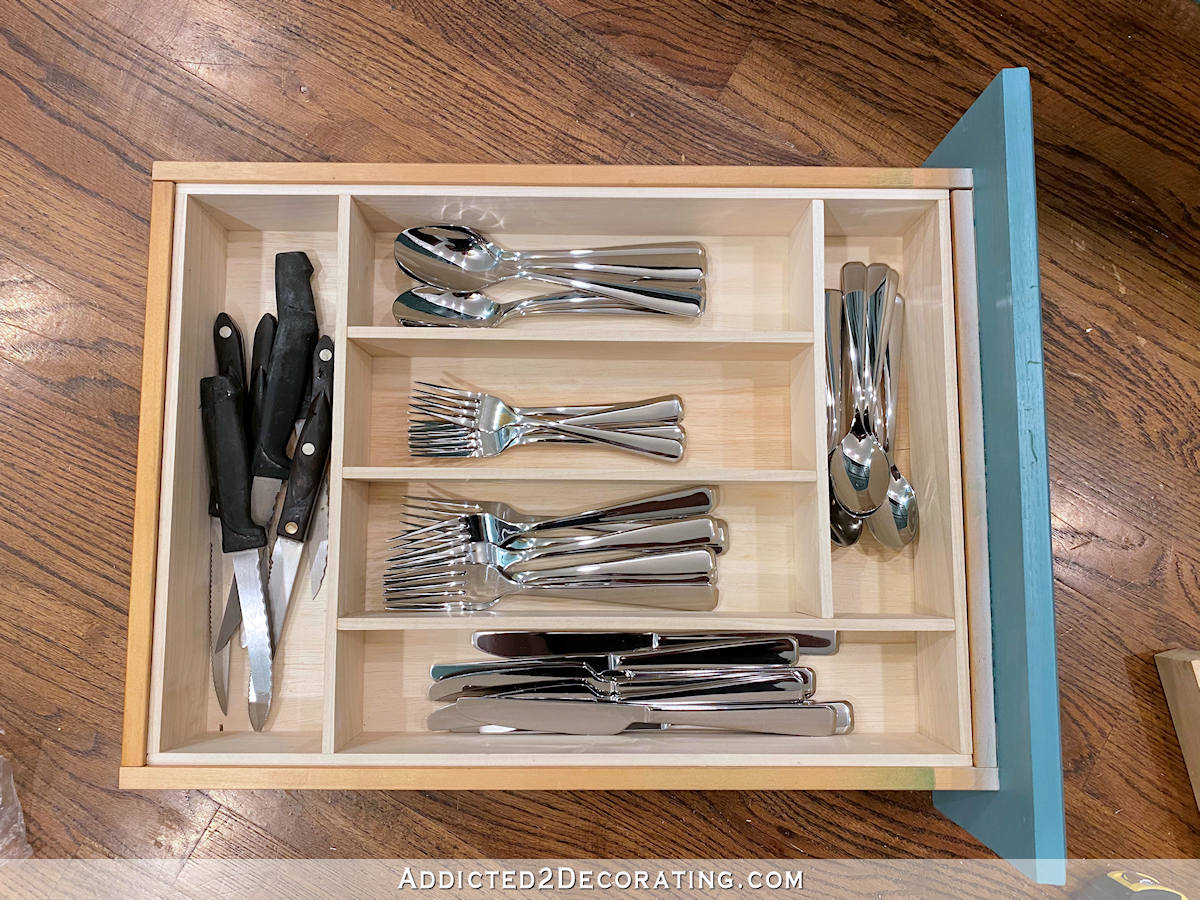 When I put the drawer back in, I did have one problem, but it didn't come as any surprise to me. Another issue with unfinished stock cabinets from big box home improvement stores is that they come with the cheapest drawer slides that are far from full extension. So with the drawer installed, I couldn't access the back steak knife section.
So I also took about 10 additional minutes to switch out the cheap drawer slides for full-extension drawer slides that I had left over from my pantry. Now I can easily reach everything in my newly organized drawer.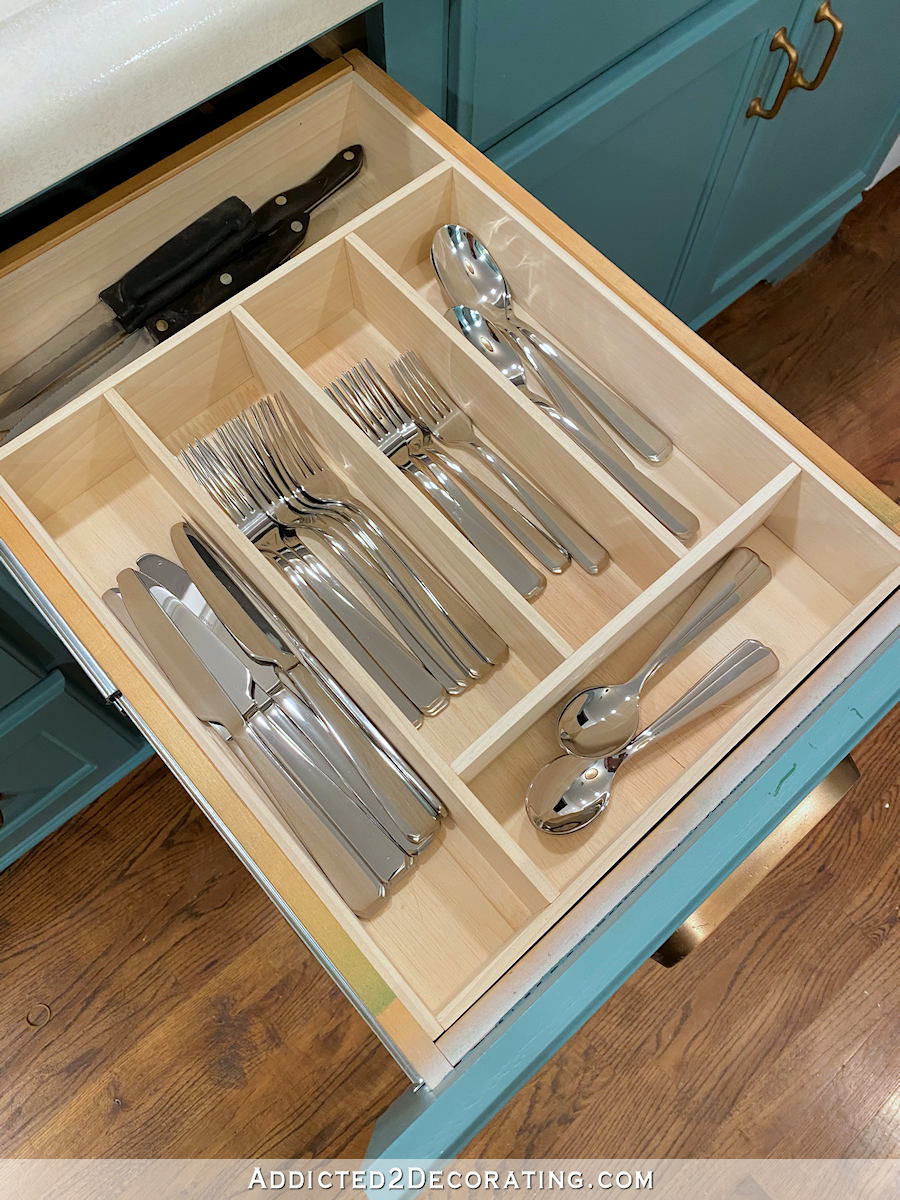 I love easy projects with a big payoff!! And this one was so satisfying to me.
I also tackled the messiest drawer in my kitchen — the cooking utensil drawer. I did get a picture of this mess before I unloaded the drawer.
I mean, is that not the biggest mess?! 😀 I had to do some purging on this drawer before I could even get to the organizing. There's no way I need all of this stuff. So I separated everything into piles. First, I gathered all of the things that I don't really need…
Those are all gadgety things — a jar opener, an egg separator, an egg slicer, a garlic press, an apple slicer/corer, etc. — that just take up space but don't add any real value to my cooking experience. And I think those plastic spoons came with my InstantPot, but I've never used them.
Then I gathered the items that actually go with small appliances…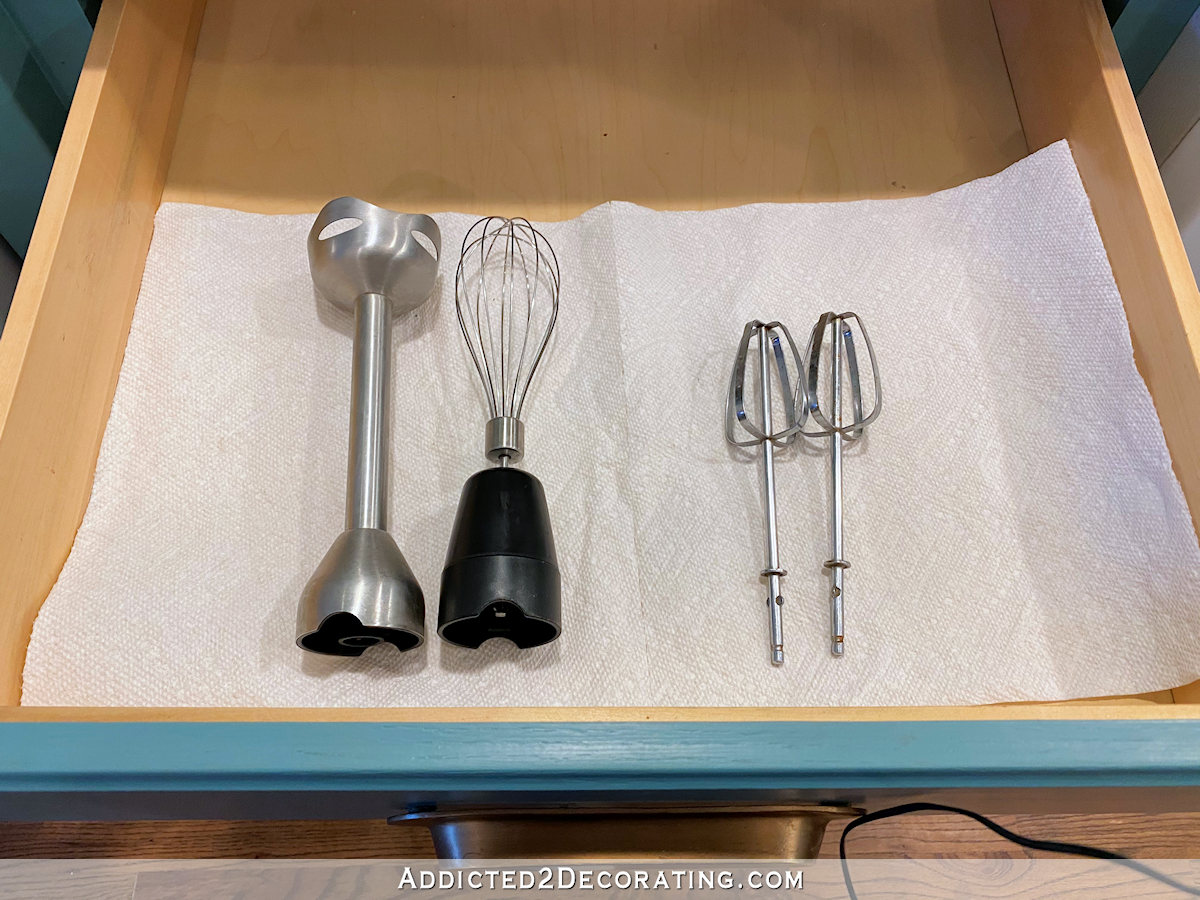 There's no need for those to be in this drawer. They should be stored with the small appliance.
Then I gathered all of the cooking utensils that I use on a regular basis..
I don't like a lot of things on my kitchen countertops, but I do actually like spoons and other utensils like this to be in a pretty little container sitting on a countertop in a convenient place near the stove. So these didn't need to be in the drawer.
And that left this much smaller and more manageable selection of utensils. With all of the other stuff gone, I had a much better idea of how to divide the drawer.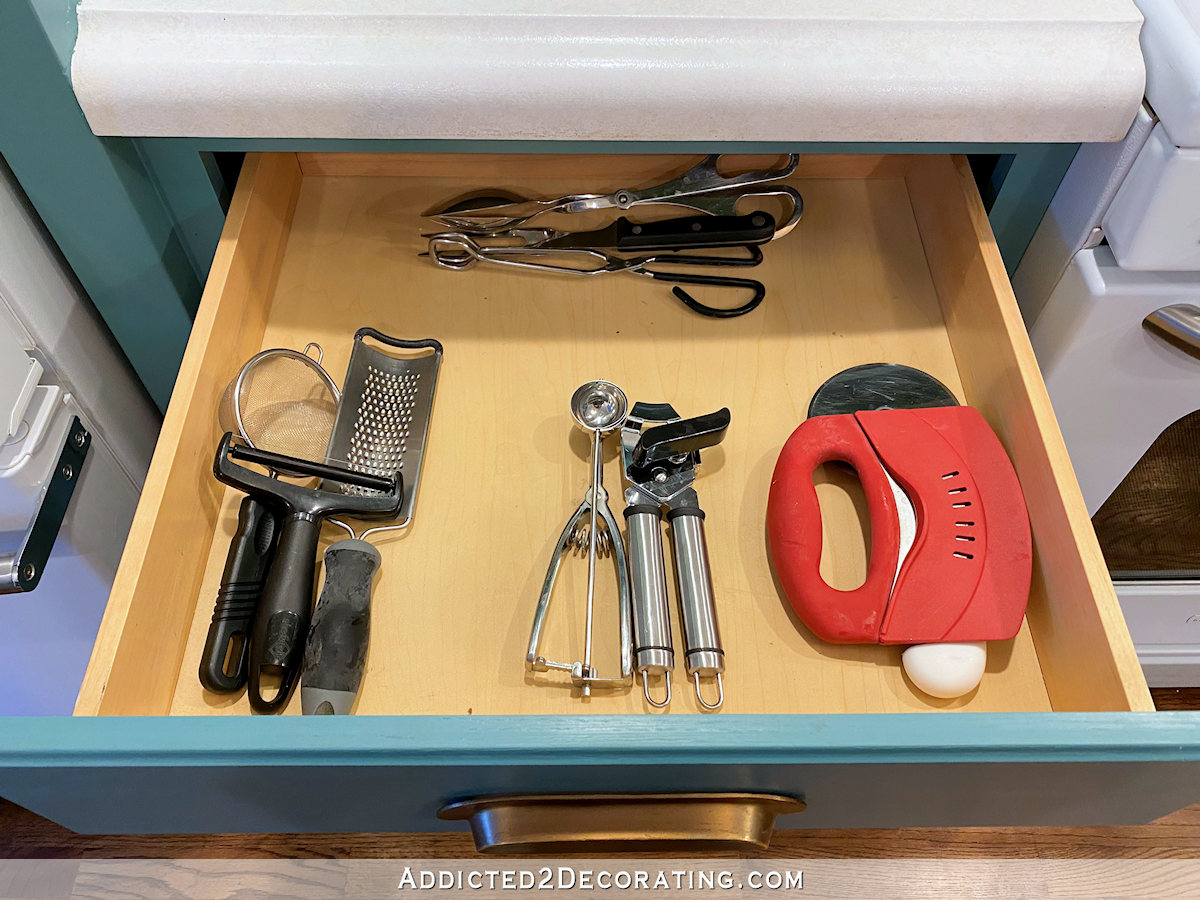 This drawer, just like the others, had the thin and misshapen drawer bottom.
So once again, I started by adding the 1/4″ plywood in the bottom.
And then, just like the other drawer, I began by gluing the perimeter pieces to each other and to the bottom plywood. Then I added the divider pieces, also glued to the bottom plywood, to the perimeter pieces, and to each other.
With this drawer, it wasn't so much about putting like things together. After all, each of these things serves a different purpose. If they didn't, I wouldn't need all of them. But it was more about separating out the drawer into smaller and more manageable containers so that the items in this drawer can't become a tangled mass of confusion and disorganization again.
That drawer also needed a quick drawer slide switcharoo so that I now have a full-extension drawer with everything easily accessible. This newly purged and organized drawer feels so much more manageable than the original jumbled drawer!
And for the cooking utensils that I use regularly, I bought a simple white container to go on the countertop right by the stove. I like the convenience of having these right there within reach without having to dig through a drawer to find the one I want.
So little by little, I'm getting my kitchen organized, and I love it! I love turning my stock cabinets into something that is customized for the particular way in which I use my kitchen.
In the past, I've turned a standard drawer into a tiered spice drawer…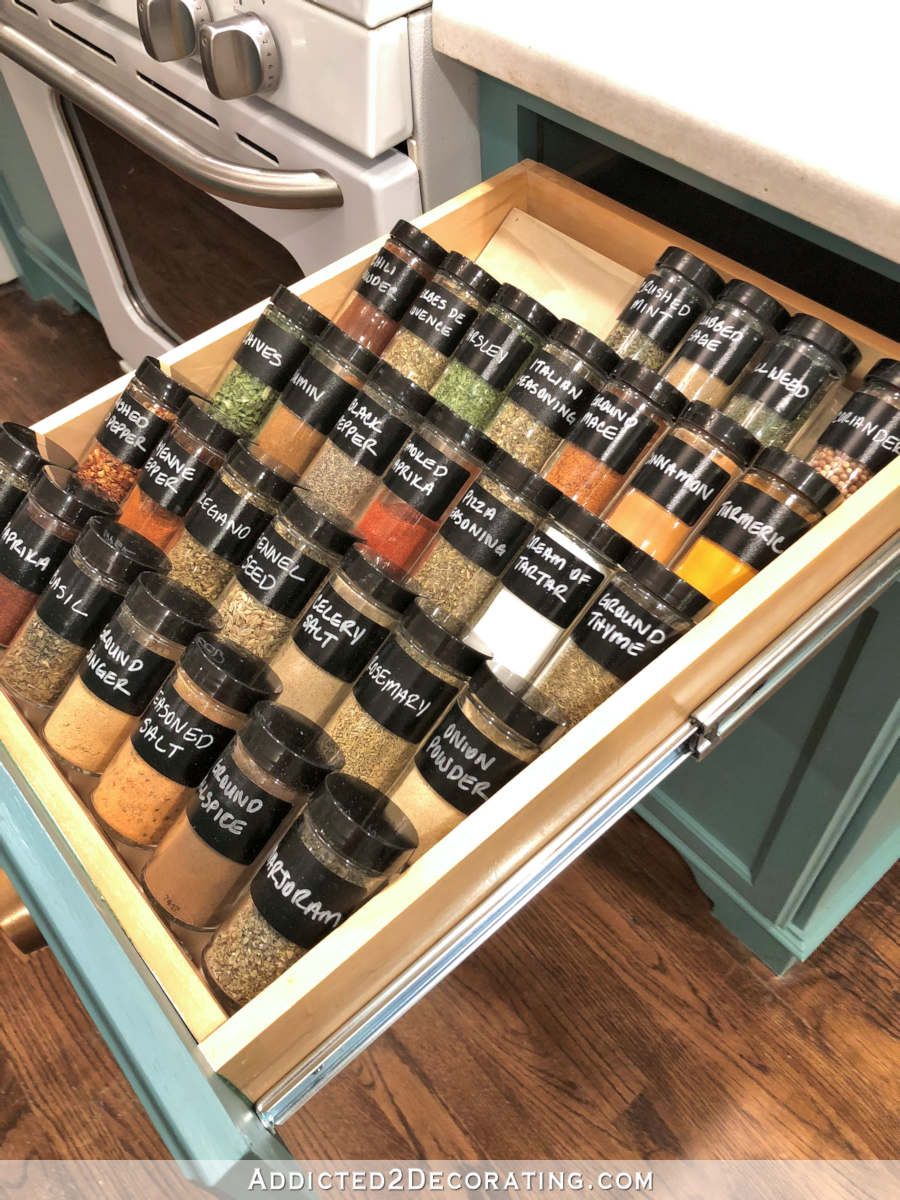 I also turned a standard cabinet into two customized pull-out shelves, and one pull-out specifically for my measuring cups and spoons…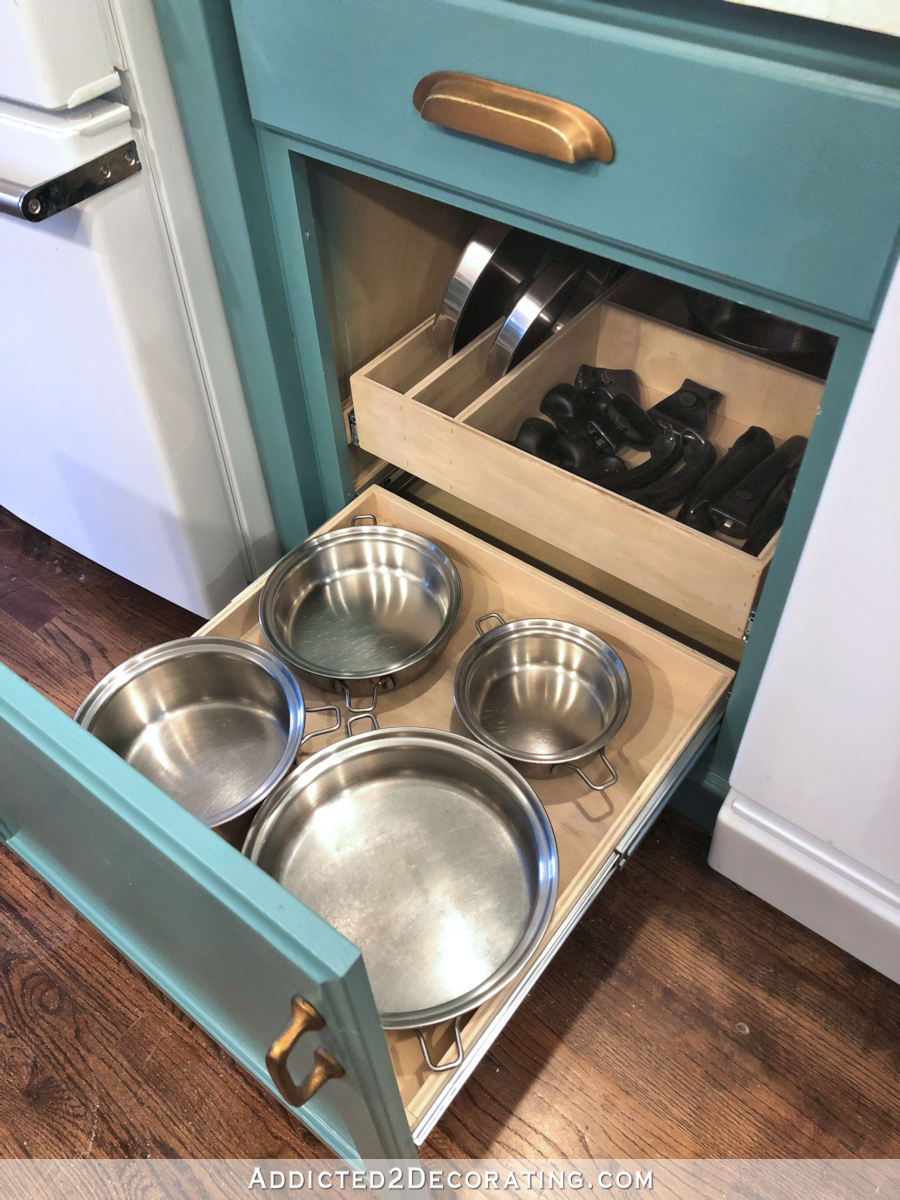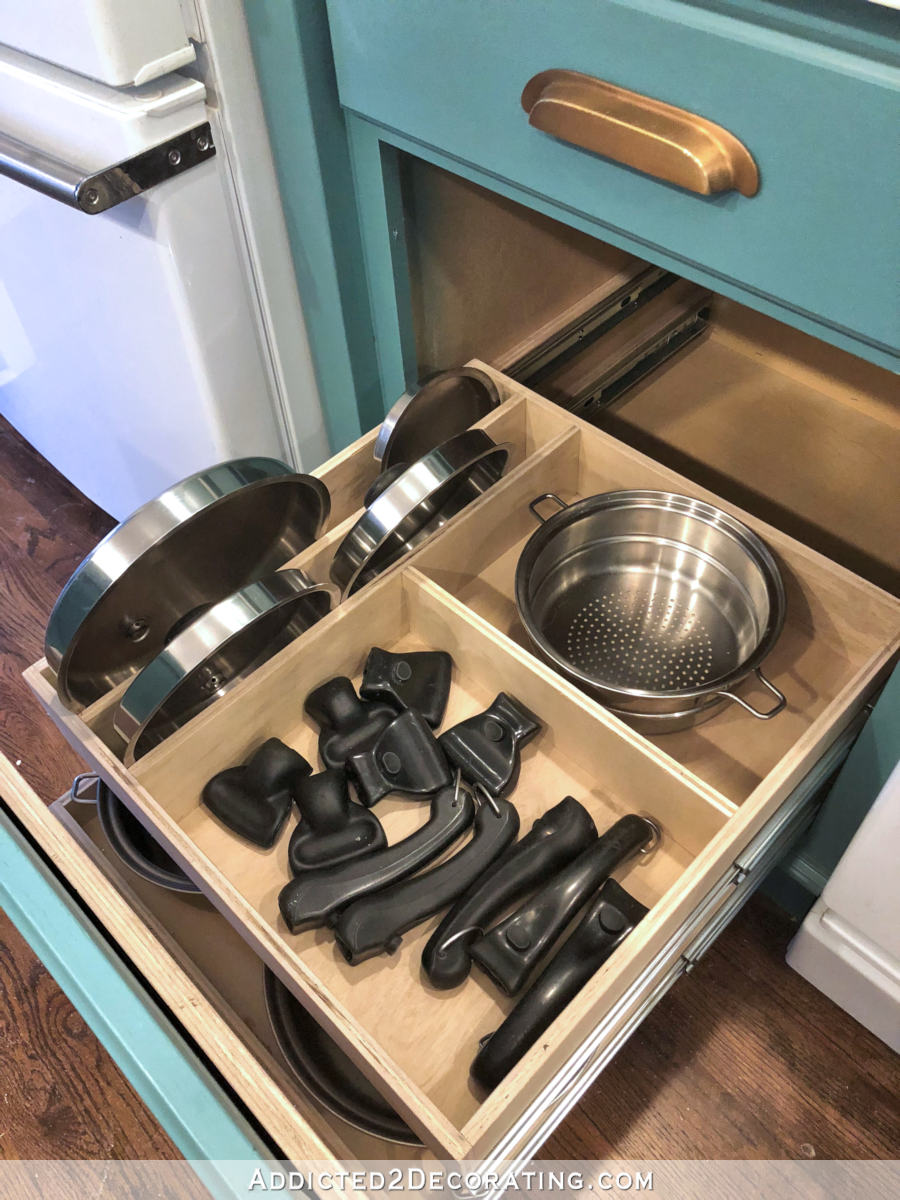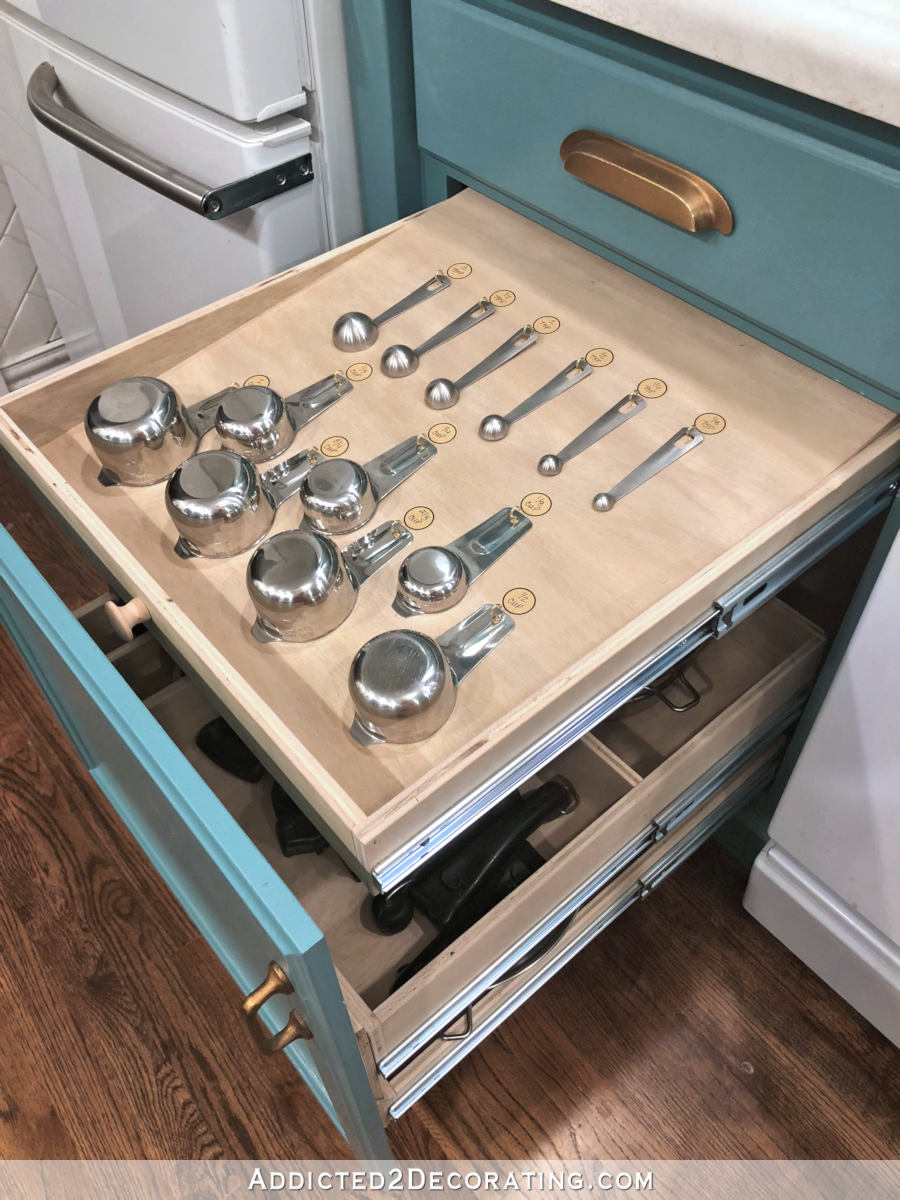 All of that has worked out so well, and I love that I now have even more function with two more organized drawers. I still have a way to go before it's all done. I need to add another pull out on the other side of the oven for my pans and lids. I want to add some organization under the sink. And I'm sure there will be other organizational things I want to add as well.
So how did I do on the rest of my C.O.P.ing this week? Well, I did better with the cleaning, but still not perfect. Part of that was out of my control because we were without hot water for a couple of days.
The plumber came last Monday to give me an estimate for the plumbing on the master bathroom, and as soon as I removed the foam board covering the doorway to that room, we both heard the sound. He said, "You have a water leak over there!"
I panicked because I thought for sure we had caused a leak during our demolition of the room, and I could just imagine that the water had been leaking for a full week without me knowing. But he went over to investigate, and said that it had just started because the ground underneath was barely wet at all. Isn't that crazy?! The leak just happened to start literally minutes before he got there!
Anyway, it was a hot water leak, so he turned the water off to the hot water heater, and then we had to wait until they had time in their schedule to come back and fix it. So naturally, I wasn't going to wash dishes in cold water. But after that was fixed, I did much better.
And what about my purging efforts? Well, the pile is still sitting there from two weeks ago. I decided earlier this week that Fridays will be my C.O.P. days (or really, my O.P. days, since cleaning should happen every day). My plan was to load up all of that stuff into my car and take it to The Salvation Army immediately after lunch yesterday.
Well, I tried, but quickly realized that the stuff wouldn't fit in my car. I needed my truck to transport everything, but my neighbor is borrowing my truck right now. I'm not sure how long he needs it, but as soon as he's finished with it, I'll load everything up and take it.
So that's my C.O.P. progress for the week. If you're C.O.P.ing with me this year, how did you do this week?
Addicted 2 Decorating is where I share my DIY and decorating journey as I remodel and decorate the 1948 fixer upper that my husband, Matt, and I bought in 2013. Matt has M.S. and is unable to do physical work, so I do the majority of the work on the house by myself. You can learn more about me here.