Last Updated on January 14, 2019 by Kristi Linauer
I made a decision about the paint color for my hallway doors. If you'll remember, I had planned to go with one of these colors…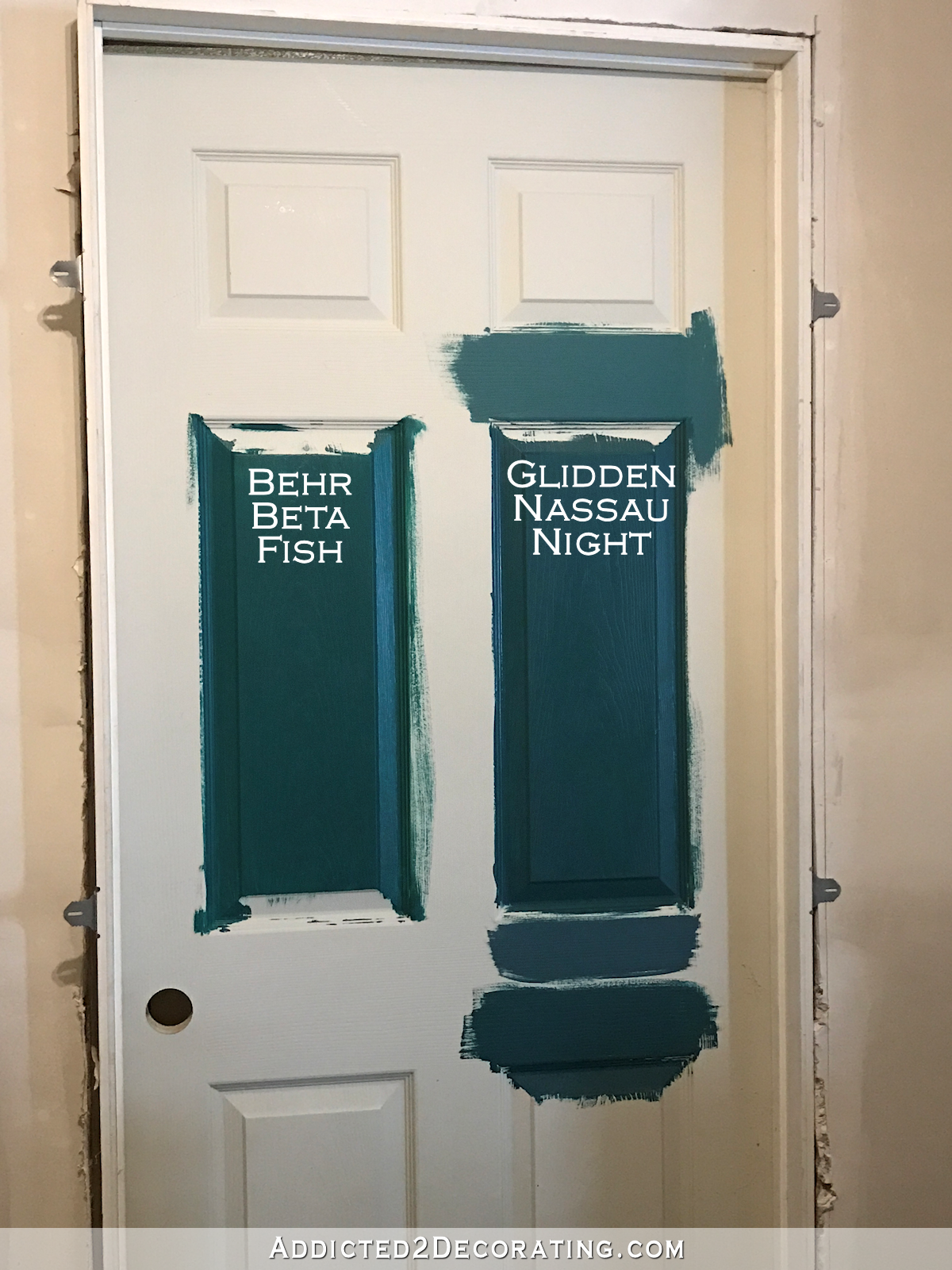 But after several days of looking at those colors and still not being able to make up my mind, I finally decided I was having such a hard time because neither of those colors was the right one.
So I kind of put it out of my mind for a couple of days. Then I came across this picture and fell in love with the colors used. And it made me realize what my life (and my house) is missing…
Dark blue! I have plenty of teal, but I don't have any dark blue. And just look how beautiful that dark blue rug looks with the teal/turquoise ottoman! So that set me on the path towards dark blue, and after looking at several pictures of navy blue interior doors on Pinterest, I was sure that dark blue is what I needed.
The trick was finding a dark blue that complemented my kitchen cabinets. That was a bit more challenging than I expected since the color on my cabinets is considerably more gray and muted than the bright, vibrant color on the ottoman in the picture above…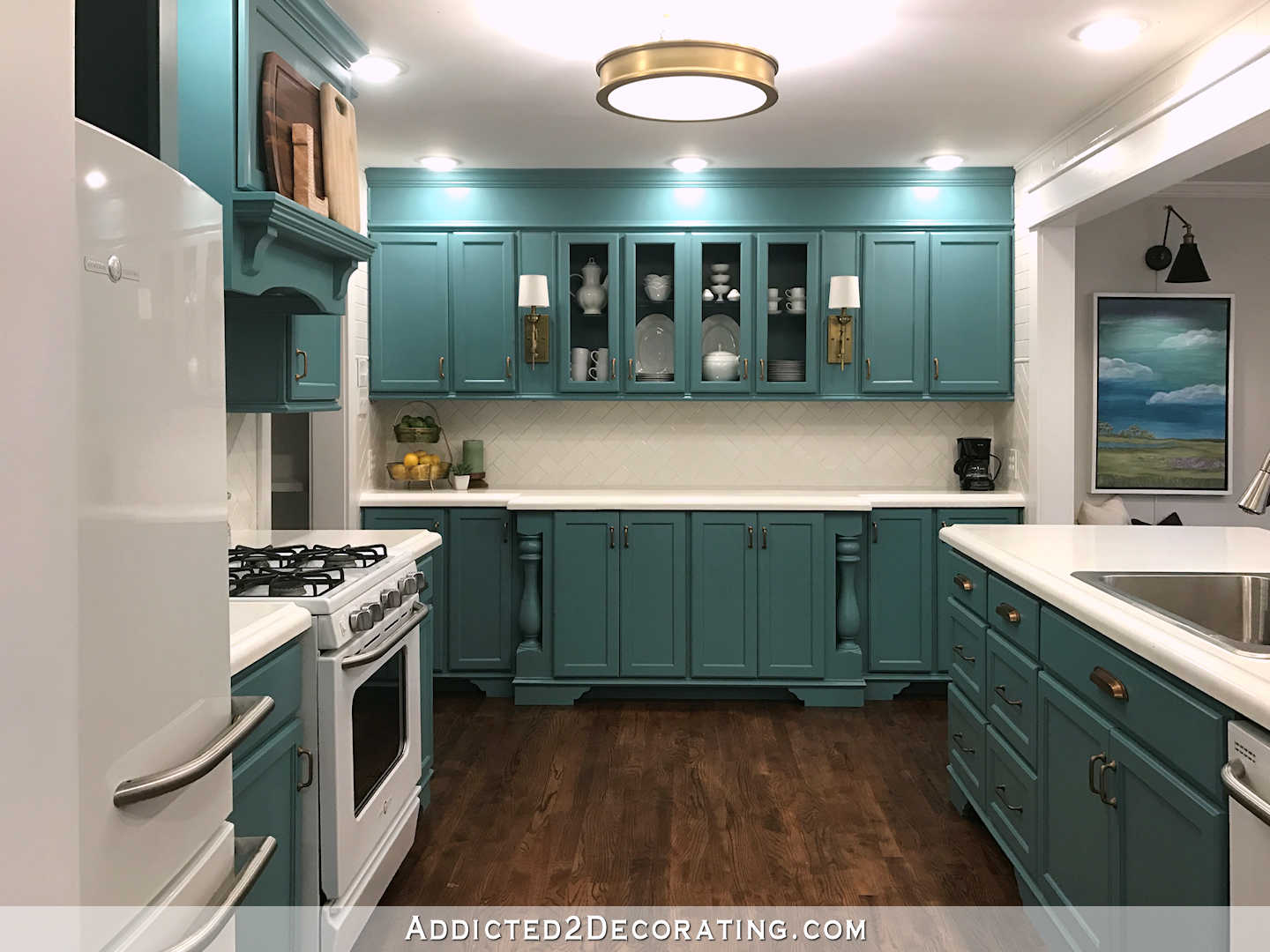 And it also needed to complement the grasscloth in the entryway…
All of these areas can be seen from each other. From the entryway, you get a glimpse of both the hallway and the kitchen. From the hallway, you can see the kitchen. And from the back of the kitchen, you can see the hallway. So while it doesn't all need to be matchy-matchy, I do want it to all work together.
Another issue is that I wanted it to be bright and vibrant enough that it actually looked blue. So many navy and dark blues are so dark that they initially read as black. I definitely wanted mine to read blue.
So I narrowed it down to these bottom four dark blues from Behr…
Inked was way too bright, and Infinite Deep Sea just wasn't right. I wanted to go with Very Navy, but as much as I willed it to work, it was really fighting with my teals. I thought since it was the darkest one, it would act more as a neutral and work nicely with the teals, but it just wasn't. I finally realized that it appears to have red undertones in it, and that's what was making it fight with my teals. So I went with Deep Breath. It's an interesting color. You can see from the cards above that of all four of the blues, Deep Breath is the one that skews more towards green just ever so slightly. But it's not enough to actually read as teal. It's so slight that it works with my teals, but on its own it very much reads as a dark navy blue.
I'm having such a hard time getting accurate pictures in my hallway right now. Without the glass diffuser on my ceiling light (which I decided to try to replace, so I'm just waiting for the company to see if they have one available), that light is kind of blindingly bright. But I think this is a pretty accurate picture…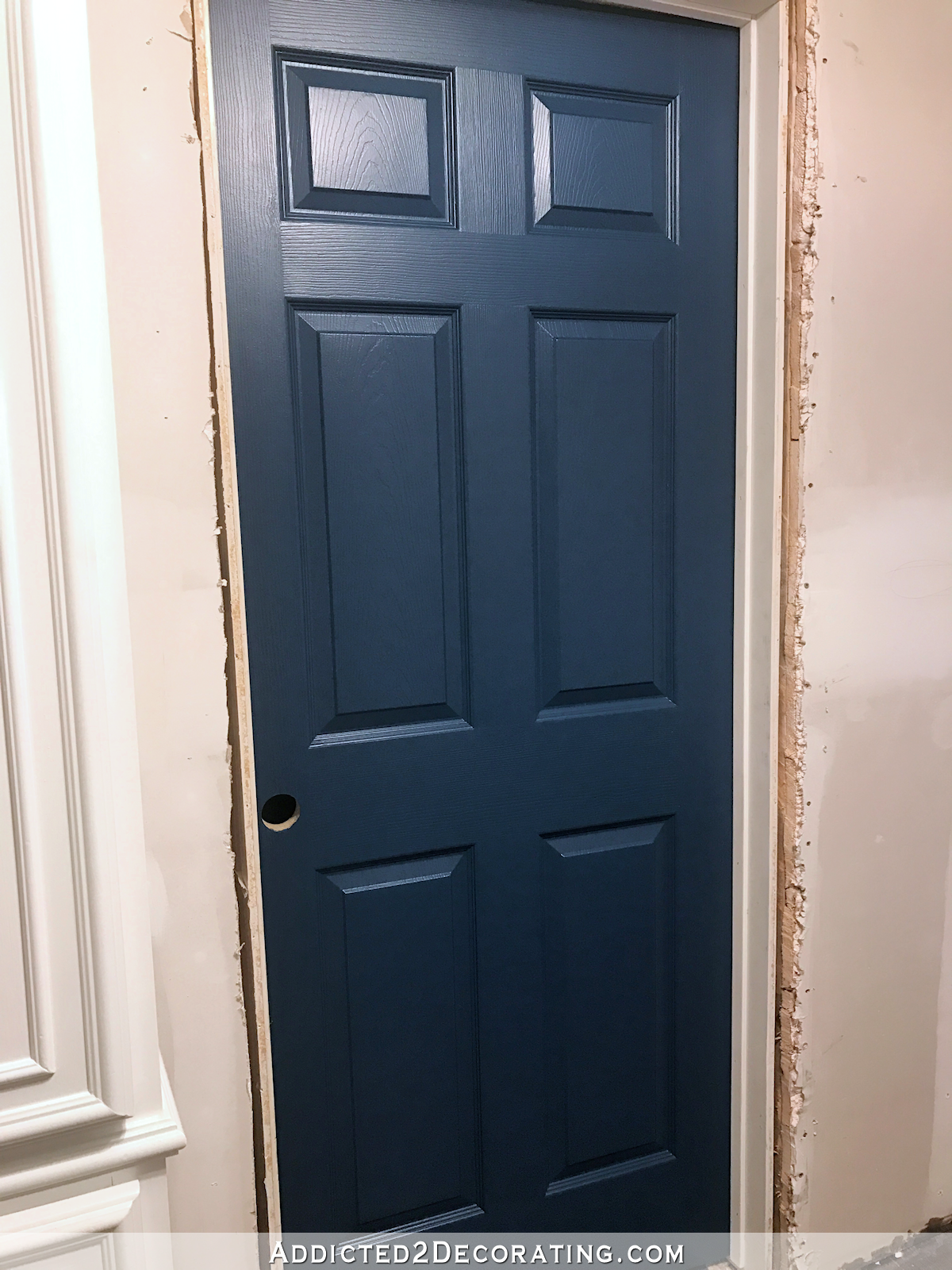 Here's how it looks in the natural light only…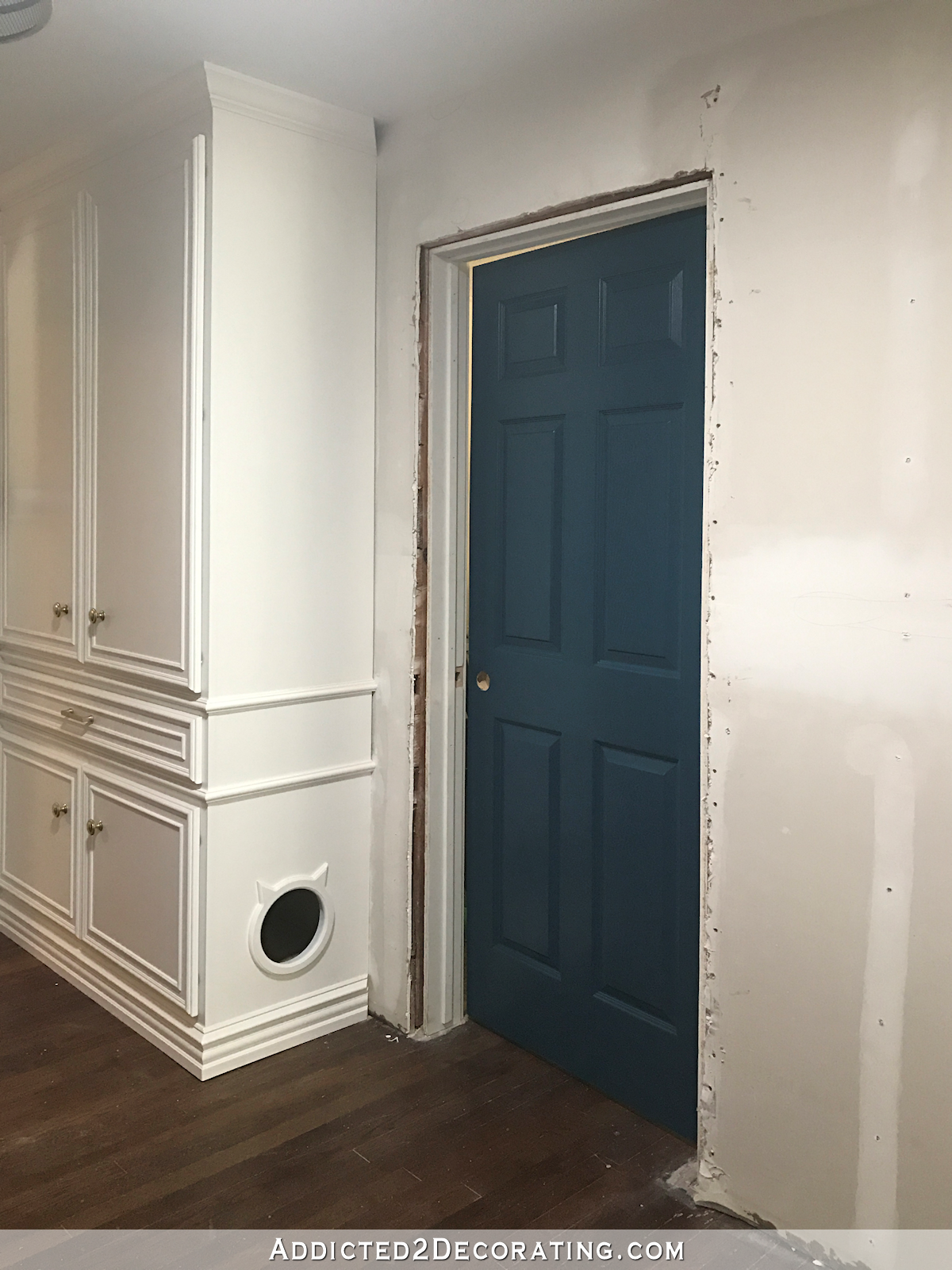 Anyway, in person, it's a really beautiful color, and it definitely reads blue and not black. And when standing in the music room or entryway, it looks really nice with the entryway grasscloth.
That's the only door that has two coats on it so far. I did get one coat on one of the bathroom doors, so it will darken up a bit with the second coat. But even still, I'm fairly certain that the current vanity color will need to be changed. It's way too dull to be in such close proximity to the dark blue. I'm actually thinking a green might look pretty. Truth be told, that vanity color has bothered me since I finished that bathroom remodel anyway. That color is stuck somewhere in the muddy middle — it's not bright enough to be vibrant and fun, and it's not dark enough to be rich and classy. It's in the muddy middle.
As far as the walls go, I'm still considering about three different options, but the one that I seem to keep coming back to is the blended ombre with a design on top like this…
via I Paint Furniture
I just love how that looks, so as of this moment, that's the direction I'm leaning. But don't hold me to it. 🙂 And if I do something like that, I'm still not sure what color I would use. I'm having a hard time making that decision, but I do have a few ideas. I'd like to get my doors painted first, though, so that I can test the colors with the doors and make sure they'll look nice together. And I haven't added any trim to my doorways yet because I'm quite certain that doing a wall design like that would be so much easier without having to work around trim.
This hallway is taking way longer than I had expected, but I think it's going to start coming together in the next few days.
Addicted 2 Decorating is where I share my DIY and decorating journey as I remodel and decorate the 1948 fixer upper that my husband, Matt, and I bought in 2013. Matt has M.S. and is unable to do physical work, so I do the majority of the work on the house by myself. You can learn more about me here.
I hope you'll join me on my DIY and decorating journey! If you want to follow my projects and progress, you can subscribe below and have each new post delivered to your email inbox. That way you'll never miss a thing!