Random House Updates (Asbestos Test Results, Ceiling Tiles, Hardwood Floors, and Front Door)
As of today, we've owned this house for a full week.  And in that time, I've succeeded in making a huge mess!  🙂  But it's the good kind of mess.  The necessary kind of mess.
I just received the results from the the asbestos tests on the tile and adhesive that are in my kitchen.
I'm actually pretty pleased with the results.
The tiles are asbestos tiles. According to the lab results, they contain 3% Chrysotile, which is asbestos. However, I'm not too concerned about the tiles since they came up so easily (most of them came up with me just using my fingernails under the corner), and they came up in whole pieces (except for the ones that were already broken).
But the best news is that the adhesive contains NO ASBESTOS! I'm thrilled with this, because that means I can sand the boards as I had hoped, rather than having to go through some extensive removal process using special chemicals that would just create a big mess.
I just need to be careful in handling the tiles to bag them up (careful not to break them, etc.), then do some research on how I'm supposed to dispose of them, and then I'll be ready to sand!
While I was waiting on those test results, I decided to do a little investigating into those ceiling tiles that cover the ceiling of living room, dining room, kitchen, Matt's game room, master bedroom, hallway, and hall bathroom.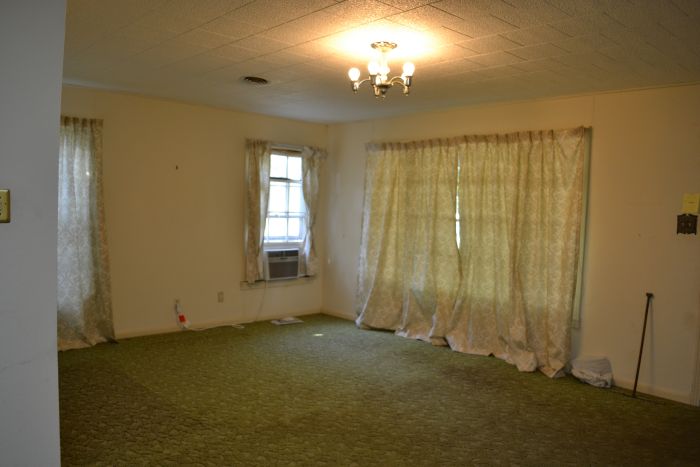 I know many of you expressed your concern that those ceiling tiles might contain asbestos as well.  I was concerned about that too.  In fact, I've been trying to come up with ideas for covering them up, rather than removing them, just so I wouldn't disturb them.
But then yesterday, my curiosity got the most of me, and I just HAD to see what was behind those tiles.  And I'm so glad I took the plunge!  The tiles were attached to pieces of 1″ x 4″ lumber, which were attached right to the drywall on the ceiling.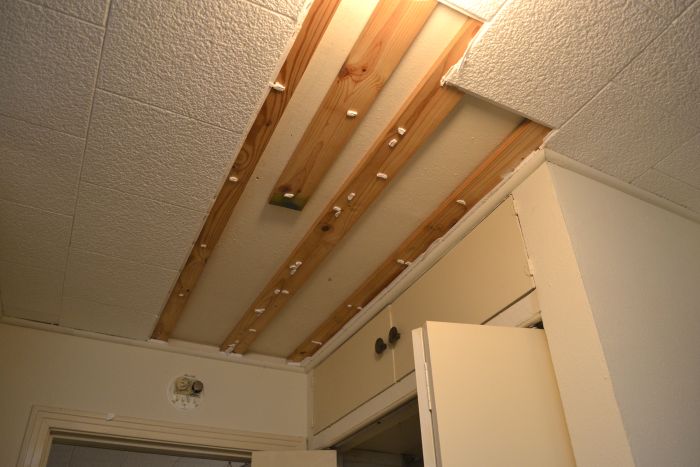 And best of all, they're 100% polystyrene (what we commonly refer to as Styrofoam, although that's a brand name and not a generic name).  There's no asbestos in them.  I guarantee it.  Here's a little video I took.
(I'm so sorry about the iPhone video faux pas, i.e., the vertical video!! I'm used to using my Kodak video camera, which is only slightly bigger than an iPhone, and automatically takes horizontal videos. I'll try to do better in the future.) 🙂
These tiles are still readily available at home improvement stores, and they cost about 62 cents per square foot. Evidently they're good for blocking sound, as well as providing extra insulation in your home. And if you like the look (which I don't), they can also be used to easily cover a popcorn ceiling.
So that's a huge relief. No asbestos on the ceiling. Just lots, and lots, and lots of polystyrene. And it looks like I won't have to purchase 1″ x 4″ lumber for quite some time. 🙂
I've also been trying to decide how I want to refinish my hardwood floors. I really don't want to polyurethane them. Polyurethane is basically plastic that encapsulates the wood, i.e., it sits right on top. I want something that will soak into the wood, giving it a more authentic, hand-rubbed appearance.
I considered doing a tung oil finish, but after reading the whole how-to on the Real Milk Paint Co. website, it just seemed so labor intensive. Then I considered just using wax (after Joan at For The Love Of A House told me that a waxed floor was her favorite, even though she has tung oiled floors now). But after watching videos on waxing hardwood floors, that seemed too labor intensive as well.
(It's very possible that I was just tired, or feeling lazy, when I was reading these articles and watching the videos.) 😀
So I think I've decided to use Waterlox, which is basically a finish that's made with tung oil, along with some other stuff.
I did a little test spot in my office…
(Again, another vertical iPhone video. Hopefully this will be the last one.)
The only problem is that Waterlox is expensive. I would want the satin finish, but in order to get that finish, you have to actually start with the regular finish (glossy), and then go over that with the satin finish. Which means an added expense. Which means that purchasing enough Waterlox for all of my floors, and the adequate number of coats in both the original finish and the satin finishing coat, would cost right at $700.
That seems so expensive, so I'm still thinking about it.
Edit: Waterlox is expensive (in my opinion, and especially compared to the cost of polyurethane), but I just figured the cost of the tung oil finish as outlined on the Real Milk Paint Co. website, and it would cost about $500 MORE than Waterlox. For some reason, I had assumed that it would be cheaper. Guess that's what I get for assuming! 🙂
And one more small update…
I didn't have time to actually do any work at the house yesterday, but I did go over to meet with the plumber (who will be removing all of those gas spouts for me early next week).
While I was waiting for him to show up, I decided to remove the storm door from the front door.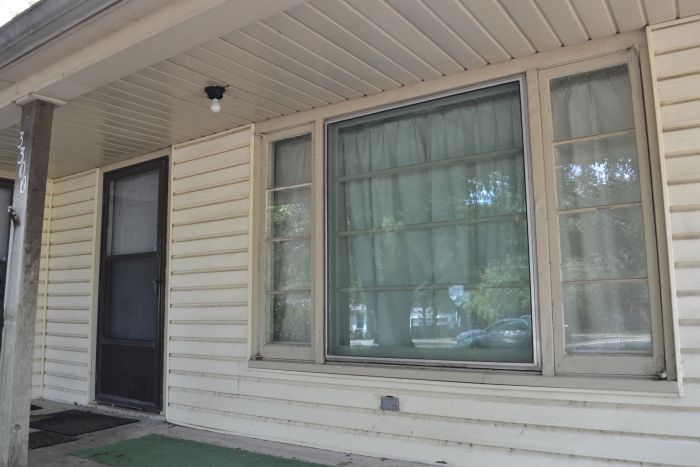 I was really quite ill-equipped for the task. I had taken my electric drill with the screwdriver bit over to the house, but I had forgotten an extension cord, so it did me little good. Fortunately, I found a regular screwdriver in my purse. (You carry a set of screwdrivers in your purse too, right? That's not weird at all, right?) 😀
I also didn't have a ladder at the house, so I couldn't reach the top row of screws. I finally found a stack of cinder blocks on the side of the house, and dragged one of those onto the front porch to use as a step stool. It lifted me up just enough so that I could reach the top screws if I stood on my tip toes. (You know I'm only five feet tall, right?) 😀
But finally the task was done, in about ten times the amount of time it should have taken me had I taken all of the right tools. Oh well.
I know that's just one small thing on a front porch that needs lots and lots of attention, but just having that dark door removed made me breathe a sigh of relief.
Of course, I wont be keeping the door blue. I actually have no clue what color I want to paint it. I do want all of the trim around the door, windows, etc., to be white. But I have no clue about the door.
Any ideas?
Addicted 2 Decorating is where I share my DIY and decorating journey as I remodel and decorate the 1948 fixer upper that my husband, Matt, and I bought in 2013. Matt has M.S. and is unable to do physical work, so I do the majority of the work on the house by myself. You can learn more about me here.