Last Updated on October 9, 2017 by Kristi Linauer
I've been wanting this somewhere in my house for a very long time now, and I finally have my Schumacher-inspired birds and butterflies "wallpaper"! I decided to put it in my entryway, and I'm so glad I did! It seriously brings a smile to my face every time I see it.
You can click here to see the details of how I did this mural with a permanent marker and overhead projector…
That part actually went pretty quickly. The birds and butterflies, on the other hand, seemed to take forever.
I painted each bird and butterfly a solid color, and the went back and painted the accent colors. Then I added some accents with permanent black markers, and then on some of them, I followed up with some white highlights here and there.
I know I've said I'm not a butterfly kind of person, but I'm actually really glad I added them. With just the birds, the mural seemed to be missing something. Those butterflies really added the finishing touch.
You can click on this picture to see a bigger version with better detail.
It's not quite finished, and I actually created a real headache for myself. When I started this project, I had envisioned adding a border around each of the panels (either a painted border, or perhaps ribbon). And because I was expecting to cover the very edges, I didn't paint the background color or draw the mural right up to the edges of the panels. But when I got it finished, my mom, brother, sister, and Matt all agreed that it looked better without any borders. So now I've got to go back and finish out the edges.
Anyway, I'm so happy to finally have my birds and branches. I love the color and whimsy that it adds to this room.
UPDATE:
I really wrestled with how to finish out this mural around the edges of each panel. Going back and painting the background color around the design would have taken hours. I tried that on a small portion, and not only did it take a long time, but it didn't look good at all. So I stuck with my original idea of adding a border, but instead of doing a black border as I had originally intended (which I think would have been way too much), I decided to do a thicker border in the wall/trim color, and then finish off with a very thin gold border.
I first taped around the design and then painted the thick border the wall color. Since I had drawn the design with a permanent marker, I had to cover the border area with an oil-based primer first, and then used two coats of the wall color (Behr Feng Shui).
Then I went back and taped off a very thin border around each panel, and used Martha Stewart Liquid Gilding in gold to create the thin gold border.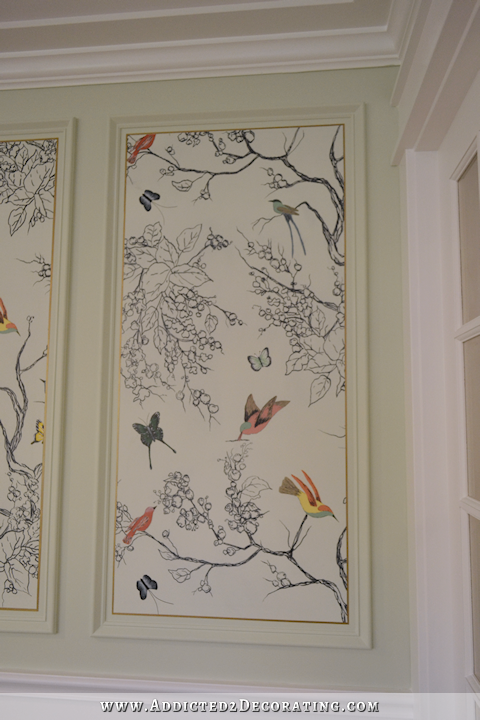 I'm really glad I went this direction instead of doing the thicker black border around each panel like I had originally planned. The black would have been too much, and probably would have taken away from the design. I think the gold adds the border that was needed to finish off the design, but in a much more subtle way that doesn't detract from the design.
Addicted 2 Decorating is where I share my DIY and decorating journey as I remodel and decorate the 1948 fixer upper that my husband, Matt, and I bought in 2013. Matt has M.S. and is unable to do physical work, so I do the majority of the work on the house by myself. You can learn more about me here.
I hope you'll join me on my DIY and decorating journey! If you want to follow my projects and progress, you can subscribe below and have each new post delivered to your email inbox. That way you'll never miss a thing!