Last Updated on October 9, 2017 by Kristi Linauer
For a very long time now, I've been wanting to to a hand drawn "wallpaper" inspired by Schumacher's Birds & Butterflies wallpaper. I had planned to use it on my music room walls, but that plan changed. Then I thought I might be able to use it on my breakfast room walls. But when I came up with my new decorating plan for my dining room and entryway, I decided to work it into the design by using it on the entryway wall.
I didn't want to to copy the Schumacher design exactly. I wanted something inspired by it, but also different. So several months ago, I asked my mom to come up with a similar repeatable design, and here's what she gave me.
If you want to use this design, you can click here for a larger version.
I had it printed on a transparency at Office Depot, and then used an overhead projector that I purchased on Ebay for about $60 to project the image onto the wall. Then I used a permanent black marker to draw the design.
A while back, someone commented that I should use Marks-A-Lot brand markers and avoid Sharpies for this project because Sharpies tend to fade over time. (At least, I think that's the reason she gave.) I tried to find a Marks-A-Lot, but checked at two places (including Office Depot) and couldn't find one. So instead, I purchased a big Sharpie and a package of the Office Depot brand permanent markers. The Sharpie was difficult to work with, but the Office Depot brand markers with the chisel tips worked perfectly!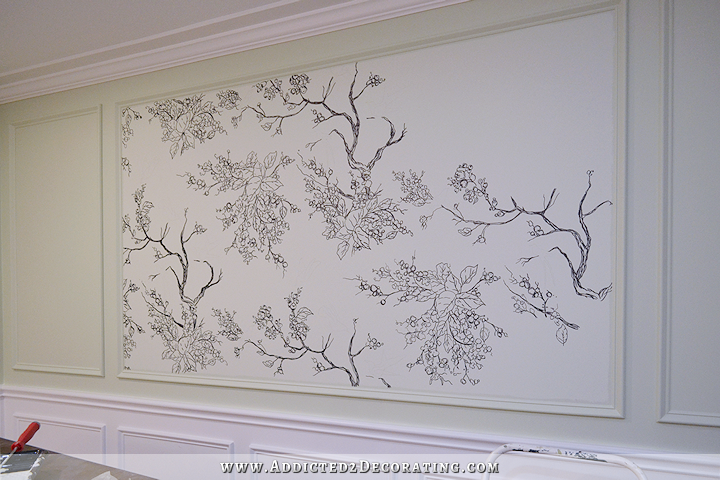 This actually went much faster than I thought it would. I had planned to start much earlier in the day, but then I waffled back and forth between using the green background or repainting the background white. My mom did two mock-ups for me, one with a white background and one with the green, and I decided that I didn't like either one. The white was too jarring, and the green was too dull. So I mixed one part Feng Shui (the green) and one part Polar Bear (my white trim color) and made a lighter green for the background. I guess it was really humid yesterday, becasue it took all afternoon and part of the evening to paint two coats of the background color and wait for them to dry enough so that I could start drawing the design.
I didn't actually get started until 7:30pm, and I worked until around 11:00pm. But during that time, I also took a break and cooked dinner, and then sat and relaxed with Matt for about an hour while we ate dinner. So I would estimate that this took me just under two hours.
As you can see, I didn't quite get finished on the right side. I need to finish that up, and then add my birds. And butterflies. 🙂
Yes, I've decided to go with butterflies, too. As much as I'd like to leave them off and just stick with birds, I really think they add some balance and interest to the Schumacher wallpaper. Something just seems a little off when I leave them out. Anyway, I'm hoping to have a finished mural to show you tomorrow! And this mural, just like wallpaper, will be used as a backdrop for something that I'll hang on the wall. More on that later.
UPDATE:
The mural is finished! Click here to see how it turned out…
Addicted 2 Decorating is where I share my DIY and decorating journey as I remodel and decorate the 1948 fixer upper that my husband, Matt, and I bought in 2013. Matt has M.S. and is unable to do physical work, so I do the majority of the work on the house by myself. You can learn more about me here.
I hope you'll join me on my DIY and decorating journey! If you want to follow my projects and progress, you can subscribe below and have each new post delivered to your email inbox. That way you'll never miss a thing!