Last Updated on December 24, 2015 by Kristi Linauer
Work continues on the bathroom, but I can't handle one more post filled with rubble and ugliness on my blog this week.  So let's talk about pretty things, shall we?
I bought a new dining table! I found it on Craigslist, which is miraculous because the Waco Craigslist offerings are generally pretty laughable.
If you'll remember, I bought a dining table right after we moved into our house.  When we first moved in, and I was making decorating plans, I originally thought I'd be going with the whole cottage/farmhouse/country/vintage look, so that's the direction I headed in with my first purchases (table, chairs, kitchen appliances).  This Craigslist dining table seemed perfect for that, so I purchased it and refinished it…
Then I remodeled my kitchen and took things in a completely different direction (well, except for the appliances, which I may change eventually, but right now that's pretty low on my list of priorities).  I considered different ways to de-countrify that table, but finally decided that it just wasn't worth it.  I'd rather sell it to someone who likes and wants this look.  So I've been looking for another one…on Craigslist.  And it took nearly six months, but I finally found one I think will work!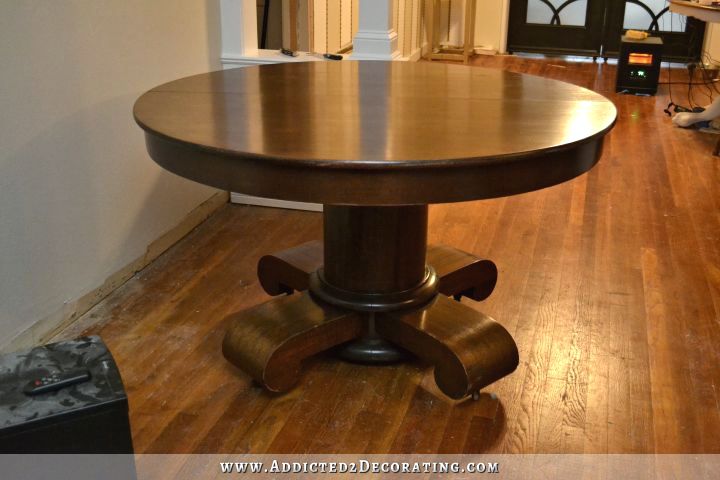 (Please excuse my dust.  Every surface in my home is covered in mortar dust right now.)  🙂
I bought it for $175, and he even delivered it for me!  It's 50 inches in diameter, and it's solid wood. There's not a single bit of particle board or plywood anywhere on this table.  They guy who sold it to me said it's walnut.  I don't know enough about different types of wood to know if that's right, but I do know it's not oak.  Or pine.  It's a clear wood with very subtle grain.
It's pretty scuffed up in places, so it needs to be refinished.  I had originally planned to just strip, stain, and polyurethane the table.  But then one day when I went to Houzz.com, the very first image that came up on their home page slideshow was this one…
Transitional Dining Room by Annapolis Interior Designers & Decorators Dream House Studios
Other than the complete lack of color, I love everything about this room — the wallpaper, the draperies, the wainscoting, the sconces, the weathered wood table mixed with the upholstered chairs with nailhead trim.  Oh…and do you see the entryway?  This refined, elegant space has vertical planked walls.  When I had planned to do that in my house, I had so many people say that it wouldn't work because it's too country/cottage-looking.  But I don't see anything country or cottage-looking about that dining room or entryway.
Let's just say that that one picture alone has made me rethink some things.  🙂
But this post is about a table.  I'd love to have that finish on my dining table, but quite honestly, I have no idea how to go about it.  I think it's much more interesting than just having a dark stained and polyurethaned table.  And I love a mixture of elegant, refined finishes right alongside more casual finishes, and even some worn, aged finishes.  I think when every single thing in a house is "elegant" or "traditional," things can start to look a bit stale.  A mixture — of styles, finishes, etc. — keeps things looking interesting and fresh.  At least, that's my personal taste.
I also came across this table, which still has a slightly weathered look, but in a darker finish.  I just think whether a table like that looks country/cottage or not completely depends on everything around it — the style of chairs, chandelier, and other finishes, furnishings, and accessories in the room.
via Simple Details blog
I also really love the look of this 17th Century Monastery Table from Restoration Hardware table.
via Restoration Hardware
So I'm not quite sure which direction I'll be heading in with this table, but I'm almost 100% sure I wont' just be stripping and restaining it in a dark color.  And if any of you have an idea on how to achieve the finish on the table in the first picture, I'd love some insight!
Addicted 2 Decorating is where I share my DIY and decorating journey as I remodel and decorate the 1948 fixer upper that my husband, Matt, and I bought in 2013. Matt has M.S. and is unable to do physical work, so I do the majority of the work on the house by myself. You can learn more about me here.
I hope you'll join me on my DIY and decorating journey! If you want to follow my projects and progress, you can subscribe below and have each new post delivered to your email inbox. That way you'll never miss a thing!