Last Updated on December 2, 2016 by Kristi Linauer
Y'all, I feel such a sense of accomplishment this morning! One of the monumental tasks involving the breakfast room and walk-in pantry is (almost but not quite) finished! My brother came over yesterday morning, and we got started working at 9:00am. We finished working last night at around 8:30pm, literally working outside, in the dark, by the light of two iPhones. 😀
But it's done! (Well, again, for the most part.)
The demolition part of this project was by far the hardest part. There were layers of various materials covering the exterior wall, and it seemed like we'd never get down to studs! After removing the vinyl siding, there was a layer of aluminum-covered styrofoam-type insulation sheets (the ones that come in 4′ x 8′ sheets). Then underneath that was a thick asphalt layer (like asphalt shingles) that had a faux stone design on it.
And then underneath that was the original wood siding.
And as I've already mentioned, that was applied over a layer of tar paper.
So getting all five layers of those various materials off of the exterior took much more time and effort than I had anticipated. I mean, when we were done, I felt like we had put in a full day's work, and I was ready to pack it up for the day. Of course, that wasn't an option.
While my brother finished up getting the last of the siding off of the exterior, I started reframing the wall with new studs. Since that wall had two very large windows, it required all new framing. Before we tore out the old framing, I placed a temporary 2 x 4 "jack" underneath each of the rafters to transfer the weight from the back wall to the temporary "jacks." I know it's hard to tell in photos what 2 x 4's go where, but you can see one of the "jacks" here. If you look towards the top, you'll see that it's directly under that rafter, and I hammered it in there very tightly.
Once the new studs were in, I removed those temporary boards to transfer the weight back to the back wall. Here's how it looked on the inside once I got all of the new studs in place, set 16 inches apart on center.
And here's the view from the outside.
Now just as an aside, let me mention how much I detest vinyl siding. I don't like the way it looks, but for me, that's only part of my issue with it. The main issue I have with it is that you never know what's going on underneath it. Your house could literally be disintegrating underneath that facade of vinyl siding, and you'd never know it.
And that was exactly the case with the fascia boards and soffits that we uncovered. A lot of this is literally crumbling, and will need to be replaced ASAP. And had we not removed the vinyl siding, I never would have known that.
Once the framing was up, we could install the new sheathing. We used OSB from Home Depot, which costs about $10 per 4′ x 8′ sheet. We installed the OSB first, and then I went back with my reciprocating saw and cut the opening for the window after it was installed.
And if you look at the picture above, you can see a strip of light coming through where the two boards meet. You're supposed to leave a slight gap between the boards (about the width of a quarter) to allow for expansion. But also, those seams have to be on a stud so that the edges can be nailed down. I had spaced the studs at 16 inches on center inside (perfect for drywall), but because we had extra spaces and gaps that needed covering on the outside, those seams didn't line up with the studs. So I had to go back and add two more studs.
Let's just say that this 12-foot wall is probably the most secure and structurally sound wall in my entire house now with all of those studs. 😀
It was about this point that we started losing daylight. So while my brother finished up nailing the OSB to the studs, I caulked the joints.
And then we added a layer of house wrap, and installed the window. By the time we were ready to install the window, it was completely dark outside and we were working by the light of our iPhones. 😀 I didn't get a picture last night, but I snapped this picture outside this morning.
You can tell I have quite a bit of work left to do in order to tuck and secure all of the edges of the house wrap, and I also still have to add the side and top flashing around the window. But since there was no rain in the forecast, we decided to call it quits as soon as the window was installed with a few nails.
The windows I bought have a nailing fin, and you just slide the window into the roughed-in opening so that the nailing fin is right up against the OSB, and nail it into place.
And here's the new view from the inside.
This small window obviously lets in considerably less light than the two large windows, but since it's a pantry, I think that's preferable. But I'm very glad that I decided to go with a window. I think it would have been a mistake (for me) to completely lose the view and the sunlight from that side of the room.
So we made a huge amount of progress yesterday!! I'm so excited about what we accomplished.
Now just a word about house wrap…
When I was at Home Depot the other day to purchase the house wrap, I noticed they had two brands — Tyvek and Everbilt. I asked the guy working in that department if there was a big difference (since the Tyvek was about double the price), and he said no. He said that with Tyvek, you're basically paying for the name brand. (It's made by Dupont.)
So I bought the cheaper stuff. It didn't even dawn on me to actually research it on my own, or look up customer reviews, or anything like that. I just took his word for it, and assumed that house wrap is house wrap, right?
Wrong.
Don't buy the cheap stuff. Don't EVER buy the cheap stuff, especially if you're planning on leaving your house (or part of your house) unsided for any amount of time. First of all, Tyvek is a solid sheet of product. This other stuff is perforated all over. Why in the world would something that's supposed to keep out wind and rain be perforated?! I actually didn't realize it was perforated until late last night when I decided to research that specific brand and see how long it can remain unsided. That's when I learned that what I had thought was just a texture was actually perforations, and there are lots of customer complaints about water coming right through the Everbilt stuff.
So today I'm going to head back to the store and buy the Dupont Tyvek, and re-wrap the exterior with the good stuff. We have thunderstorms coming this weekend, so I have to get it done ASAP so that all of our hard work won't be ruined. And the good thing is that Tyvek actually works. It's actually a wind and rain barrier, and it can be left unsided for up to four months before it has to be replaced. That'll give me plenty of time to get something done about the siding.
But even though I have to go back and redo something, and I wasted money on poor quality house wrap that doesn't do what it's supposed to, I'm still very happy with the progress. And I'll just chalk this up to a learning experience. 🙂 I should always do my own research!!
So let's review, shall we? I started with this…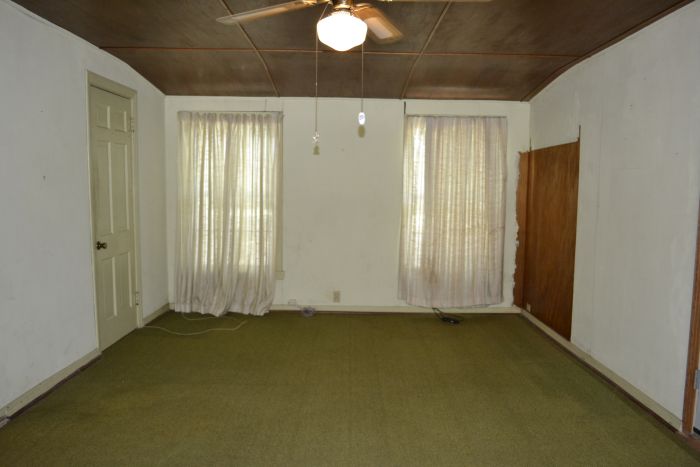 And then it looked like this…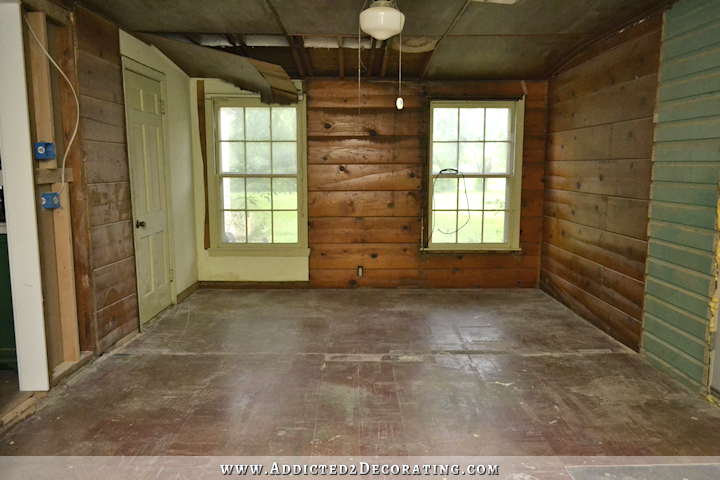 And then like this…
And today it looks like this…
It's getting there!
Addicted 2 Decorating is where I share my DIY and decorating journey as I remodel and decorate the 1948 fixer upper that my husband, Matt, and I bought in 2013. Matt has M.S. and is unable to do physical work, so I do the majority of the work on the house by myself. You can learn more about me here.
I hope you'll join me on my DIY and decorating journey! If you want to follow my projects and progress, you can subscribe below and have each new post delivered to your email inbox. That way you'll never miss a thing!