Last Updated on July 10, 2019 by Kristi Linauer
Are you a power-tool-using DIYer like I am? If so, do you have any neighbors that are less than tolerant of your noise? If so, I'd love to know how you handle it.
I've lived in my condo for 6.5 years now, and in that time, I've never once had a neighbor complain about my power tool noise. I try to be very conscientious about when I'm using my tools. I observe my city's noise ordinance (no noise after 10:00pm or before 7:00am), and in fact, I do my best to have my tool usage finished up by 7:00pm if I can, and I don't use my tools before 9:00am. And I don't use power tools every day.
But after 6.5 years with not even one single complaint, I now have a neighbor who is less than enthused about my power tools. The strange thing is that she's not a next door neighbor. She lives on the other side of the building from me. To give you an idea of what I'm talking about, here's a picture of our building, with me standing right in front of my front door. The arrow is pointing to her condo. From my front door to her front door is about 85 feet.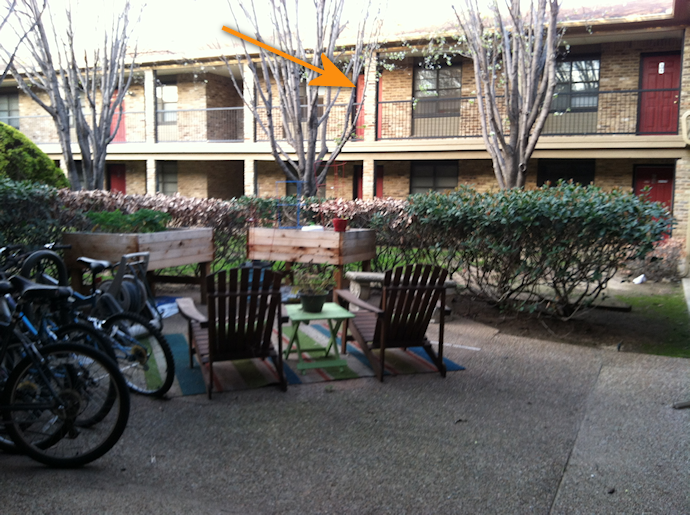 Her first complaint was on Sunday, February 17th. I was just starting my mosaic tile frame that I made from wood yardsticks…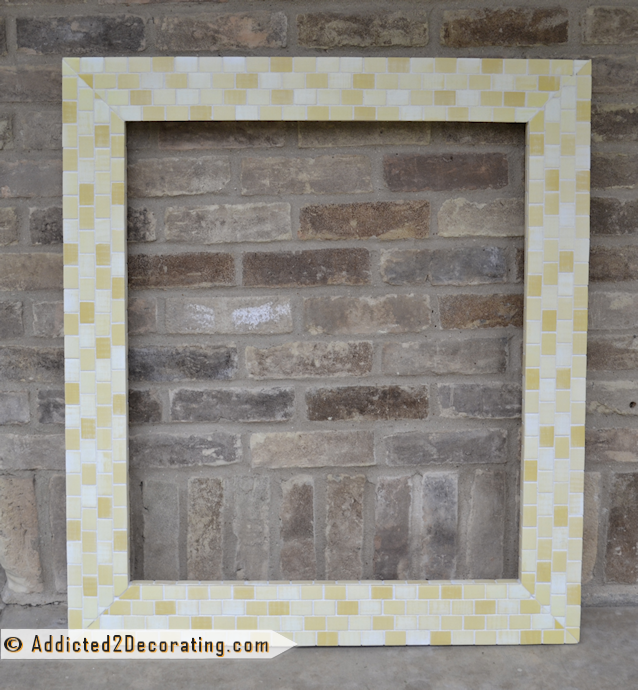 When I work on a project, it usually takes me several trips in and out of my condo to gather up all of my tools and supplies, and get them set up outside on my work table. So that afternoon at about 4:00pm, I was getting set up to do some sawing, and on one of my trips outside, I noticed that my neighbor had come outside and was setting up her hammock between these two trees…
She was on the other side of those tall, overgrown bushes, so she probably couldn't see that I was setting up to work on a project. But I continued with my plans.
I needed to cut 20 yardsticks into small pieces, and each one took me about 2 minutes to cut. After I got one cut, she came over, clearly unhappy with my noise, and explained that she had 12 hours of studying to do (again, this was at 4:00 in the afternoon), and that the noise was really distracting.
I apologized for the noise, and told her I would do my best to finish up quickly. That obviously wasn't the response that she was looking for, but I continued with my project.
My reasoning was that when it comes to studying in a quiet place, there are many options. We live about five blocks from the university campus, and they have a library. There are other libraries in town, as well as cafes with wi-fi like Barnes & Noble. But when it comes to me using my tools, my options are limited. In fact, my only option is to set up outside my front door.
So I was hoping that that neighbor complaint would be a one-time thing.
It wasn't.
This past Sunday, I was working on my artwork for my bathroom…
I needed to cut the plywood for my "canvases", so at about 5:50pm, I took the plywood and my jigsaw outside. It required a total of eight (8) cuts with my jigsaw. If you estimate two minutes per cut (which is probably about twice as long as it actually took), that means that it would have taken me a maximum of eight minutes to cut out the plywood pieces.
I got two cuts finished, and was about to start on the third, when I felt a tap on my shoulder. I turned around, and saw the same neighbor standing there.
Again, she was frustrated. She asked me if there was any way I could wait to work on my project, because she was trying to finish up a paper for a class. She said that normally she would just go somewhere else to study, but, and I quote, "I also had to do laundry today."
I had to make a split second decision, so I agreed to wait. In my mind, I thought that perhaps she was outside studying, and I just hadn't realized that she was there when I started sawing. So with the assumption that she had "first claim" to the outside, and that she was already there studying, I agreed to put my project off (even though it would have taken no more than four minutes to finish up).
So I went about my business, sanding (by hand, not with my electric sander 🙂 ) the piece that I had just cut. Then I turned around so that I could see where she was studying, expecting to find her somewhere outside in the courtyard.
She was nowhere to be found.
She was inside her condo studying!! And again, her condo is about 85 feet away from mine!!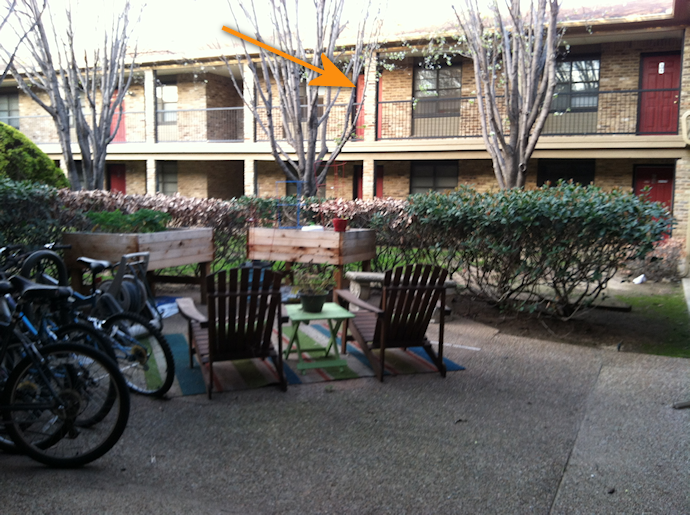 I went inside and told Matt. He was in the bedroom, and he said that with me just outside our front door, the noise level was minimal.
From that distance, with her inside her condo, the noise from my jigsaw couldn't have been any louder than the noise coming from her washer and dryer.
I have to admit, I was upset. But since I had agreed, I went ahead and waited the agreed-upon amount of time (20 minutes) before I started sawing again. But I didn't wait a second longer.
So I need to decide how to handle this in the future, because I have no doubts that there will be further complaints. I do understand that she needs to study, but on the other hand, my blog is my means of income, and I have to be able to do my projects**. And I certainly don't think that eight (or even forty) minutes of sawing is unreasonable in the afternoon.
How would you handle the situation if you were in my position? And if you are a power-tool-using DIYer who has had similar experiences with neighbors, please tell me how you handled it! I don't want to make an enemy of my neighbor, but I also don't think I should be expected to work around her schedule when trying to get work done in the afternoon.
What are your thoughts? Help a girl out here! 🙂
**Edit: While I do blog about my projects, and my blog is my main source of income, the bottom line is that I'm trying to get this condo completely finished so that we can put it on the market…hopefully by summer. So really, right now, this is less about "this is my business and my source of income", and more about "I need to get this condo finished as soon as possible so that we can sell it and buy a house."
Addicted 2 Decorating is where I share my DIY and decorating journey as I remodel and decorate the 1948 fixer upper that my husband, Matt, and I bought in 2013. Matt has M.S. and is unable to do physical work, so I do the majority of the work on the house by myself. You can learn more about me here.
I hope you'll join me on my DIY and decorating journey! If you want to follow my projects and progress, you can subscribe below and have each new post delivered to your email inbox. That way you'll never miss a thing!