My bathroom makeover is moving right along. This weekend, I got some shelves made and installed over the toilet (which I'll share with you later), and I got some artwork done for my one blank wall. I wanted something simple, and something that incorporated all of the colors in the bathroom (including the stained wood), so I recycled the big white chunky frames from this project, and created this flower vine artwork with dimensional flowers made with drywall mud.
I didn't take any step-by-step pictures, because it's really pretty straightforward. I started by cutting two pieces of plywood, and then staining them for the "canvas". Then I drew a vine onto the plywood with pencil, and went over it with white paint using a craft brush. Then I added a few leaves to the vine.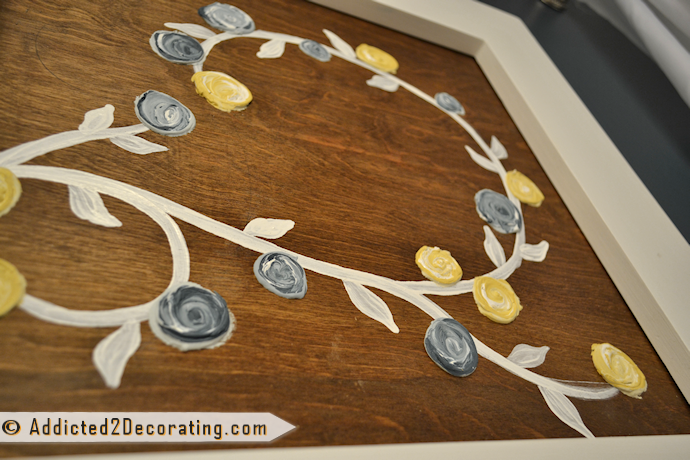 To make the flowers, I mixed a little bit of paint with pre-mixed drywall mud, just enough to make it workable. (The pre-mixed stuff is a little on the dry side.) Then I scooped up some of the drywall mud with my brush, put it on the plywood, and then used my brush to swirl it around.
Then I dipped my brush into the paint (either the teal or the yellow), and swirled the paint into the drywall mud. Then I repeated that with white paint. Just dip and swirl. I didn't swirl too much because I didn't want the colors to mix too much.
I think this artwork attempt goes in my "it'll do" category. I love the flowers, but I'm not too thrilled with my vine. The only craft brush I could find was too big for vine-making, so it ended up being too thick for my taste, instead of thin and wispy like I envisioned it.
And then after I saw this artwork on Pinterest last night, I wished I could start over again and do something more like that, with lots and lots of flowers to bring more color to this wall. But it was too late. Perhaps if I come in under my 20-day goal on my bathroom makeover, I'll give it another try. But if not, this will do. 🙂
---
---