Have You Ever Built A Bookcase From Scratch?
Things are moving right along with my cabinet/bookshelf wall!  I don't have pictures for you yet, because as far as clutter goes, the room has gone from bad to worse.  There's literally just one pathway from the front door to the bookcase wall, with a small area for me to work.  (I can't wait to be in a house and have more room to spread out while working on projects!!!)
So with things going so well with the base cabinets, I've started thinking about the bookshelves.  The chance of me finding cheap, ready-made bookshelves in just the right dimensions to use as the "base" for my design is…well…exactly zero percent.  So I'll be building those from scratch.  I've built similar things before, but never a bookshelf per se.  While I'm a bit nervous about it, I can't imagine it being that difficult!   But even though I think I know how to do it, it's still good to see how others have done it.
First of all, check out what I found over at Thrifty Decor Chick.  This is almost exactly the concept I'm going for (Sarah also used upper stock cabinets as base cabinets), except that mine will have an open area in the middle for a t.v.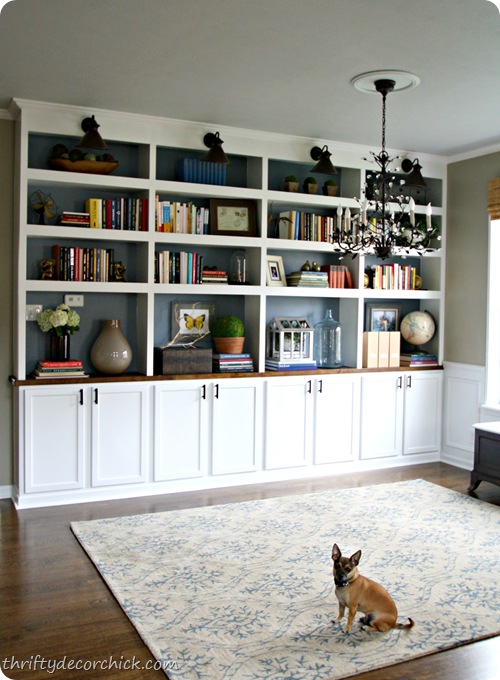 Naturally I was anxious to see how she did it.  You can see the basic concept here.  I've built things using that method before (one large box, with small strips of wood attached as shelf support), but I think I'm going to go a different route this time.
The concept I have in mind is more like building a series of individual boxes, and then stacking them and trimming them out.  I know that I've seen people use this method before, but after searching and searching, I couldn't find a simple, straightforward tutorial on how to build bookcases like that.
The closest I found was Sandra's master executive closet.  If you watch the video, you'll see that at one point on the left side of the closet, she lifts and stacks a separate box on top of the big lower box.
You can see more of that amazing closet here
.
One reason for going with the individual box method is that I'll be building the bookcases out of MDF (it's cheaper than cabinet-grade plywood, and smoother for painting), and MDF is heavy!! And since I work on my projects by myself, I really don't think I could lift a big, heavy, bulky MDF bookcase almost 40 inches off the ground all by myself. So I'll need to build and stack in sections instead.
I really think it'll work, but it just seems strange that I couldn't find any tutorials on using that method. Is there some reason (that's not apparent to me) that it won't work? If you've built a bookcase that way, I'd love to know your thoughts!
Addicted 2 Decorating is where I share my DIY and decorating journey as I remodel and decorate the 1948 fixer upper that my husband, Matt, and I bought in 2013. Matt has M.S. and is unable to do physical work, so I do the majority of the work on the house by myself. You can learn more about me here.