How To Build A Custom Wood Range Hood Cover – Part 1
Remember how yesterday I was all, "I'm going to tape and drape my kitchen and start painting TODAY!" Well, that didn't happen, because I went into my kitchen with the best intentions of getting started, and realized that I can't start painting until I build my custom wood range hood cover.
So instead of taping, draping, and painting, I spent my day building. 🙂 I didn't get it finished, and in fact, it won't be finished for about three weeks. But more on that in just a bit.
My inspiration for the design I used came from a reader (thank, Jody!) who sent me pictures of her new range hood cover in her newly remodeled kitchen. I loved the design so much that I decided to copy it as best I could.
Her range hood is clearly much wider than my 30-inch range hood, but I figured I could adapt the design to fit my narrower space. I also liked the doors on the top. I don't need or want storage above my stove (I'm only 5 feet tall and never, ever use that storage), but many of you encouraged me to use a door on that upper part rather than permanently enclosing it (which had been my original plan) so that I can still have access to wires and such that are up there. That sounded reasonable to me, but since mine is so much narrower, I'll just have one large door rather than two or three doors.
So here's how mine originally looked — stainless steel vent hood with two tiny little cabinets above it.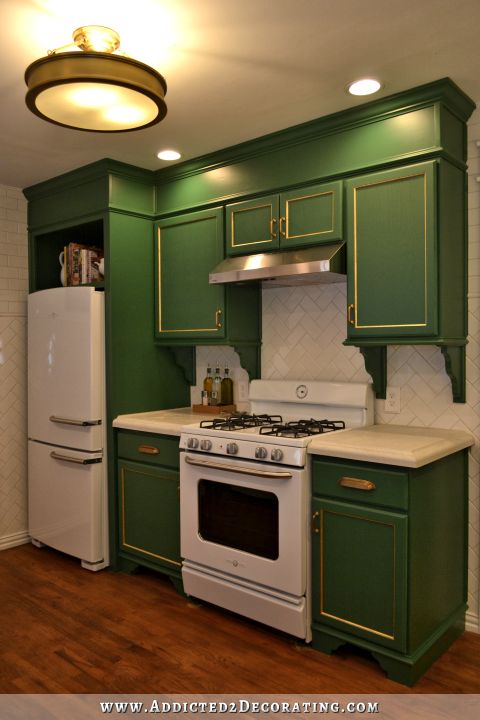 So I started off by removing the tiny cabinet doors. The rest of the doors had already been removed since I'm in the process of painting my kitchen.
And then I removed all of the trim and crown moulding that would be in the way.
One of the challenges of building a range hood cover on cabinets configured like mine (a 30-inch range hood flanked by cabinets on both sides) is that the range hood cover can't encroach on the side cabinet space much at all or there won't be enough room for the cabinet doors on each side to open and close.
The second challenge I had is that my range hood isn't vented to the outside. So the design needed to allow for plenty of room for air flow and circulation.
So I measured from the ceiling to the top of my range hood, and used that measurement to cut two support pieces – one for each side. I cut these out of 1 x 8 lumber, and used my table saw to rip them down to the correct width. My range hood sticks out 6 inches from the front of the cabinets, so I ripped these support pieces so that they would stick out 6.5 inches from the cabinets, allowing 1/2 inch between the front of the range hood and the range hood cover. I attached these support pieces using my Kreg Jig, and I made sure that they lined up directly over the vent hood and didn't encroach on the side cabinets at all.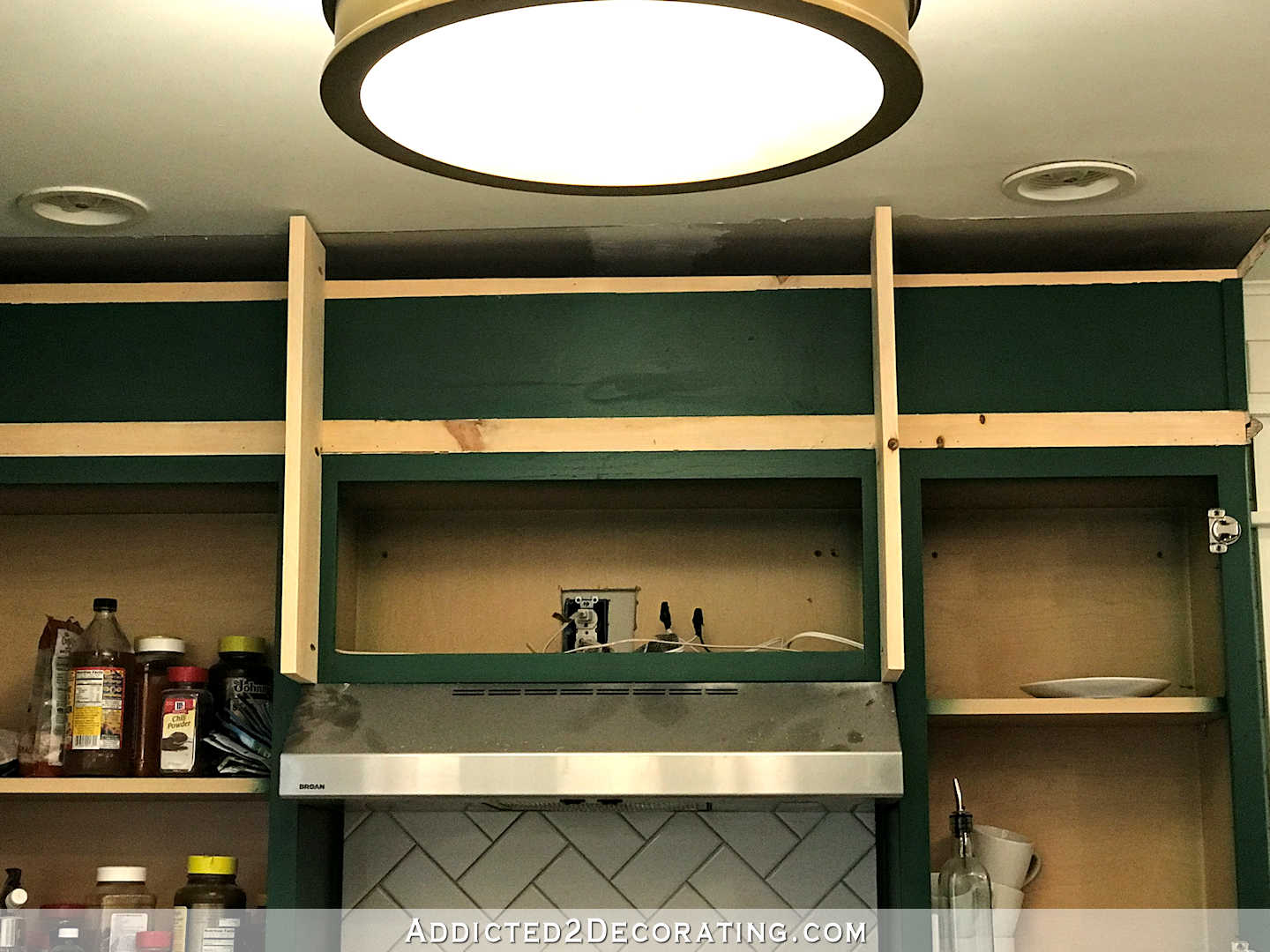 For each piece, I drilled five pocket holes — three on one side, two on the other. But you can see that I didn't figure for the space at the top, so I ended up only using four pocket holes (two on each side) for each support piece. Four screws were plenty strong to hold each support piece.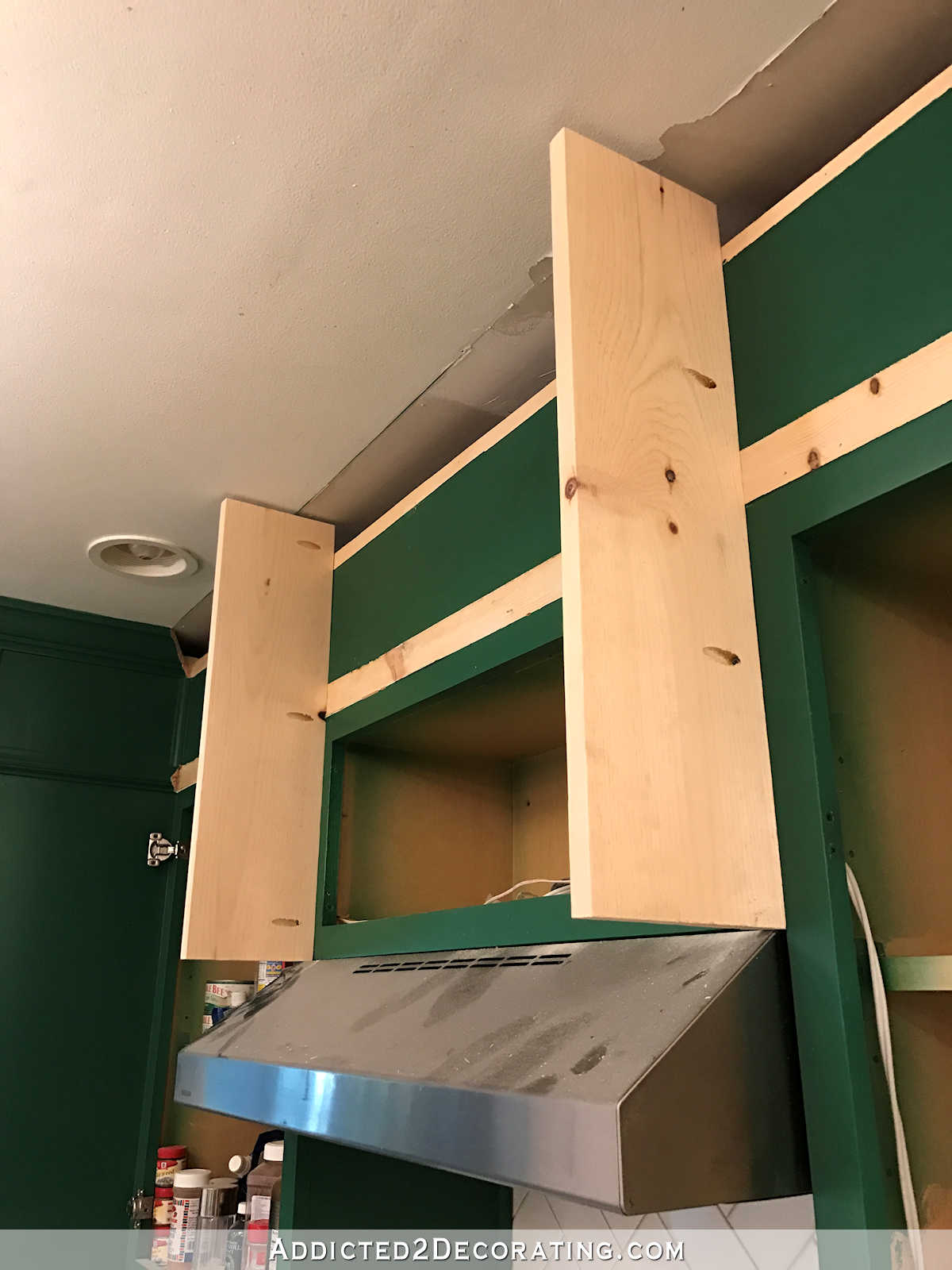 And as you can see, it's a very good thing that I'm making this design open so that the top can be accessed for regular cleaning, because I completely forgot to clean off the concrete dust after my countertops were refinished. Please kindly disregard my dust. 😀
After adding the top support pieces, I then cut two pieces of 1 x 6 lumber and attached those below the range hood as supports. I cut these so that they would also extend 6.5 inches past the front of the cabinets, and I just nailed those into the side cabinets.
Next I measured the width from the outside of the left supports to the outside of the right supports. My measurement was exactly 30 inches. Then I measured from the bottom of the lower supports to approximately 1.5 inches up on the top supports (1.5 inches being the width of the rails and stiles on my existing cabinets). That gave me a measurement of 13.5 inches.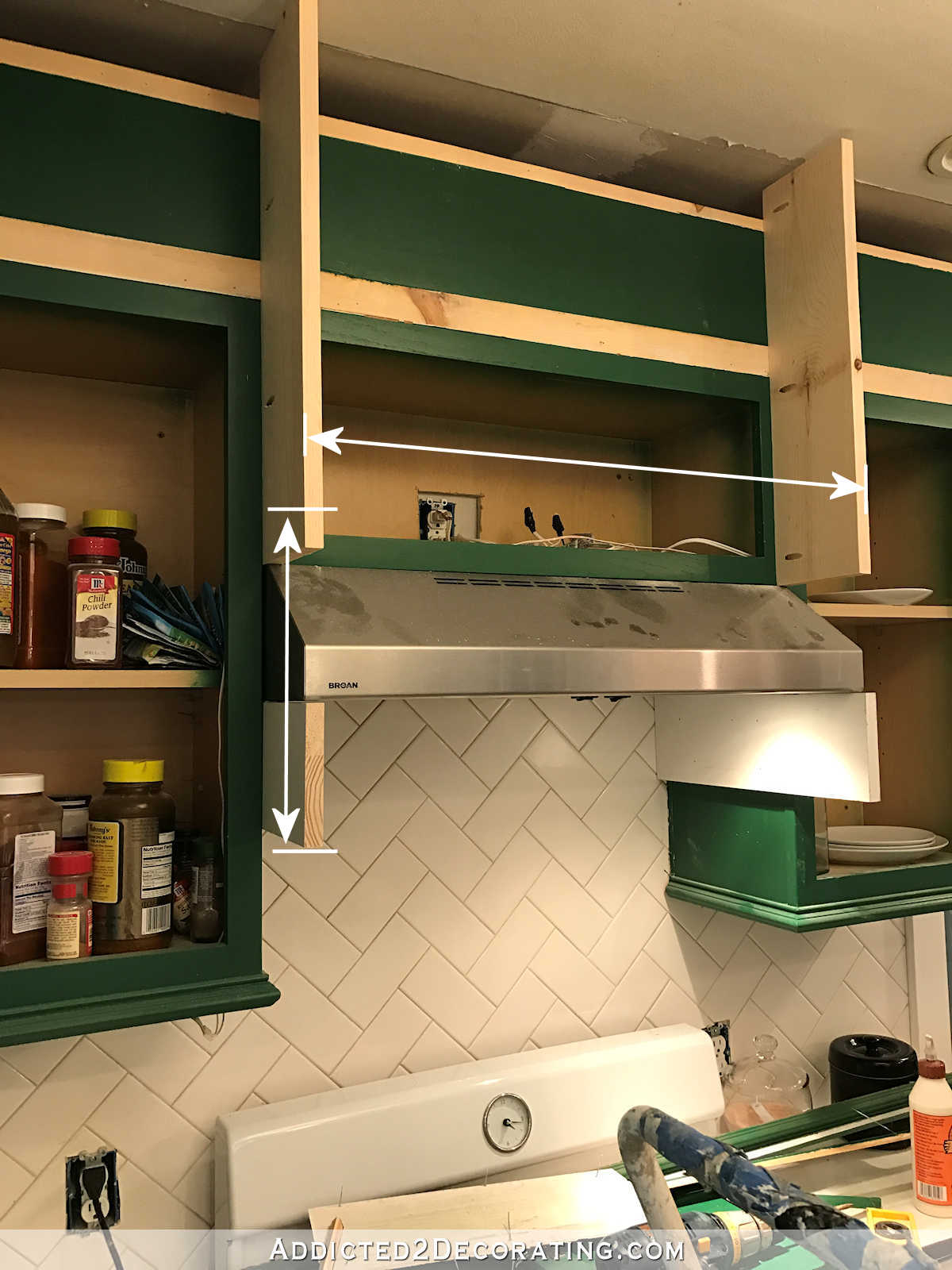 So I cut a piece of 3/4-inch plywood to 30″ wide by 13.5″ high. Then I cut a pattern for the curved decorative bottom edge out of cardboard, and used that to transfer the curved design onto my plywood. I used my jigsaw to cut out the design.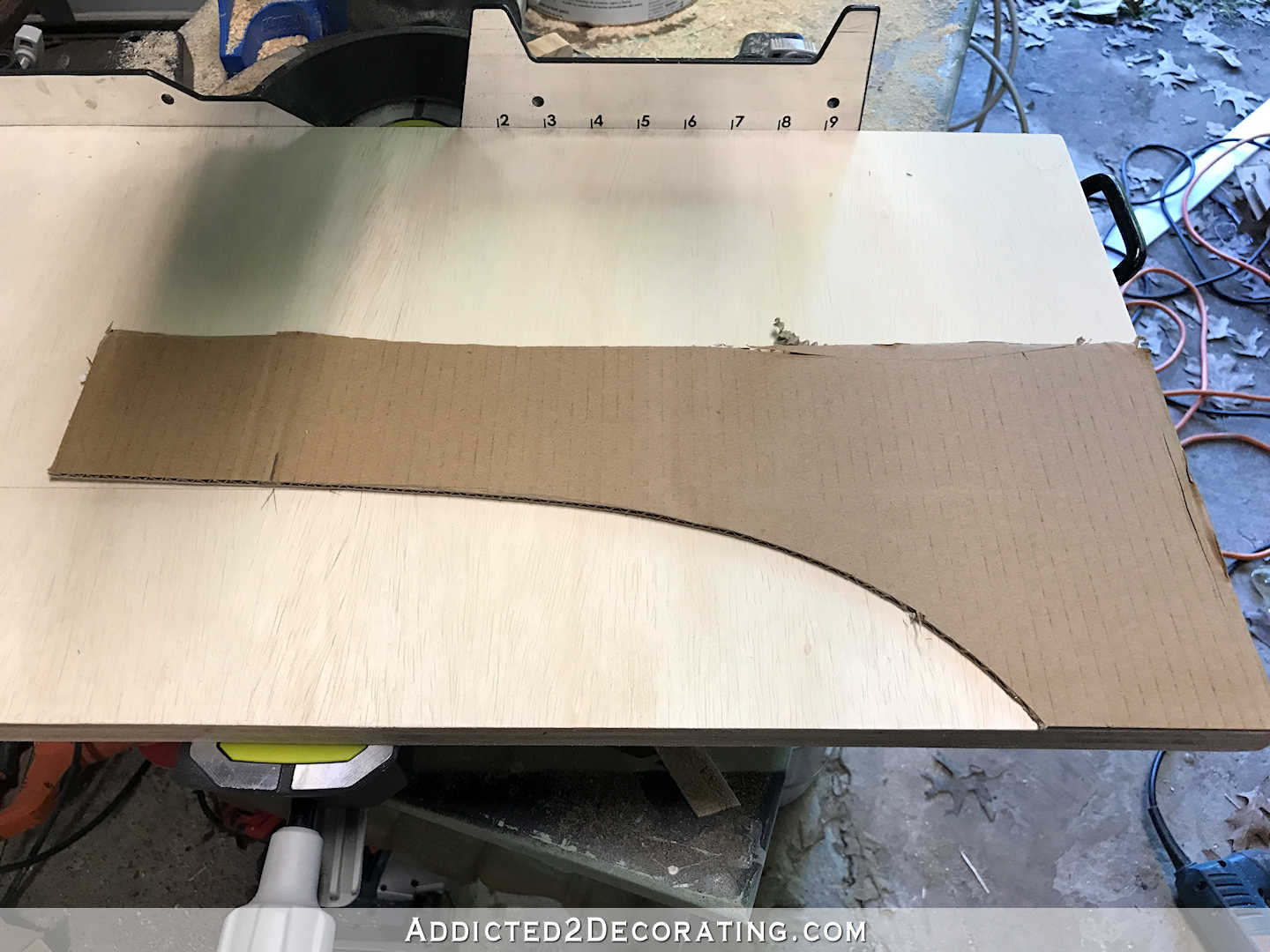 Then I nailed this piece into the front edges of the bottom and top side supports.
So essentially that large plywood piece is not only the decorative piece on the bottom front of the range hood cover, but it also acts as the bottom rail on the opening that the cabinet door will eventually cover.
Then I cut and attached the top rail, which was 30 inches wide by 4.5 inches high. And I attached the two stiles, which were 1.5″ wide and 17″ high. I nailed these pieces right to the front edge of the side supports.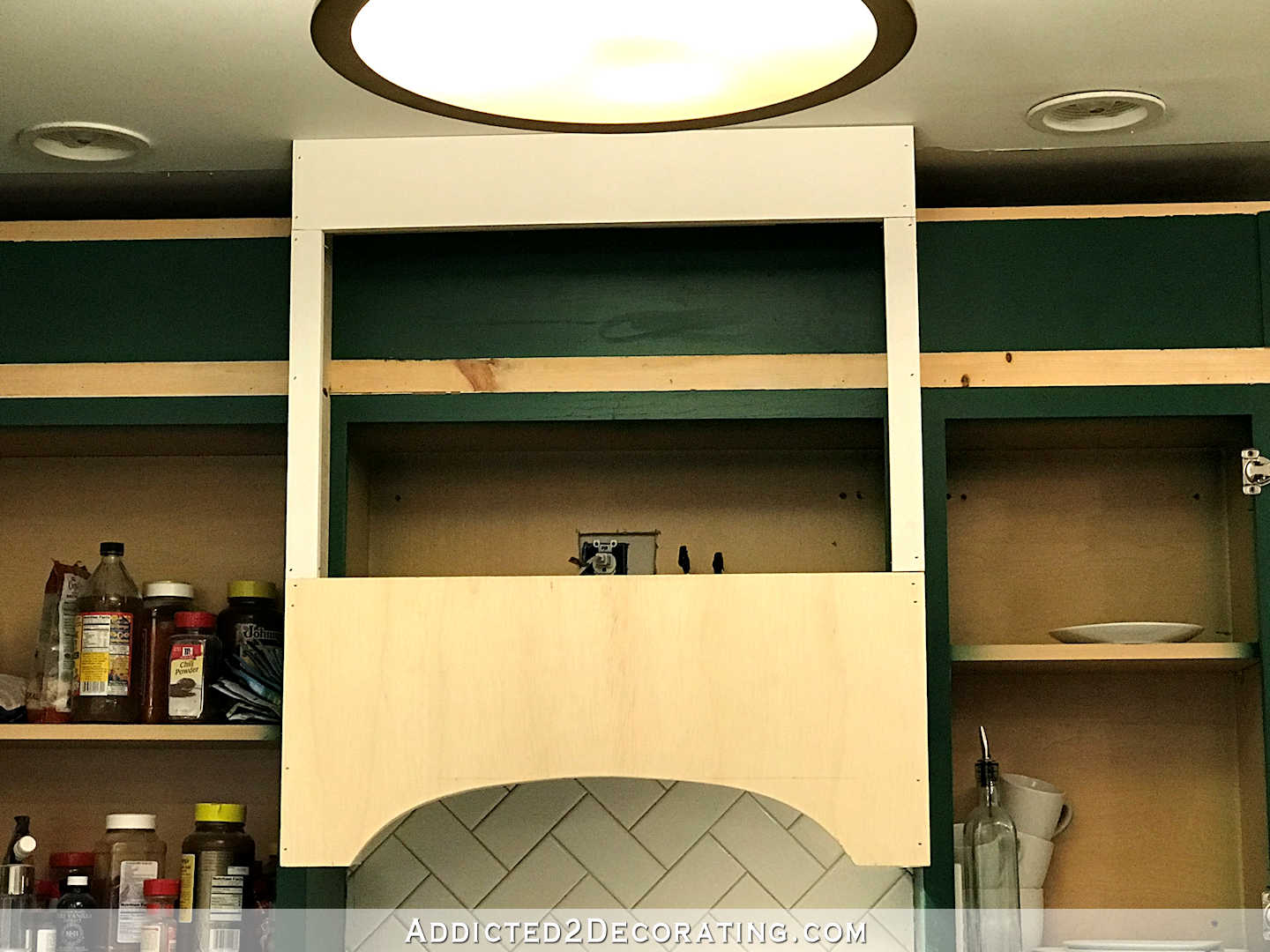 To figure the height that the top rail needed to be, I determined how far down my crown moulding would come (three inches), and added 1.5 inches (the width of the rails and stiles on my existing cabinets).
So at this point, the sides of my range hood cover looked like this…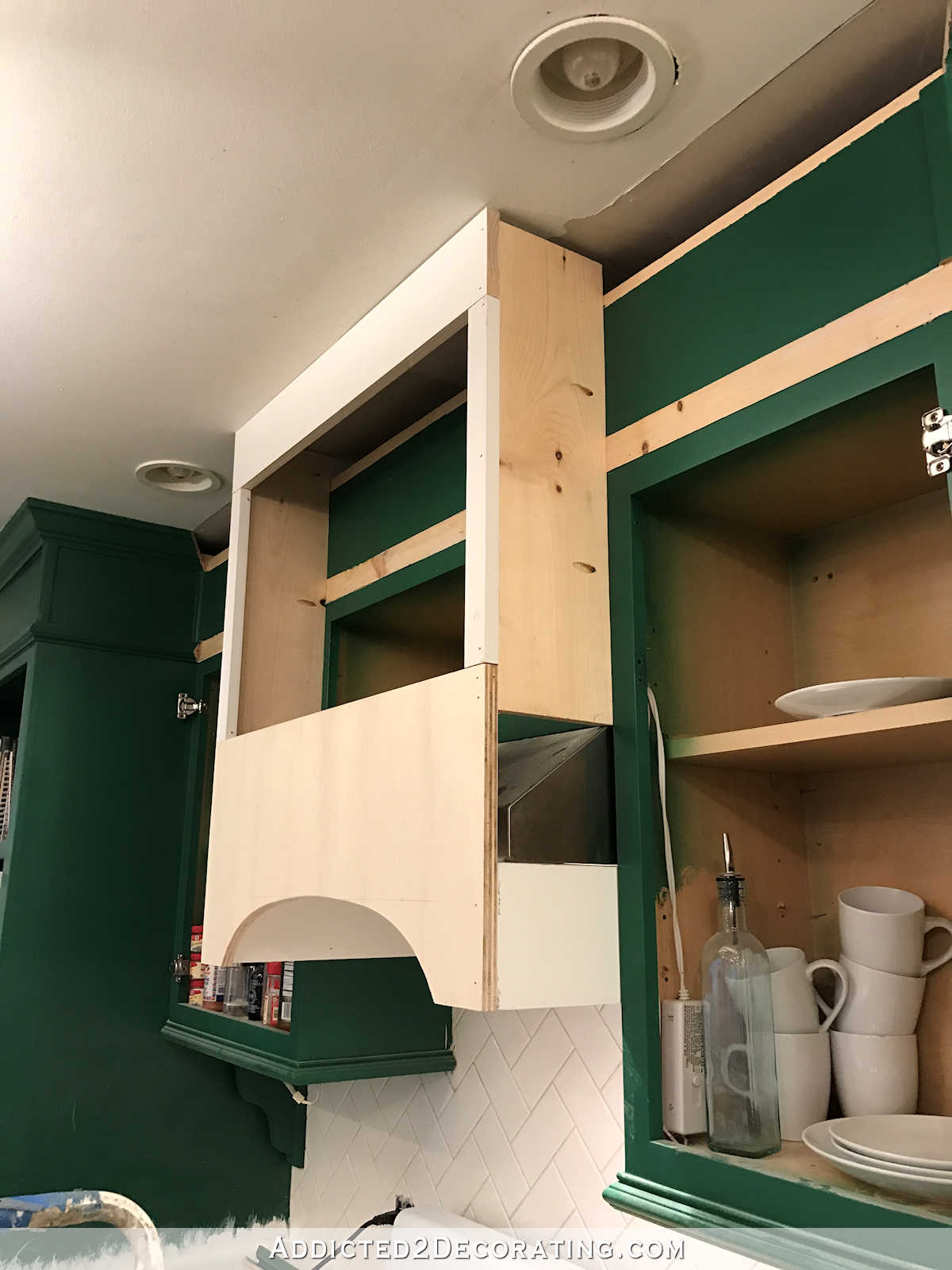 So to cover those, while taking up as little space as possible so that my cabinet doors on each side would still open and close, I used pieces of 1/4-inch MDF, which I cut to size using my table saw and miter saw. I attached the side pieces using very short finishing nails, and made sure that I didn't nail into the side of the range hood.
I used MDF for these pieces because it sands easily, and unlike plywood, the edges look finished.
With the basic structure of my range hood cover finished, I cut and replaced the small trim on the cabinets. I still need to replace the crown moulding, which I dread. Crown moulding is my nemesis, and this time I have more angles to work around.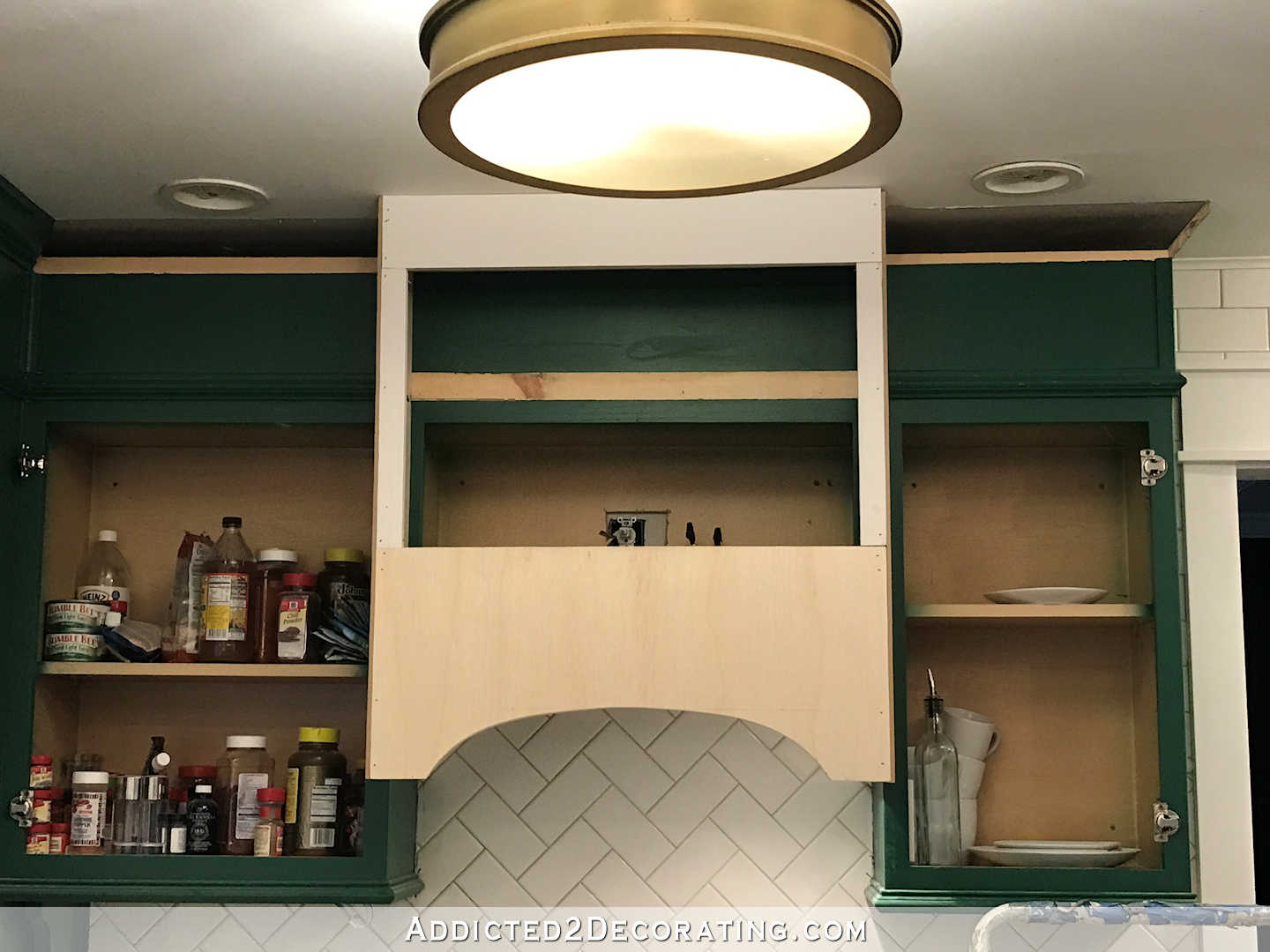 I also still need to build the little decorative shelf, which I'll get done today.
Now as far as the door goes, I have two options. The first option would be to make something myself to echo the design over the fireplace mantel, which is just in the next room and very visible from the kitchen.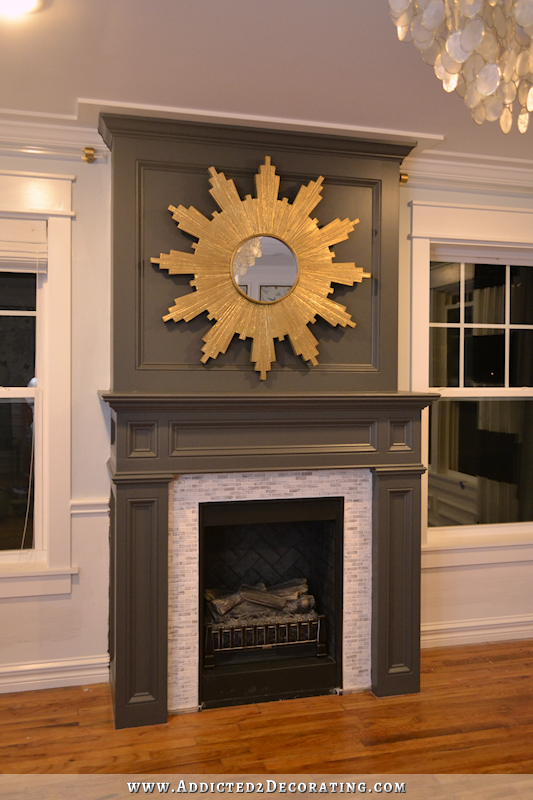 The second option would be to actually have a cabinet door made to match all of my other kitchen cabinet doors. I order my cabinet doors from this place, and their flat panel doors match my existing doors almost exactly.
I'm kind of leaning towards the cabinet door just because it'll blend in with what I already have. Replicating the overmantel design from my living room would be cheaper, but it would also add one more different design into my small kitchen, which might be too much.
So I still need to give that some more thought. Unfortunately, if I do the cabinet door, this project won't be finished for about three weeks. That's how long it takes to get the custom doors once the order is placed. But at least once the little shelf is built, and I do all of my wood filling, sanding, and caulking, I can go ahead and paint my cabinets. A door can always be painted and installed later.
So we'll see. A cabinet door or a design to match the overmantel in the living room? Hmmm…it's a mystery. 😀
UPDATE:
Click here to see Part 2 of this project, where I made some design changes to the range hood cover…
And click here to see the finished range hood cover…
Addicted 2 Decorating is where I share my DIY and decorating journey as I remodel and decorate the 1948 fixer upper that my husband, Matt, and I bought in 2013. Matt has M.S. and is unable to do physical work, so I do the majority of the work on the house by myself. You can learn more about me here.