Painting Kitchen (And Bathroom) Cabinets – Pros & Cons Of Four Different Methods I've Personally Used
I get quite a few emails with various DIY questions each day, and for at least the last three years, the majority of those questions have been about painting furniture and cabinets. I think this is a topic that makes many new DIYers a bit anxious because (1) painting cabinets is a huge job, and it's one that you want to do right the first time, and (2) there's no definitive "right way" to do it. There are various options, and loads of different products available.
So when people ask me specifically, "How do you paint kitchen cabinets?" I'm always at a loss for how to answer that. There's just so much information I want to share, but it's too much to go into in an email or a Facebook comment.
Since I've used four different methods to paint cabinets in the last few years, I wanted to share my thoughts on each one.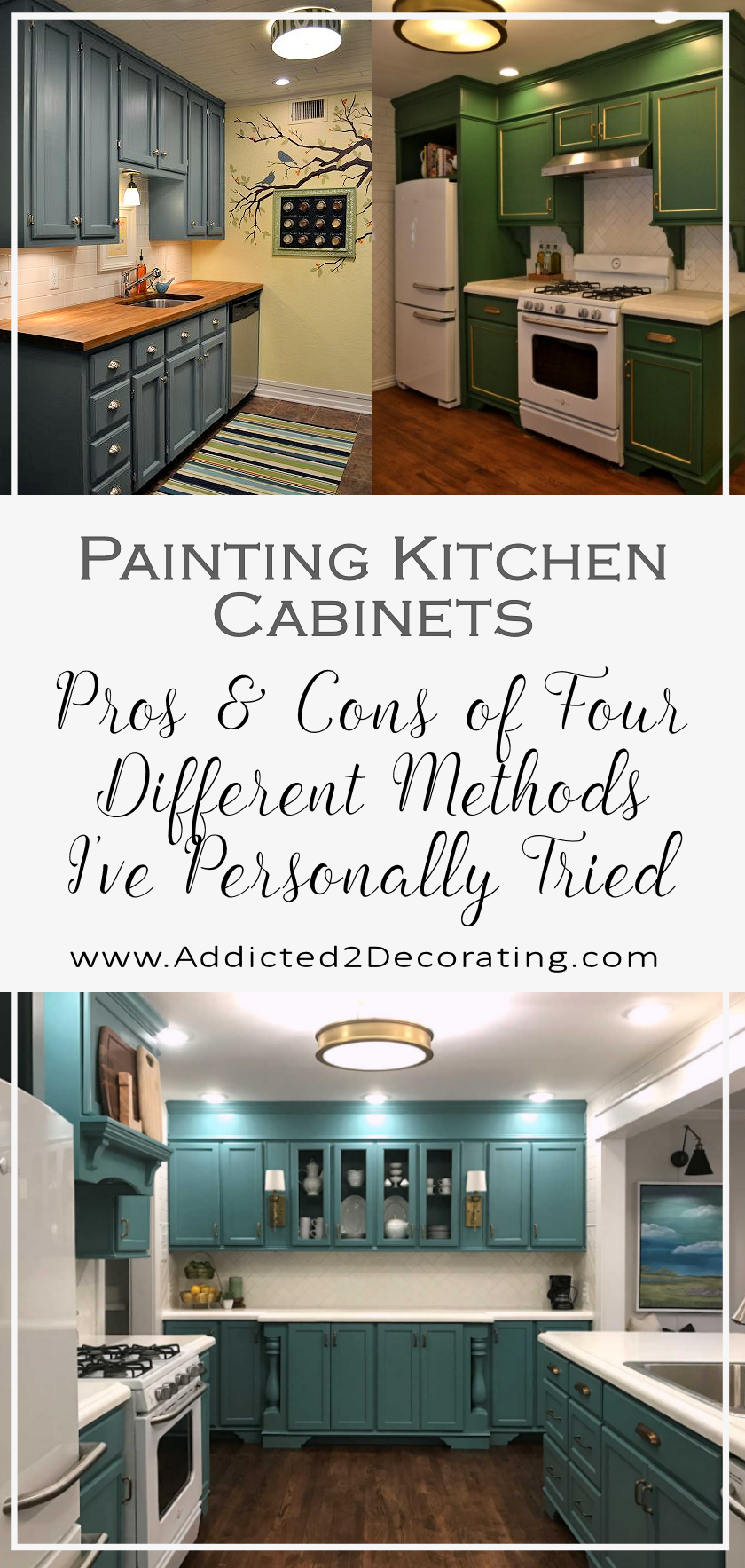 Painting Cabinets With Oil-Based Paint:
Oil-based paint will always be my absolute favorite when it comes to the actual process of painting. Kelly Moore is my brand of choice, and with a little Penetrol (paint conditioner, like Floetrol, made specifically for oil-based paints) added to the paint, it glides on so beautifully and dries so slowly that most (if not all) of the brush strokes disappear completely. It's by far the most durable paint finish. There are companies who claim their latex paint is just as durable as oil-based paint, and while some do come close, they're just not the same.
I used oil-based paint on the kitchen and breakfast room cabinets in the condo…
You can click here to see more of the condo kitchen, and click here to see more of the condo breakfast room.
Here are my thoughts on oil-based paint for kitchen cabinets:
Pros:
It's easy to brush or spray, and with paint conditioner added, brush strokes disappear.
The finish is incredibly durable. It dries very hard, and resists scratches and chips more than any latex finish.
It's easy to keep clean, and you can use mild cleaning products on it with no fear of damaging the finish.
Cons:
Clean up of brushes and tools after painting is a bit of a pain since you can't use soap and water.
It dries very slowly, so any oil-based paint project will take multiple days, even if you're just painting a tiny bathroom vanity.
It yellows over time.
A clear topcoat isn't needed with oil-based paints. It's durable enough on its own.
The biggest drawback to oil-based paint is that it yellows over time. This means that if you do have a scratch or chip that needs touchup, and it's been more than about eight months since the cabinets were painted, the new paint won't match the old. Whether or not the difference is enough to be noticeable and actually draw attention depends on the age of the original paint finish and the color. Some colors (e.g., white) show the color difference more than others (e.g., black, navy blue, charcoal).
Painting Cabinets With Latex Paint:
Just plain ole latex paint is pretty much all I ever use on bathroom cabinets.
Here are my thoughts on painting cabinets with latex paint…
Pros:
It can be brushed or sprayed.
It's easy to use and cleanup is a breeze with soap and water.
With paint conditioner added, you can get a pretty close-to-flawless finish even with a brush.
It dries quickly, so small projects (e.g., painting a small bathroom vanity) can be done in one day.
It doesn't yellow over time, so touchups on scratches and chips is possible at any point.
Cons:
It's not as durable as oil-based paint, and will scratch and chip easier.
Here's how my hallway bathroom vanity looks today, two-and-a-half years after I painted it with Behr latex paint.
You can see how the paint has worn off of the top edge on the drawer front. I honestly have no idea how that happened, but I suspect it's something that Matt does when he uses that bathroom. That bathroom is a tight fit for him in his wheelchair, and I think his arm brushes against that drawer edge as he wheels himself in and out.
The good thing is that it's just latex paint. It would take me about 30 minutes to remove that handle, lightly sand the drawer front with 220-grit sandpaper, paint a new coat of paint on the drawer front, wash my brush out, and screw the handle back on. Quick, easy, and good to go for about another 2.5 years.
Painting Cabinets With Waterborne Alkyd (Oil-Based) Paint:
I don't understand the science behind it, but these paints are advertised as paints with the best qualities of oil-based and latex combined into one paint. I've tried both Sherwin Williams ProClassic and Benjamin Moore Advance. I really didn't like ProClassic at all, but BM Advance is amazing paint. It's what I used on my kitchen cabinets.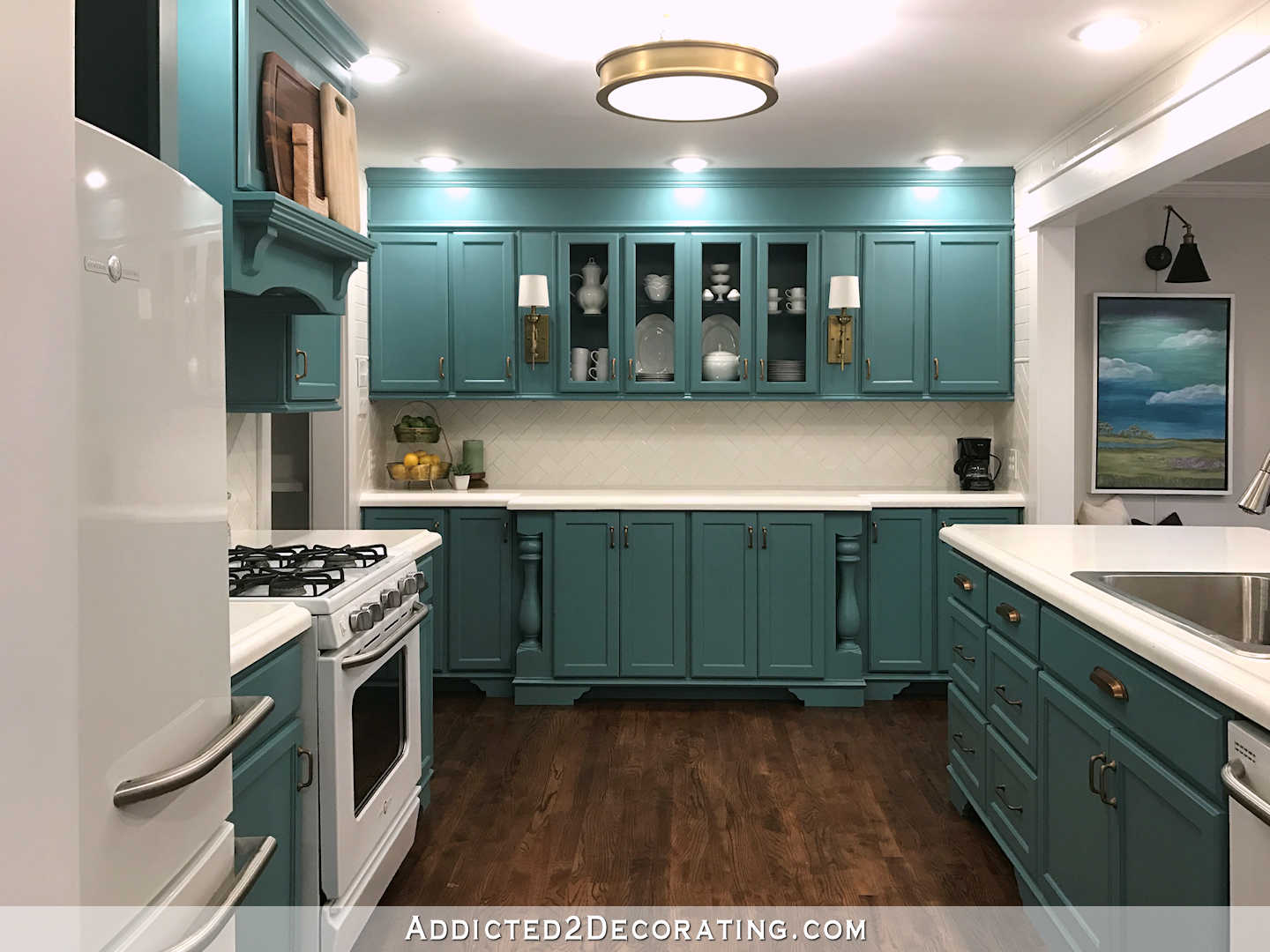 Here are my thoughts on waterborne alkyd paints for cabinets:
Pros:
It's more durable than latex, and dries to a very hard, washable, scrubbable finish.
It doesn't yellow over time.
It's easy to use and can be sprayed or brushed with a beautiful finish.
Cleanup is easy with soap and water.
Cons:
It takes a lot longer to dry than latex, but not as long as oil-based. So you probably can't do quick, one-day projects with waterborne alkyd paints.
They say you're not supposed to add paint conditioner to it. That's not an issue if you're working with a brand new can of paint that you've just opened, which actually brushes on almost as beautifully as oil-based paint with paint conditioner added. But if the can isn't new, it can be a problem, as it won't brush on as beautifully and the brush strokes don't smooth out as much.
I have the hardest time with the sheen. I don't know if it's just Advance, or if it's all waterborne alkyds, but the sheen is way too shiny for my taste. I prefer a true satin finish, but even when I use Advance in a satin finish, the sheen looks more like a semi-gloss. I think the darker the color, the shinier it looks, so it might not be as much of an issue if (1) you like shiny finishes, or (2) you're painting your cabinets white.
Painting Cabinets With Latex Or Waterborne Alkyd With A Clear Topcoat:
Whether or not clear topcoats are needed or even beneficial depends upon what the actual goal of using a topcoat is. I've actually used clear topcoats over my kitchen cabinets painted with Benjamin Moore Advance the last two times I painted them.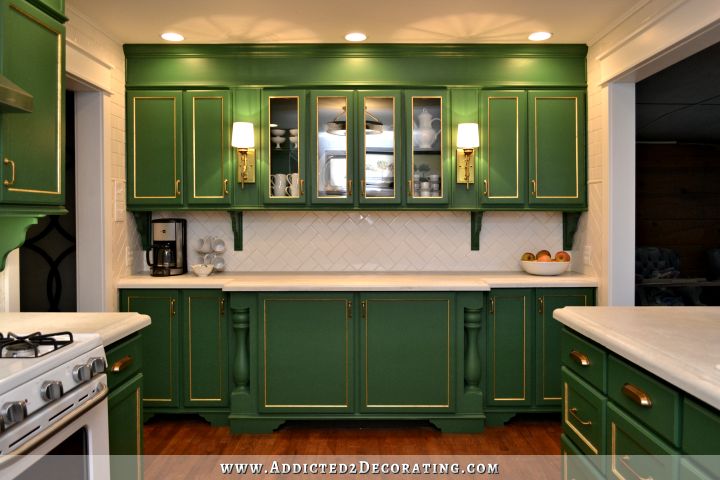 And I've also used clear topcoats over latex paint. So here are my thoughts…
Pros:
Topcoats can be used to improve sheen issues on painted cabinets.
They can add durability to surfaces coated with latex paint as long as you use a quality topcoat.
Cons:
Adding a clear topcoat can and will make touchups more difficult, requiring more sanding, and a two-step re-coating for covering scratches and dings.
So are topcoats really needed? That depends on your goals, and what type of paint you use.
Waterborne alkyd paints don't need a clear topcoat for durability. They're durable enough on their own. The only reason I used a clear topcoat over my cabinets painted with Advance paint is because I just couldn't live with the semi-gloss sheen of the Advance paint. So I topcoated them (both the green and the teal) with a clear coat in a flat finish to dull the sheen.
With latex paint, whether or not you use a topcoat is completely a personal choice. Yes, it can and will add durability to the finish. But it's still not indestructible. So if you do get a chip or scratch, and you've used a clear coat, then you've made the touchup process a bit more difficult.
My personal recommendations are:
If you use waterborne alkyd paint, and you can live with the glossy sheen, don't use a clear topcoat. It's not needed at all, since the paint itself will dry very hard and durable. This will make touchups easier as well.
If you use latex paint on kitchen cabinets, I would suggest a clear topcoat.
Just be aware that not all clear coats are created equally. I personally hate Minwax Polycrylic and would never get it near my cabinets. In fact, I'd never use it at all. Rust-Oleum Ultimate Polyurethane (which is water-based) is a much better product than Minwax Polycrylic. It's what I used on my green cabinets. But it's still just a mid-range product. It's fine for furniture projects, like tops of dressers and credenzas, but if you're going to go to the trouble of painting and topcoating kitchen cabinets, it's not the best.
The absolute best clear topcoat I've ever used is General Finishes High Performance Topcoat (purchased here on Amazon), which is what I used on my teal cabinets in my current kitchen. I used the flat finish, which is beautiful and is actually somewhere between an eggshell and satin finish. It's the only brand of clear coat I use now.
So those are the products I've tried personally. I really hope it helps make the decision-making a bit easier! And if this list has just created more questions, please feel free to ask and I'll do my best to help.
Addicted 2 Decorating is where I share my DIY and decorating journey as I remodel and decorate the 1948 fixer upper that my husband, Matt, and I bought in 2013. Matt has M.S. and is unable to do physical work, so I do the majority of the work on the house by myself. You can learn more about me here.