How to Make A Decorative Chrysanthemum Mirror
Chrysanthemums are some of my favorite flowers.  I especially like the varieties with the petals that fade from dark, saturated color in the center of the flower, to a lighter color near the outer edge of the flower.  So yesterday, I decided to try to replicate this look on a decorative mirror using plastic spoons.
So obviously it doesn't look exactly like a chrysanthemum, but I think it's pretty good!  What do you think?
I had fun with this project!  It was a lot of trial and error, so I'll tell you the steps that I took to make this mirror, but I'll also tell you what I would change if I were to do it again.
First, I bought six packages of 48 plastic spoons, and I cut the handles off of all of them.  I bought the absolute cheapest spoons available that cost somewhere around $1.30 per package (don't get the really heavy duty plastic spoons!!), and I found that scissors worked just fine on them.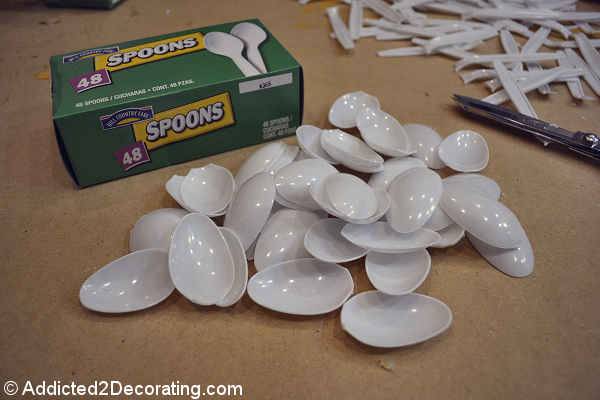 Next, I was in the mood to craft…not to use power tools.  So instead of getting out my jigsaw and cutting out a piece of 1/4-inch MDF  to use as the base for my chrysanthemum, I instead opted to use what I had.  I thought it would be easier, and it probably was, but if I had to do it again, I'd just get the jigsaw out and cut out my own form.
But here's what I did.  I used two MDF wreath forms from Michael's (one 18-inch form and one 12-inch form), and I attached them using hot glue and some of the spoon handles that I just cut off.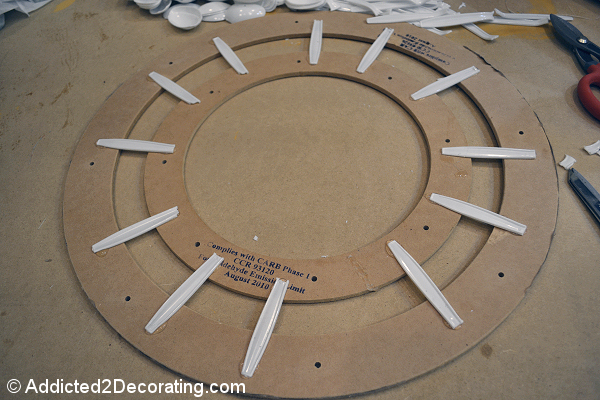 Then I flipped it over, with the spoon handles on the bottom, and I covered the gap with thick paper (almost like cardstock) using hot glue to attach it.  In hindsight, I realize that I should have primed the base at this point, but it didn't even dawn on me.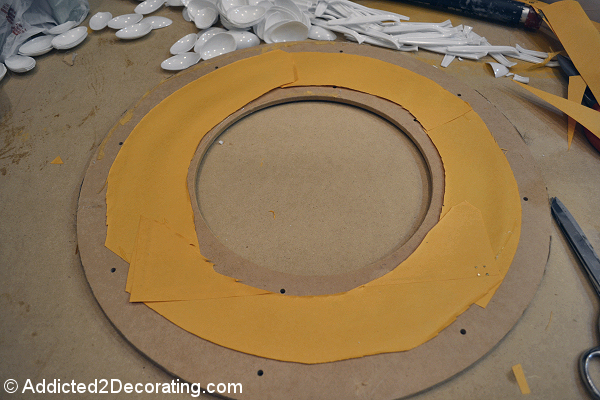 Then I started attaching the spoons with hot glue.  I used the holes in the MDF wreath form as a guide for spacing the spoons.  I just eyeballed it, but I knew that the outer ring had to have plenty of space between the spoons in order for the inner ring of spoons to not overlap too much.
I just kept adding and layering the spoons…
For some reason, I didn't take a picture after I attached the final row of spoon "petals".  But the inner ring of spoons hung about 1/2-inch off of the edge of the wreath form.  On the spoons for the inner ring, I also cut them very carefully, and then used sandpaper to be sure that the cut edges were smooth and rounded since they would show.
When all of the spoons were attached, I took it outside and gave it several thin coats of primer, and then a couple of coats of paint.  If I were to do it over again, I'd only use the primer.  Spray painting was really a waste of time since I ended up painting each petal by hand with a brush.
For the inner ring, I used Folk Art acrylic paint in Teal, and I just used the color as it is straight out of the bottle.  I also painted the backside of the spoons on the first row since they would be reflected in the mirror.
For the next ring, I mixed a little bit of white paint (I had white latex paint on hand) with the teal.  On each subsequent ring, I used the same amount of teal paint, but increased the amount of white paint that I added so that each ring of petals would be gradually lighter.
After all of the paint was dry, I used my hot glue gun to attach a round mirror to the back.  I also attached a loop of jute twine to the back of the mirror with hot glue to hang the mirror.
I tried and tried to get good pictures of it hanging inside on my wall, but all of the recessed lighting created a thousand harsh and distracting shadows, so I took it out side this morning to get good pictures of it for its debut.
I love the way it turned out!  I don't think I've ever seen a teal chrysanthemum before, but I'm okay with that.  🙂  The finished chrysanthemum turned out to be about 21.5 inches in diameter.
I still haven't found the perfect place for it, but I think it'll end up making a great addition to my office (if I can ever find the time to work on that room!).
Linking to:
Inspiration Friday @ At The Picket Fence

Addicted 2 Decorating is where I share my DIY and decorating journey as I remodel and decorate the 1948 fixer upper that my husband, Matt, and I bought in 2013. Matt has M.S. and is unable to do physical work, so I do the majority of the work on the house by myself. You can learn more about me here.