How To Create Your Own Custom Wallpaper Pattern (With Virtually No Artistic Ability Required)
Today, I want to show you how to create your own wallpaper design that you can use in your home or on other creative projects. Of course, I'm working on a wallpaper design for my studio, but this is something virtually anyone can do with no artistic ability required.
What I really want on the front wall of my studio is a bold, colorful watercolor floral wallpaper. But after months and months of searching for the perfect pattern with no success (believe me, I've searched all major wallpaper companies, Etsy, Bluebellgray, Spoonflower, and on, and on), I've finally decided that my only option is to create my own custom wallpaper pattern.
I knew I wanted something really bold (like really, really bold) with very little negative space. Rather than precious bouquets of flowers neatly bundled with lots of blank space between them, I wanted it to look more like an explosion of flowers all over the wallpaper. I made a couple of designs, and this is the one I liked the most…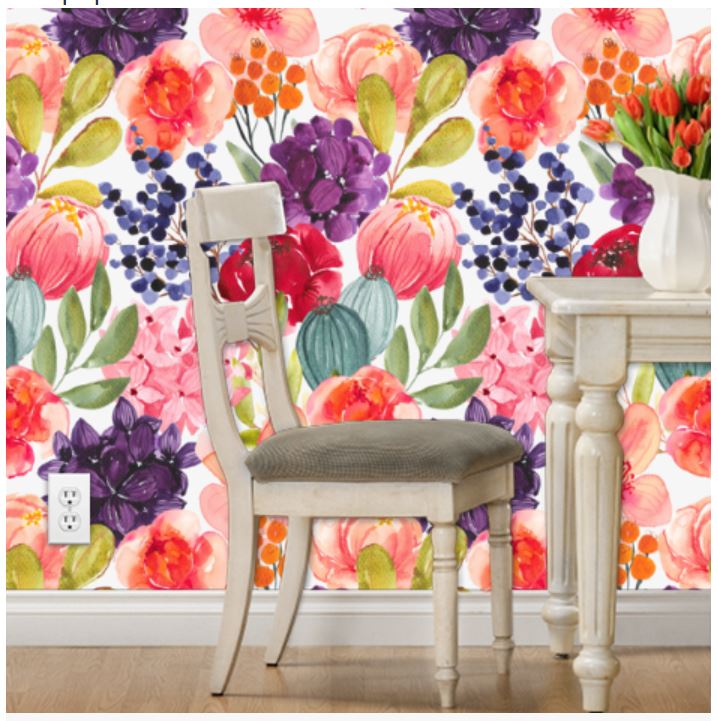 See what I mean about an explosion of flowers? 😀 There are no precious little bouquets of flowers on that wall!
I've shown y'all before how to turn a very simple acrylic painting into a repeatable wallpaper design, but that's not what I want for my studio. And while I'm sure that either my mom or I could do the watercolor artwork for wallpaper I envision, neither of us really has time to do that right now.
So I decided to head to my favorite online source for creative elements — a site called Creative Market. They have all kind of things like fonts, photos and graphics that can be used to create an endless number of items. I just searched for "watercolor flowers" and found loads of options.
I finally narrowed down my purchase to two sets of watercolor flowers and fillers by the same artist, Charushella. I bought this Forest Queen set, and this Clementine set. And then I opened up my photo editing software and started playing around with my favorite flowers.
When you purchase these, they come as a package of individual graphics. For example, the Forest Queen package comes with these elements…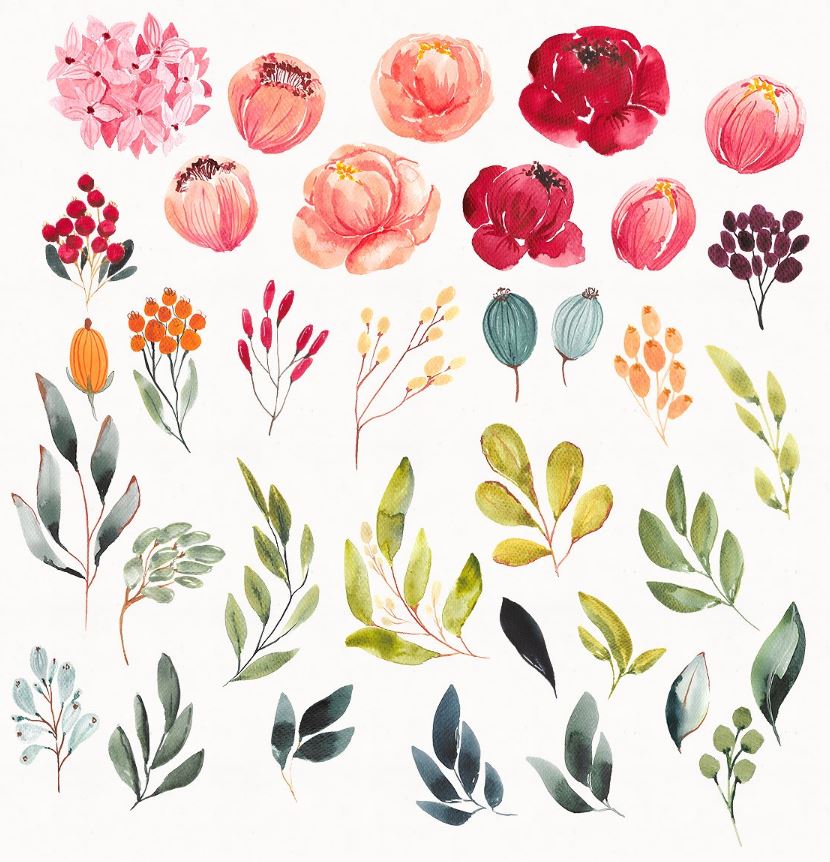 The sets I bought also came with several pre-made bouquets, borders, and repeatable backgrounds.
These sets come as a bundle of individual files, and they're all saved as .png files with transparent backgrounds. For example, when you open up an individual file, it'll look like this in your editing software…
That checkered background means that it's transparent, which means that you can layer the different floral elements on top of and around each other without having to worry about backgrounds getting in the way.
Creating your own wallpaper design with a seamless repeatable pattern
To create a wallpaper pattern, you'll need to use a photo editing software that allows you to create layers on one image and manipulate each layer separately. Of course, Adobe Photoshop has this capability. I personally use a very reasonably priced program called Corel Paintshop Pro.
Step 1: Open a new large image, and add design elements to the middle of the image.
To create something as large as wallpaper, you'll have to work with a very large image. I opened up a new image sized to 24 inches wide and 32 inches high because I like very large repeats on wallpaper. And then I started arranging some of the flowers and leaves in the center of the image.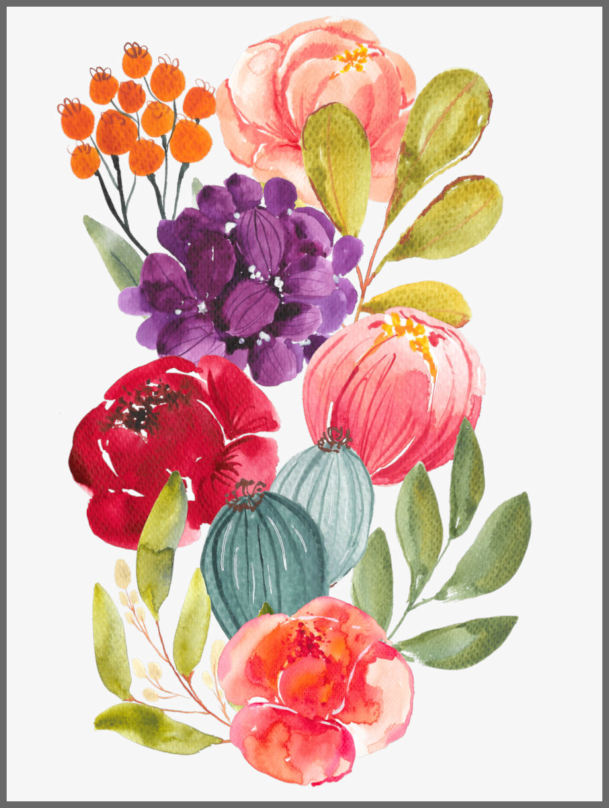 Once I got them just like I wanted them, I flattened the layers (Layers –> Merge Visible) so that everything was all on one layer, and then moved on to the next step.
Step 2: Cut the image in half vertically, and move the left side to the right and the right side to the left.
Using the "select" tool, I cut the image in half vertically, and then cut (ctrl + X) the selected half and pasted that to a new image (Edit –> Paste As New Image) so I wouldn't lose it. This is what the image looked like with half of it cut away.
Then I moved the half that remained all the way over to the left edge.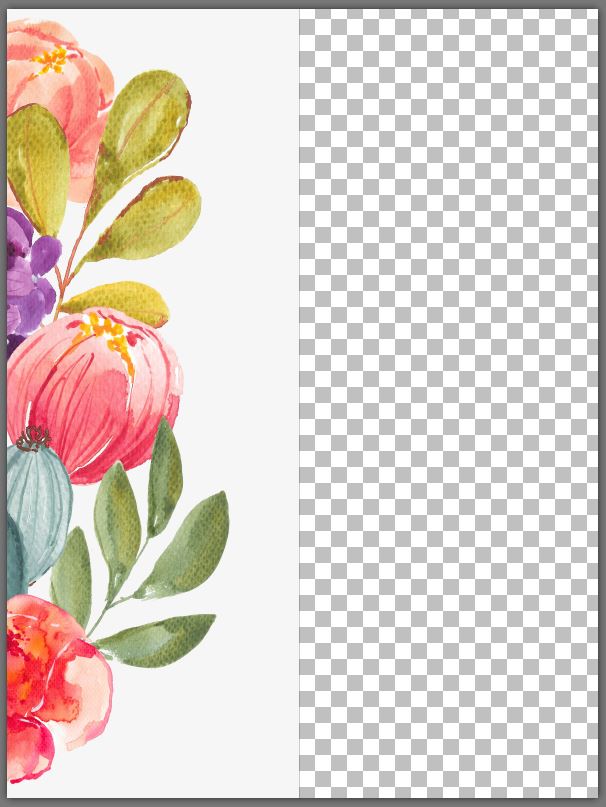 And then I copied (ctrl + C) and pasted (ctrl + L) the half that I removed back onto this image as a new layer, and moved it all way to the right edge.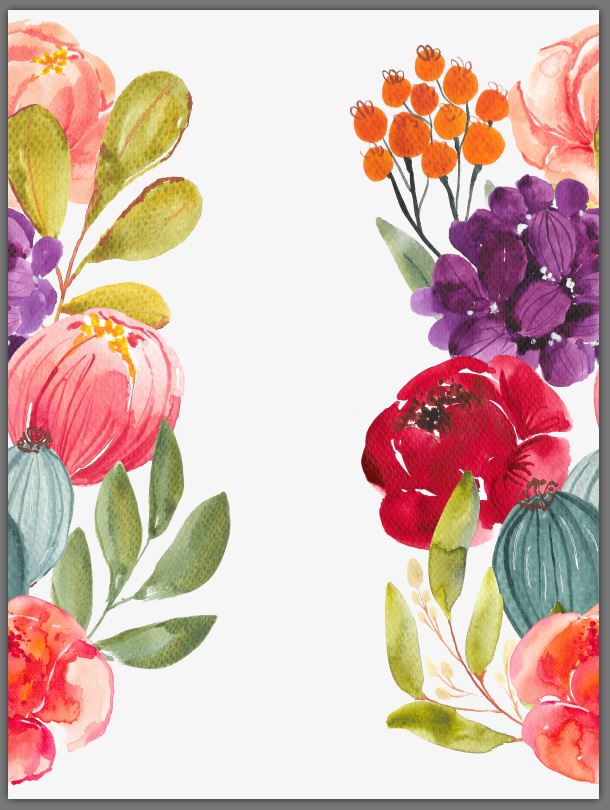 Step 3: Fill in the center blank area with more of the design.
Next, I filled in the center blank area with additional watercolor floral elements…
This took a little bit of erasing using the eraser tool since the floral elements on the left and right had already been flattened into one layer and were no longer individual layered elements. So using the eraser tool, I erased certain areas to make the new floral elements appear layered with the side images.
Once I got them arranged just right, I flattened the image again (Layers –> Flatten Visible) so that it was all one layer.
Step 4: Cut image in half horizontally, and move the bottom to the top and the top to the bottom.
This is just like I did before, only this time I cut the image in half horizontally. Using the "select" tool, I selected the top half of the image, cut the selected part (ctrl + X), and pasted the cut part as a new image (Edit –> Paste As New Image) which puts it in a new tab so I don't lose it.
Then I moved the bottom half to the top edge…
And pasted (ctrl + L) the other half back on as a new layer, and moved it to the bottom edge.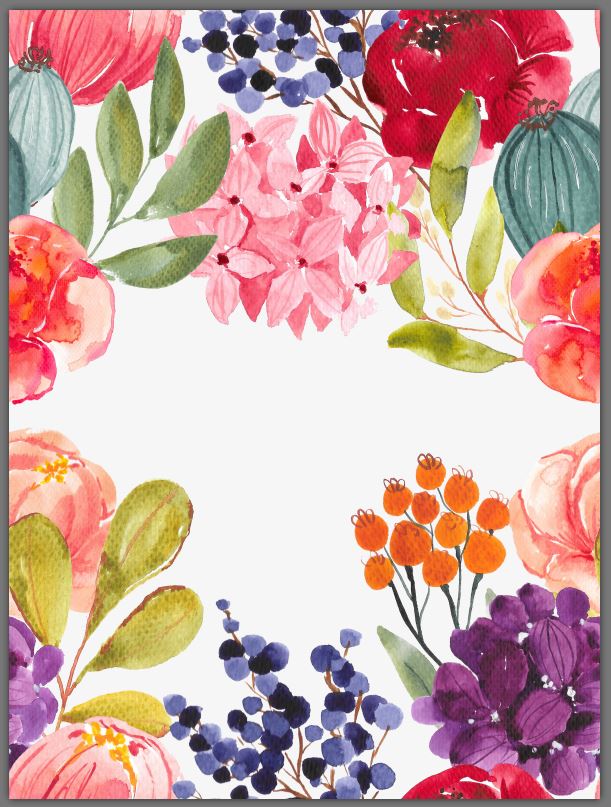 Step 5: Fill in the last blank area with more of the design.
And once that last blank area is filled in, you now have a repeatable design that can be used as wallpaper, fabric, wrapping paper, etc.
Once you have your design finished and saved, you can upload it to Spoonflower and use their selection options to get it sized just like you want it to fit on the wallpaper (or fabric).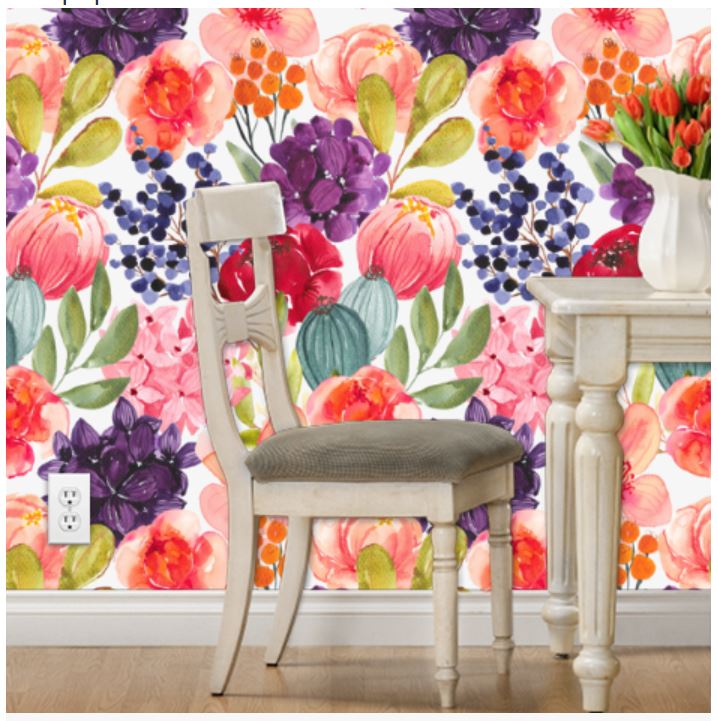 So there you have it! You don't even have to have artistic ability to create your own custom wallpaper specifically designed for your room. Let someone else do the creative stuff for you, and then you can just arrange the elements as you want them on the wallpaper.
Now just a word about purchasing and using other people's artwork. First of all, pay for the graphics you use. You can probably find all kinds of free graphics online that can be used like this, but more than likely, those graphics were stolen from an artist. Artists deserve to get paid for their work, and graphics like these are generally very reasonably priced. So please pay for them and support an artist.
Also, please note that when you make a purchase, you're not actually purchasing the artwork. In other words, you don't own the artwork outright to then use in any and every way you want. What you're purchasing is a license to use the artwork in a specific way.
For example, I originally purchased this artwork to create wallpaper. However, you might recognize that I used lots of these watercolor elements in my recent website design. All of the watercolor floral elements you see on my new site design are from these packages that I purchased. So since I chose to use them in that way, that one license allows me to use them in my Addicted 2 Decorating branding, but any other usage would require an additional license. So if I do end up actually creating and using wallpaper made from these watercolor flowers, I'll be purchasing an additional license for each watercolor set that I use.
Please also note that if you want to use things like this to create something that you offer for sale, that generally requires a different license other than the inexpensive standard license. In other words, I can purchase a standard license and create some wallpaper for myself to use in my studio, but I can't put that wallpaper on Spoonflower and offer it for sale to others. That would require a much more expensive and broader license.
So when purchasing artistic elements like these, just be aware of what kind of license you're purchasing, and how those elements can be used. This just ensures that artists get paid properly for their work, which I think we can all agree they deserve! 🙂
---
Links to other posts and helpful sources/products mentioned in this post:
Want to see how to turn a very simple acrylic painting into a repeatable pattern for wallpaper, fabric, wrapping paper, etc? I show you how here…
*This post contains affiliate links.
Update:
This wallpaper is available for purchase! You can click here to find it on Spoonflower.
I've installed this wallpaper in my studio, and it's amazing! Here's how it looks in my studio…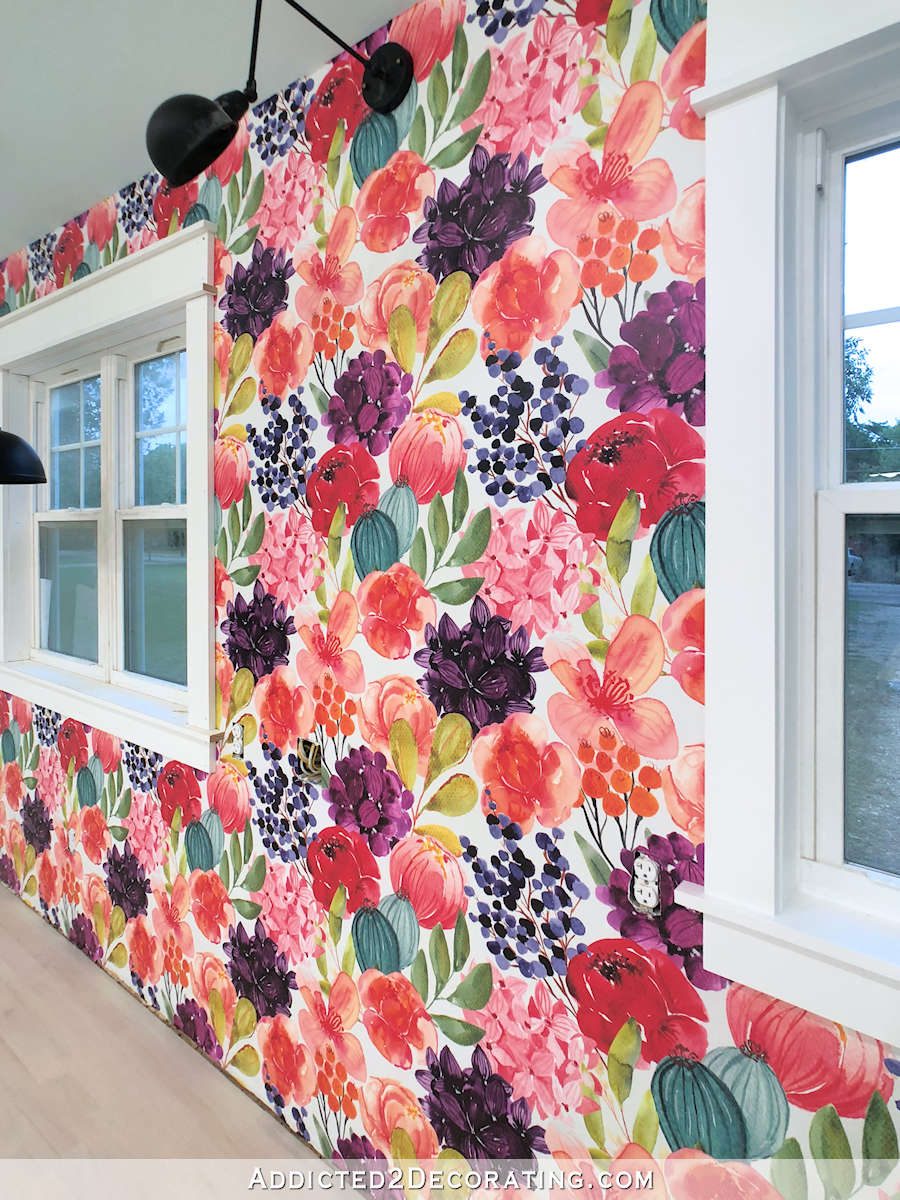 You can see more about my studio remodel here…
Addicted 2 Decorating is where I share my DIY and decorating journey as I remodel and decorate the 1948 fixer upper that my husband, Matt, and I bought in 2013. Matt has M.S. and is unable to do physical work, so I do the majority of the work on the house by myself. You can learn more about me here.