Last Updated on December 17, 2012 by Kristi Linauer
Well it has taken about two years (give or take a month or two), but my utility closet is almost finished, and I finally have a countertop!
(By the way, I apologize for the dark pictures. Two of the three light bulbs in my hallway light were burned out, and I didn't have any extras on hand.)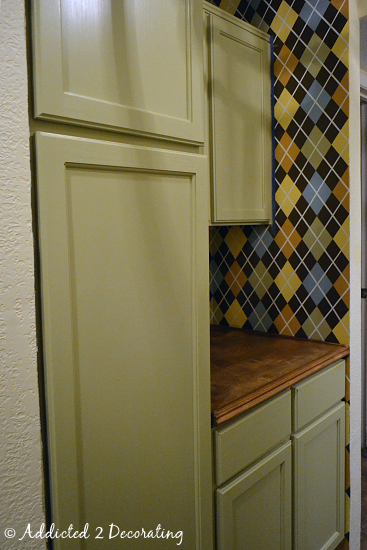 I decided to stain the countertop, and when the good people at Rustoleum said that would send me samples of their new wood care products, I jumped at that chance!  So when my Rustoleum wood stain and matte finish polyurethane arrived yesterday, I scrapped my original plans for the afternoon and made my little countertop instead.  Sadly, I ran out of time, so I still haven't polyurethaned the countertop.  I'll do that today, and I'm so anxious to try out the matte finish polyurethane! Did I tell you that Rustoleum's new polyurethane requires soap and water cleanup? Yep! It's true! Soap and water!
So you'll have to wait bit longer to see the countertop with its pretty matte finish, but for now, I'll show you how I made this wood countertop with the faux routed edge. Doesn't it look like it has a pretty double ogee edge?
Anyway, I've used a similar process before to make a table top, and it turned out beautifully.  So if you need a countertop, desk top, or table top, you might give this a try.  It's pretty inexpensive and easy!
I started out with a piece of cabinet grade plywood.  I used my circular saw to cut it to the correct size.

Now let me say that I'm cheap (you know that), so instead of purchasing a full piece of plywood and cutting it to the right size that would fully cover the depth of my cabinets plus give the the appropriate amount of overhang at the front, I instead used a cheap quarter piece of plywood (called a Handy Panel at Home Depot).  It was exactly 24″ deep, so I had to get creative.  I used this 1/4″ X 2″ piece of wood to attach to the front…

I attached it with wood glue and my nail gun.

Then I took this pretty piece of moulding…

Here's a picture of the profile.  Sorry for the blur.  My camera wanted to focus on anything and everything except the edge of the moulding.

And with the thin side up, I attached that piece of moulding to the front edge of the countertop.  Using the thin side up gives the impression that the countertop is a thick piece of wood with a routed edge.

Next I needed to take care of these gaps.

So I used thin strips of wood (I'm not even sure what these are called, or what their intended purpose is) to create a "frame" around the edge to cover the gaps.  Yes, actual carpenters, I know you're shaking your head right now.  But we non-carpenter DIY types have to make do with our less-than-perfect wood cutting skills.
🙂

Here's a peek at the other side.

Next, I used wood filler to fill in any cracks between the wood pieces on the front edge, and to fill in any nail holes.

On areas like this, I really lay it on thick, let it dry completely, and then use my electric sander to sand it down until it's perfectly smooth.  On the other areas (nail holes), I just sand those by hand.

With all of that finished, I was finally ready for stain!

I really love the color they sent me called Early American.  It has just the right amount of red in it for my taste.  (I'm not a fan of stains that have lots of red, like cherry).

I was less than thrilled with the particular piece of plywood that I chose.  Once it was stained, it looked a bit splotchy (I assure you, that's the wood, not the stain).  It's just so hard to know how a piece of wood is going to look once it's stained!  You can pick a piece that looks so smooth, with very little grain in its unfinished state, but as soon as you get stain on it, you see grain and pattern in it that wasn't visible before.  But in the whole scheme of things, I'm okay with it.  I doubt that anyone else will scrutinize my countertop like I do.

I just love how that moulding on the front edge give it the appearance of a double ogee edge.  Fancy schmancy!  😀
By the way, this is the same technique I used when I remade John & Alice's breakfast table…

So you can see how easily you can create beautiful countertops, table tops, and desk tops with just a piece of plywood and a bit of pretty moulding!
Addicted 2 Decorating is where I share my DIY and decorating journey as I remodel and decorate the 1948 fixer upper that my husband, Matt, and I bought in 2013. Matt has M.S. and is unable to do physical work, so I do the majority of the work on the house by myself. You can learn more about me here.
I hope you'll join me on my DIY and decorating journey! If you want to follow my projects and progress, you can subscribe below and have each new post delivered to your email inbox. That way you'll never miss a thing!