Last Updated on December 24, 2015 by Kristi Linauer
It's felt so nice actually getting things finished around the condo lately.  I finally finished my kitchen a few weeks back, and then last week, I finished up my breakfast room.  Now I'm turning my attention to my mostly-finished hallway and utility closet.
I was making great progress on my hallway and utility closet at the beginning of this year.  I came so close to finishing it…then I completely dropped the ball.  I believe the last thing I showed you on it was my painted striped curtains that cover the washer and dryer closet.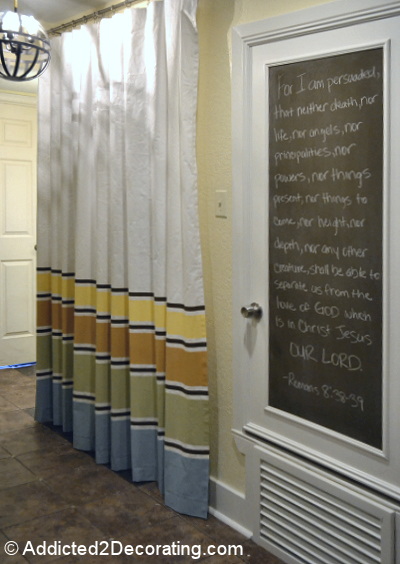 I still have a short "to do" list for the hallway.  As you can see from the photo above, I still need to finish up some tiling and grouting.  I also have some trim work to do.  My DIY light needs a little work.  See how the "cage" came loose and is hanging too low?  I need to fix that.
The biggest project will be installing a pre-hung door.  I've never done that before, so I've been watching some YouTube videos that demonstrate the process.  It doesn't look too difficult, but I'm still a little nervous about it.
Opposite the washer and dryer closet is the closet-turned-utlility-room.  It started out as just a regular 'ole closet with bi-fold doors.  I removed the doors, had the opening widened, and installed cabinets and a little diy wood countertop.  It's a much better use of space, in my opinion.  That side is pretty much done, except for the hardware on the cabinets and finishing up the toe kick on the cabinets.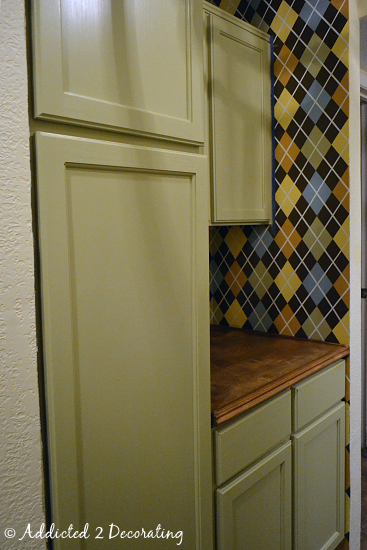 So my goal over the next few days is to finish up my hallway and utility closet.  Because the sooner I do that, the sooner I can get started on my bathroom makeover!!  And I'm so excited about tackling that tiny little room!
Do you have any projects you're feverishly trying to finish up before the end of the year?  Or have you decided that your projects can wait until the new year?  For me, it's like a mad dash to the finish line!  🙂
Addicted 2 Decorating is where I share my DIY and decorating journey as I remodel and decorate the 1948 fixer upper that my husband, Matt, and I bought in 2013. Matt has M.S. and is unable to do physical work, so I do the majority of the work on the house by myself. You can learn more about me here.
I hope you'll join me on my DIY and decorating journey! If you want to follow my projects and progress, you can subscribe below and have each new post delivered to your email inbox. That way you'll never miss a thing!