How To Shop At A Garage Sale
Garage sale season is upon us (at least here in central Texas), and I couldn't be happier about that!
Oh gosh, what is it about searching through other people's junk that I find so absolutely irresistible?  I love wandering around someone's driveway or front yard, their junk strewn all around, and imagining the possibilities.  It's like knowing a fabulous secret that nobody else knows.  Everyone else may look at the beat up old wood sideboard and see junk.  I see a potential beauty that just needs some love and attention…and elbow grease
For those of us trying to decorate our homes on tiny budgets, purchasing furniture and accessories at a garage sale, flea market, or estate sale can be a great way to maximize the money we have, and potentially save hundreds–if not thousands–of dollars in the process.
However, if you're new to D.I.Y. projects and are not accustomed to finding treasures and fixing them up, searching through other people's cast-off items may seem like a daunting task, and when it comes to fixing them up for your own home, you may feel a bit overwhelmed.
If you're new to purchasing second-hand items for your home, here are a few things to keep in mind as you're searching for new treasures.
---
Pay attention to shape, not color
As you're shopping for wood furniture, lamp bases, or anything else that can be painted, try not to pay attention to the existing finish on items.  Instead, pay close attention to the shape of the item.  Does the furniture piece have interesting legs?  Does it have a bowed front?  Does it feature beautiful carving?
If the item has a feature that gives it interest or charm, then it definitely has potential, even if the existing finish is peeling, or if it's just not the right color.  After all, furniture, lamp bases, sculptures, and other hard-surface items can always be sanded and painted.
Yard sale dresser makeover from Vacuuming In High Heels & Pearls
---
Judge the Lamp Base, Not the Lamp Shade
When shopping garage sales or estate sales, you will generally find lamp bases with lamp shades, and more times than not, the lamp shades will be horribly outdated (in shape or color), or will be bent or otherwise mangled.
Don't be sidetracked by a terrible lamp shade!  Look at the lamp base instead.  If it has an interesting shape, it's a keeper!  And don't forget that a lamp base can always be painted.  Add a new lamp shade (or make your own), and your new lamp will look fantastic!
Yard sale lamp makeover from My Blessed Life
---
Don't get distracted by bad upholstery
It's very easy to get distracted by ugly, dated, or torn upholstery fabrics.  However, keep in mind that these can always be changed, and new fabric will give an upholstered piece of furniture new life.
If you've never taken on an upholstery project before, you might want to stay away from fully-upholstered items, like sofas and loveseats.  Instead, opt for items that are mostly wood or metal, and have small upholstered parts, like wood dining chairs with upholstered seats.   These projects can be tackled quite easily, and they make a great project for any beginner.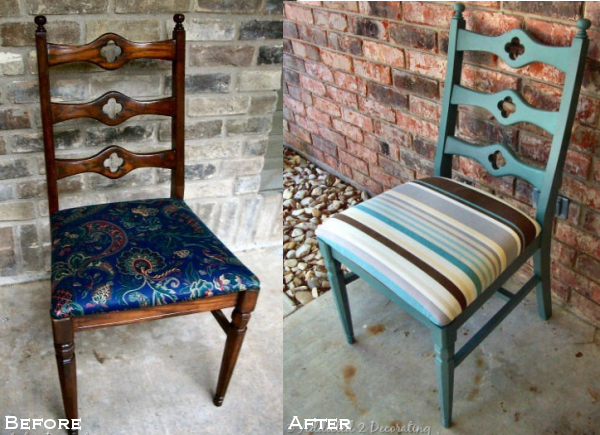 Painted and reupholstered second hand dining chairs for John & Alice family room makeover.
---
As you gain more experience with garage sales, estate sales, and flea markets, you will begin to quickly recognize those items that can be easily transformed.  The main key is to remember one thing…
Paint will quickly become your number one friend when purchasing used items for your home.  If you don't yet fee confident with a paint brush in hand, now is the time to learn and practice!
So here's a little cheat sheet…the top items I look for at a garage sale:
1.  Any solid wood furniture.
I look at the condition and shape of the piece, and ignore the current finish on the piece.  If it's solid wood, and the doors and drawers work properly, it's a keeper, even if it's currently painted in a purple and green leopard pattern.  Solid wood items can be completely transformed with nothing more than a bit of sanding, priming and painting.
2.  Interesting lamp bases.
As mentioned above, lamp bases can be completely transformed with a can of spray paint.  Brass lamps are my favorite because they're generally smooth, have interesting shapes, and take paint nicely.  But I don't limit myself to brass lamps.  Any lamp base with an interesting shape is fair game.  And remember…don't let an ugly lampshade deter you!  You can pick up a new one at Lowe's or Target, or you can make a new one yourself out of an old lampshade.
3.  Hard bound books.
I know this is a sensitive topic to some book lovers.  "Books shouldn't be used as decorations!"  I've heard it a thousand times.  Frankly, I think hard bound books are fantastic to decorate with, and they can be found for a dime a dozen at yard sales.  I love to cover them in paper, fabric, or just leave them alone if the cover is a pretty color.  They're great for adding to bookcases (I'm a firm believer that bookcases should have BOOKS), adding height to vignettes, etc.
4.  Pairs of chairs.
One sturdy chair is a great find at a garage sale, but when you can find a pair of chairs, even better!  A pair of wingback chairs for your living room, or a pair of Parsons chairs to use as captains chairs at your dining table.  I find pairs of chairs to be absolutely irresistible!
5.  Vases, sculptures, etc.
These items are great for filling space in bookcases, shelves, or adding to vignettes.  And here again, they can generally be painted to make them perfect for your home.
6.  Clothing, especially sweaters.
I know this might sound a big strange at first, but I do look through the clothing racks at garage sales.  These are great places to find interesting fabrics at unbelievably low prices that you can use to make pillows, patchwork quilted throws, table runners, etc.  You just might even find enough fabric to cover a couple of dining chairs!  My absolute favorite thing to find?  Cable knit sweaters!  Those make gorgeous pillows!  Unfortunately, they're a bit difficult to find here in central Texas.
So those are my garage sale tips!  I absolutely love shopping garage sales, even more so than shopping at thrift stores because you can find such amazing bargains at garage sales.  When people are wanting to clear out their junk, they're often willing to let stuff go at ridiculously low prices.  On the other hand, thrift stores seem to be catching on to what items are popular among us thrifters, and prices at thrift stores seem to be climbing.
Are you a garage sale fanatic like I am?  What are your tips for shopping garage sales and finding the best bargains?  What type of items do you keep an eye out for?
Addicted 2 Decorating is where I share my DIY and decorating journey as I remodel and decorate the 1948 fixer upper that my husband, Matt, and I bought in 2013. Matt has M.S. and is unable to do physical work, so I do the majority of the work on the house by myself. You can learn more about me here.