My Favorite Decorative Moldings & Trims (And How I Use Them)
Happy Monday, y'all! This weekend I got two projects almost finished — my niece's bedroom built-ins and my buffet makeover. I thought for sure I'd have one or the other to show you today, but try as I might, I came up short on both. On my niece's built-ins, I still have a bit of caulking to do, and then it needs two coats of paint. On my buffet, I still need one coat of paint on the drawers and doors, and then I need to figure out what to do about replacement hardware. I couldn't find anything at Home Depot that fit (or that I even remotely liked for that buffet), so today I'll head to Lowe's and some local places to see if they have better hardware. But I'll definitely have both of those projects finished this week to show you.
So today I want to answer a question that I get fairly consistently, and that's about the decorative moldings and trims that I use for my projects — how I select them and how I use them. I thought I'd just share my favorites (believe it or not, I only just a handful of go-to trims — maybe three or four at the very most) and show you how I've used them on past projects. I always buy my moldings from Home Depot, but I'm sure that Lowe's and other home improvement stores have similar items. As long as you know generally what to look for, you should be able to find similar items at any big box home improvement store.
1. Small Cabinet Trim
One of my favorite go-to trims is this small pine cabinet trim.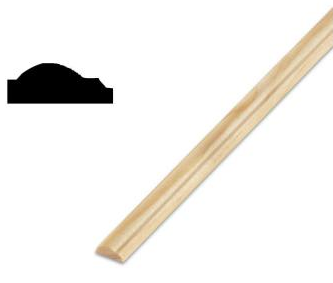 It's sold by the 8-foot piece (not by the linear foot), and it's just over 1/2-inch wide. It has a flat back, so you can attach it to the face of drawers, cabinet doors, and anywhere else you need a narrow trim, and it also comes unprimed, so you can stain it or paint it. This trim is so small that it's best to use a new, very sharp blade on your miter saw to cut it, or else you'll end up splintering the pieces and wasting money. Also, I always attach this trim with the smallest finishing nails possible (based on the tools available to me). Since my smallest nail gun is an 18-gauge gun, I generally use 18-gauge 1-inch finishing nails. And wood glue, of course. 🙂
Here are some examples of how I've used this trim:
After adding the decorative panels to the sides of the bathroom vanity using 1/4-inch plywood, I used the small cabinet trim on the front edge of the vanity to cover the raw edge of the plywood.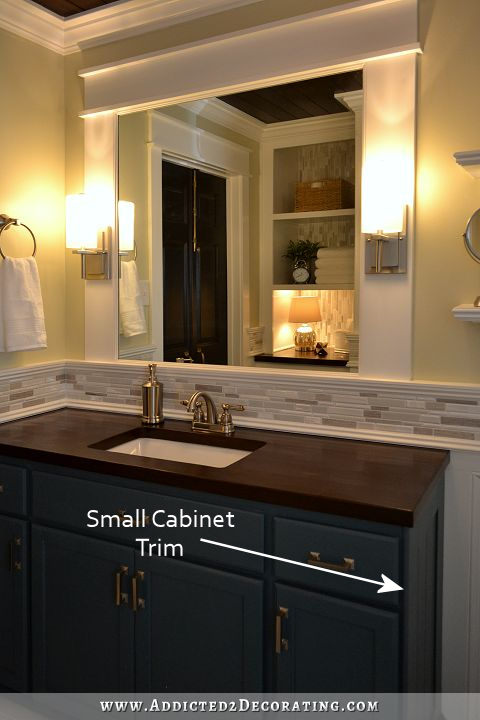 I used it on my headboard, attached as a small "frame" for the vinyl and nailhead trim.
I used it on my rolling doors to cover the area where the MDF fretwork piece was attached to the door. I had some small gaps between the fretwork and door, and neither of those things were cut perfectly straight, so it looked very unfinished. The trim covered it and gave it finished look.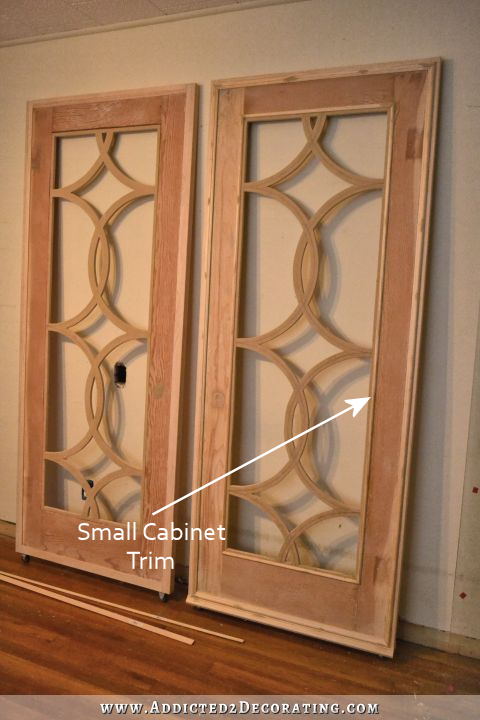 And most recently, I used this small trim to make a very simple and easy drawer front for my niece's built-ins. I just used 1/2-inch plywood for the drawer front, and then used two pieces of the small cabinet trim on each of the four sides — one piece on the outer edge of the plywood to cover the raw plywood edge, and one piece on the face of the plywood to add more of a decorative look. These aren't finished yet (still need caulk and paint), but you can see the two layers of trim on each side.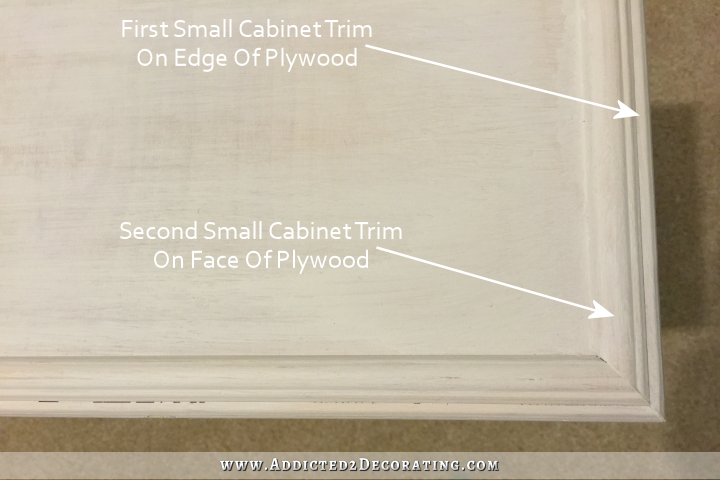 I'm sure I have many more examples of this trim, but you get the idea.  If I need something small and decorative — often to cover the edge of raw plywood, or cover the area where two pieces of other materials meet (like on the rolling doors) — then this is my go-to trim.
2.  Panel Molding
This unfinished pine panel molding is, without a doubt, my #1 favorite go-to trim for just about all of my projects.  If I had to guess, I'd say it appears on at least 75% of the wood items I build.
It's 1.25-inches wide, and 3/4-inch thick, so it's a very substantial trim.  It comes unfinished, so you can paint it or stain it, which makes it very versatile.  And it's sold by the linear foot, so you can purchase just what you need and have little to no waste at the end of your project.  You'll notice that it's called wainscot/paneling panel molding, but of course, I don't pay any attention to labels when I peruse the trim aisle.  I don't care what the trim is intended for.  I only care about whether or not it'll work on my particular project.
I used this panel molding all throughout my bathroom remodel — around the bottom of the vanity, on the top and bottom of the accent mosaic tile, around the bottom of the wall in place of quarter round, and on the edges of the shelves that I made (which are simply two layers of MDF with this molding trimming out the edges).
I used this trim on the pony walls and columns, not only around the edge of the ledges, but also around the base and top of the columns.
And again, this trim comes unfinished, so it can be stained, which made it perfect for my headboard.
If, for some strange reason, I could only select and use one molding on my projects, this would be it  It's so versatile, and as you can see in my bathroom, you can use it throughout a room on various things, and nobody would ever know.  I guarantee you that nobody who enters my bathroom would ever notice (unless I point it out, of course 😉 ) that the exact same molding is used on the vanity, on the walls (in three different places), and around the edges of the shelves.
3.  Base Cap Molding
Base cap molding is intended to be used to dress up plain baseboards – like if you have a house where simple 1 x 3's or 1 x 4's were used as baseboards — but it can be used for so much more!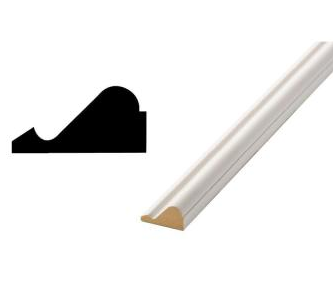 This trim is almost as versatile as the panel molding above that I love so much, and it's also sold by the linear foot.  The one drawback to this base cap molding is that it comes pre-primed, so it can only be used on projects that will be painted.
I have actually used this product for its intended purpose. I did use it as a cap for the baseboards that I used around the pony walls. But I also used it in two other places — around the base and top of the columns, and around the inside of the recessed panels.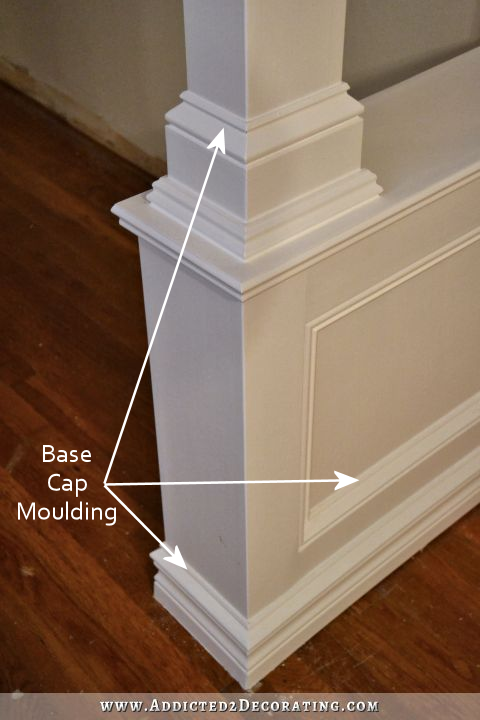 This trim is my go-to trim for the recessed panel (judge's panel) style wainscoting. I create the "frame" using MDF boards, and then place this trim right inside the frame.
Oh, hey!  And look there under the ledge on the bathtub.  More panel molding!  🙂  I'm tellin' ya, it's my favorite.
I did the doors on the built-in closets in the condo bedroom in a similar style, and they also have the base cap molding inside the "frames."
Oh, look there!  More panel molding around the edges of those bedside shelves.  It's everywhere.  Everywhere, I tell you.
And when I gave my fireplace a facelift, I did so by adding base cap molding inside the "frames" on it as well.
And of course, I couldn't leave out my favorite panel molding.
Believe it or not, that's it. Those really are my three main go-to trims. I use them over and over and over again because I find these to be the most versatile, and of course, the prettiest, in my humble opinion. 🙂 I know I've just shattered the illusion that I'm some kind of artist when it comes to using all kinds of trims, and mixing and matching them to come up with unique combos. But I guess that just goes to show that you really don't need to spend a great deal of time on the trim aisle. Just find a handful of your favorites, and use those as your go-to trims for your projects. No one but you will ever know, unless you decide to share that info with them. 🙂
There are a couple of other decorative trims that I use, like this larger cabinet molding, which I use in the same way as the small cabinet molding, but I select this one when I need something more substantial.  I find myself using the small cabinet trim much more often, though.  I used this to make the cabinet doors and drawer fronts in the condo bathroom.  And then on occasion, I also use the panel molding that has the rabbet on the back.  I used this in my kitchen remodel, but that's pretty much the only place I've used it.
And of course, there are the basics — quarter round and shoe molding.  I don't think I need to go over those in great detail since almost every single DIYer would be familiar with those trims, and I really don't use those for anything unique.
Have any questions about trim? Just let me know! 🙂
Addicted 2 Decorating is where I share my DIY and decorating journey as I remodel and decorate the 1948 fixer upper that my husband, Matt, and I bought in 2013. Matt has M.S. and is unable to do physical work, so I do the majority of the work on the house by myself. You can learn more about me here.