In The Studio: Layered Resin Landscape and Resin Petri Dishes
Well, as most of you probably predicted, I've become a tiny bit obsessed with resin. My first experience was pretty basic — covering my pixel art with four coats of resin. (You can see that here.) I wanted to just get the feel of the product before branching of with more artistic resin endeavors. But now that I've got the feel for it, I'm hooked. I mean, the possibilities with resin are endless, and I want to do ALL of them.
I use ArtResin, which you can find here. I use that brand because it seems to be preferred by artists, and it yellows far less than most other resins over time.
My first idea was to do a layered landscape with the various elements separated by layers of resin in order to give depth the picture. I wanted to do this first one just as an experiment to see if my idea would even work, so I just used some leftover Behr paint I had on hand. Here's how it turned out…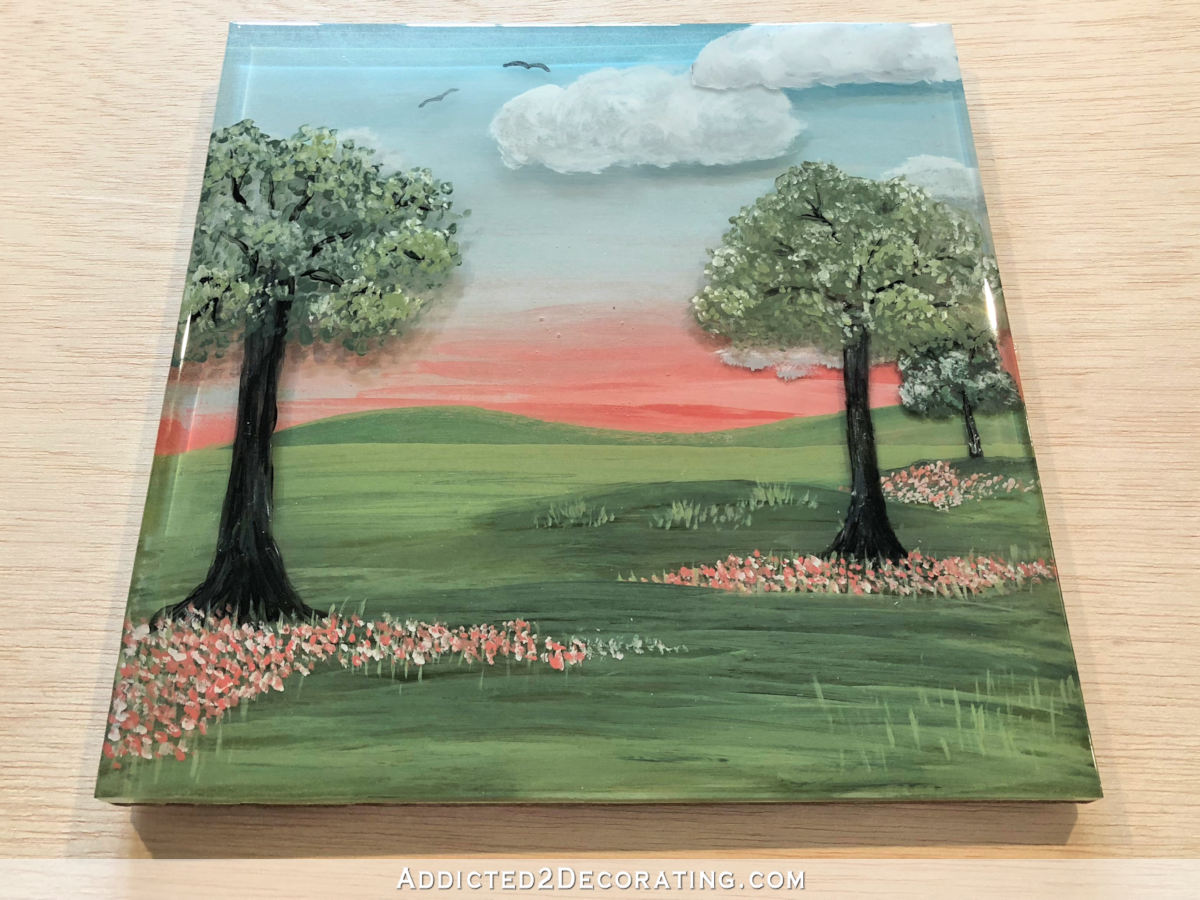 Unfortunately, the depth that the resin gives the painting is extremely hard to capture in a photograph. But in person, it's really mesmerizing. You can see the shadows cast by the tree and the clouds here…
And of course, those shadows are because those elements are painted on the upper layers of the resin.
In this next picture, you can see how the shadow from the tree trunk has a step effect as it is cast on each separate layer of resin…
And if you look from the side, you can also see the separate layers.
My intent was to use ten layers of resin to create the painting, but I ended up stopping at five layers. Like I said, this one was an experiment, and unfortunately, I was too busy concentrating on the layers of resin and not paying close enough attention to the actual elements I was painting. Everything was fine until I painted this tree and this cloud on the same level.
…which of course, is ridiculous. A tiny little cloud would not be hovering inches able a tree like that. That cloud (and really, all clouds) should have been painted on one of the first layers, because any clouds that would be on the same resin layer as the second and third trees would be so high in the sky that they wouldn't be seen in this landscape.
So that was my first lesson learned. All clouds should be on the first layers. If I were doing ten layers, I'd keep the clouds on the first three layers, and paint the trees on subsequent layers.
I tried to wipe the cloud off of that layer of resin with a damp cloth, but I sanded each layer of resin with 220-grit sandpaper before painting each layer just to get the paint to stick, and it wouldn't wipe off completely. So having made that mistake, and still wanting another cloud in the sky I went ahead and repeated that mistake on the next layer. 😀 I painted this tree and this cloud on the same layer, which of course, is ridiculous….again.
But this was the whole reason I wanted to do this experiment. I knew I'd get the layers wrong on the first attempt, and now I can do another one and hopefully get them right.
My other mistake was painting on 1/4-inch MDF. With so many layers of resin drying on one side and nothing on the other, the MDF bowed just a bit. So next time I'll try a 3/4-inch MDF so it'll have more strength to prevent bowing.
And finally, I failed to put the painting on a level surface to dry, so one side is noticeably thicker than the other side. I'll definitely be more careful with the next one. But this was definitely a fun experiment! I'd work on a layer in the evening before I went to bed, and by morning it would be dry.
In addition to my layered landscape, I also tried my hand at some resin petri dishes. You can find these all over YouTube, and I find them fascinating and mesmerizing. To make these, I simply poured four ounces of mixed resin into a round silicone mold (these are the ones I have), and then dropped various colors of alcohol inks onto the resin. (This is the set of alcohol inks that I bought.) And then I let the resin and alcohol ink do its thing, and in a few hours it was dry enough to pull it out of the mold to see what design it had created.
I was disappointed with my first attempt. I used magenta, white and gold, but I think I used too much ink, so the whole thing looked way too two-dimensional. I couldn't see much depth to it at all, and I also hated the gold.
On my second attempt using the same colors, I tried to use less ink. And yet it still ended up being too opaque and two-dimensional, although there were a couple of spots where you could see a bit of dimension.
After those first two attempts, I decided to leave out the gold. It didn't seem to mix and move like the other colors, and just left splotches. So next I used purple, white and black. And I could finally see some dimension.
And then I did an orange, white and black…
And then I started to get some really good results. This one was magenta, orange and white. And the center is really dimensional and beautiful on this one…
And then I tried a blue and white. This one also has a tremendous amount of depth to it, which I love.
So what does one do with resin petri dishes? Well, you can use them as coasters, use them as paper weights, display them individually on tiny little easels, or frame and mat them. You could hang one or create a gallery wall of them.
So I'm just beginning my resin art journey, and having a blast.
Addicted 2 Decorating is where I share my DIY and decorating journey as I remodel and decorate the 1948 fixer upper that my husband, Matt, and I bought in 2013. Matt has M.S. and is unable to do physical work, so I do the majority of the work on the house by myself. You can learn more about me here.