Last Updated on December 24, 2015 by Kristi Linauer
My goal today is to offer inspiration. This isn't for all of you. I know there are those of you who simply thrive in neutral homes, and long for cabinetry in your home that is painted white, or another neutral color, or that is stained wood. If that's what you like, and that's what your personality calls for, then that's definitely what you should have.
But this is for those of you who long for more color in your home. Perhaps you're living surrounded by neutrals, but you know that it's just not "you." And yet, you're afraid to take the plunge. You know who you are. 🙂
I think there are a lot of people out there like this. I look around at the unbelievably overwhelming number of white and neutral kitchens and bathrooms out there, and I just think to myself, "Surely not everyone can like all of this neutral stuff!!" I just know in my heart that there are plenty of people living with these neutral kitchens and bathrooms, not because they love neutrals, but because they're afraid to embrace color.
I'm definitely not one of those people. 🙂 I've tried the whole neutral thing, and it just doesn't resonate with me. I love to see a beautifully decorated neutral room in other people's homes, but I can't live with it in my own home. Obviously.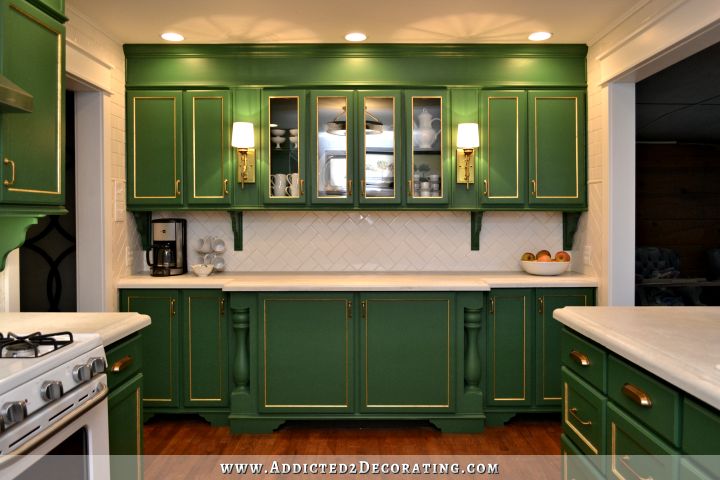 My current green kitchen
My previous teal kitchen
Color just speaks to me. It nurtures my creativity. It actually relaxes me, where neutral rooms make me feel anxious.
If you share my love of color, but you've been afraid to take the plunge on something  as large and dominant as kitchen cabinets, then take a smaller step and paint your bathroom vanity. It's a good place to start, and a safe place to begin introducing more color into your home. And if you're wanting to embrace color, but still be on the "safe" side, a shade of blue or green is beautiful while still being safe. Blues just make sense in a bathroom, and greens are nature's neutral, so most people find greens very comforting.  And you could always meet in the middle and use an aqua, or turquoise, or teal, or another blue/green combo.
Eclectic Bathroom by Short Hills Interior Designers & Decorators Ruth Richards, Allied ASID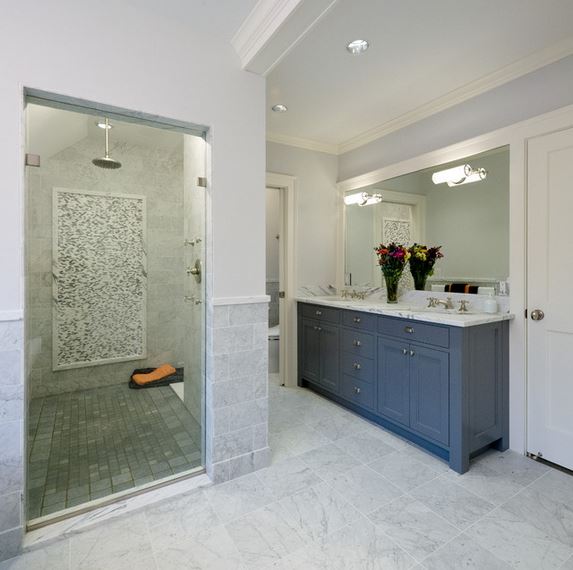 Traditional Bathroom by Minneapolis Design-Build Firms Jones Design Build
Eclectic Bathroom by Seattle Design-Build Firms J.A.S. Design-Build
Bathroom by Fair Haven Interior Designers & Decorators Jessy Krol interiors
Contemporary Bathroom by Indianapolis Interior Designers & Decorators Jeff Sheats Designs, Inc
Traditional Bathroom by Bellaire Architects & Building Designers Laura Manchee Designs
via The House Diaries
via 2013 HGTV Dream Home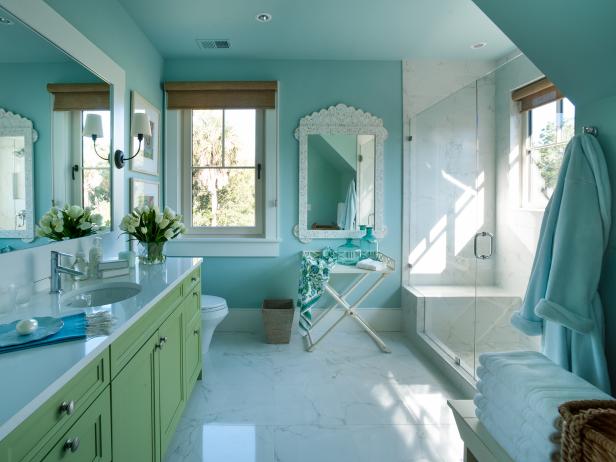 via 2013 HGTV Dream Home
via M.E. Beck Design, Inc.
via Emily A. Clark
via This Old House
But of course, if you're really ready to take the plunge, and you want to head straight for the deep end of the pool (no wading in the safe kiddie pool is necessary for you), then go bold!  Most people find warm colors — reds, oranges, yellows — to be a little (or a lot) less "safe", but they sure can have a dramatic impact on a bathroom!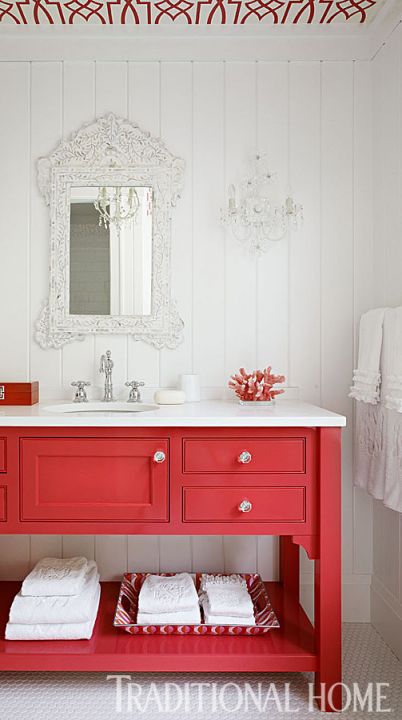 via Traditional Home
via Connecticut Cottages & Gardens
via Suzanne Lovell, Inc.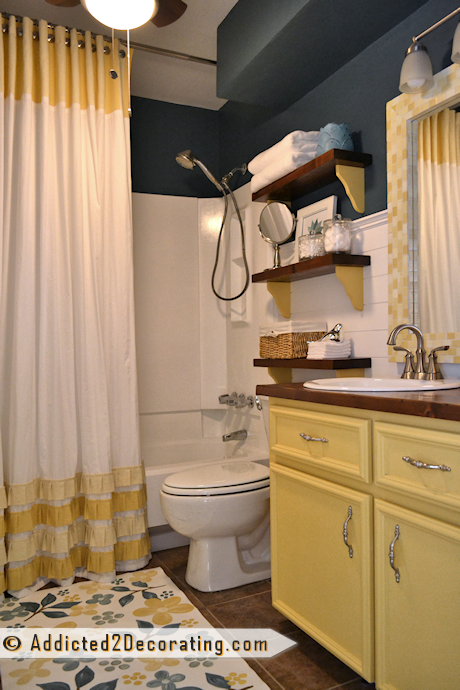 My 20-Day Condo Bathroom Makeover
Oh, how I love color!  And I know many of you do, too.  And if I've inspired even one of you to move past your fear, purchase some paint, and pick up a paint brush, then my job here is done.  Oh, and send me pictures when you're finished!!  😀
Addicted 2 Decorating is where I share my DIY and decorating journey as I remodel and decorate the 1948 fixer upper that my husband, Matt, and I bought in 2013. Matt has M.S. and is unable to do physical work, so I do the majority of the work on the house by myself. You can learn more about me here.
I hope you'll join me on my DIY and decorating journey! If you want to follow my projects and progress, you can subscribe below and have each new post delivered to your email inbox. That way you'll never miss a thing!