Last Updated on February 8, 2019 by Kristi Linauer
Y'all! There are only five more days in September! This fact hit me like a ton of bricks this morning. Do you know what that means? That means in five short days, we'll be in the last quarter of 2018. Just three more months. Ninety-two days. That's it.
This seems like a good time for me to refocus. I was looking at my 2018 master list of house goals that I made in January and making updates, crossing off items, and feeling really good about the accomplishments I've made so far this year. I mean, when it comes to the exterior of the house, I got stuff done. I mean…come on….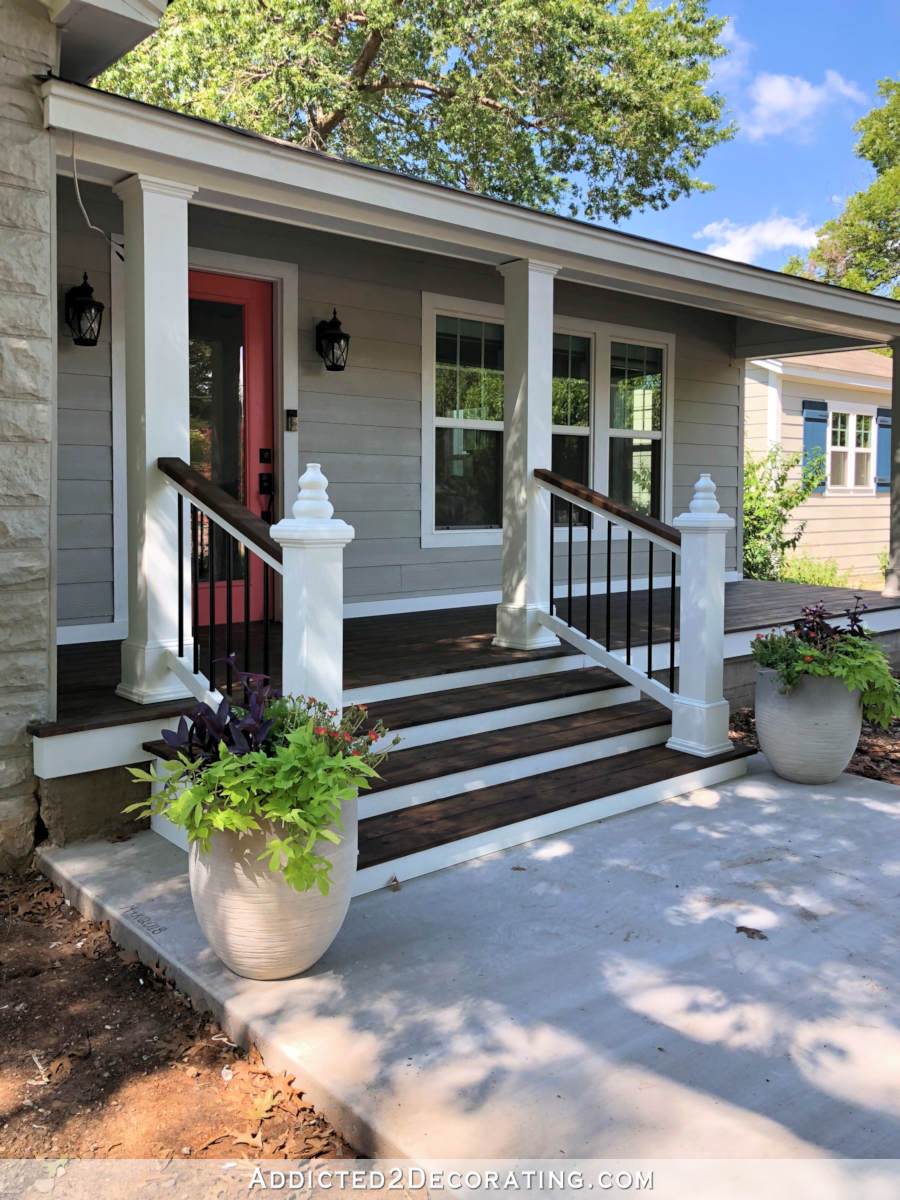 I'm pretty darn proud of that, along with finishing the side portico and the front shutters.
I think there are only two items left on my exterior projects list, and one of those (window flower boxes) is better suited for spring anyway, so I don't mind waiting.
So I was happily going down my list, crossing things off and feeling pretty good about myself, when I hit the last sections — the pantry and studio.
I haven't crossed off a single item on either one of those areas this year. Not a one. Nothin'. Zip, zero, zilch. Nada.
*Sigh*
I so desperately want these areas done, and yet I'm dragging my feet on both. I talk about it. I plan for it. I get excited about talking about planning for it. And yet, I've done nothing. Matt asked me the other day why I'm having such a hard time, and I really had to stop and ask myself what the heck is going on.
I realized that it's just like any other big project, only these are way bigger (especially the studio) than any past project. The planning stage is the safe stage of the project. As long as I'm still planning, there's no chance of making a huge mistake that has to be fixed later (or that I have to just learn to live with). As long as I'm planning, I can trick myself into thinking that progress is being made, while actually having to do nothing at all.
But as soon as I move from the planning to the doing, that's when I could actually make a big mistake that has to be redone later. There's just safety and security in the planning, and it's hard to push myself out of that stage sometimes.
My pantry is the perfect example. It still looks like this…
How many plans have I come up with for that room? And yet, none have been put into action because I'm still not sure about the plan. As of right now, I have no plan for drawers in there. But do I really need drawers? Will I regret not having them? Or would all open storage be better? What if I decide to handle the corner storage in a certain way, and then later find out that another way would have been so much more efficient? Then I'm stuck with inefficient corner storage.
Anyway, I'm stalling, and that needs to change. I have 97 days. Ninety-seven days to really buckle down and get things moving in the right direction in both of these areas of my home. So for the rest of the year, these areas will be my main focus. I may take a day or two here and there to do projects for other areas, like when my fabric arrives for my living room chairs. Or I may just send those off to the upholsterer and stay focused.
But my goal is to see just how far I can get on these rooms. I'm excited to see just how much I can get done if I really challenge myself and stay focused. I'd love to see this…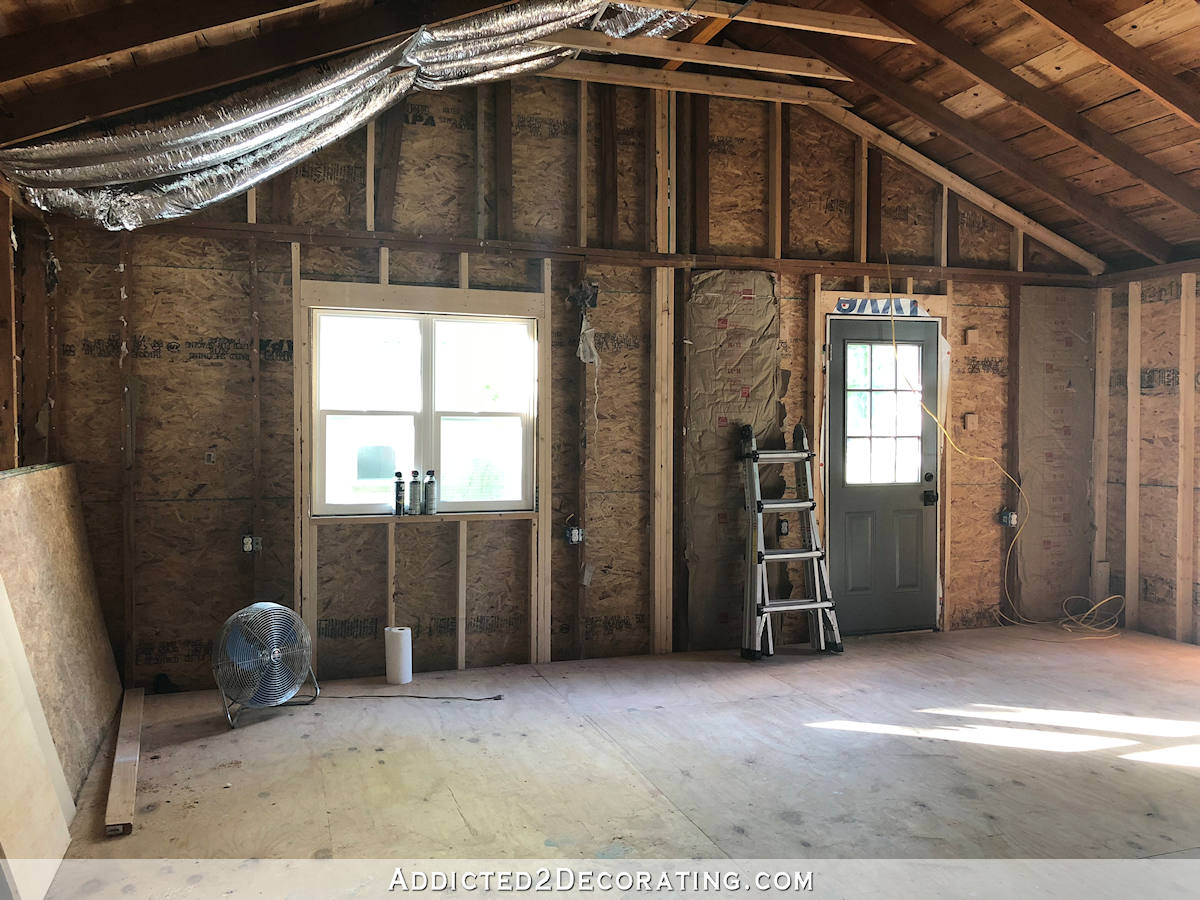 …become a usable space by the end of the year. It doesn't have to be completely finished, but it would be nice to have it to the point where I can at least set up a big work table in here (and get it out of my breakfast room) so that I can work on projects while I finish up the cabinetry and decorative projects for the studio.
So I'm challenging myself. Ninety-seven days. A little over three months. Just how much can I get done? We'll see!
Addicted 2 Decorating is where I share my DIY and decorating journey as I remodel and decorate the 1948 fixer upper that my husband, Matt, and I bought in 2013. Matt has M.S. and is unable to do physical work, so I do the majority of the work on the house by myself. You can learn more about me here.
I hope you'll join me on my DIY and decorating journey! If you want to follow my projects and progress, you can subscribe below and have each new post delivered to your email inbox. That way you'll never miss a thing!