2018 Master List of Home Goals
Happy 2018, y'all! I hope the new year is off to a very good start for you!
I took full advantage of my blogging and DIY break over the last week or so. I didn't even so much as think about working on any projects. Instead, I made it my life mission (just for a week) to do absolutely nothing, to binge watch every cheesy Hallmark movie I could find online, and to relax. It was awesome.
But once the calendar switched over to January 1st, I was ready to go. I've spent the last two days cleaning and organizing, and now I'm ready to jump into my projects with both feet. I'm very excited about what this year holds as far as my house goes. I'm hoping to end the year with a finished and fully functional studio, new half bathroom, mudroom, and pantry.
At the beginning of last year, I made a pretty thorough "to do" list, which broke down my project goals room-by-room. I loved having that list. I felt like it kept me focused for most of the year, and kept me moving forward rather than spinning my wheels with busy work but never getting things done. So because it worked so well for me last year, I'm going to do it again.
So what's in store for this year? Let's take a look at each room/area…
House Exterior:
The exterior of our house got quite a bit of attention last year, with the garage doors removed and replaced with windows, a side entry with portico added, and all new siding installed. But even with all of the progress, things were left in such an unfinished/halfway finished state that it's kind of hard to fully appreciate the changes. So this year, during those pretty days in the spring and fall, I'd like to focus on some exterior projects. I'd like to…
Entryway:
I made a pretty big dent in the entryway last year, with the grasscloth, artwork, credenza and greenery. It just needs a bit more decorating to be finished. So my "to do" list for the entryway is basically to…
Living Room:
I also made some headway on the living room last year. At least now it's actually usable, and I have a place to sit down and relax. But there's still quite a bit to do before this room can be called "finished." I need to…
Touch up paint on baseboards, fireplace, and crown moulding
Reupholster two chairs
Make draperies
Install chandelier closer to the ceiling
Make throw pillows
Decorate and accessorize to finish
Repaint fireplace

Done! (January)

Click here to see.
Music Room:
The music room is well on its way to being finished, but I do have a couple of really big projects in here. I want to…
Hallway:
This hallway was supposed to be an easy project last year, but it has become such a thorn in my side. It's so close to being finished, but at the rate I've been going on it, I'll be lucky if I finish it this year. (Hopefully that's a joke. I hope.) The issue is the big built-in cabinet.
I built the cabinet from scratch, and pretty much got it completely finished. Then I realized that I made a big design mistake, so I undid much of what I did to make the necessary changes. But getting it finished (again) has been quite the challenge.
When I moved the cabinet away from the wall, added the spacer, and then shoved the cabinet back against the wall, the drawer never worked properly after that. I've spent more time than I care to admit fiddling with that drawer, and it still won't work properly. So I'm starting over. I don't mean that I'm starting over on the cabinet, but I'm starting over on the drawer. So in the hallway, I still need to…
Hallway Bathroom:
The bathroom was finished a while back, but with the new hallway door color, the bathroom vanity now needs a new paint color. You can see that I've tested out a few, but have yet to find one that I like. The list for this room is a short one, but I need to…
Kitchen: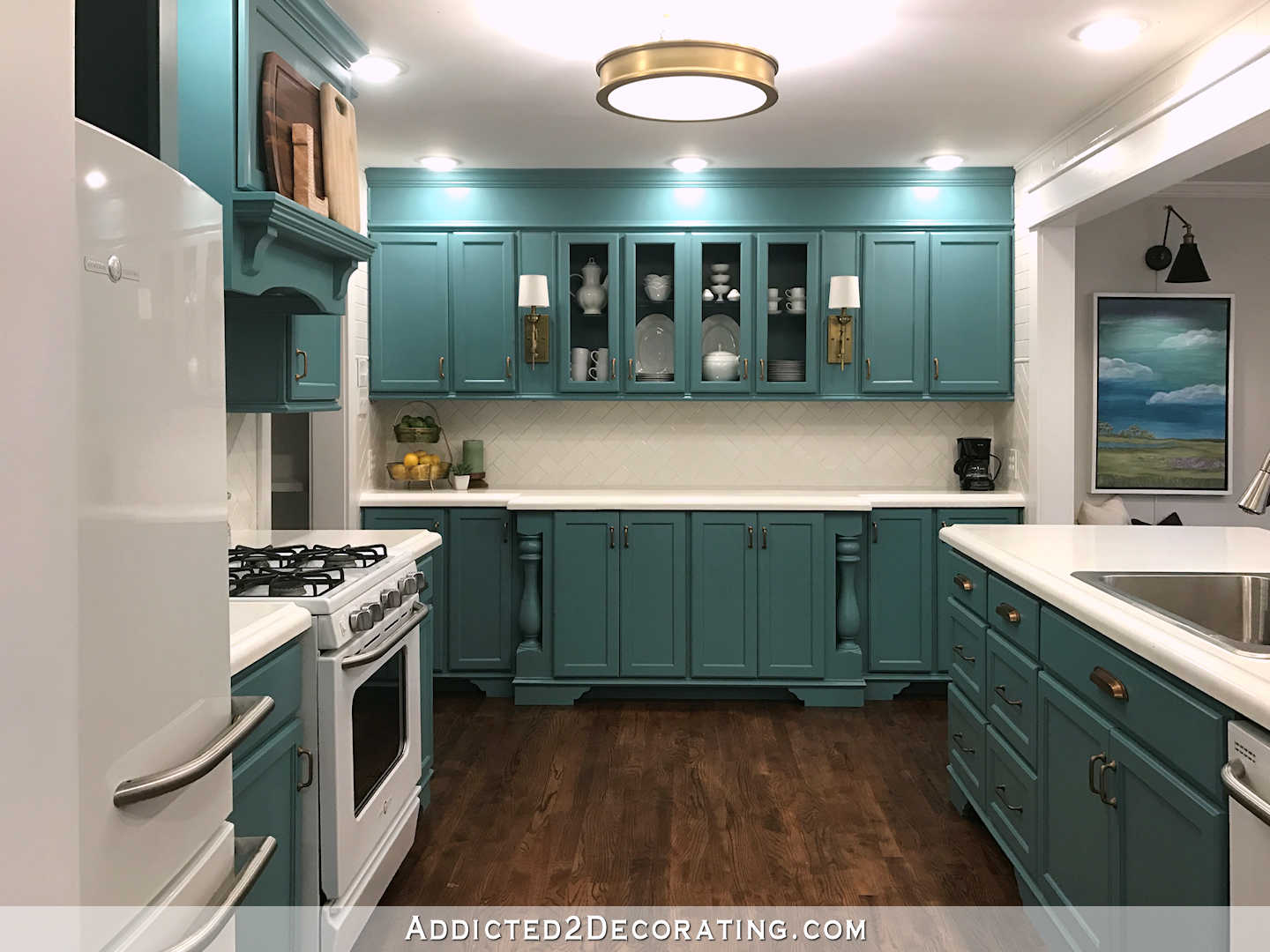 My kitchen got a huge makeover last year, from green to teal, so it's pretty much finished. But there are still a couple of things that need to be done before I'll call it finished…
replace glass in upper cabinet doors

Done! (Kind of.)(August)

Click here to see.
get new appliances
Breakfast Room: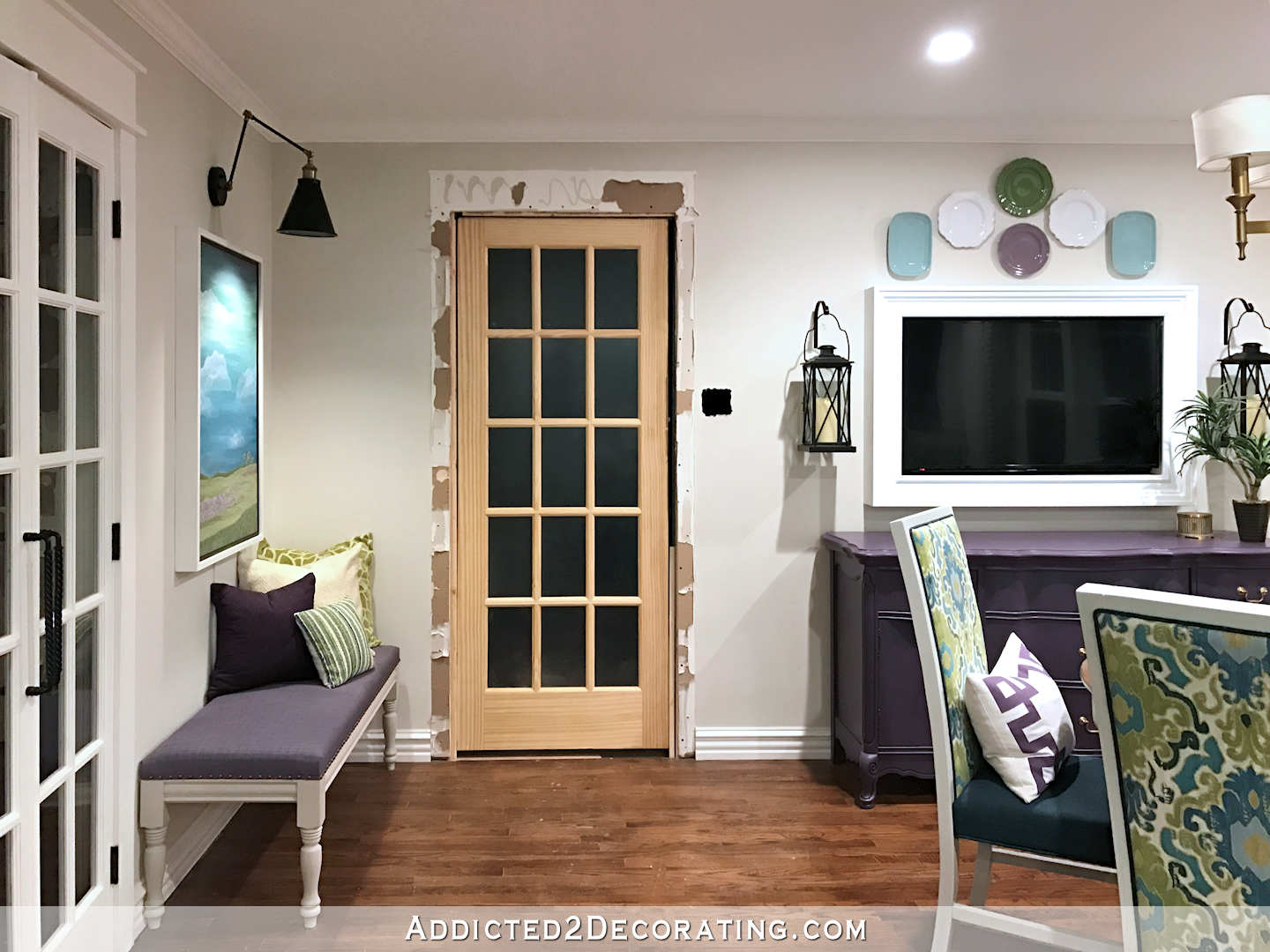 My breakfast room was completely finished. And now it's not. That's just how things go when remodeling an old house. To get it back to its finished state, I need to…
paint the new pocket door

Done! (January)

Click here to see.
install trim around the door

Done! (January)

repair drywall where switches were removed

Done! (January)
Pantry:
The pantry has actually come a long way from where it started, but unless you actually see the before pictures, you'd never know it. Right now, it just looks like a big, unorganized closet. I need to…
wire outlet for freezer

Done! (December) 

Click here to see.
build cabinets for storage

Done! (November/December)

 Reveal coming soon!
make a wood countertop

Done! (October)

Click here to see.
make or buy a shade for the window

Done!

build floating shelves

Done! (November)

Click here to see.
Studio:
Here's where things start to get real. Unlike the other rooms of the house, where the hard parts (like drywall, installing flooring, running new electrical wiring, etc.) are already done and the rooms just need some decorative touches to be finished, these last three rooms/areas are way back at the beginning stages. They're just shells. Blank slates. And these will be the biggest projects of the year.
I've actually been using my studio, but I've been using it as a workshop, which is why the floor is covered with sawdust. That's not quite what this room was intended for, so I need to get all of this mess cleaned up, and then…
run all new electrical wiring
insulate the ceiling and walls
install drywall
install hardwood flooring
stain and polyurethane flooring
paint the walls and ceiling
install door casings and baseboards
build office cabinets
build project area cabinets and desk
build huge workroom table
make window treatments
build or buy a new desk
decorate and accessorize to finish
Half Bathroom:
The new half bathroom needs basically everything that the studio needs, just on a much smaller scale…
run all new electrical wiring
insulate the ceiling and walls
install drywall
install tile flooring
paint the walls and ceiling
install door casings and baseboards
build a vanity
make a shade for the window
decorate and accessorize to finish
Mudroom Back Entry and Closet:
The tiny mudroom (it's probably pretty generous to call this a mudroom) is currently being used to store random furniture. So I need to clear that out, and then…
UPDATE: In July, I decided that this area would be of much more use to me as a large storage closet where I can store my large power tools on rolling carts. This came about because of the addition of the carport, which we didn't expect to be doing this year. Click here to see the changes to this back area of the studio.
run all new electrical wiring
insulate the ceiling and walls
install drywall
install tile flooring
paint the walls and ceiling
install door casings and baseboards
build a closet around the HVAC
paint the French doors
buy and install new door knobs and deadbolt
decorate and accessorize to finish
Wow. That list seems way longer than last year's, and I didn't finish my list last year. So we'll see just how far I get on this one in the next 12 months. I'm way less concerned about finishing the list than I am about just having clear goals that are written down and that will keep me focused. Even if I only get halfway through the list, I'll be fine with it as long as I've maintained forward momentum throughout the year.
And I'm sure, just like last year's list, this list will change as the year progresses. But it should be a very fun year in the home and DIY department!
In addition to this "to do" list, I've also decided that this year, I want to do two other things.
First, I want to make more artwork. I thrive on creativity, and sometimes my need for creativity isn't met when I'm working on building projects for days (or weeks) on end. So this year, one of my resolutions is to make more time for fun, creative projects that serve no purpose other than to keep me feeling renewed and energized.
And second, I want to make more videos. Many of you have asked for a video tour of my home, and I'm actually planning on having that ready either this week or the beginning of next week. And I want to make videos regularly to share with you, whether it's a tour, a room update, a DIY project, an artwork project, or something else.
So I'm ready to get this year's projects started! Here's to a fun, productive, and rewarding 2018! 🙂
Addicted 2 Decorating is where I share my DIY and decorating journey as I remodel and decorate the 1948 fixer upper that my husband, Matt, and I bought in 2013. Matt has M.S. and is unable to do physical work, so I do the majority of the work on the house by myself. You can learn more about me here.