A Tiny Bit Of Pantry Progress — My Freezer Decision
I've been struggling with this decision for quite some time. And quite honestly, I think it is the one thing that has been holding up progress on my pantry for so long. And that decision is…
What kind of freezer should I get?
If I were using modular, movable storage in my pantry, it wouldn't be such a big deal. But my entire pantry of built-in cabinets will be built around the type of freezer I have.
My initial pantry design included an upright freezer on the wall to the left when you enter the pantry. I don't think I ever did a drawing of that, but I did tape it off in the actual room before the drywall went up.
But then my overwhelming need for symmetry grabbed hold, and I decided to go with a chest freezer and center it under the window, and then either pretty it up or build a cabinet around it to disguise it. That layout would have looked like this…
And it just so happened that my brother had a small chest freezer in storage that he no longer needed, so he brought it over for me.
I've been using it for several months now, and let me just say that this pantry delay is probably a very good thing. I've learned a very valuable thing in the few months that I've been using that little chest freezer. That lesson is this…
Chest freezers aren't a good option for short people.
I tried putting something in the bottom of the freezer once. Trying to get it out was ridiculous. So ever since then, I've just been sticking things in the top baskets and avoiding putting anything down in the bottom. Well, a chest freezer doesn't hold much if you just stick to the baskets and avoid the deep part.
But at least now I know for sure that my original plan was the only option that will work for me. So I got online and started searching for upright freezers and reading reviews.
I finally selected one, purchased it, and it will be delivered tomorrow. It's nothing fancy, but it has a 4.7 rating (out of 5) with over 600 reviews. I chose this Frigidaire 14.4 cubic foot freezer. It's very plain, and doesn't have a lot of bells and whistles, but it'll get the job done.
I think it'll be perfect. It's not huge, but it's not small either. (It's over twice the capacity of the chest freezer I've been using.) And it's not tall, so I'll be able to easily reach things on the top shelf. (The struggle is real for us short people!)
It's also a manual defrost. It seems to me that the manual defrost freezers have consistently better ratings than the automatic defrost. I don't understand why that is (are they just more reliable?), but I figure that's something I can handle.
So now that that decision has been made, the rest of it seems easy! Once it's delivered tomorrow, I can put it where it needs to go (it'll go in the corner where the pantry door wall and the left side wall meet), and then design around it.
Making that one decision seems to have gotten the ball rolling for me on this pantry. I can now envision the whole thing finished, and it seems pretty straightforward. It was just that darned freezer decision (and my obsessive need for symmetry) holding me back.
Now if it would just stop raining for a couple of days (it seems like it's been raining for the better part of the last four weeks), I could head to Home Depot with the truck and pick up all of my plywood for the cabinets. Or should I use MDF? Oh, great. Another decision to obsess over. 😀
Just kidding. (Kind of.)
---
---
Update:
My pantry is finished! Want to see the entire project from start to finish? You can find every single post about the pantry build right here…
Or you can skip to the end and see how it turned out. Here's a peek of the finished pantry…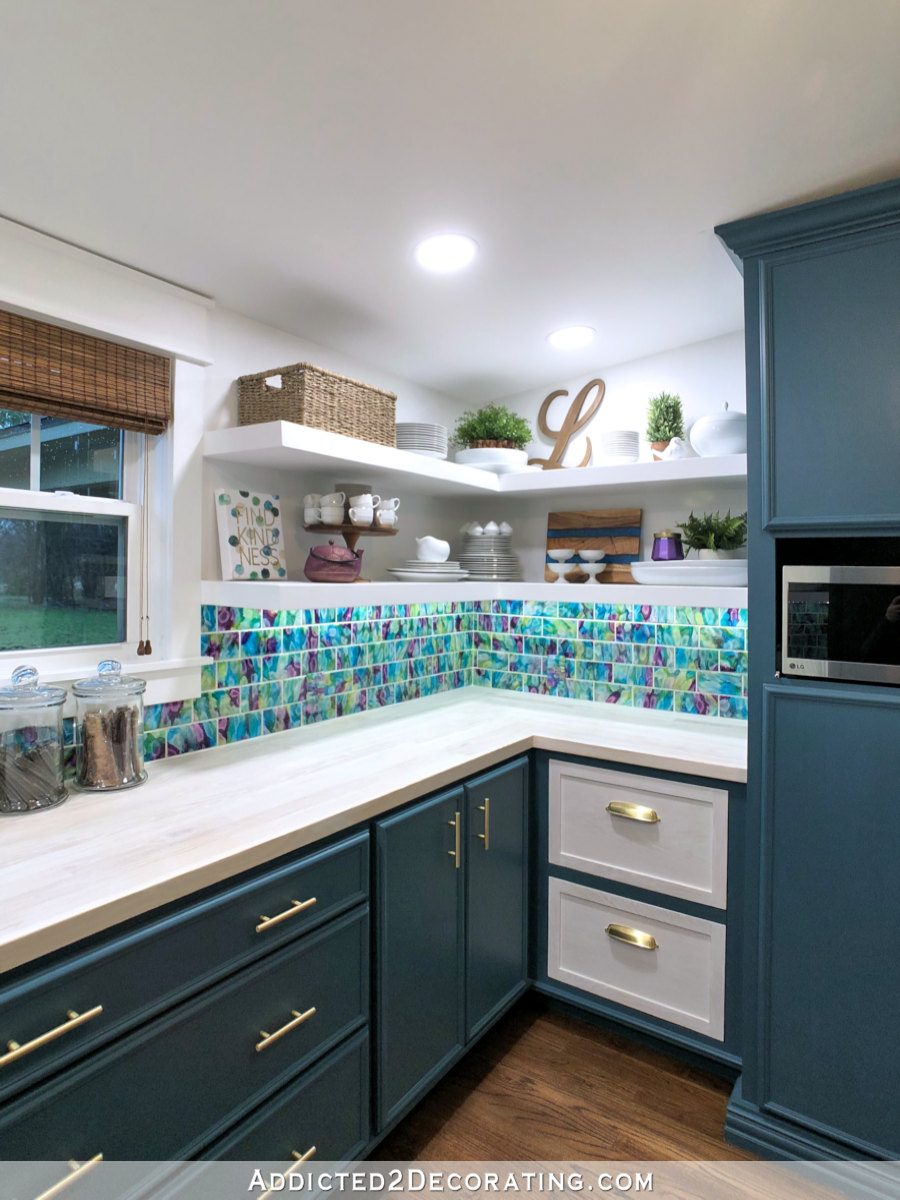 You can see more pictures on the before and after post right here…
Addicted 2 Decorating is where I share my DIY and decorating journey as I remodel and decorate the 1948 fixer upper that my husband, Matt, and I bought in 2013. Matt has M.S. and is unable to do physical work, so I do the majority of the work on the house by myself. You can learn more about me here.