My Kitchen & Pantry Appliance Conundrum Solved (For The Most Part)
Well, hey there! It's been quite a slow week over here. I feel like I've just been waiting and waiting for things I've ordered to arrive so that I can finish my kitchen and breakfast room. The good news is that it's really looking like my breakfast room will be finished..as in completely finished…by the end of next week. My kitchen, on the other hand…. *sigh*. I'm so frustrated. My cabinet door order for the five doors that I need to finish my kitchen is still showing "pending," meaning that the doors that I ordered on April 5th haven't even been started yet. All I can do is wait.
So in the meantime, let me tell you what I've decided about my appliances. For a while now, I've been trying to make a decision about my kitchen and pantry appliances. And I think I've finally figured out exactly what I want and where I want them.
So let me back up a bit. Very soon after we moved into our house, I selected the GE Artistry appliances in white. I selected them specifically because of the retro look, and at the time I thought I was going to decorate this house with a kind of vintage/cottage/farmhouse look. Then I went a different direction with my decorating and design of this house, and those appliances looked out of place in the green kitchen.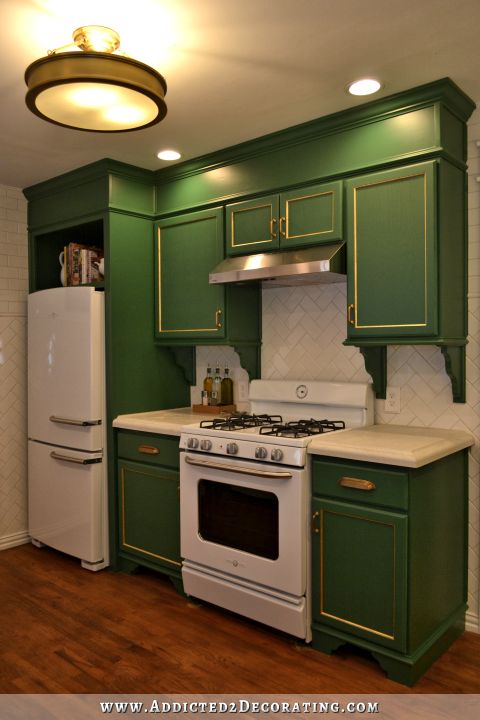 But when I finished my kitchen, the appliances were only a year old at the time, and there was no way I was going to replace them so soon. So I lived with them.
Fast forward two-and-a-half years, and my kitchen looks a bit different now. The appliances look much better in my current kitchen…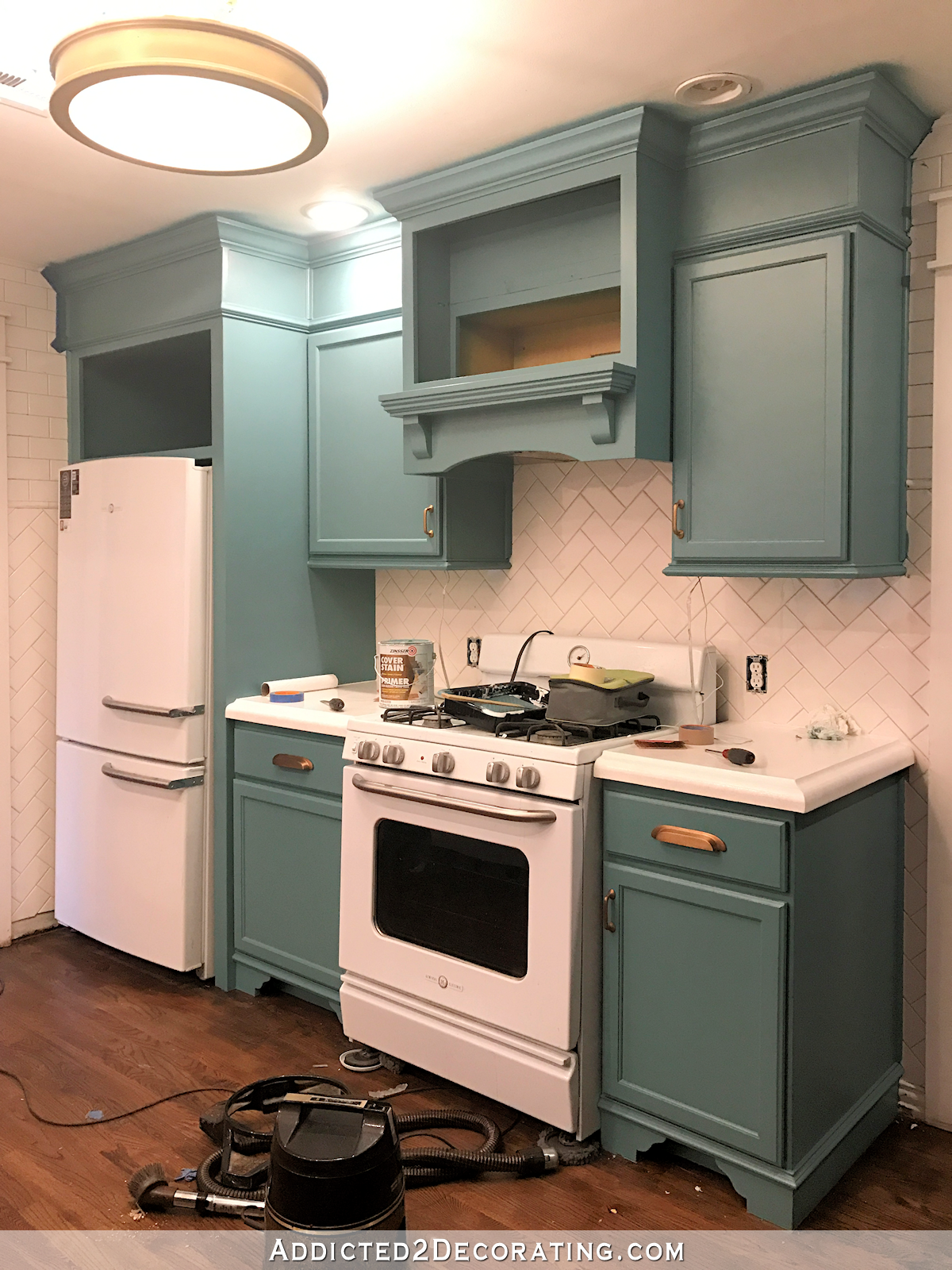 …but I'm still not happy with them.
My main issue is with the refrigerator. Matt and I eat almost all fresh fruits, veggies and meat. We very rarely eat anything pre-packaged out of boxes or cans. That means that after grocery shopping each week, almost 100% of our food for the week has to go into the refrigerator, and our refrigerator isn't big enough to hold everything. So I decided a while back that I want to sell this refrigerator and get a full refrigerator (i.e., all refrigerator with no freezer) to go in the kitchen. My options are limited since I have limited space, but this Whirlpool Sidekicks Freezerless Refrigerator is just the right size…
Unfortunately, the door swing can't be switched, but I've made my peace with that.
If I'm going to sell my refrigerator, then it just makes sense that I'd also sell the range and the dishwasher with them, right? They're a matching set of appliances.
So that kind of brings me back to square one with appliances. If I'm going to replace my refrigerator and sell my current appliances as a set, then I need to replace my range, my dishwasher, and I also need a freezer. The freezer will go in the pantry. (We talked about that a while back in this post.)
My range situation has been solved. I had a very kind and benevolent reader (a fellow Texan) contact me a couple of months ago and tell me that she is wanting to remodel her kitchen. The kitchen currently has a GE Cafe gas range, which was there when she bought the house a couple of years ago. It's not what she wants in her new kitchen, so she said I was welcome to have it if I could come pick it up (it'll be about a six hour round trip drive there and back) and pay the plumber to disconnect it and connect her new range.
Ummmm…yes, please! 😀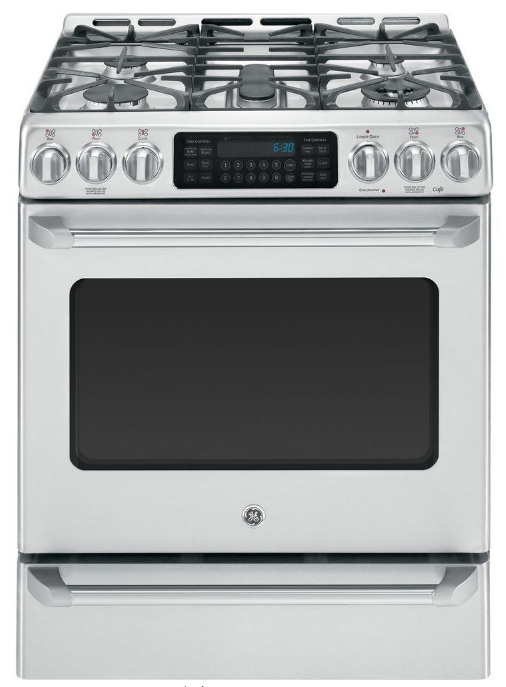 So my brother and I are going to take a road trip to east Texas sometime very soon to pick this up. She said it works perfectly and looks brand new. I'm so excited!
That brings me to the freezer in the pantry. I had originally planned to just get the matching Whirlpool Sidekicks freezer that matches the refrigerator I want to purchase. But the more I think about it, the more I think that's probably a stupid decision. This past week, I've tried to take note of just how often I actually open and use something from the freezer.
Two. Two times.
That's how many times I've opened my freezer in the last seven days, and both times were to get ice. And this wasn't an unusual week. Most weeks are like that. Everything I cook is fresh and comes out of the refrigerator. Sure, we have some stuff stocked in the freezer just in case I don't buy enough ground beef or chicken for the week, but I don't keep enough on hand to warrant spending $1300 on a nice, new, separate freezer with 17.7 cubic feet of space for the pantry. My brother has a small chest freezer (probably between 6 and 10 cubic feet, and my current freezer is 6 cubic feet) that he said I could have, and I think that will be just enough freezer for us.
But the main drawback to having an all-refrigerator in the kitchen and a chest freezer in the pantry is the lack of an ice maker. I don't use ice from home often (although Matt would like it if I'd drink less Sonic iced tea and start making my own at home, in which case I'd use ice from home every single day), but after living without an ice maker in the condo for seven years, I vowed to never be without one again.
So I've been looking at several options, including countertop ice makers. If I'm going to buy a countertop ice maker, the only one I'd consider is the Opal, which makes nugget (i.e., Sonic) ice.
At $500, it's probably the most expensive countertop ice maker I've seen, but it's the only one that makes Sonic ice, and it's a fraction of the cost of freestanding nugget ice machines, which can cost thousands of dollars. And if you figure how much I'm currently spending on Sonic iced tea, and if I have the ice at home and start making tea at home, this thing would pay for itself in 100 days. (Ask any Sonic regular why they get their drinks at Sonic, and I can guarantee you they'll mention the ice. I have no idea why this ice is so much better than other ice, but it just is.) If I go this route, I'll keep it on the countertop in the pantry.
Another option would be to get an under counter built-in ice maker and have it in the kitchen. Where, you ask? Well, under the peninsula just opposite the refrigerator. Yes, I'm talking about where the dishwasher currently is.
I can hear you now. "What?! No dishwasher?!" Yes, I'm considering replacing my dishwasher with an ice maker. 🙂
To be quite honest, I don't use a dishwasher. Since I finished the kitchen remodel in 2014, I think I've used the dishwasher three (yes, three) times. That's it. I wash our dishes by hand. So even if I don't put a built-in ice maker there, I won't be replacing the dishwasher. I'm not spending hundreds of dollars on an appliance that I use maybe once every nine or ten months.
If I use the countertop ice maker, I will replace the dishwasher with pull-out baskets where I can keep my onions, tomatoes, and other fruits and veggies that shouldn't go in the refrigerator. Something like this…
Now THAT is something I'd use every single day!
And even if I do the built-in ice machine, those are only 15 inches wide. The space for a dishwasher is 30.5 inches wide. So I could actually do a built-in ice machine plus three narrow pull-out baskets for my fruits and veggies that I access daily.
EDIT: Oops! A dishwasher is only 24 inches wide! So if I do the built-in ice maker, that won't leave much room at all for basket storage. Ugh.
I know it sounds crazy to most people to get rid of a dishwasher (just like it sounded crazy to some of you to put a TV in a dining area), but I'm trying to design this house around how we live, and not around rules and general expectations. We watch shows while we eat meals, so a TV in the breakfast room makes sense for us. I wash all of our dishes by hand, so a dishwasher is a complete waste. (And there's strong evidence that hand washing builds immunity, which is a bonus!)
So I've got pretty much all of the appliances figured out. New refrigerator, free range, free chest freezer, and no dishwasher. Now I just need to decide between a countertop nugget ice maker or a built-in non-nugget ice maker. That's a hard decision for me, to be honest. One is very convenient and does its thing all on its own without needing daily attention from me. The other makes the best ice known to man, but will need to be manually filled with water in order to do its thing.
I'd love to know if any of you have countertop ice machines and how you like them. Is it worth the extra effort if it means that I'll have the perfect nugget ice at home any time I want it?
---
---
Update:
My pantry is finished! Want to see the entire project from start to finish? You can find every single post about the pantry build right here…
Or you can skip to the end and see how it turned out. Here's a peek of the finished pantry…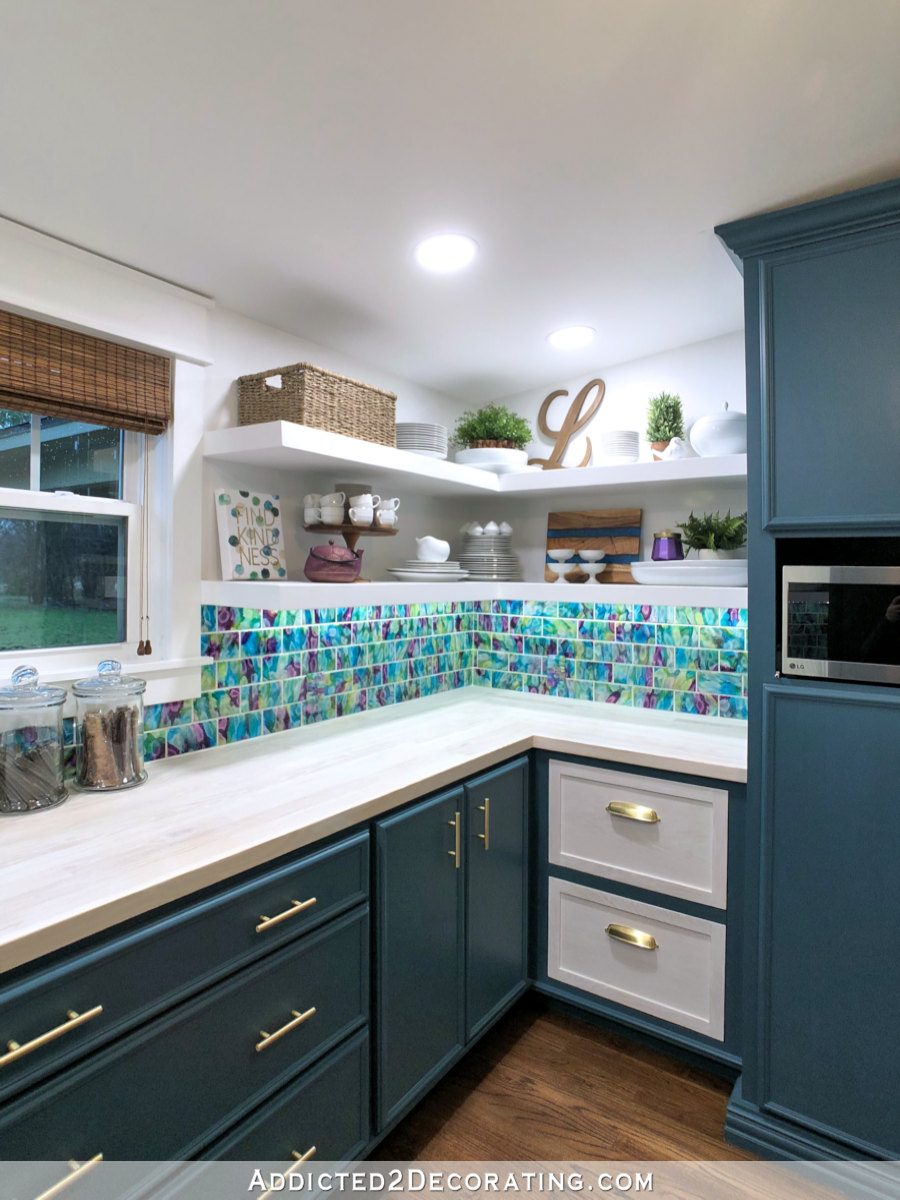 You can see more pictures on the before and after post right here…
Addicted 2 Decorating is where I share my DIY and decorating journey as I remodel and decorate the 1948 fixer upper that my husband, Matt, and I bought in 2013. Matt has M.S. and is unable to do physical work, so I do the majority of the work on the house by myself. You can learn more about me here.