Living Room DIY Built-In Bookcases, Part 1
Okay, ya'll.  I'm finally making some pretty good headway on my built-in bookcase wall.  Now of course, this isn't completely DIY, since I'm using stock cabinets.  (No need to make cabinets from scratch when Home Depot has pretty inexpensive ones.)  But the key here is that I'm using upper cabinets, that are only 12-inches deep, to create the lower portion of my bookcase wall.
To do that, I first needed to build boxes to lift the cabinets off of the ground.  I used 6-inch baseboards on my board and batten walls, so I decided to continue that 6-inch baseboard on the cabinet wall as well.  So I started out by building very rudimentary boxes out of cheap 1″ x 6″ pine lumber.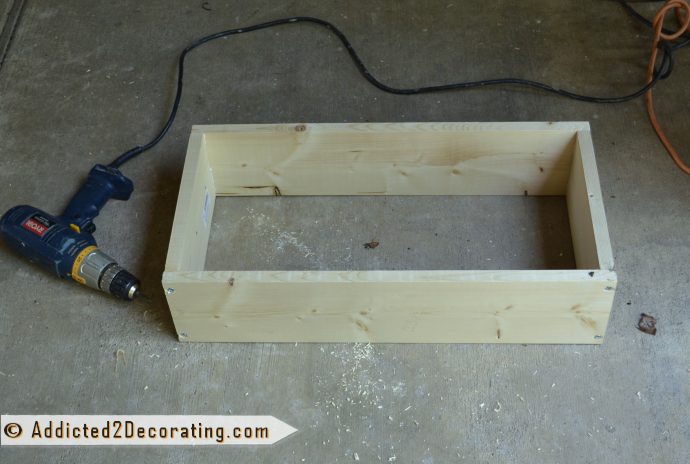 As you can see, there's absolutely nothing fancy or complicated about those.  Just four pieces of board with square cuts, screwed together.  I did pre-drill the holes so that my wood wouldn't split, and I also used wood glue before screwing the pieces together.  But they're nothing pretty to look at, which is fine since they'll eventually be covered completely with baseboards.
I also made individual boxes for the four outside cabinets, but then made one single box for the three inner cabinets.  Don't ask me why.  For some reason, that just made sense in my mind at the time.  It seemed like it would be easier moving them around and getting them into place like that.  🙂
So then I ran a thick bead of wood glue along the top of each box, and sat the cabinets on top.  Then I wedged each of the cabinets into place.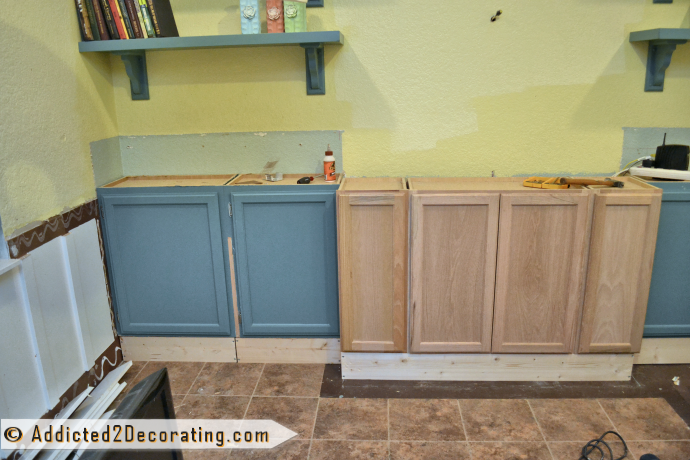 I did end up moving the middle section out a few inches.  I really had no choice, since that's the only way they would fit without shaving down the sides.  And I DID.NOT.WANT to have to mess with that.
I mean, those cabinets were wedged in there tight, with no space to spare.  And as you can see here, the front panel on each cabinet is about 1/2-inch wider (1/4″ in each side) than the actual box of the cabinet.  So while I could get the box part wedged in there, the front panel just would not fit.
But that's okay.  I think it looks better like this anyway.  🙂
The side cabinets are all screwed into the wall.  But since I couldn't screw the middle cabinets into the wall, I had to think of another way to secure them.  So I ended up screwing them to each other, and then to the side cabinets using the 1/2-inch lip at the top of each cabinet.  I used scrap pieces of  1/4-inch hardboard (the stuff I used on the wood slat walls in my bathroom) as spacers towards the back of the cabinets, and then screwed them together.
And of course, that will be covered by the countertop.
So that's where the project stands as of last night.  Today, I hope to get all of the cracks between the cabinets filled (one of you suggested using lightweight spackle instead of wood filler, so I'm going to try it!), and then at least get all of the cabinets primed.  I'd love to think I could get them painted, too, but I think that might be an unrealistic goal.  I'm anxious to get started on the countertop, though!!  That's definitely going to be my favorite part!
Addicted 2 Decorating is where I share my DIY and decorating journey as I remodel and decorate the 1948 fixer upper that my husband, Matt, and I bought in 2013. Matt has M.S. and is unable to do physical work, so I do the majority of the work on the house by myself. You can learn more about me here.