Bathroom Makeover Day 11: How To Paint A Bathtub
Note: I do not live in this condo anymore, so I have no idea how this tub has held up in the years since we sold the condo. We lived in the condo for eight more months after I painted the tub, and it looked just as good the day we left as it did the day I finished painting it. There were no chips, scratches, or peeling.
I did it! I painted my bathtub! The process wasn't fun, but it also wasn't too terribly difficult, and I'm quite pleased with the result. So let me show you how to paint a bathtub so that you can stop living with that ugly stained bathtub and have a shiny, bright tub that looks brand new!

To paint my bathtub, I used a bathtub paint from Rust-Oleum called Tub & Tile Refinishing Kit.
You can CLICK HERE to purchase this product on Amazon.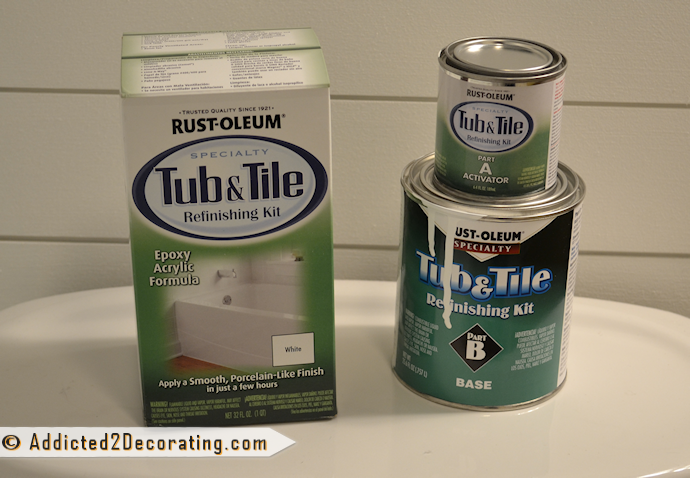 It's a two-part epoxy paint that you mix together in the one-quart container (no additional container needed…just use the Part B container). You can use it on porcelain, ceramic, and fiberglass.
I treated the tub just like I was painting a wall. In other words, I used my 2″ Purdy sash brush* to do the "cutting in" on areas that I knew couldn't be reached with a roller, and then I painted all of the big areas with a 6.5″ roller.
As you can see, I didn't use a foam roller.  (I'm not a fan of foam rollers at all.)   Instead, I used a regular roller with a 3/8″ nap for smooth to semi-smooth surfaces.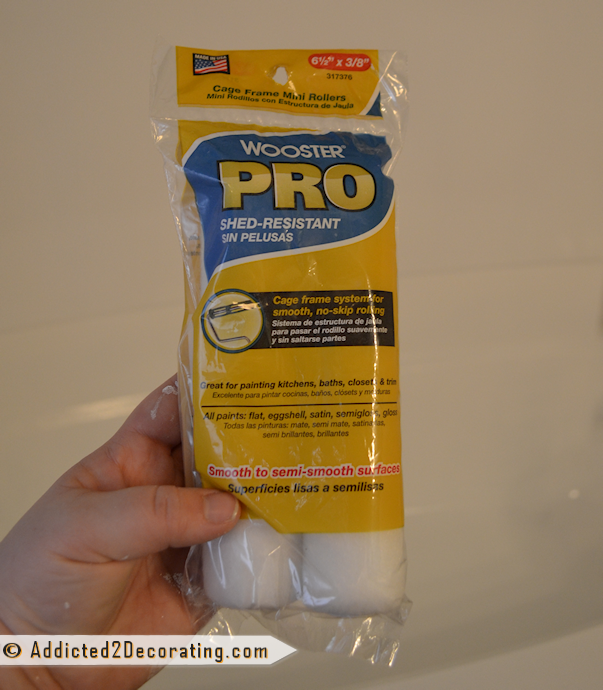 It gave the paint a really nice subtle texture, which you can see here…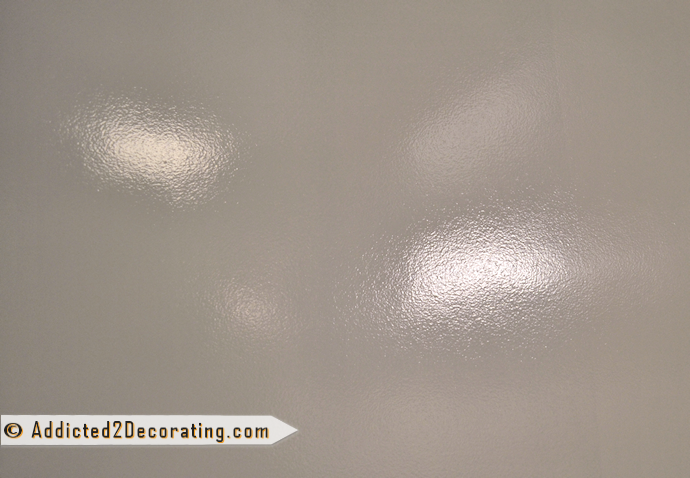 I used a bright white paint, and as soon as I started on the first coat, I could tell a huge difference between the original bathtub color and the color of the bathtub paint.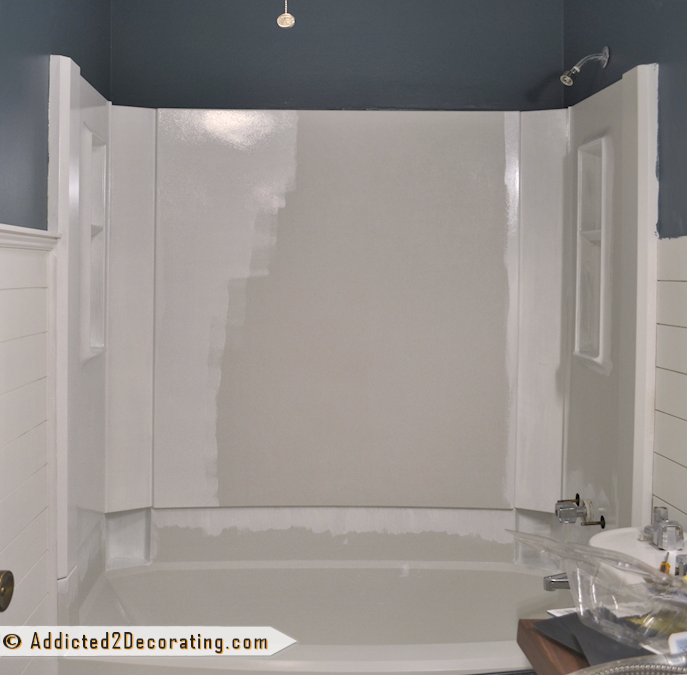 The overall working time was about 4 1/5 hours, but the overall time from start to finish (including drying time after the prep work, and drying time between coats of paint) was around 8 hours.
The prep work took about 1.25 hours, and was a multi-step process that included:
Washing the tub with a water and bleach solution to remove any mildew,
Scrubbing the entire tub with Comet,
Scrubbing the tub with Lime Away* and a scouring pad, and
Sanding the tub with 400/600 grit wet/dry sandpaper*.
All of these step-by-step instructions come with the Rust-Oleum Tub & Tile Refinishing Kit.
After all of that, I brought a fan into the room to dry the tub completely.  I let it dry for about an hour and a half while I had dinner, and then it was ready to paint.  I wiped it down really well with a dry cloth before painting, and then did the "cutting in" with a brush, and followed up with the roller on the large areas.
The one thing that I absolutely must warn you about is the smell. It's very strong. In fact, don't even consider using this product without using one of these.
After the first coat of bathtub paint was applied, I let it dry for about an hour-and-a-half before applying the second coat.  At that point, the first coat was completely dry, and the paint was very durable…so much so that I stood in the tub with my bare feet to reach some areas of the tub while applying the second coat, and it didn't mess up the paint at all.  In fact, I even sat on the edge of the tub at one point, and even scooted my bum across the edge of the tub, and the paint was perfectly fine.  So I have no doubt that after the required 3-day drying/curing time, the paint will be incredibly durable.
So that's it!  That's my experience with painting a bathtub!  If I've left out any info that you want, or if you have any questions, just let me know and I'll do my best to answer!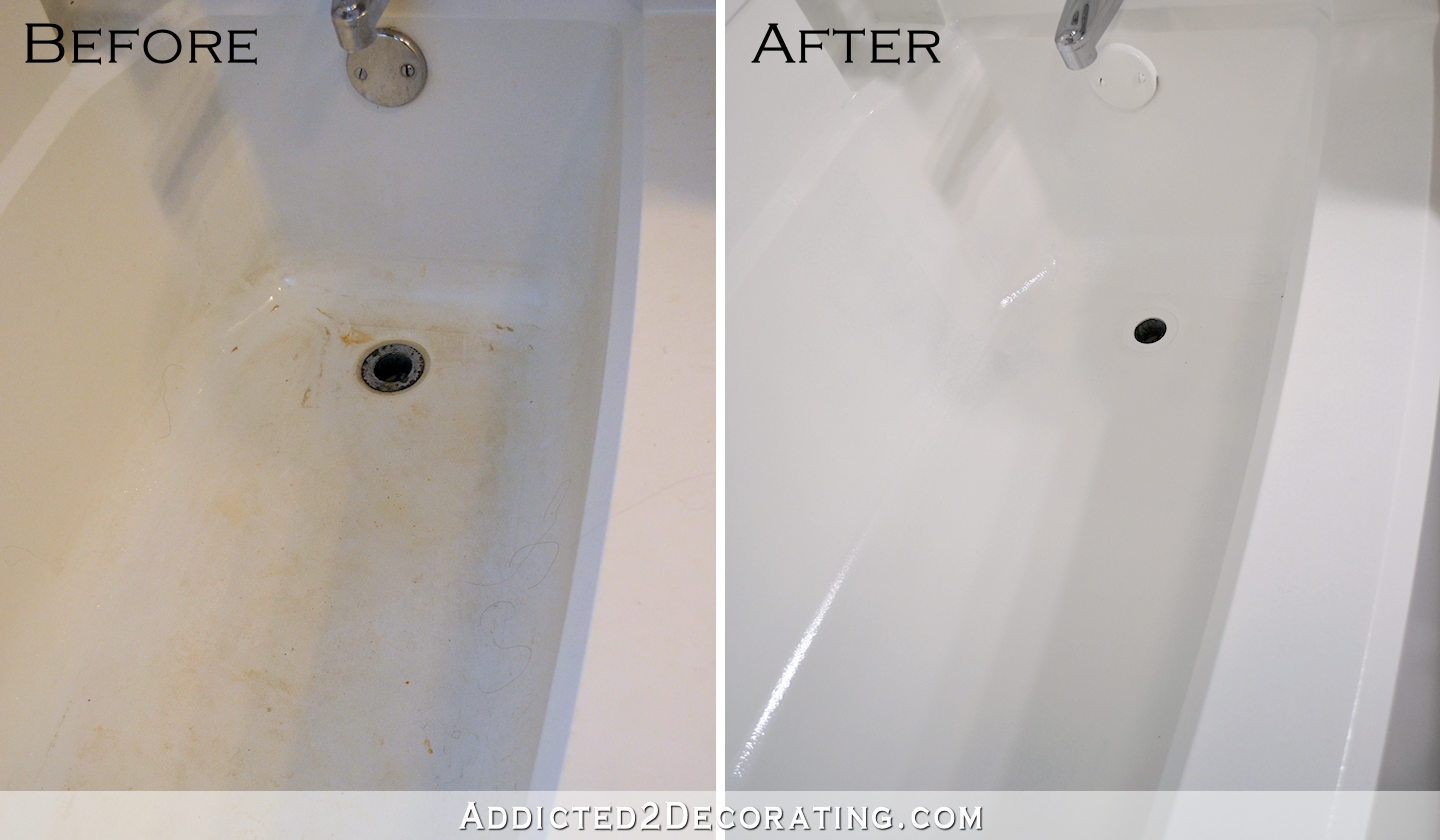 Here's a little video I made of my bathtub painting adventure…
Ready to get started on your own tub?
CLICK HERE to find the Rust-Oleum Tub & Tile Refinishing Kit on Amazon.
Update #3:
This bathroom remodel is finished! Click here to see the finished bathroom.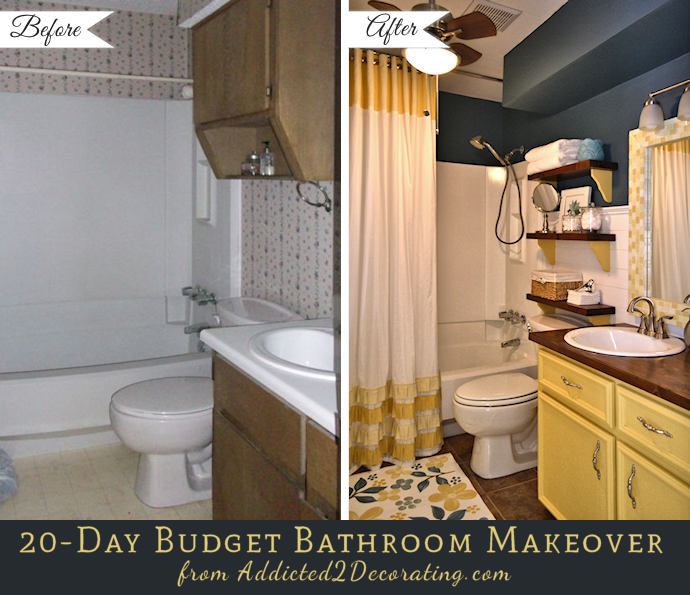 Addicted 2 Decorating is where I share my DIY and decorating journey as I remodel and decorate the 1948 fixer upper that my husband, Matt, and I bought in 2013. Matt has M.S. and is unable to do physical work, so I do the majority of the work on the house by myself. You can learn more about me here.