Saturday was demo day on our old master bedroom, which is the room I'll be turning into a master bathroom. You can see where that room is situated on this floor plan…
Keep in mind that the areas in coral at the back (master bedroom, laundry room, walk-in closet, and family room) don't actually exist yet. I mean, there's a huge sunroom and a tiny master bathroom in those areas now, but both of those will be torn down to make room for these new areas in the future.
Anyway, after getting this room cleaned out and ready for demolition on Friday (this was my main C.O.P. project for the week), it looked like this…
And at the end of demo day on Saturday, it looked like this…
The room is completely torn down to ceiling joists, wall studs, and floor joists. This room is totally open to the ground beneath the house right now, which is a little bit unsettling, but I keep the doorway between this room and the home gym blocked off with a big sheet of foam insulation (the one I use on the floor when I cut plywood with my circular saw).
It was a day of hard work and fun. I compiled all of our video snippets for the day into this one video where you can see our progress throughout the day…
I actually didn't think we would get everything done in one day. But we set our minds to it, and got it done!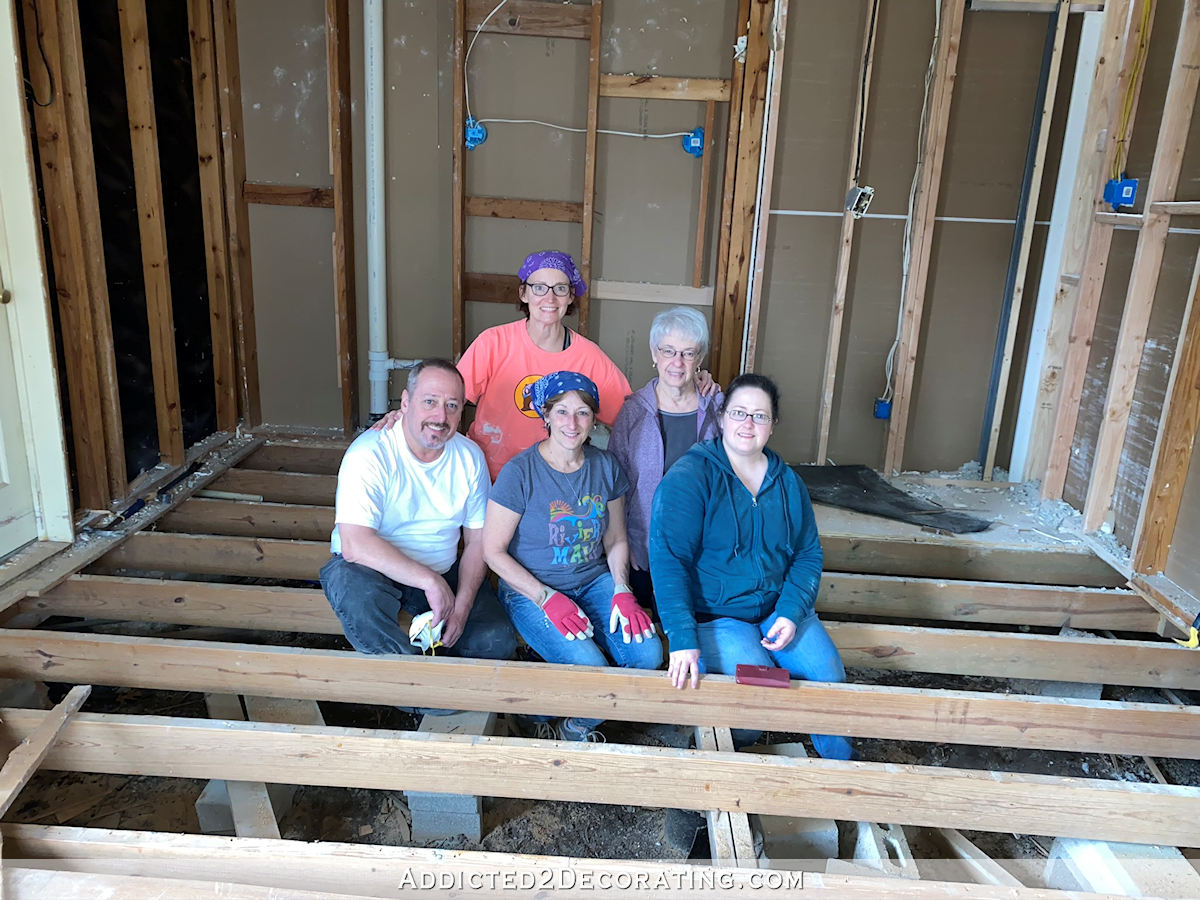 My nieces, Yaleana and Alexis, started off the day working as well. But after a couple of hours, they lost interest. 😀 They decided instead to sit outside and shell pecans.
"Well, we're using a hammer, so it counts as working," Alexis said. 😀 I guess that a full day of demolition is probably too much to ask of two 15-year-olds on a beautiful Saturday.
And for the entire morning until lunch time, this whole demolition project was completely woman-powered. My sisters, my mom and I (along with Alexis and Yaleana for the first couple of hours) got all of the polystyrene tiles, 1 x 4s, and drywall off of the ceiling, and all of the drywall and shiplap (1 x 10s) off of the walls. We got all of that bagged and tossed into the pile outside the windows, and had even started on removing the floor by lunch time.
I was so proud of how much we women got done by lunch time! We were unstoppable! I mean, we did stop for lunch when my brother showed up with food. And after lunch, he stayed and worked until everything was finished.
I will say that I know we women could have handled the whole thing on our own, but we sure were thankful to have my brother there for the afternoon swinging the sledge hammer. My sister and I both used the sledge hammer to get the flooring out, but my goodness, that thing gets really heavy very quickly! It was the quickest way to get the flooring and subfloor out, though, so as we got our system down, the sledge hammer became my brother's job.
At my brother-in-law's suggestion, rather than taking up the flooring and subfloor separately (which would have taken at least twice as long, if not way longer), I used the circular saw to cut through both the flooring and the subfloor at the same time. I measured so that I was cutting between the floor joists. After cutting an entire row, I went back and cut the row into about four pieces.
And then my brother came behind with the sledge hammer and knocked that row free from the floor joists.
Then we all picked up the pieces, threw them into the pile just outside the window, and moved on to the next row. This system made relatively quick work of removing the floor and subfloor. Had we tried to remove the layers individually with hammers and prybars, I don't think we would have finished the whole thing in one day. Or if we did, we would have had to work late into the evening to get it done.
But with this system of removing the floor and subfloor at the same time, we finished the whole demolition at 4:00pm.
At the end of the day, here's almost everything that came out of that room…
For reference, I'm five feet tall, and I'm standing in the foreground in front of that pile. It had to be about six feet tall, and there was another smaller pile just out of view. All of that came out of one room. I'd say it was a very successful demolition day.
I know the question is, "So what now? When will the bathroom work start?"
Honestly, I don't know. The reason we went ahead and did the demolition on Saturday is because that's the day that we all had free, so I had to take advantage of that. But for now, I'm heading back to the guest bedroom to get that room finished up so that Matt and I can move out of the breakfast room and back into a bedroom. We're not necessarily in a real hurry. Frankly, Matt loves having our "bedroom" in the breakfast room because the front wall of windows makes the room so light and bright, and he loves that. It really is a comfortable room. But it's just awkward having to explain to people who come inside why we have a bed in the breakfast room. 😀 For that reason alone, I'd like to hurry things along so that the breakfast room can get back to normal.
So that means that I don't really have a firm timeline right now as to when I'll get started on the bathroom. I do want to call the plumber this week and see if he'll come and give me an estimate for plumbing that room. If we can get the plumbing in now, then I can work on the rest as time allows. But obviously, I'll keep y'all posted on any progress that's made in there.
For now, I'm heading back to the guest bedroom. I'm hoping I can make some really good headway on the closets today. And of course, you can follow me on Instagram for behind-the-scenes updates on my progress.
Don't I have the best family in the world? They're awesome, and I'm so completely blessed. This would have taken me a month to get this much done by myself, and we all knocked it out in one day.
Addicted 2 Decorating is where I share my DIY and decorating journey as I remodel and decorate the 1948 fixer upper that my husband, Matt, and I bought in 2013. Matt has M.S. and is unable to do physical work, so I do the majority of the work on the house by myself. You can learn more about me here.
I hope you'll join me on my DIY and decorating journey! If you want to follow my projects and progress, you can subscribe below and have each new post delivered to your email inbox. That way you'll never miss a thing!